The latest Korean food trend of seafood towers has truly taken off in Singapore, with K-Tower being the new kid in town to ride this Korean wave. When you walk into the restaurant at Amoy Street and see the tanks of swimming lobsters and shellfish, your expectations of the freshness of the seafood rises immediately, and K-Tower does not disappoint on this front.
Our palates were first teased with a suite of standard Korean favourites. We tried the seafood pancake (S$14.90), ginseng chicken stew (S$17.90), K-Tower fried chicken wings (S$7.90) and a "shake shake rice box" (S$9.90)–a bibimbap-like rice dish served in a metal box, which is a nostalgic throwback to Koreans' childhood days and lunch boxes packed for school. All the dishes were crowd-pleasers and helped to fill the stomach in preparation for the seafood towers, though nothing to shout about and a little overpriced. I liked the crunchy skin of the Korean-style fried chicken in a sweet sauce, which I find is not often available, other than in restaurants specialising just in Korean fried chicken.
The restaurant also offers free flow of kimchi on the side and the three available were very good. We kept asking for refills throughout the course of our meal. I particularly liked the crunchy white radish cubes. K-Tower could do better than to offer just three types of sauces, though I soon found out I would rather do without them for most of the meal, preferring to let the natural flavours of the seafood shine through, which they did.
Finally we got to the main highlight of the meal which we had all been waiting for! Although my friends had warned me that a night out eating seafood towers usually does not come cheap, K-Tower offers what I felt were rather affordable prices. We were shown the basic three-tier tower which serves two to three persons and starts at S$58, and we also had the opportunity to try the nine-tier tower.
The default tiers are as follows, with the option of changing the seafood soup base to kimchi soup or army stew soup for an additional S$10, or ginseng chicken soup for an additional S$20. There is also a "Build Your Own Tower" option where you can choose your desired tiers of seafood.
3-tier seafood tower (S$58) – Prawn, Scallop, Oyster, Shellfish, Seafood Soup Base
5-tier seafood tower (S$128) – Prawn, Scallop, Oyster, Sea Cucumber, Fish, Seafood Soup Base
7-tier seafood tower (S$198) – Prawn, Scallop, Oyster, Shellfish, Fish, Lobster, Seafood Soup Base
9-tier seafood tower (S$298) – Prawn, Scallop, Oyster, Shellfish, Fish, Sea Cucumber, Crab, Lobster, Abalone (+$90), Seafood Soup Base
Our 9-tier seafood tower arrived and towered way higher than us! Those items which are easiest to cook are at the top, while the bottom tier is the soup which contains all the essence and juices of the seafood that has trickled down. To get "to the bottom of things" as we say, we had to work hard first. Our first assignment was not too difficult – a tier of prawns were sweet when simply steamed. I had the feeling that if all the seafood continued to be as tasty in their natural juices, K-Tower would be that rare example of a place where one can stuff himself silly and still feel no guilt about his healthy meal.
The fifth tier was my favourite, though it was also the shock factor for many of us. Most of us are only used to the large sea cucumbers in Chinese New Year dishes and were not used to the appearance of the small ones, but the crunchy texture soon won us over. As I usually only encounter canned sliced abalones, the flavourful fresh abalones were a treat, in particular the creaminess of the so-called abalone 'guts' beneath!
Finally we reached the simplest but richest bounty of the evening. The soup at the lowest tier was Army Stew Soup (+S$10) on this evening, though you can also choose to have the default seafood soup base, kimchi soup (+S$10) or ginseng chicken soup (+S$20) if you did not order ginseng chicken on the side earlier.
Army Stew is said to have evolved after the Korean War in the 1950s, when food was scarce and the people in Korea made do with available US military supplies such as hot dogs, spam or ham and incorporated them into traditional Korean spicy soup. We were provided with instant noodles, mushrooms and some seafood balls for a filling finish to our tower.
We ended our meal with a Trilogy Rice Cake with Honey (S$5.90), hot rice cakes on skewers that provided a sweet finish. But K-Tower has no dessert menu as yet beyond this dish; so while there is a wide range of Korean drinks available, you would probably adjourn elsewhere if you are serious about dessert.
For the seafood-lover keen to try this new Korean trend of seafood towers though, K-Tower is a good place to check out. It offers a conducive setting to gather with friends, offering various seating options, and even a private room done up in traditional Korean-style.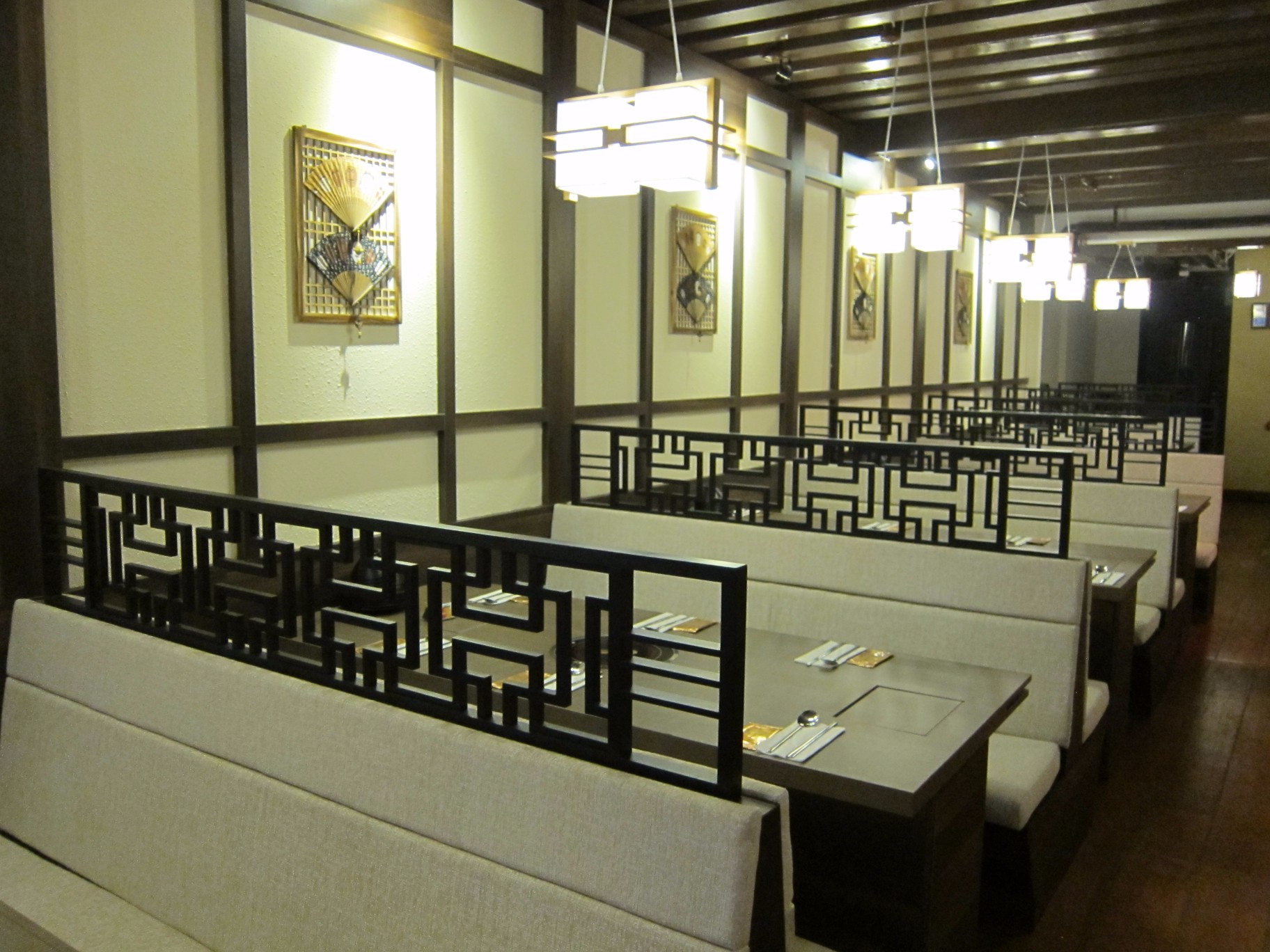 Like the numerous other Korean restaurants in the Tanjong Pagar area, K-Tower also offers weekday value set lunch options such as bulgogi and army stew at affordable prices (S$9.90 onwards), as seafood towers tend to be more of a relaxed, slow-food dinner experience. But it faces tough lunch competition from all the other Korean family restaurants in the vicinity. Still, tower restaurants remain rare, so K-Tower is sure to be widely embraced by those seeking an indulgent but healthy seafood meal.
K-Tower
74 Amoy Street
Singapore 069893
Tel: +65 62219928
Opening hours: Daily from 11.30am to 2.30pm and 5.30pm to 10pm