With a mission to provide innovative products to today's hybrid workforce, Jabra, the undisputed leader in professional audio, has released updated iterations of its industry-standard headsets and conference speakers. The Jabra Evolve series now includes Evolve2 50 and Evolve2 55 headsets, as well as the premium Evolve2 65 Flex. Meanwhile, Jabra Speak's industry-leading professional speakerphone lineup grows with the addition of Jabra Speak2 75, Speak2 55, and Speak2 40.
Making Remote Work Sound with Clarity
The latest Evolve2 headsets are designed to give users the upper hand by equipping them with high-quality tools that safeguard their concentration zones and let them conduct calls and participate in meetings anywhere. In addition, the sound is tuned for both business and music use, eliminating the need to swap headsets when taking a break.
The Jabra Evolve2 65 Flex rises among its competition due to its innovative foldable design, which entails a hinged headband that can be folded down, smaller earcups, and a shorter boom arm that can be hidden away. Beamforming Jabra ClearVoice microphones for open workplaces and a robust chipset ensures users will be heard clearly. Hybrid Active Noise Cancellation (ANC) is provided by the headphones' chipset and noise-cancelling technology, while ambient noise is further muffled by the headphones' close-fitting memory foam earcups. The Jabra Air Comfort technology and the rotatable ear cups make this headset extremely pleasant, even when worn for long periods of time.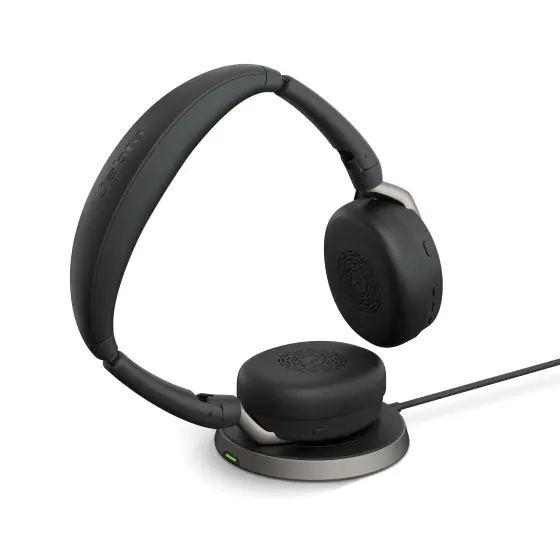 Jabra's Evolve2 55 and Evolve2 50 professional headsets, both wireless and wired, have Active Noise Cancellation (ANC). The headsets have two high-quality microphones, a custom-designed processor that separates speech, and powerful ANC with an acoustic chamber of their own creation.
All of Jabra's audio solutions have been tested and approved for use with popular teleconference programs including Google Hangouts, Microsoft Teams, and Zoom.
Hybrid Work Environment Has Just Sounded Better
The new Speak2 series is an intelligent speaker capable of multitasking in a variety of professional settings, including conference calls. These includes direct conversations, streaming video, presentations, and more. The Speak2 range is designed to provide superior speakerphone performance and full duplex audio, ensuring that all conference attendees are not only heard, but also understood.
The Jabra Speak2 75 is the only speakerphone in its price range with a specially built Microphone Quality Indicator, making it feel like you're carrying a boardroom around in your pocket. Regardless of where in the world your business takes you, you can always feel confident thanks to the 360-degree light ring that indicates how well your voice is being picked up by the microphones. With a sophisticated full range 65mm speaker, this speakerphone provides a vastly superior audio experience, leading to significantly more effective meetings.
Those who value flexibility can choose between the USB-connected Speak2 40 and the wireless Speak2 75 or Speak2 55. The Speak2 line culminates in cutting-edge, portable, and professional devices that fit in the palm of your hand. Users can join conversations and meetings from anywhere without worrying about poor audio quality or connectivity concerns because every Speak2 product is compatible with the industry's top virtual conference systems.
Find out more about the features of Jabra Evolve2 65 Flex, Jabra Evolve2 55 and Jabra Evolve2 50.