The highly anticipated 200-seater Kai Garden has opened its doors on 7 December 2015. It is helmed by one of Singapore's most celebrated and sought-after chefs – owner and Executive Head Chef Fung Chi Keung.
The award-winning Hong Kong-born chef was the one who introduced the colourful Xiao Long Bao with exotic flavours such as foie gras and black truffles at the Paradise Group. He was also the one who launched the fine dining concept – Taste Paradise – which went on to win multiple accolades under his leadership. Chef Fung has also served many distinguished guests, including celebrities such as Chow Yun Fat, Zhang Ziyi, Michelle Yim and Jay Chou, as well as royalty, government officials and business tycoons.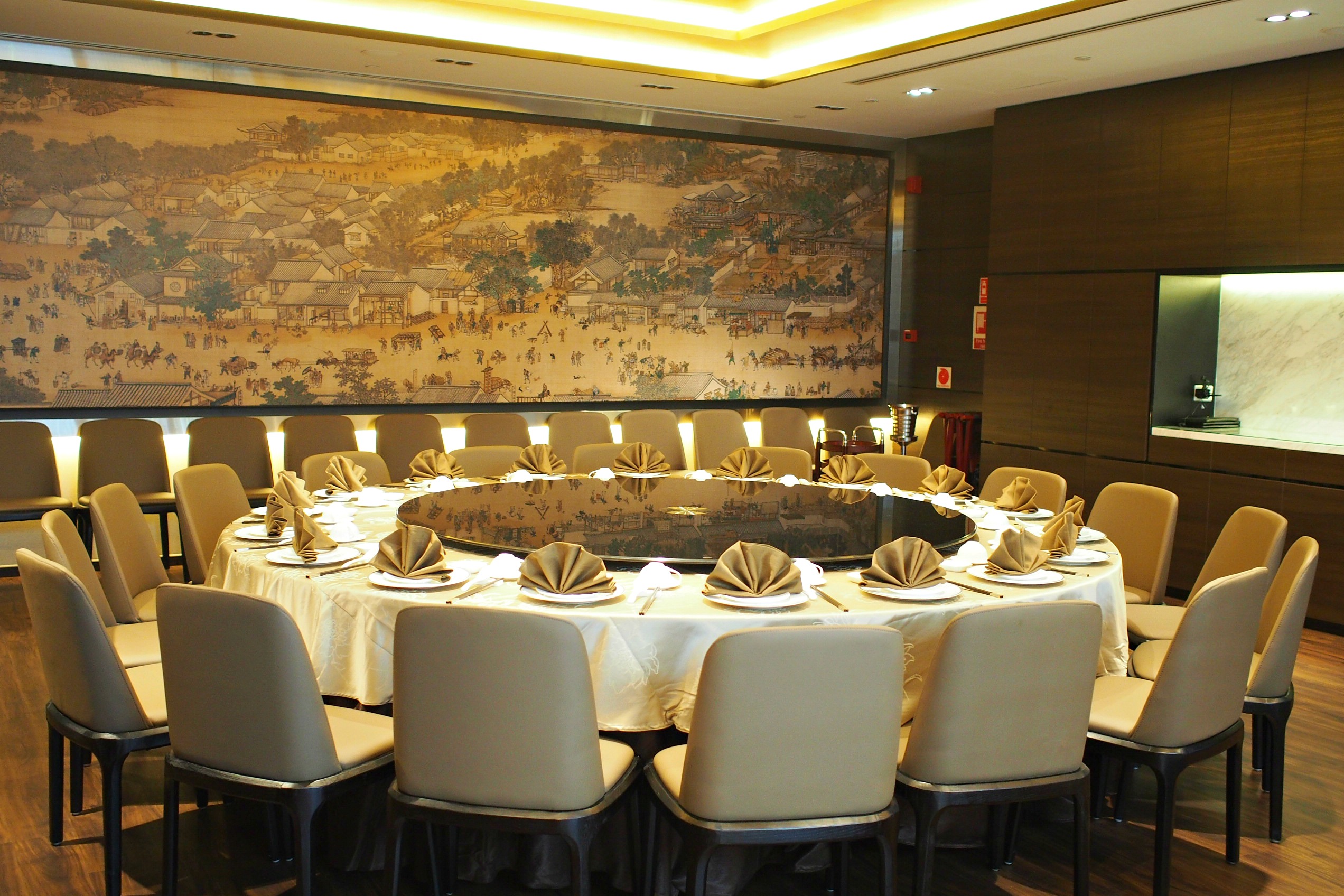 At Chef Fung's latest restaurant, diners will expect to find Chef Fung's unique interpretations of Cantonese classics such as the double-boiled shark's fin with collagen, Chinese herbal soup and other signature dishes including the Peking Duck, Garoupa in Lobster Soup, Sweet and Sour Pork, and Kung Fu Soup. Here are some of the highlights we had:
Chilled Cherry Foie Gras (S$24)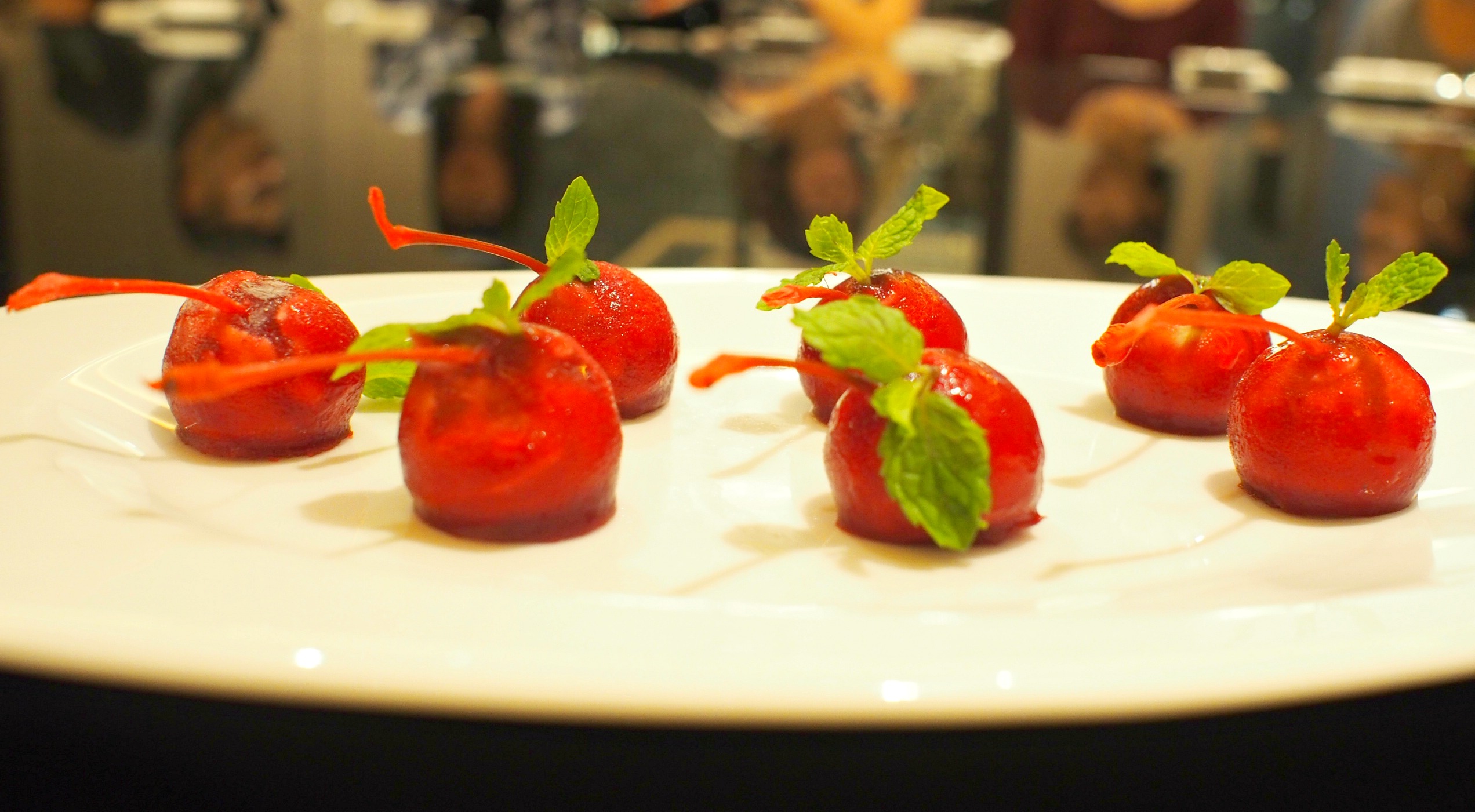 Interestingly, there are no cherries in this dish, other than the cherry stem. Instead, it is foie gras cleverly hand-shaped into cherry-like shapes with a beetroot colouring over it – a creative cherry decoy indeed.
Chilled Mini Tomatoes with Sweet Plum (S$10.80)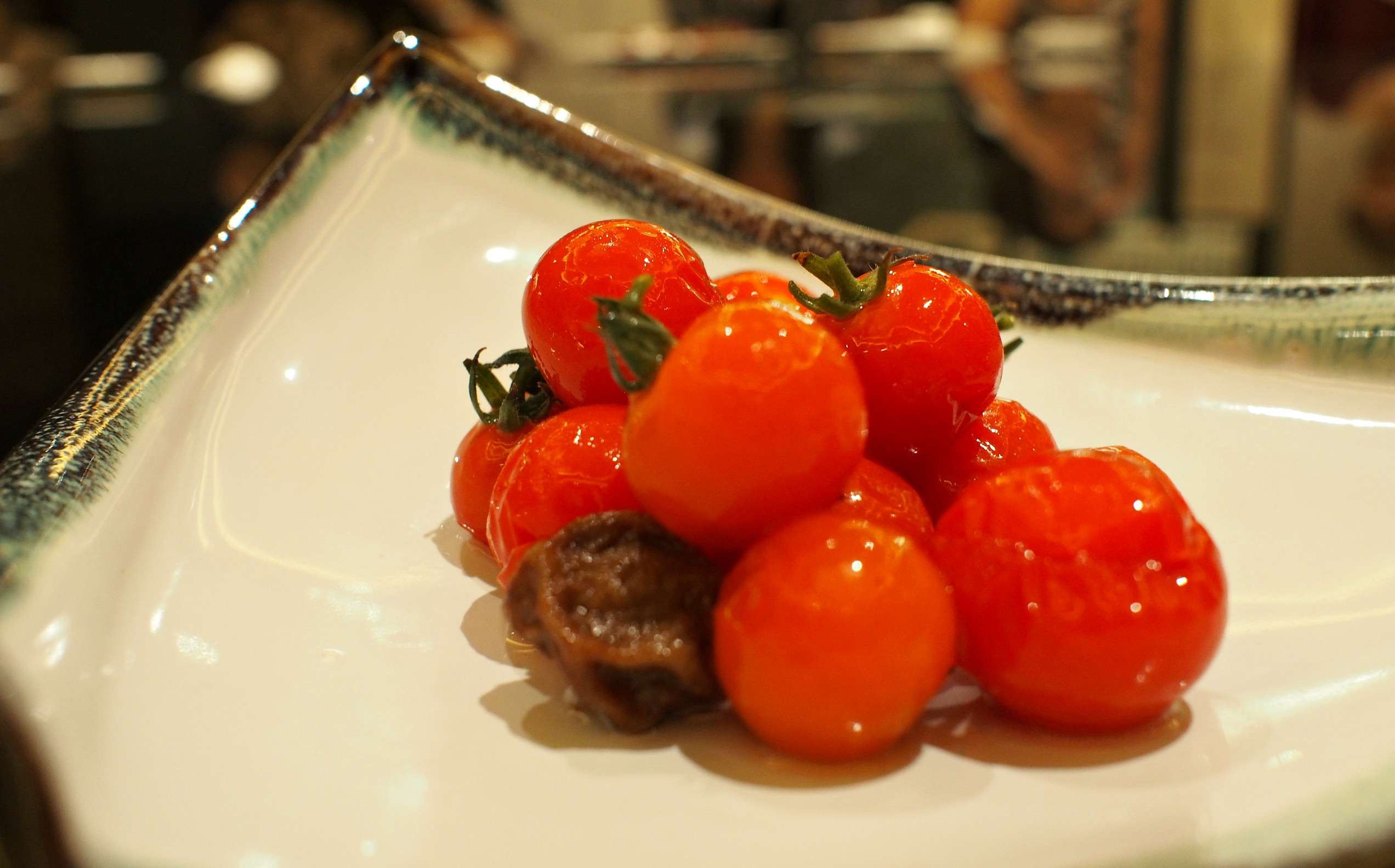 This palate cleansing and refreshing mini tomatoes in sweet plum reduction is a great amuse-bouche to invigorate your appetite before the meal.
Double-boiled Japanese Matsutake Served in Hot Pot (S$38)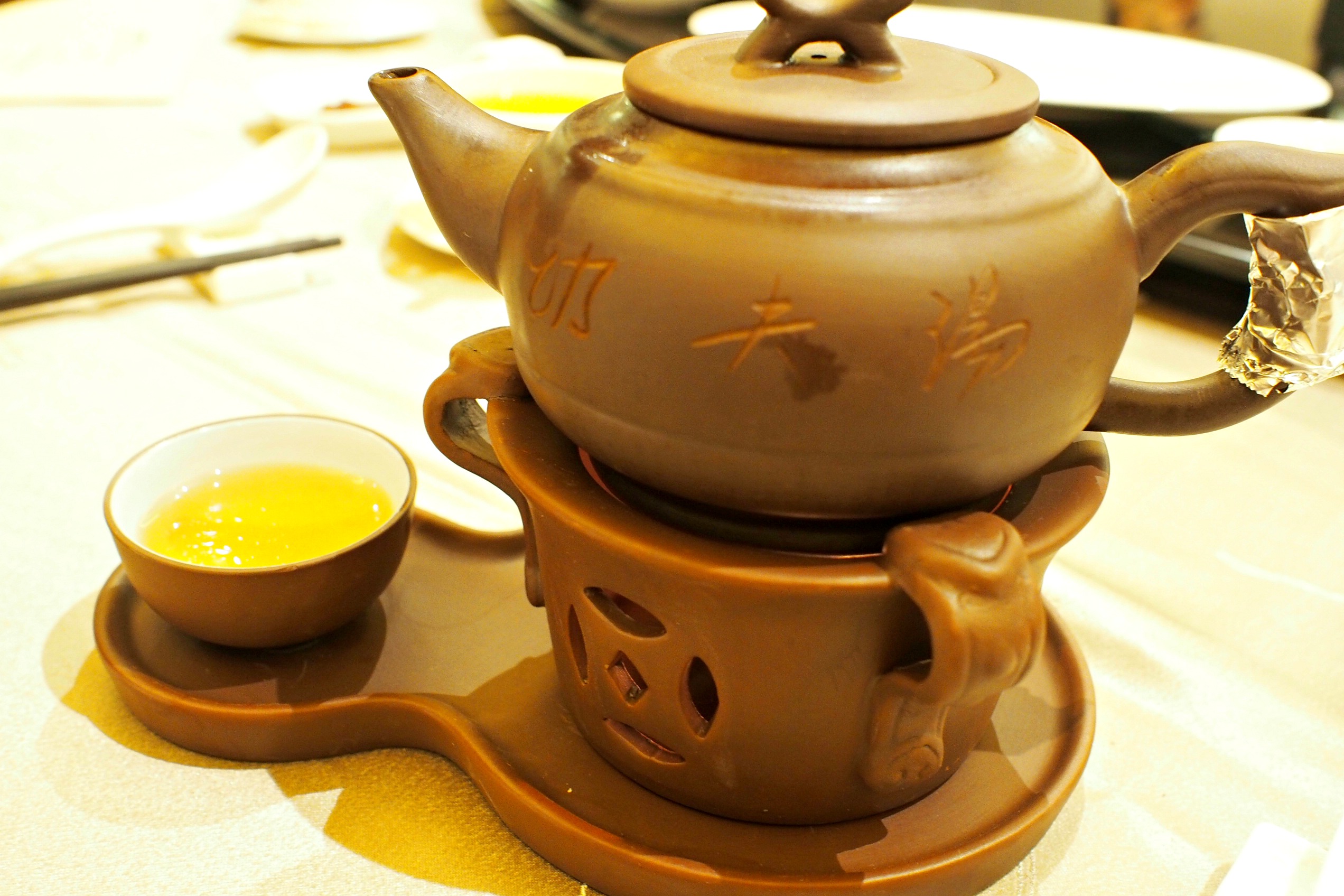 The wild Matsutake mushroom, hand harvested from the foot of pine trees, has reached the prized status of black truffles in Japan. A symbol of longevity for the Japanese, the spicy-fruity aroma and earthy flavour of the Matsutake mushroom is the perfect recipe for the sweet and nourishing traditional Cantonese double boiled soup.
Braised Whole Shark's Fin in Supreme Collagen Stock (S$34.80)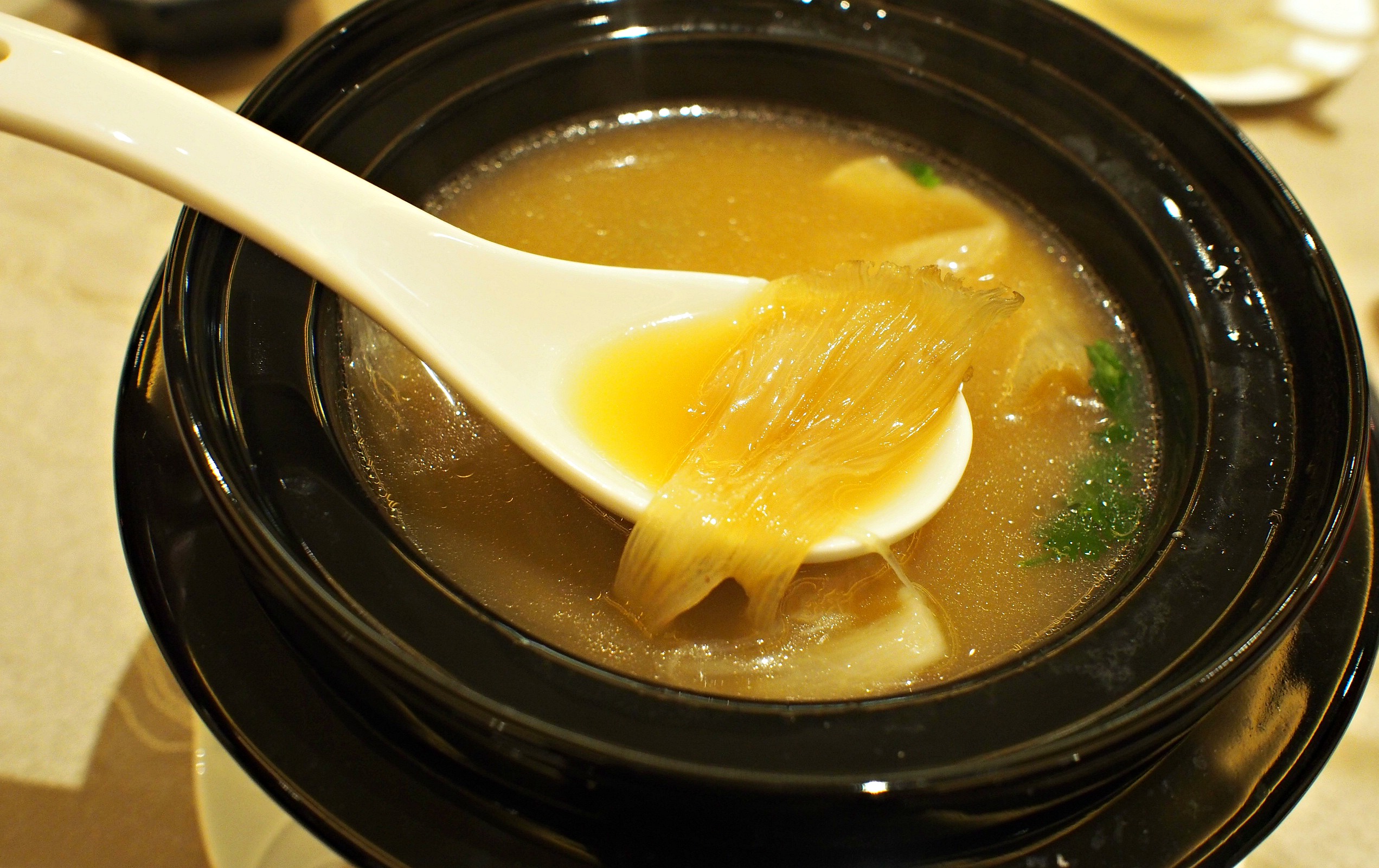 Shark's cartilage is slow cooked for six hours until collagen is released to yield a nutritious, rich and sweet broth that is used to braise the whole shark's fin.
Signature Crispy Peking Duck (S$88)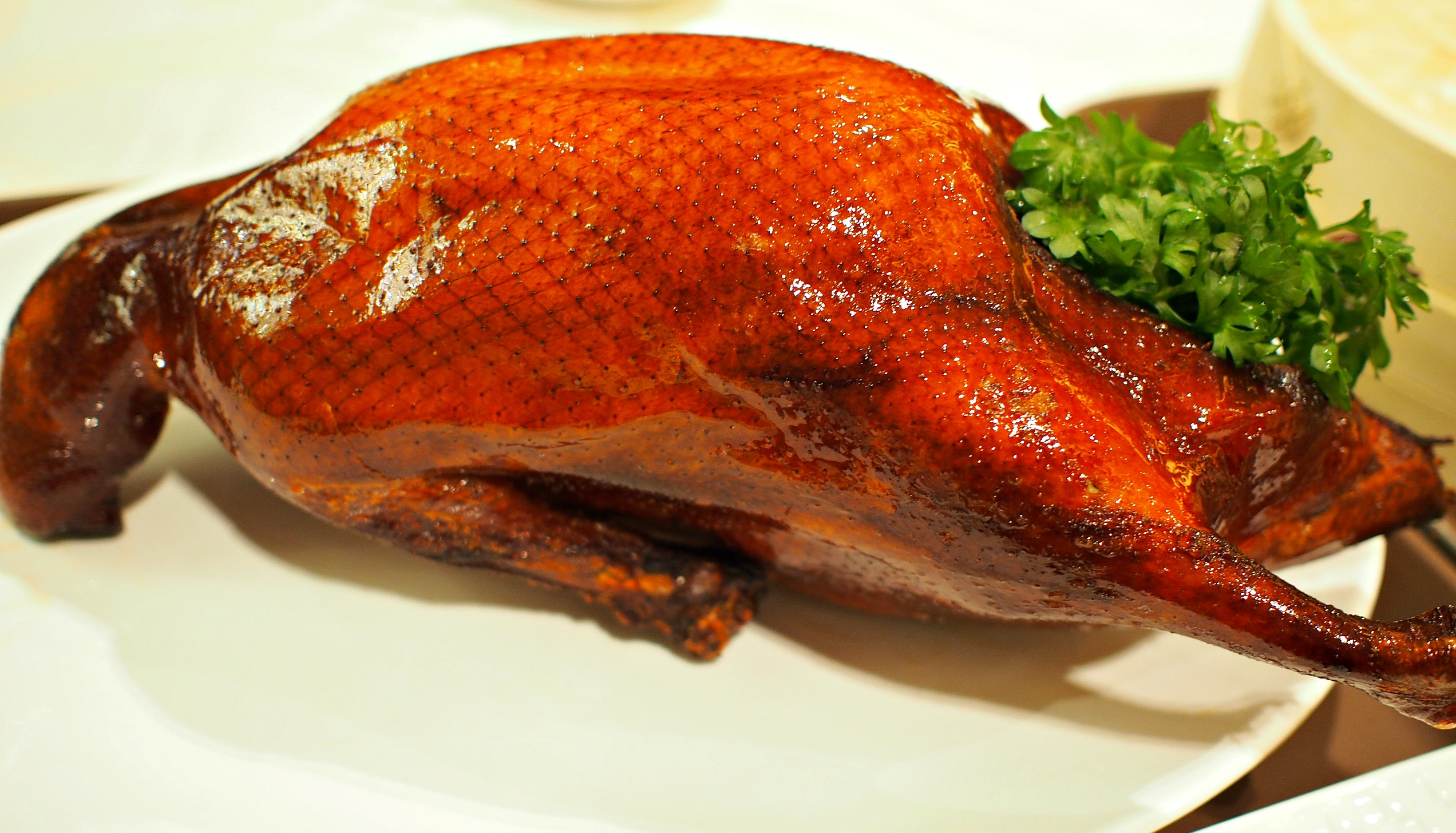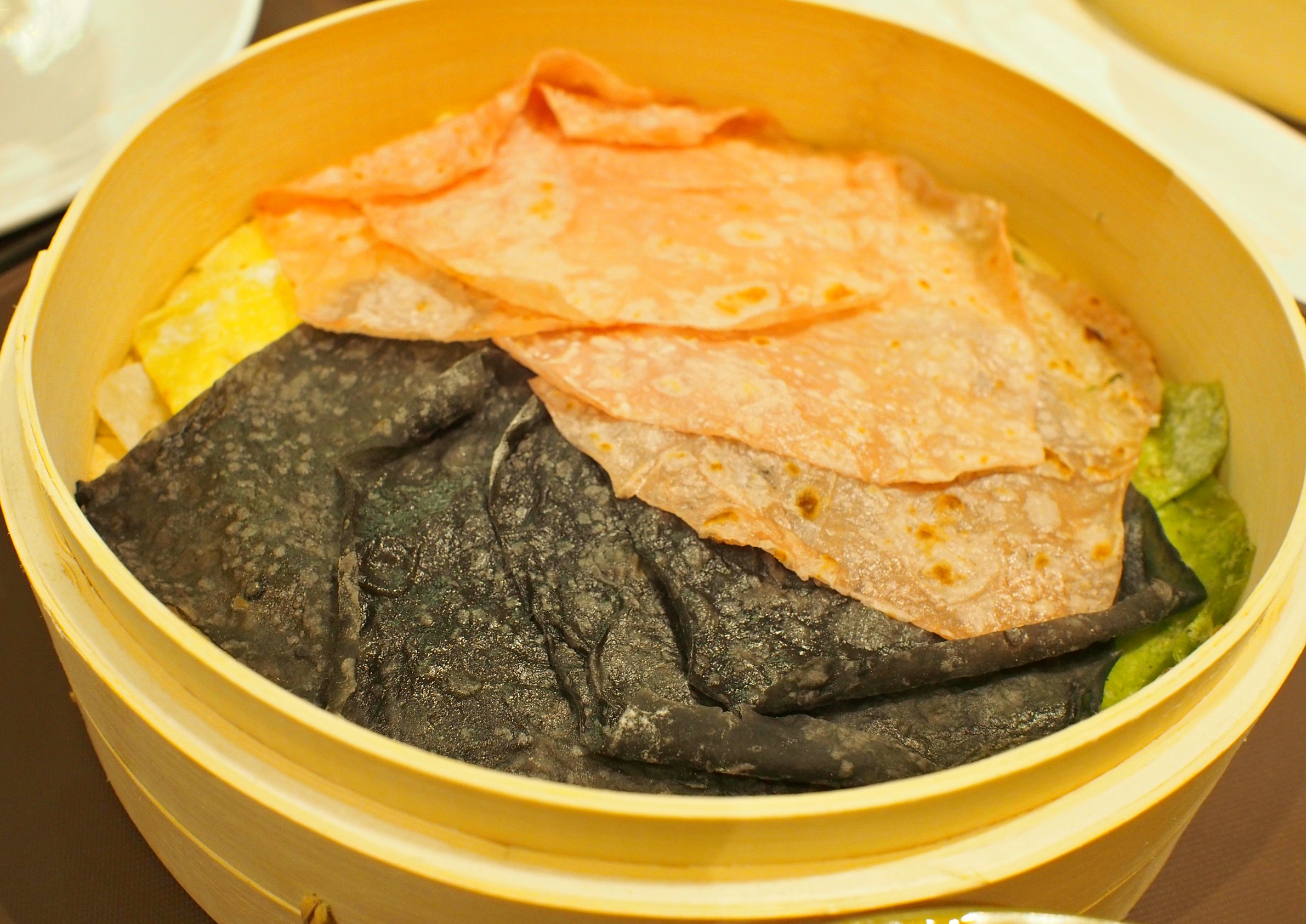 This signature dish uses all natural ingredients for the colouring of wraps and is prepared in traditional Cantonese style. Diners can look forward to savouring this dish with a choice of five different wraps (original, pumpkin, spinach, bamboo charcoal or beetroot) and five dipping sauces (fancied duck, black pepper, sesame, seafood or special mixed flavour).
The duck that Chef Fung used has an oilier and thicker skin compared to those sourced locally. The delectable crispy skin offers a nice contrast to the tender duck meat which can also be cooked with noodles or congee upon request.
Garoupa in Lobster Soup (Seasonal Price)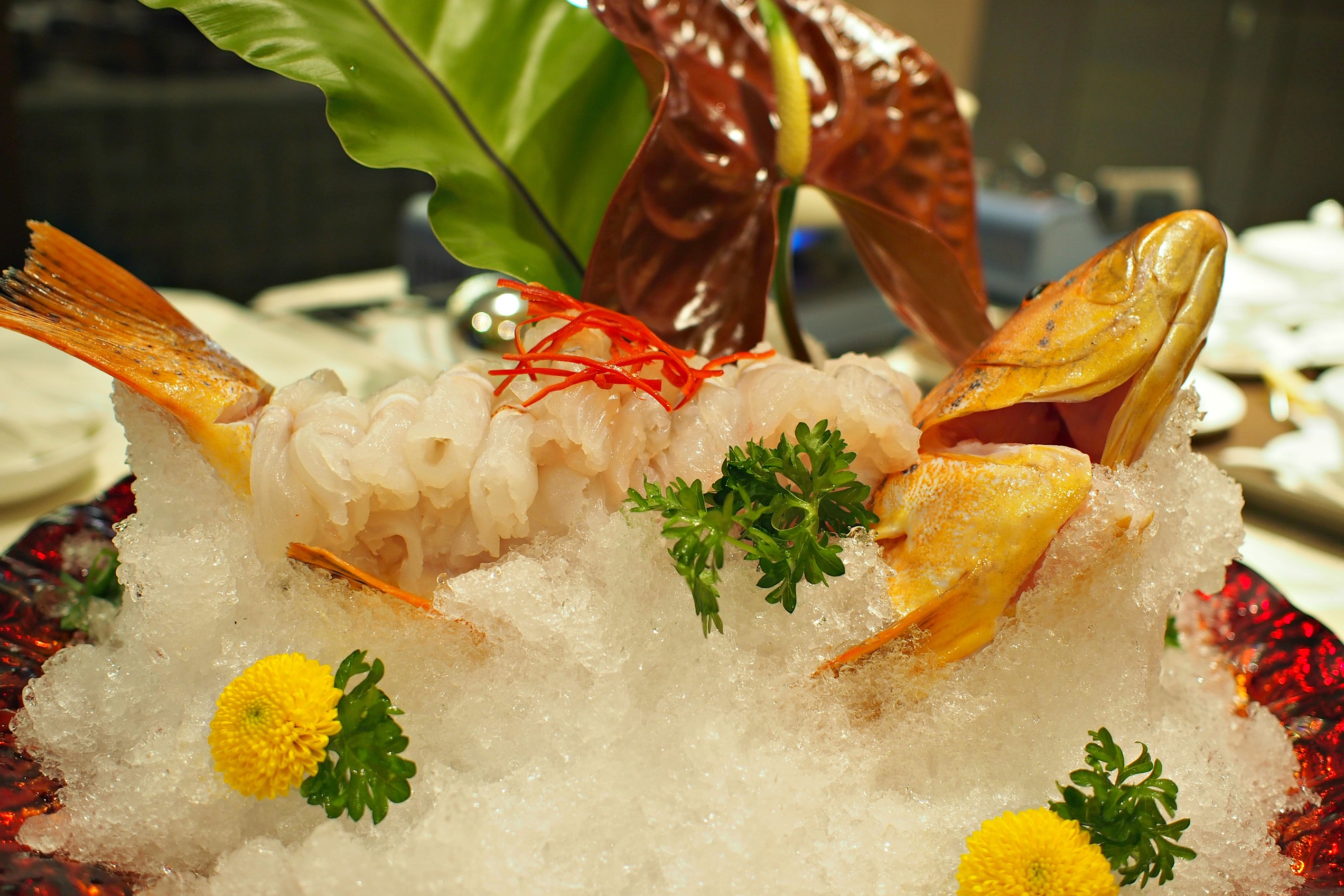 The red grouper is not quite as firm compared to the black grouper but it has a mild and sweet flavour which makes it an excellent choice in soups. Instead of using the usual chicken stock, Chef Fung cooked lobster and tiger prawns at a high temperature to extract the seafood flavour and poured the lobster soup over the fresh grouper flesh to poach the fish to perfection. This dish brought me to culinary heaven.
Sweet and Sour Pork On the Rocks (S$22)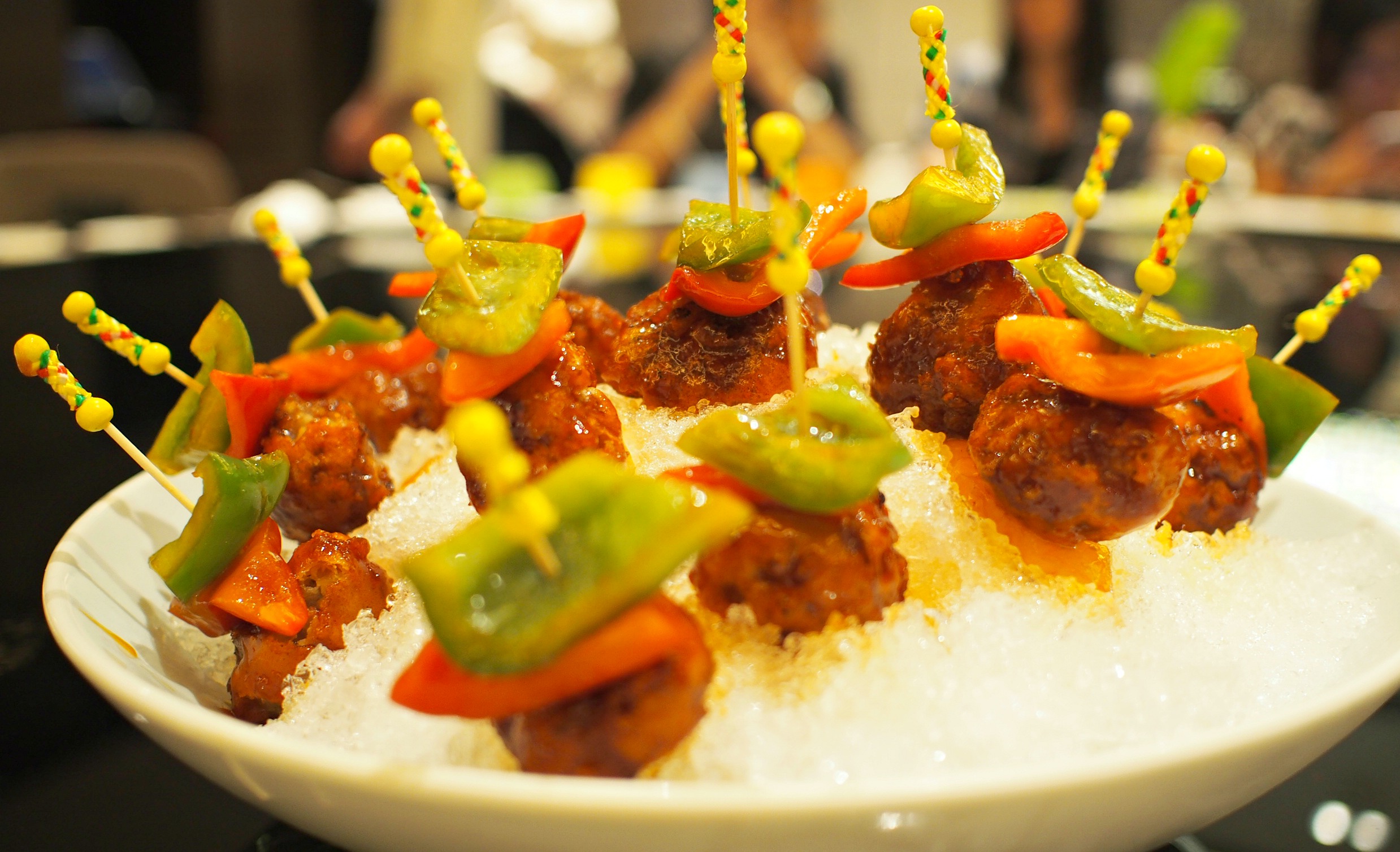 This perennial favourite comes with a twist in Kai Garden and is served on ice shavings to preserve the flavour of the meat and enhances the crunchy texture of its exterior.

Deep Fried Vegetarian Roll (S$22)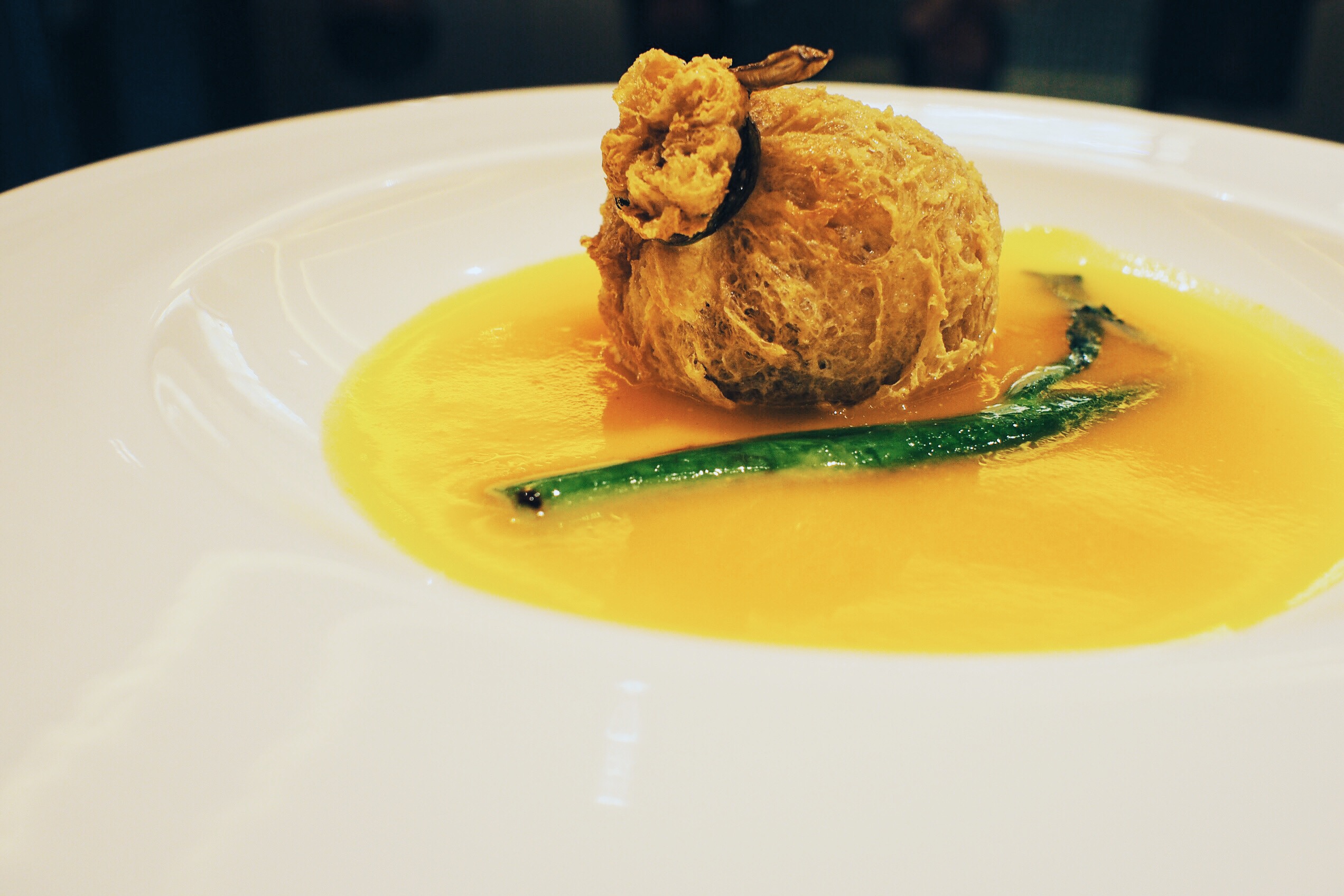 This beautifully plated dish is a mixture of fresh vegetables, mushrooms and tofu encased in a crispy net of bamboo fungus on a bed of pumpkin and red carrot gravy.
Pan Fried Charcoal Pork Bun (S$6.80 for three pieces)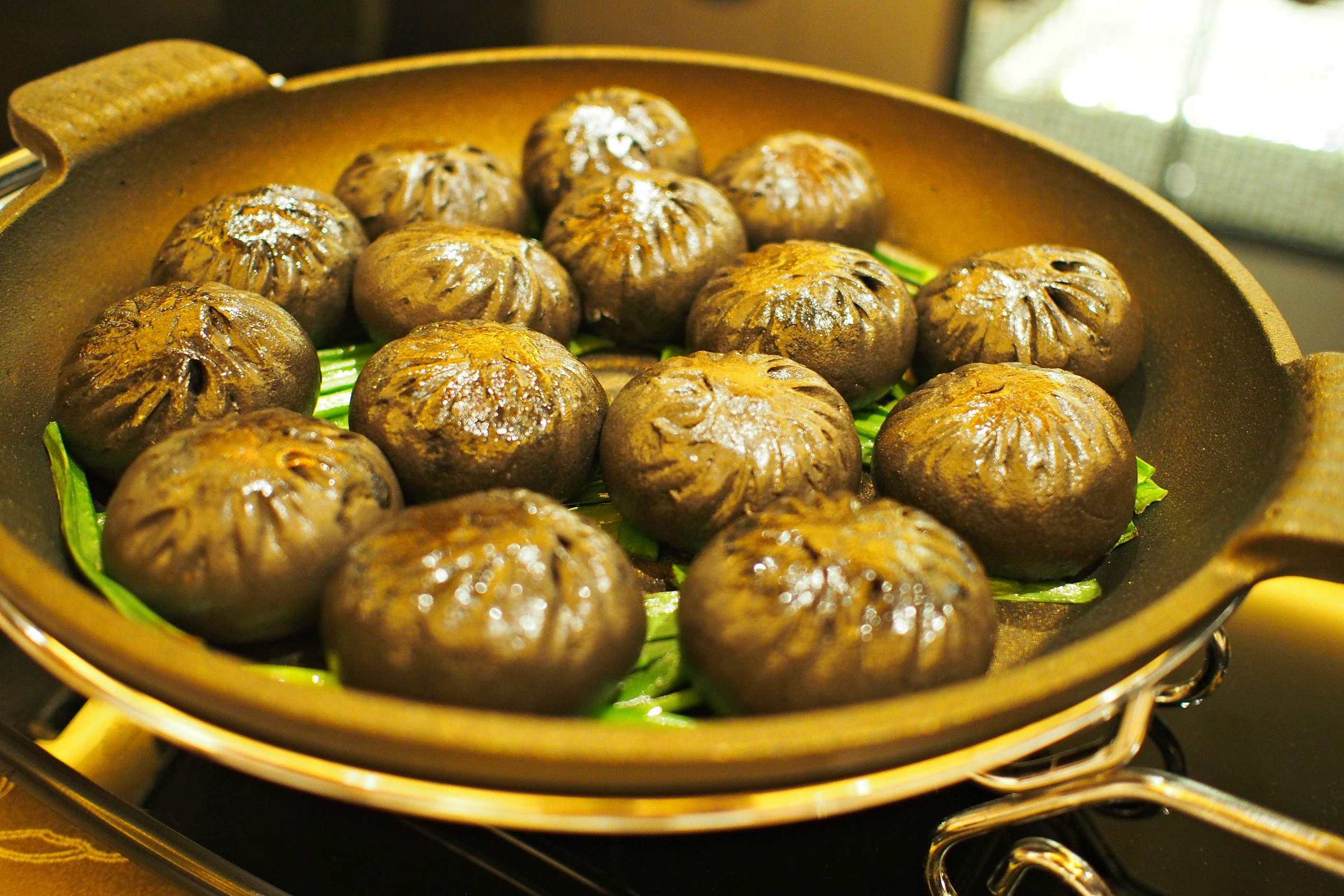 An interesting twist on the Xiao Long Bao, Chef Fung uses squid ink to colour and add flavour to the juicy pork bun which is pan fried to form a crispy crust that gives a nice contrast in texture to the dish.
Chilled Fresh Coconut Puree (S$6.80)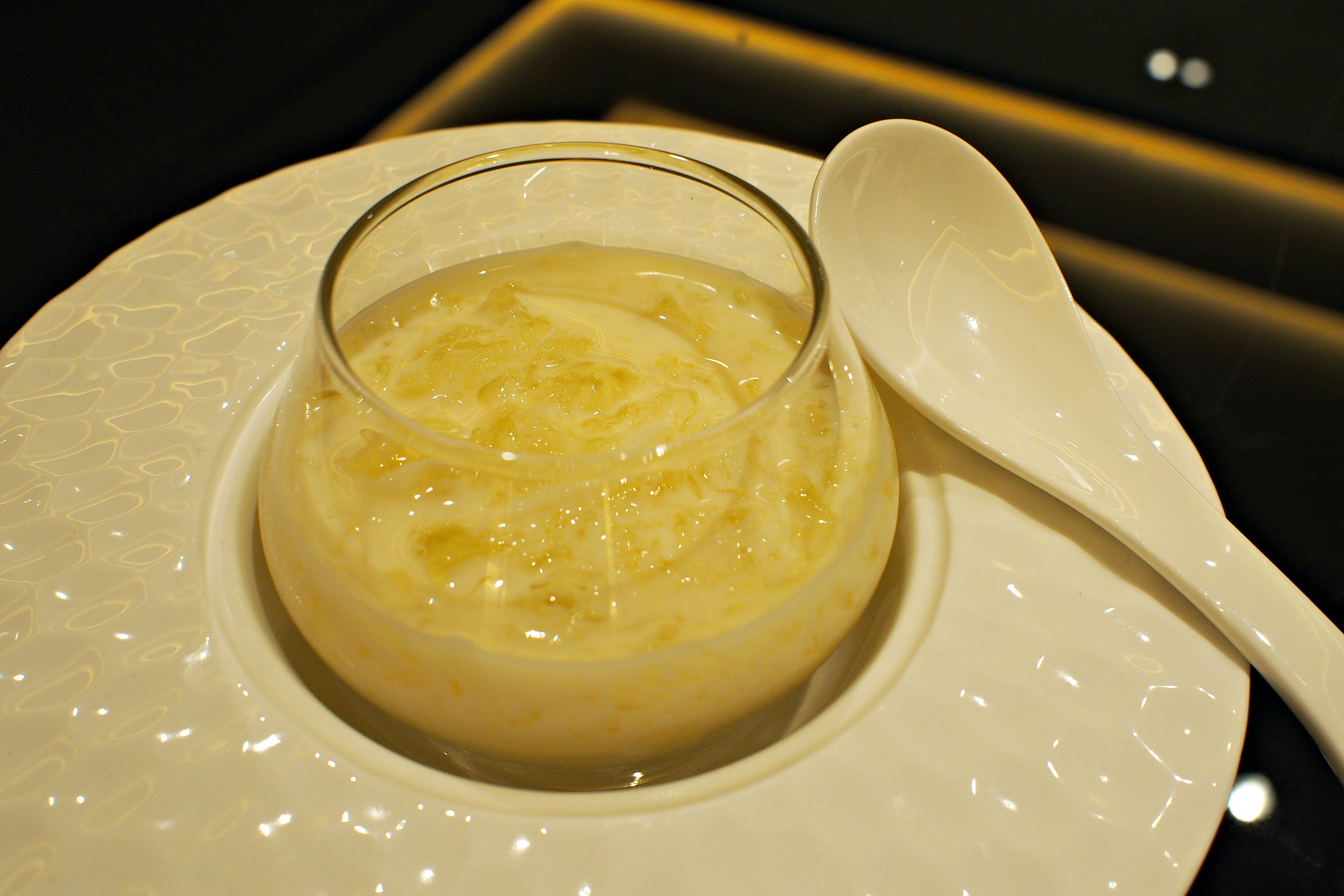 I have a familiar feeling of eating bird nest when savouring the chilled coconut puree with coconut flesh and jelly, which is a perfect ending to an impressive Cantonese fare.
With unsurpassed culinary skills and modern approach to traditional Cantonese fare, Chef Fung has given his own innovative take on these Cantonese favourites without compromising on the unique and delicate flavour of each dish and has created a memorable dining experience for me indeed.
Kai Garden
#03-128 A/B
6 Raffles Boulevard
Marina Square
Singapore 039594
Tel: +65 6250 4826