Walk like an Egyptian. Party like a Roman. Do good like a Samaritan. Plant like a Babylonian. Endure like a Spartan. The ways of the ancients have captured the imaginations of many brilliant minds through the ages, who have sought to retrace the secrets of their practices.
How about following in the gastronomical footsteps of our forebears from before recorded time and eating like a Paleolithic era caveman? After all, there have been many folkloric and religious accounts of longevity. So, if we are what we eat, they must have been on all the right stuff.
The premise of the Paleolithic (Paleo) diet is that during the Paleolithic era (from 2.5 million years ago till 10,000 years ago), our ancestors thrived on a diet of meat, nuts and berries. However, the advent of agriculture upset our stomachs by introducing grains, legumes and dairy products that our bodies had not yet fully evolved to efficiently metabolise. Essentially, proponents of the Paleo diet advocate a nutritious menu from a simpler time, when humanity and nature were in harmonious balance.
Spinacas
The fine folks at Spinacas, a Singapore-based healthy salad delivery service, will whip up a tasty ensemble and deliver it to your doorstep — an ensemble that will keep your tummy satisfied and taste buds tantalised with minimal fuss.
Spinacas picks the choicest leaves and shoots from nature's garden and uses this as the primary base for their meals. I guess it makes sense as a nascent humanity was cradled in the garden of Eden. Complementing this base is a healthy portion of meat from five tasty options that is slathered over the greens. This is as much for adhering to the Paleo diet as it is for keeping those of us who lean more towards carnivorous Neanderthal interested.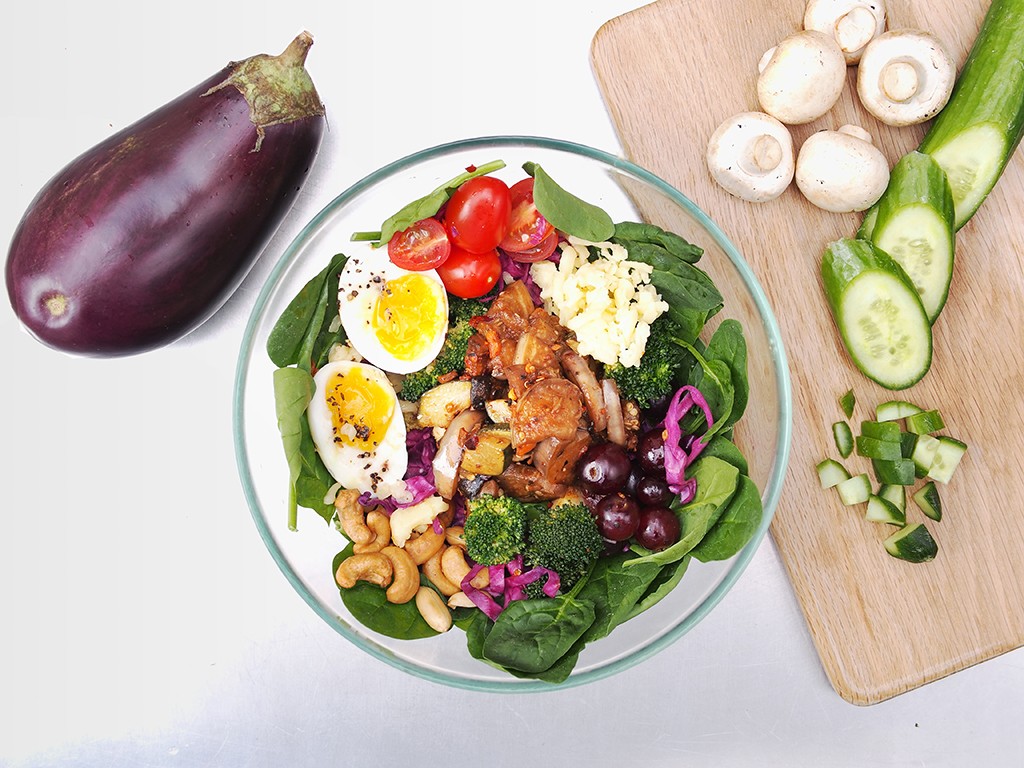 For most of us, meals are chronically, woefully vegetable-deficient. This is particularly so for those averse to healthy herbage. There is simply no easier way to swallow a head of broccoli than with Moroccan spiced chicken, BBQ pulled pork, pork and beef meatballs, honey soy chicken or chicken patties. Those already initiated to the benefits of regular plant fibre intake can forego animal-based protein and opt for sesame tofu patties or ratatouille.
Modern diets are carbohydrate-centered diets made with highly processed "white carbohydrates", such as refined wheat used in white bread and polished white rice which are high in refined sugars but stripped of vitamins. These are absent from Spinacas' creations.
If you're worried about lasting a day without burning an ulcer in your stomach, it should not be a concern. The helping of meat was substantial enough to keep me on an even keel as I navigated through a whole work day. In fact, without the starch and sugars from the usual rice or noodles, I was spared the post-lunch fatigue. Knowing I had a proper serving of vegetables made me feel pretty good about myself. A transition, especially a dietary one is not always easy but Spinacas has made it much easier.
Picking up on this nutritional philosophy in Spain while on a sabbatical from the rat race, former architect Phyllis Chua brought back with her a conviction and an idea; a belief that a wholesome diet should be fuss free, accessible and satisfying. In that vein, Spinecas was her brainchild for providing a healthy and gratifying salad delivery service that is uncomplicated.
Offering five meats and two vegetarian options in two sizes, you only need to make two key decisions. Each delivery container of greens starts off with a pre determined base (baby spinach or mesclun and pickled red cabbage) and six toppings (broccoli, hard-boiled egg, cheddar cheese, nuts, seasonal surprise ingredient and a home-made dressing). From here, the choice is between a regular or petite sized portion.
Next, select from a variety of meat options or a vegetarian substitute. Selected as the best optimal combination of vegetable base and toppings, customers can avoid time spent deciding on various permutations of ingredients. After all, the focus is on the flavour-packed meats. In keeping with a Paleo diet, salads are free of carbohydrates such as bread, pasta and potatoes.
I tried the Moroccan spiced chicken, as I do enjoy a zing in my meals. I was skeptical that a salad could fill my stomach for anything more than 15 minutes. Surprisingly, the beautifully seasoned and succulent chicken chunks kept me satiated. The carefully chosen arrangement of vegetable base complemented one another well. The blend of sweeter greens interspersed with a hint of bitter ones was a masterful melange of salad choice – crisp, fresh, light and mentally uplifting.

Like exercise, you feel better after after having a good salad. Piquant to pique your palate, robust and satisfying in flavour. Each mouthful of chicken was filling and fulfilling. Each bite of succulent chicken soaked through with flavour left me thinking about the last spoonful, wanting more, not because of an insatiate desire but for the anticipation of the next delivery.
Each delivery is scheduled at lunchtime or dinner time, from 10:30am to 1pm, and 5pm to 7pm, Mondays to Fridays. The Regular size costs S$11 while the Petite size goes for S$9. You need to pay for extras such as meat (+S$2), egg (+S$1) or nuts (+S$1). Orders must be placed 24 hours in advance, and have a minimum of $30 per order.
Zero Cuisine
Zero Cuisine's selection is another solution for carbo-phobia. Founder Serene Loong's approach to the carbo problem is different. Acknowledging that modern meals comprise carbohydrates, Zero Cuisine has created an alternative that seeks to replace our usual serving of rice, noodles or bread. Made from mashed cauliflower, freeze-dried and then packaged into convenient pouches of four servings each, Zero Cuisine's cauliflower mash (US$10.90 per pack; free shipping in Singapore) is available in two flavours – Garlic, Herbs and Sea Salt, and Wasabi and Chives.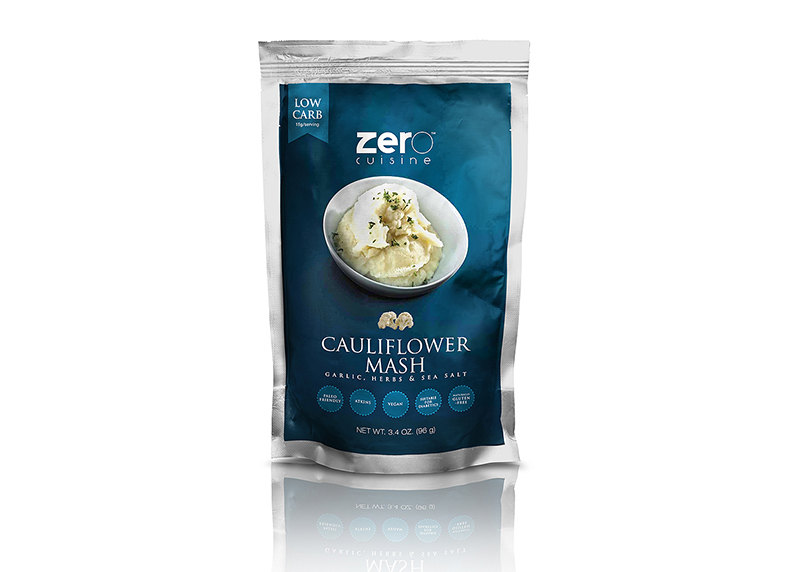 Zero Cuisine's cauliflower mash is 100% natural, preservative-free, and high in fibre and vitamins. It is touted as an effective way to wean dieters off diet-defeating carbohydrates and is also a perfect meal for diabetics, vegetarians, children who abhor their greens. Each serving provides you with the daily recommended intake of vegetables.
So how do the nutritional stats of the cauliflower mash stack up against mashed potatoes? It's a no-brainer which one is better for you, but I was impressed at how MUCH better it is for you.
Each serving of Zero Cuisine's cauliflower mash has:
63% less calories
38% less carbohydrates
92% less fat
150% more fibre (this keeps you full)
33% more Vitamin C each packet
So, the million dollar question is, how does the cauliflower mash stand up to mashed potatoes in a taste test?
Compared to the traditional mashed potato, Zero Cuisine's cauliflower mash tastes remarkably similar to the peppery savoury KFC snack albeit a little sweeter than its tuber counterpart. Although the cauliflower mash flavour factor was generally favourable, I would be very devoted to my diet to be able to have the mash on its own. I envisioned the cauliflower as a versatile ingredient in a fancier dish.
I like to think of myself a little more evolved than a caveman, and so I decided to experiment with dressing up my cauliflower mash.
I dabbled with some mix-ins, creating five different flavours. I tried oregano with onion-infused olive oil. I had another with fried garlic, leek with sour cream, boiled cauliflower pieces and cheddar cheese.
I also tried one which probably wouldn't sit too well with the health-conscious ones out there, but it sure tasted good. I smothered warm, peppered cauliflower mash over roasted eggplant. drizzled it with olive oil, sprinkled some cheddar and topped it off with a medallion of Jamon Iberico.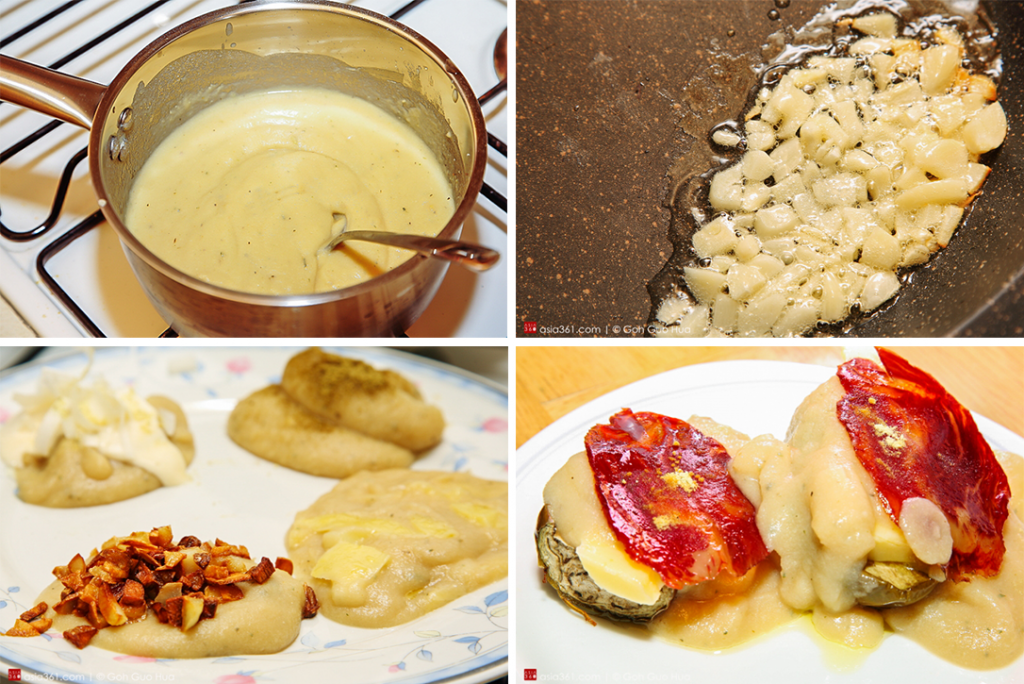 With all these appetising options to pick from, those embarking on a diet cannot be considered to be limiting their choices and becoming a gourmet ascetic. Instead it seems that more aptly, they are opening the door to foods that might have been encountered before. There's no better time to begin eating healthier than today.