Don't you hate it when you reach for a towel after a shower to dry off and come away from using it still very damp? Or, ANOTHER of my pet peeves with new towels – the sheer amount of fuzz that sticks to you after you use them. Not only is it annoying having to brush the damp bits of cotton off, sometimes it even gets into your eyes when you're trying to put your contact lenses in. Please tell me I'm not the only one with this issue. 
Anyway, due to the aforementioned reasons, I've been reluctant to purchase new towels. Instead, I've stuck to my worn and frankly rather threadbare stash because the thought of having to deal with all that new towel fuzz – that sometimes lasts through several wash cycles, mind you – is just too much of a bother. I know that this is beginning to sound like a First World problem but bear with me. 
When I was approached to review the Magic Egyptian Cotton Bath Towel, I was cautiously optimistic. Why not, I thought to myself, since I need a new bath towel anyway. When the package arrived, I was surprised by the weight and thickness of the material. In fact, because of the distinctive waffle knit, I thought it was a blanket or quilt at first.
It certainly is unlike any towel I'd ever seen. It is larger than the average bath towel too at 150cmx79cm. The waffle knit isn't just for show; it was chosen to give fibres more space between them, allowing the towel to dry much faster, keeping mildew and that unpleasant damp towel odour at bay. 
Encouraged by the heft and quality of the bath towel, I gave it a shot. Impressively absorbent, it didn't leave me still damp after using it like the rest of the towels I've tried. Unfortunately, it wasn't completely fuzz-free – at least not after the first use. A small amount of fuzz still clung to me, albeit not as much as other towels did. I'm also happy to report that this didn't persist after the first use – a rare thing in my opinion!
I'd say that the MP Magic Egyptian Cotton Bath is by far one of the better towels I've used. Definitely on par with those impossibly soft, fluffy towels you'd find in fancy hotels. This is largely due to the high quality, long-staple Giza 86 Egyptian cotton that is used. This cotton is the cream of the crop, literally. Only 10% of Giza cotton is Giza 86. The big deal about long-stable cotton is that it allows for tighter knits without fraying, breaking, or separating, ensuring the durability and longevity of the towel.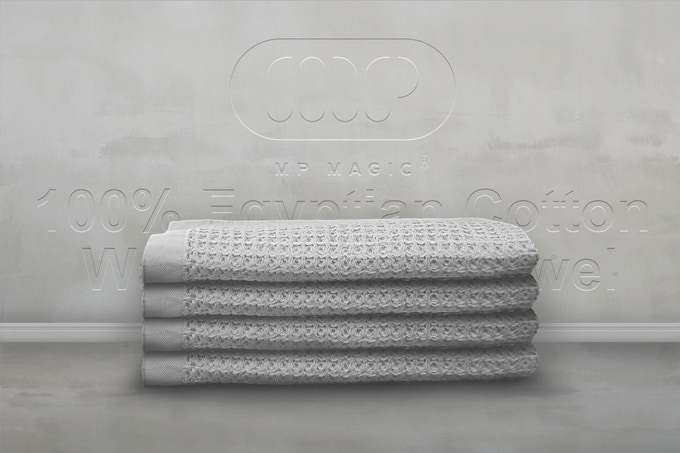 Because of all these factors, it's also touted as being incredibly long-lasting, ensuring that you need not purchase new towels as often, making it eco-friendlier. Of course, I can't vouch for this now, but with all the other boxes ticked, I'm inclined to take their word for it. 
Their Kickstarter is already fully funded, which speaks to the quality of their products. I've experienced their talent for developing innovative textiles first-hand, having previously reviewed their other products here and here. If you're interested you can back their Kickstarter here. It ends on Sunday, Oct 3, 2021.