What can be more enticing than having one illustrious chef make a dessert for you using pure European cream? Well, having 10 chefs from 10 countries making 10 gorgeous La Crème de la Crème Blanc de Blanc desserts for you.
Hailing from all over the world, 10 of the finest pastry chefs – from countries such as Saudi Arabia, South Korea, UAE and Hong Kong, to name a few – gathered in Singapore at Forlino on 15 June 2017 to showcase some of the finest use of European cream with their dessert and pastry creations.
These chefs have taken two days to perfect and craft their pastries at cooking institution At-Sunrice GlobalChef Academy. Their recipes will eventually be published in a beautifully illustrated recipe book to be used as a training tool for students at annual workshops.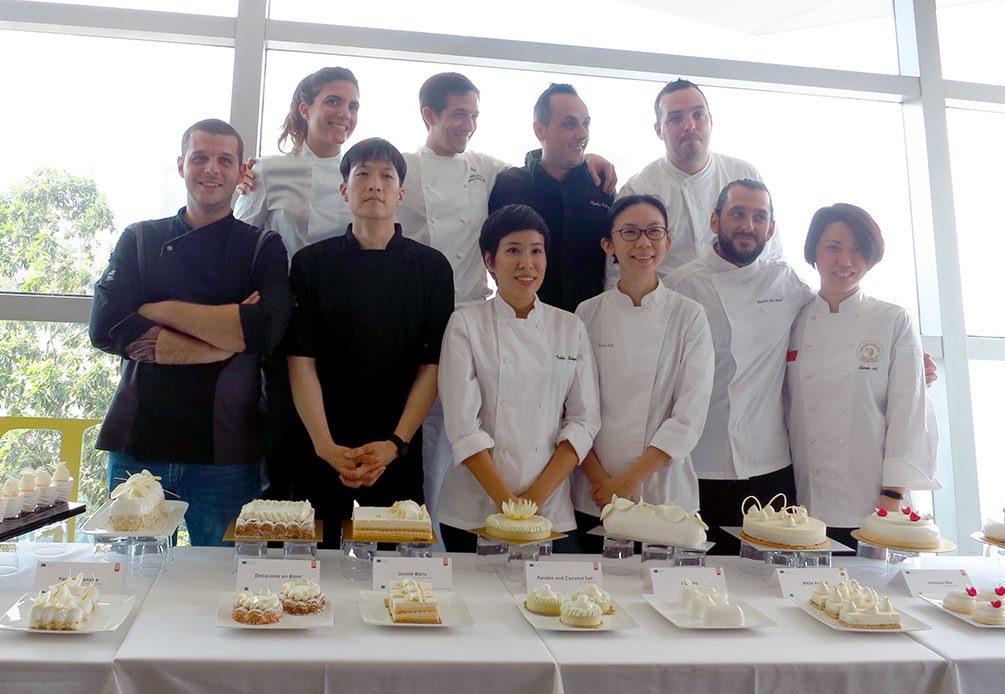 The difference in European cream is apparent, which is why it's the dairy product of choice for discerning chefs and artisan bakers. The climate is Europe is ideal for milk production, ensuring a stable base from which the cream is derived. This results in a product that is superior in texture and taste. European cream is made according to stringent specifications, and has absolutely no artificial colourings and additives included.
As much as I love sweets, regrettably I wasn't able to sample all 10 pastries. My heart was willing but my stomach capacity was limited. Those I managed to try really highlighted why these chefs were specially chosen for this showcase. The masterful pairing of ingredients coupled with the use of high quality cream made me eagerly spoon up bite after bite even though I personally am not partial to creamy cakes in general. The cakes did not feel overly heavy or too rich at all despite the liberal use of cream. This is probably why European cream is favoured by top chefs who have unwavering standards to uphold.
Some chefs infused their creations with flavours from their country of origin. Chef Mayada Badr's Al Huda was a delightful ice cream and meringue concoction that was lightly perfumed with a medley of Middle Eastern flavours. It just about melted in my mouth.
Singapore's very own Cheryl Koh of Les Amis Group created her tart with the comforting and familiar tastes of coconut and pandan in order to give it a local twist. This treat was reminiscent of a fancied-up version of our beloved kaya. I sure wouldn't mind having it first thing in the morning.

I particularly enjoyed Chef Nicolas Bacheyre's L'Orelys. Fruit and cream go wonderfully together and his addition of banana and passion fruit cut through the richness of the cream perfectly. Each mouthful was just the right balance of flavours.
I may not have been able to sample all the cakes but at least I can check out the recipe book and try my hand at creating them on my own. After my experience with European cream that day, it goes without saying that it's the only kind I'll be shopping for.