It's hard to imagine fashion and food going together hand in hand, for it's been often said that the folks fashion industry don't like to eat. But, there seems to be a growing trend of designer brands making their foray into the food arena and opening restaurants and cafes around the world.
While some who go to these designer eateries are probably there to be seen rather than to eat, that shouldn't stop food connoisseurs from dining at these oh-so-gorgeous restaurants and cafes. In fact, a number of these designer restaurants boast a Michelin star or two. These restaurants are bound to delight you, be you a fashionista or a foodie.
1. Chanel – Beige, Tokyo
Located in the posh district of Ginza in Tokyo, Beige is opened by Chanel together with the esteemed Chef Alain Ducasse, who runs the three-Michelin-starred restaurant of his namesake at The Dorchester in London. Perched atop the 10-storey Chanel Ginza building, the restaurant exudes typical Chanel elegance with its contemporary décor, high ceilings, signature tweed and matelassé quilting. It is also the one and only Chanel restaurant in the world, with two Michelin stars no less.
The menu, which starts from 5,500 Yen (S$68) for a three-course set lunch, features the best of French cuisine using the finest Japanese ingredients such as Kumamoto red beef and Hokkaido spider – so refined Mademoiselle Chanel would have definitely approved of them.
Beige is located at Chanel Ginza Building 10F, 3-5-3 Ginza Chuo-Ku, Tokyo, Japan. Tel. +81 (3)51 59 55 00.

2. Gucci – 1921 Gucci, Shanghai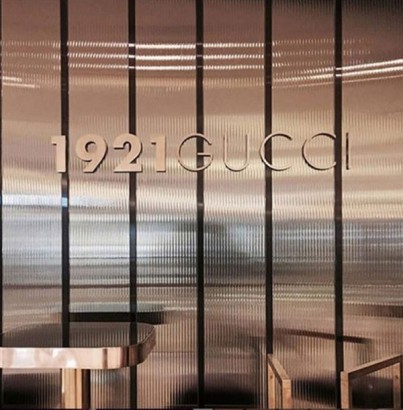 1921 Gucci is the Italian fashion house's first full-service restaurant in the world. Housed on the fourth level of luxury mall IAPM, the swanky bistrot took two years to realise and only opened its doors in July this year. Guests can get to the restaurant via a private lift within the Gucci store at the mall.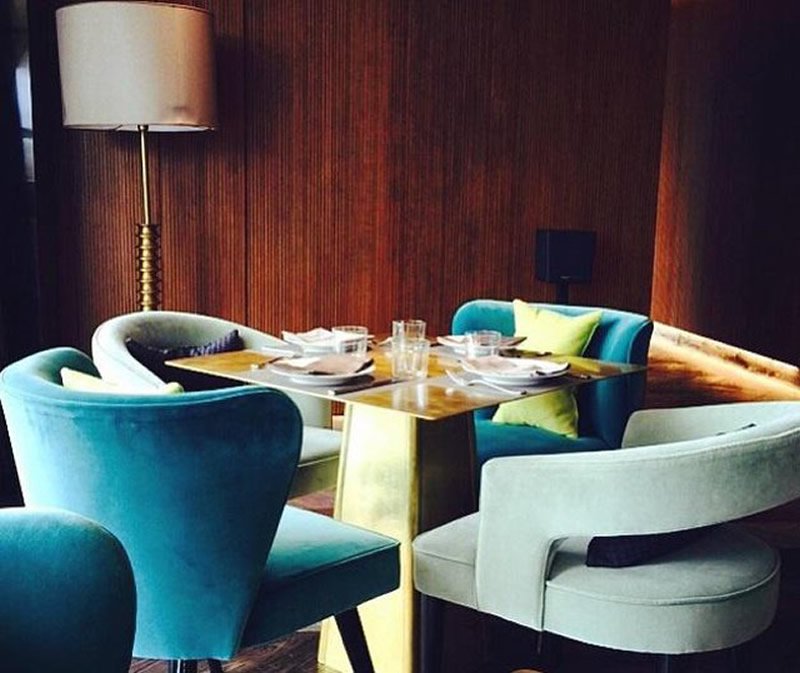 The menu offers mainly Italian dishes. A two-course set lunch will set you back at about 150 RMB (S$34) per person, while a dinner set costs about 300 RMB (S$68).
Though 1921 Gucci is the first Gucci full-service restaurant, the fashion house has also opened a Gucci-themed café in Florence, Italy in 2011.
1921 Gucci is located at 413 IAPM Mall, 999 Huaihai Road, Shanghai, China. Tel: 021 33563525
3. Vivienne Westwood – Vivienne Westwood Café, Hong Kong and Shanghai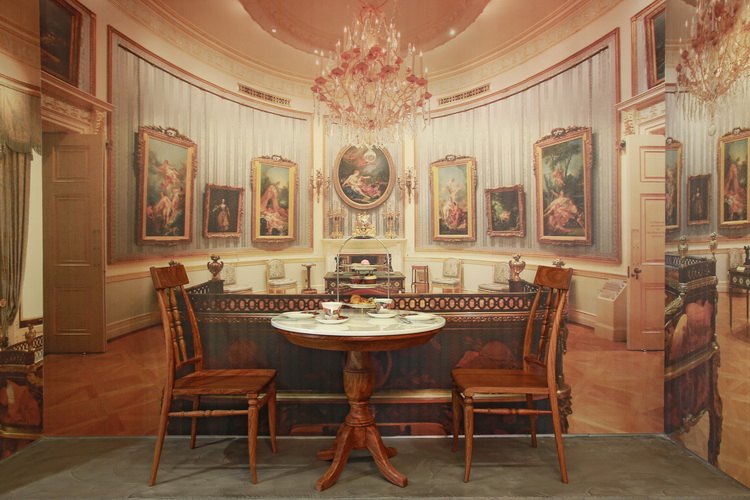 British queen of fashion punk Vivienne Westwood opened her first café in Shanghai and her second in Hong Kong this year. Both cafes are separated into two areas – one to resemble the backstage of a fashion show and the other, an 18th century French tea house. Westwood's signature tartan prints are seen even on the tableware and desserts.
The Vivienne Westwood Cafes are at 2F, K11 Art Mall, No 300 Huaihai Middle Road, Huangpu district, Shanghai, Tel: 021 6316 0261, and Shop OT305, Ocean Terminal, Tsim Sha Tsui, Hong Kong, Tel: Tel: +852 2375 9688.
4. Bulgari – Bulgari Il Ristorante, Tokyo
Tokyo is not only home to the largest Bulgari store in the world, but also Bulgari Il Ristorante, a restaurant which takes up four stories of the Bulgari Ginza Tower. Bulgari Il Ristorante in Tokyo is helmed by Executive Chef Luca Fantin, who is the only Italian chef in Japan with one Michelin star. Floor-to-ceiling windows and sophisticated décor set the backdrop for a meal of fine Italian cuisine here.
Dining at Bulgari won't break the bank as shopping at Bulgari might. Prices for the extensive Italian menu starts at 5,500 yen (S$68) for a three-course set lunch. The Italian jeweller also has restaurants in other parts of the world, including Osaka, Milan, Bali and New York.
Bulgari Il Ristorante Tokyo is at Ginza Tower 2-7-12 Ginza, Chuo-ku Tokyo 104-0061 Tel: +81 3 6362 0555.
5. Giorgio Armani – Emporio Armani Caffé, Dubai
Designer Giorgio Armani made his first foray into the F&B business in 1989. Since then, the eateries under his brand have grown across the world from casual cafes to opulent restaurants. Among his numerous food establishments includes the Emporio Armani Caffé in Dubai.
Emporio Armani Caffé reflects the personal taste of the fashion designer as seen in the clean and contemporary design. The Milanese restaurant's menu is a nod to the designer's roots; it offers classic Italian cuisine and also sells a selection of preserves and Armani Dolci.
Armani restaurants are also found in other parts of the world, such as Hong Kong, Tokyo, Milan and New York.
Emporio Armani Caffé Dubai is at Level 2, Fashion Dome – Mall of the Emirates, Al Barsha 1, Dubai. Tel: +971 4 3410591
6. Ralph Lauren – Ralph's Coffee, New York
If you happen to drop by Ralph Lauren's flagship store in New York City, don't forget to head up to the second floor. You will find a quaint and elegant café called Ralph's Coffee where you can grab a cup of java in the midst of your retail therapy.
Fitted out in classic American style, Ralph's Coffee offers La Colombe coffee blends made with organic South American and African beans. Those looking to bring home a souvenir can choose from a range of merchandise at the café, including mugs, caps and tins of whole bean Ralph's Coffee – all emblazoned with the distinctive white and green logo. There is even a vintage mobile truck making its rounds in the city.
Ralph's Coffee is located at Polo Ralph Lauren, 711 Fifth Avenue at 55th Street, New York, NY 10022.
7. Roberto Cavalli – Cavalli Ibiza Restaurant & Lounge, Ibiza
One can instantly recognise designer Roberto Cavalli's touch the moment he or she enters the restaurant. Situated in a romantic setting in face of a harbour with yachts, the open-air restaurant is decked out with chairs with loud Cavalli-style animal prints and lush palm trees across 21,000 square feet of space.
Diners can expect a wide selection of traditional Italian food infused with Tuscan influences. They also get to enjoy Cavalli-branded vodka and wine produced in the Tuscan winery owned by the Cavalli family.
Cavalli restaurants can also be found in Florence, Milan, St. Tropez, Dubai, Beirut, New Delhi and Miami.
‪Cavalli Ibiza Restaurant & Lounge is at Paseig Joan Carles I, 13, 07800 Ibiza Town, Ibiza, Spain. Tel: +34 971 19 2197.
8. Burberry – Thomas's, London
It goes without saying that London, one of the fashion capitals of the world, has to have its own fashion café, by a homegrown brand no less. Thomas's, a café by Burberry, is named after Thomas Burberry, the founder of the British luxury brand. Housed within the label's Regent Street flagship store, the café is quintessentially British – from its décor of black and white marble floors to the food that is sourced from small farmers and artisan suppliers across the UK.
Thomas's is at Burbery, Regent Street, London W1B 4TB, UK. Tel: +44 (0) 207 806 8904.
9. Christian Dior – Café Dior, Seoul
Dior's newest address is found in Seoul's fashionable Cheongdam-dong district, and within the six-floor avant-garde building designed by architect Christian de Portzamparc lies Dior Café by Pierre Hermé on the top floor. French pastry chef Pierre Hermé, who is well-known for his macarons and pastries, is tasked with creating sweet delights for the shoppers. The café's menu includes "flavours from far-off lands and culinary discoveries".
Dior Café by Pierre Hermé is at Boutique Dior, 464, Apgujeong-ro, Gangnam-gu, Seoul. Korea.
10. Dsquared2 – Ceresio 7 Pools & Restaurant, Milan
Owned by Dsquared2 design duo Dean and Dan Caten, Ceresio 7 Pools & Restaurant opened its doors to the glitzy crowd during Milan Fashion Week in 2013. Sitting on top of the historical Enel building in Milan's fashion district on via Lugano, the restaurant exudes vintage glamour, mixing original period pieces and new ones in perfect harmony.
The bonafide fashionable eatery dishes out sophisticated cuisine using the best ingredients, such as their Catalan lobster salad with Carmagnola peppers and marinated salmon with foie gras. It is a great place for people-watching too, with its two swimming pools and skyline view of the new financial district.
Ceresio 7 Pools & Restaurant is at 7, 20154 Milan, Italy. Tel: +39 02 31039221.