Witnessing the stunning natural phenomenon of the Northern Lights is something everybody should experience at least once in their life. If you think you have to camp out in the wilderness in the harsh winter just to see the Northern Lights, you're wrong. There are some hotels where you don't have to leave the comforts of and still get to caught sight of the spectacular sights. Here are seven of the best hotels in the world that will help complete your sky-gazing experience.
1. Alyeska Resort, Alaska, USA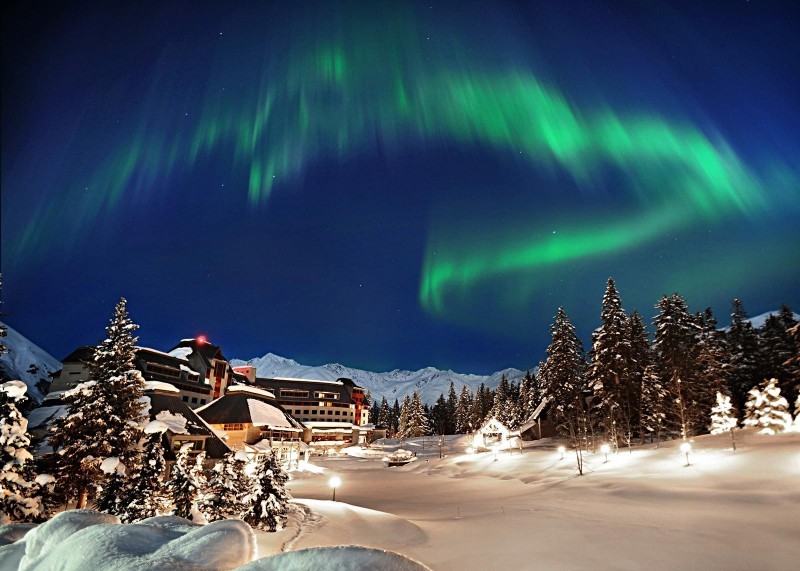 Surrounded by lush forest and towering mountain peaks, Alyeska Resort is located 40 miles outside of Anchorage. Situated in a relatively remote location, this makes a great spot for the resort guests to view the Northern Lights. As one of the state's top-rated hotels, the staff are extremely helpful and are more than pleased to arrange wake-up calls so guests will never have to worry about missing the Northern Lights.
2. Blachford Lake Lodge, Northwest Territories, Canada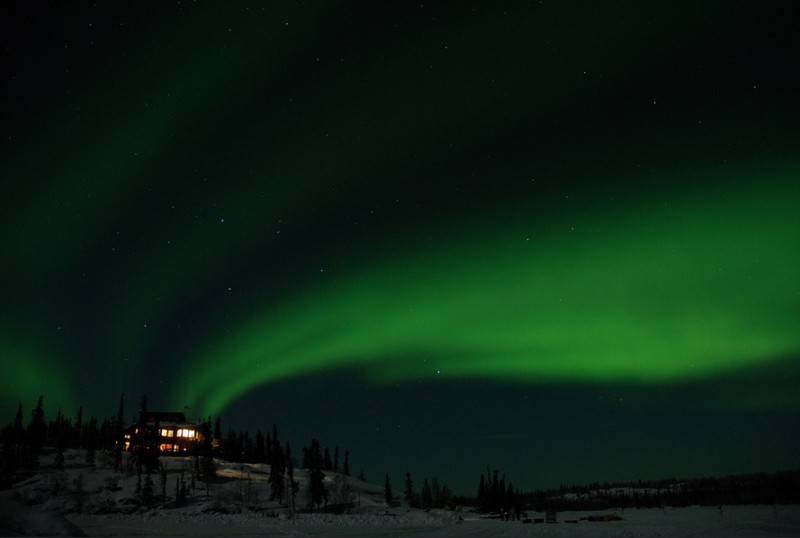 Only accessibly by bush plane, Blanchford is a rugged, picturesque hideaway which offers Northern Lights viewing from mid-August to end September and from December to mid-April. For a truly Canadian pioneer experience, guests can choose to stay in one of the five charming log cabins complete with lake views, outside camp fire pits and wood-stoves for heat. Not feeling too adventurous? You can always opt to put up in Blanchford's main lodge.
3. Hotel Arctic, Greenland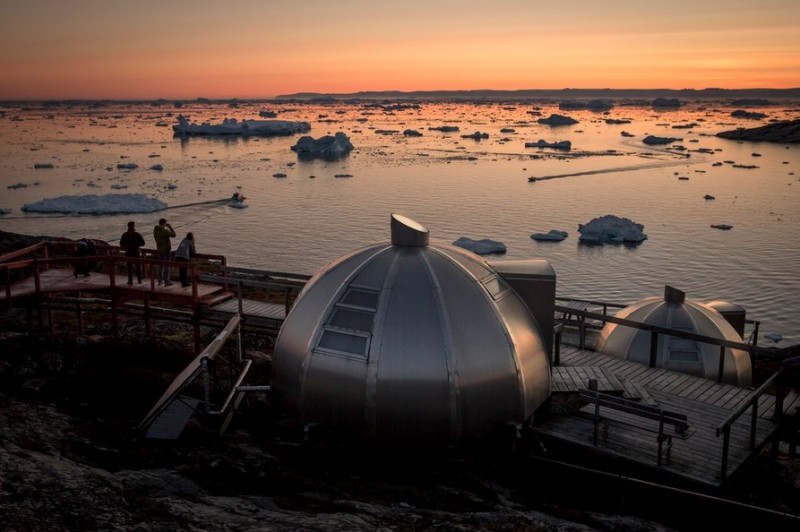 Located in a truly unique setting at the mouth of an ice fjord, Hotel Arctic boasts stunning waterfront light shows. Amongst its selection of distinctive rooms and suites is the quirky igloo accommodation – a two-person cabin with an aluminium exterior) which is a fast favourite with patrons.
4. Hotel Kakslauttanen, Finland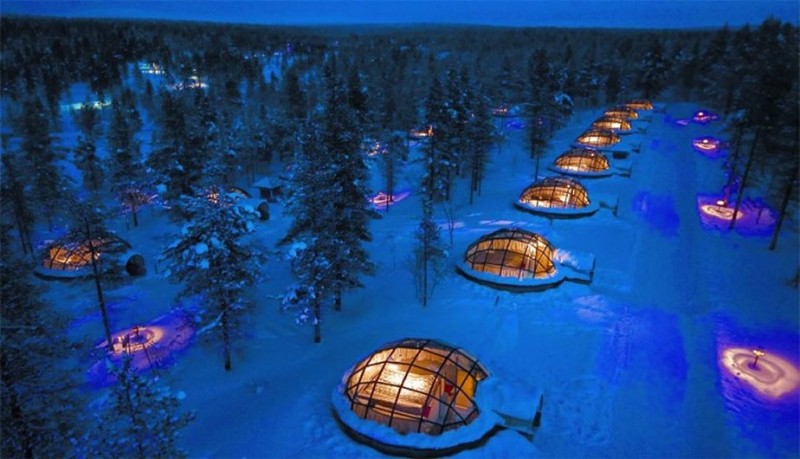 While Hotel Kakslauttanen is home to various amazing log cabin accommodations, it is the distinct glass igloos that have put the hotel on the map as a go-to Arctic hot spot. Unlike many other hotels, the guests here can escape the cold and are able to, from the comforts of their warm and toasty little units, observe the stars and Northern lights. Whoever thought they couldn't have the best of both worlds surely have not been to Hotel Kakslauttanen.
5. Ion Hotel, Iceland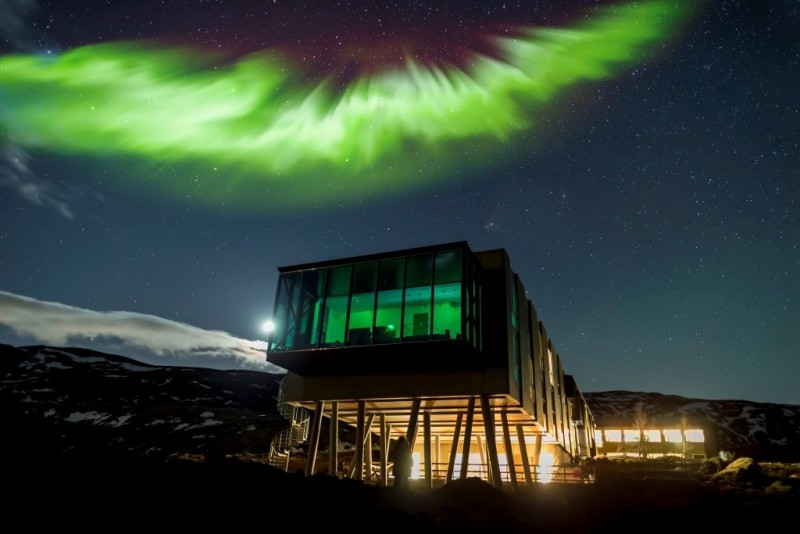 If you want another an ideal place for taking in the Northern Lights, the Ion Hotel in Iceland is another exceptional option. With its floor-to-ceiling windows, the hotel allows its patrons to get an unrestricted view. Situated amongst a stunning backdrop of mountainous lava fields about an hour's drive from Reykajavik, the Ion Hotel is a great base for exploring Iceland's unique environment.
6. Lyngen Lodge, Norway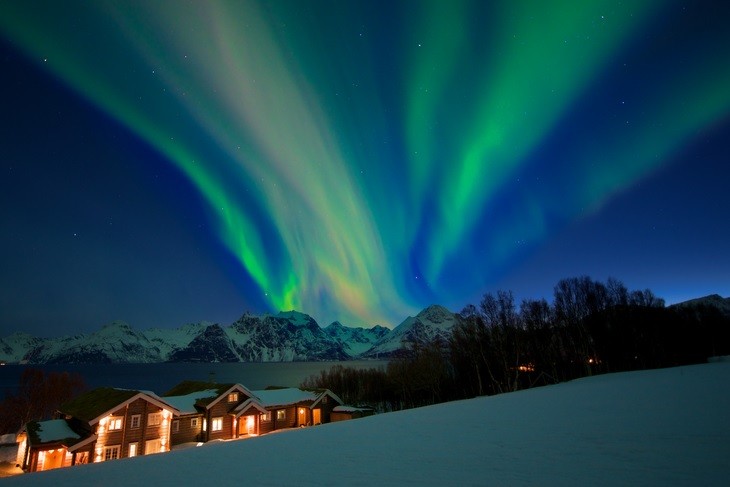 Located high above the Arctic Circle, Lyngen Lodge in Norway is an extremely exclusive lodge — it can only house a maximum of 18 guests. Do not worry about being frazzled by the cold weather, visitors will always be able to keep warm, thanks to the Lodge's geothermic heating, sauna and large open fireplace in the main lounge. Guests also have the option of viewing the Northern Lights from the comforts of the outdoor jacuzzi.
7. Sorrisniva Igloo Hotel, Norway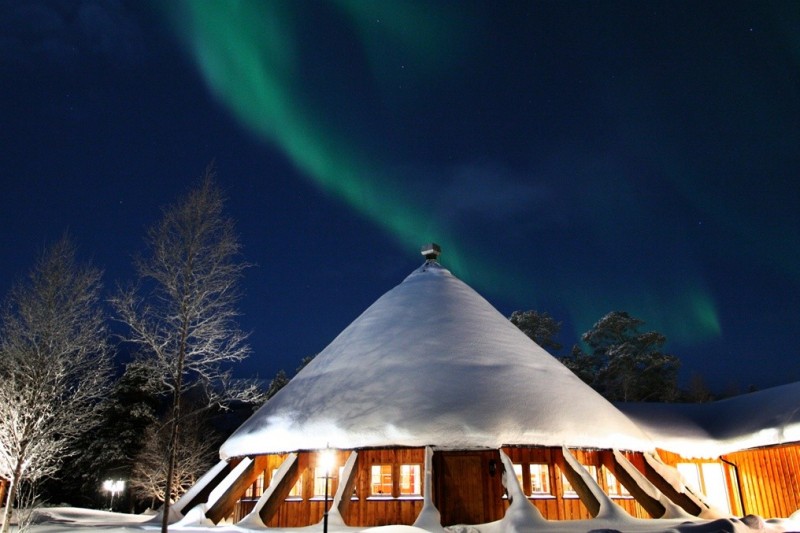 Looking like something straight out of the Disney movie Frozen, this exceptional hotel is carved entirely out of ice. What makes it even more impressive is a view of the amazing aurora borealis as soon as one steps outside its doors. With a short lifespan, Sorrisniva will welcome a limited number of guests when it opens in January before melting away in the spring.
This list was compiled by HotelsCombined. Images courtesy of HotelsCombined.
Read also: 6 Things You Can Do in Rovaniemi, Finland