Got a sweet tooth? You will find delight in the newest dessert parlour Cotelato, of which the name is a portmanteau of coffee, tea, and gelato. The sister concept of SPRUCE, this whimsical cafe is situated right next to SPRUCE, tucked away in the green, breezy enclave of HillV2. It came into being by popular demand because of SPRUCE's patrons' insatiable appetite for founder Danny Pang's desserts.
Being an experiential cafe, Cotelato will appeal to those who enjoy interacting with their food and getting hands-on. Look forward to being served up dreamy petits gateaux, mini replicas of designer handbags, artisanal teas, and more. All cakes are freshly made in-house daily.

One of the highest praises you can get for desserts in Asia is a nod of approval and the coveted, "not too sweet" statement of appreciation. That's when any chef knows they have done a good job. I'm happy to say that you can expect this from most of the desserts here at Cotelato, thanks to the premium ingredients and the thoughtful way the different flavours are blended and paired. Never cloying, each medley of ingredients compliment each other, the sweetness just right.
The highlight of the visit was the Surprise Package (S$48), based solely on sheer novelty factor. What you'll get is a fondant-covered brownie crafted in the shape of luxury miniature handbags and served in a glass dome with dry ice. The ardent fashionista and bag-lover will surely be tickled. There are currently three different kinds of bags available, made on rotation every two months. Orders are limited and on a first-come-first-serve basis, although larger versions are available upon request with advanced pre-orders.
Their Whimsical Carousel will delight your inner child. Served on a merry-go-round that does actually go-round, complete with music and twinkling lights, it's a great way to celebrate a special occasion. Choose from the Carousel (S$24) with six assorted cakes, Happy Rides (S$28) with seven delicious options or the TWOgether Never Ending (S$35) with 10 sweet bites that are perfect for sharing. Some flavours include a Double Chocolate Cake with chocolate ganache, a Baked Cheese Tart topped with whipped cream and jam, and the crowd favourite, a delicate Carrot Cake with generous grated carrot and walnuts, among other exciting treats I'll let you discover for yourself.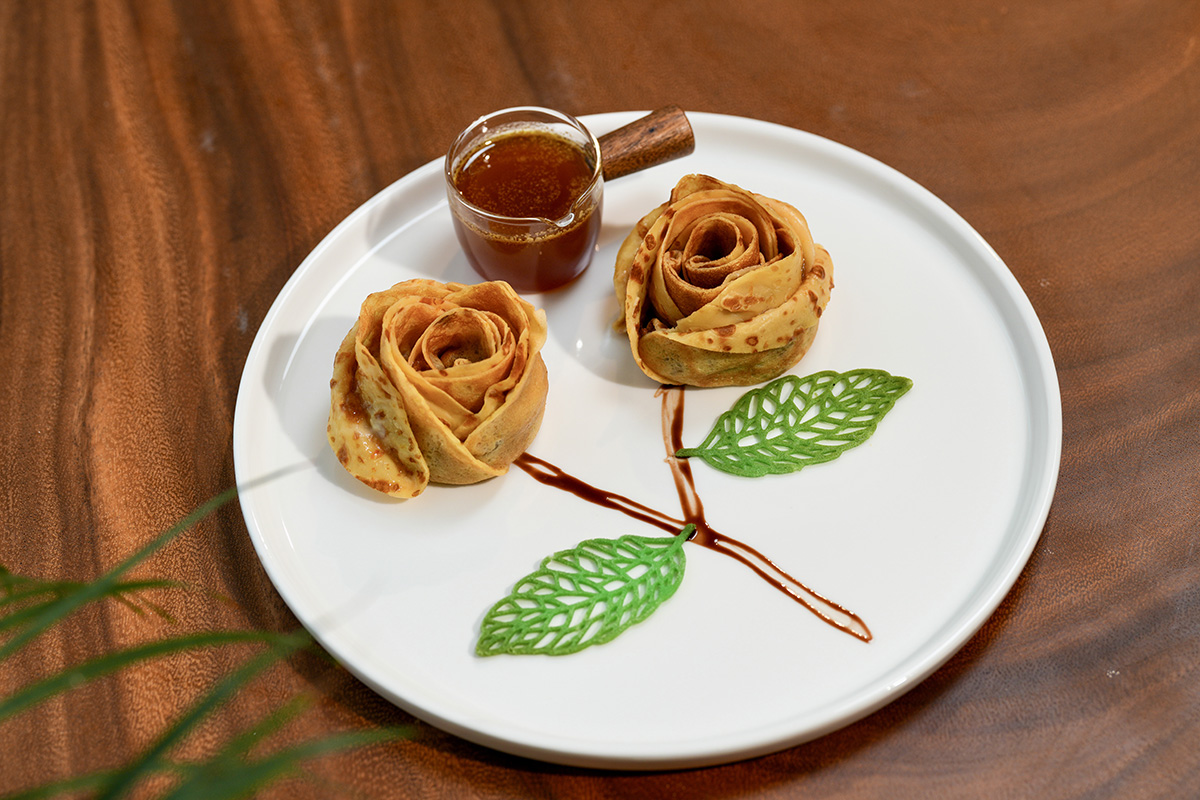 The favourites at my table by far were The Golden Rosa (S$18), and Pinky Lava (S$16). The Golden Rosa consisted of thin, light gold crepes served in the shape of two roses, layered with caramel sauce, hazelnut praline, and French Chantilly cream. An orange caramel sauce a la crepes suzette, was also provided in a little jug. I would suggest you try the crepes with and without the sauce – some of us preferred the crepes on their own, sans sauce.
The aptly named Pinky Lava was a visual delight for those who love everything pink. Served in a plastic encasement that's removed before your eyes at your table, watching the generous deluge of rich strawberry cream cheese sauce ooze over the warm hotcakes really whets the appetite. The sauce was deceptively light, making it the perfect accompaniment for the dense hotcakes. The hotcakes tasted subtly like sourdough, which we felt was quite unusual. We would have preferred a more neutral flavour to let the sauce really shine, but other than that, I thoroughly enjoyed it and even found myself scooping up spoonfuls of sauce to eat on its own.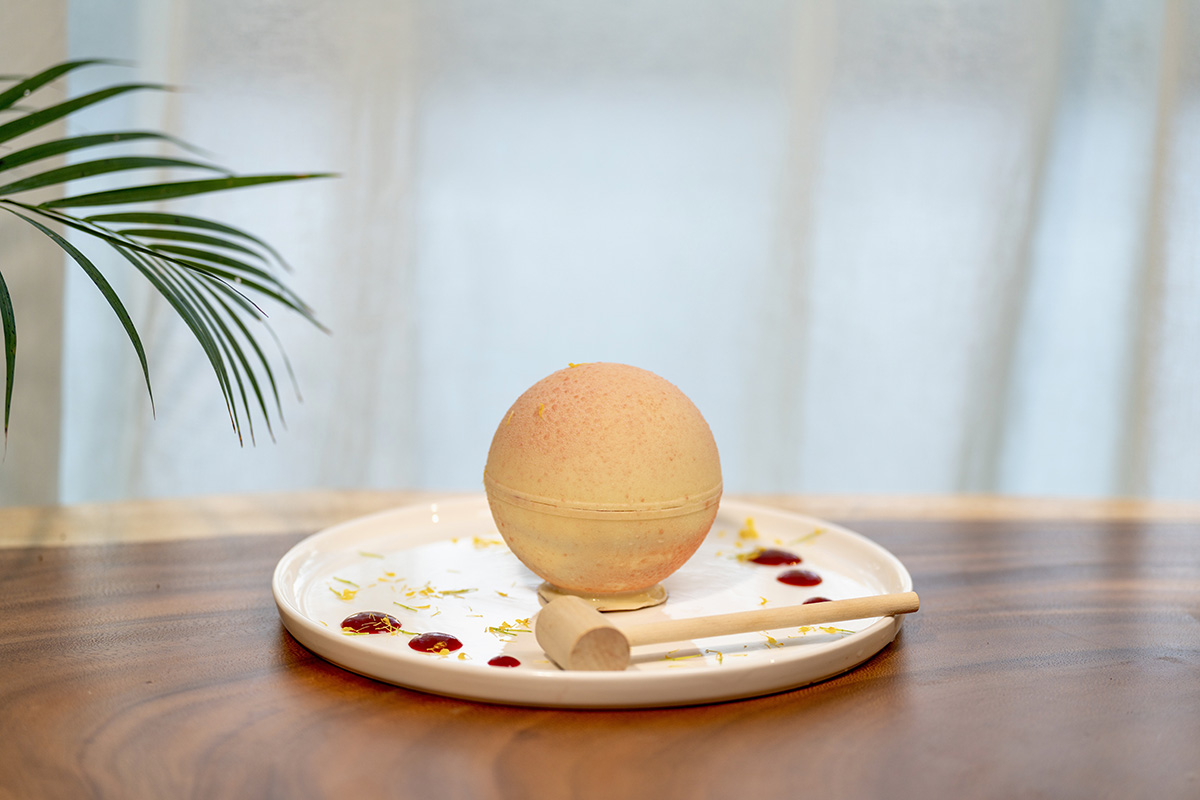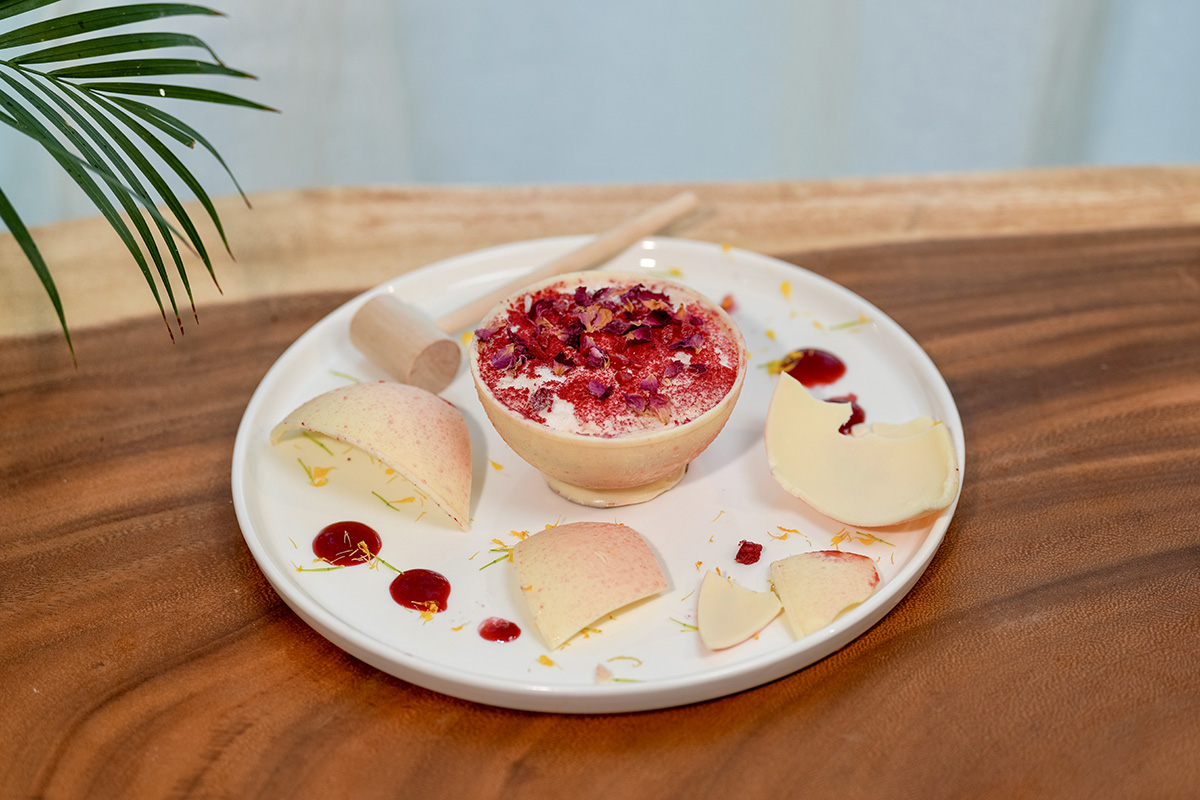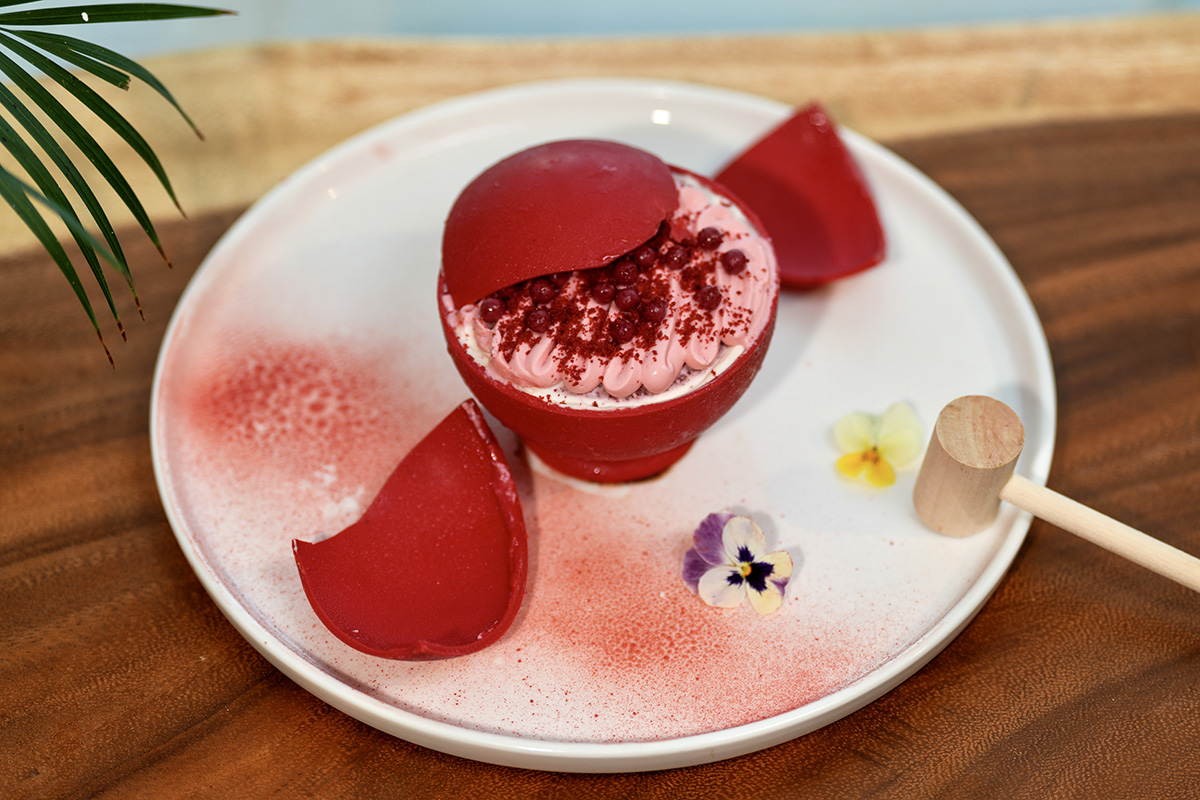 The Break the Blossom series is for those who love playing with their food. Presented in a  cake within a chocolate sphere, you're invited to break it open with a hammer to reveal edible flowers, fresh fruits and more. It currently comes in two flavours, the Mystic White Chocolate (S$16), a fruity raspberry shortcake, bursting with fresh raspberries, and the Red Hot Chocolate (S$16) a luscious red velvet cake layered with a mix of sweet and tangy cream cheese frosting.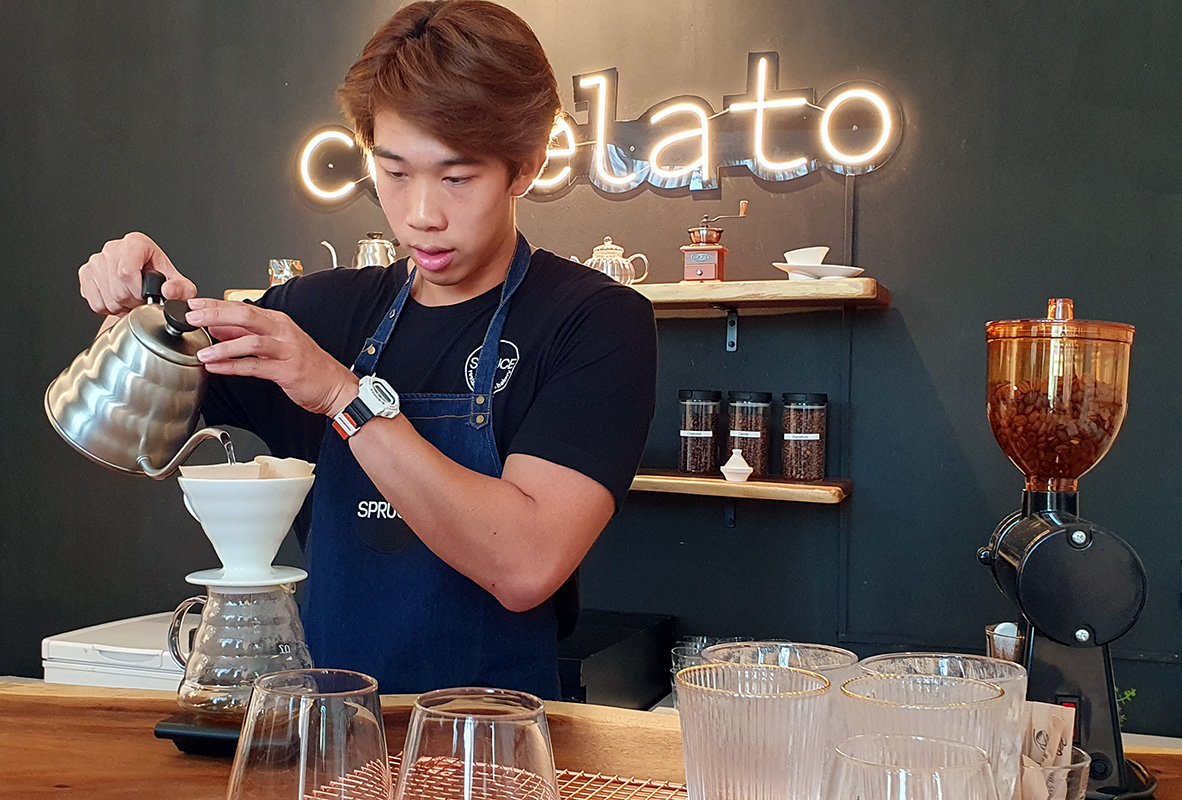 Drinks are a must, of course. Try house signature Cotelato Signature Blend (S$9), slow-brewed from 100% Arabica beans sourced from Tanzania and Ethiopia using a special technique that extracts the natural coffee flavours without bitterness and acidity. On warm days, the Cotelato Cold Brew (S$9), an iced version of the above, hits the spot. It's served with an option of milk on the side for added creaminess.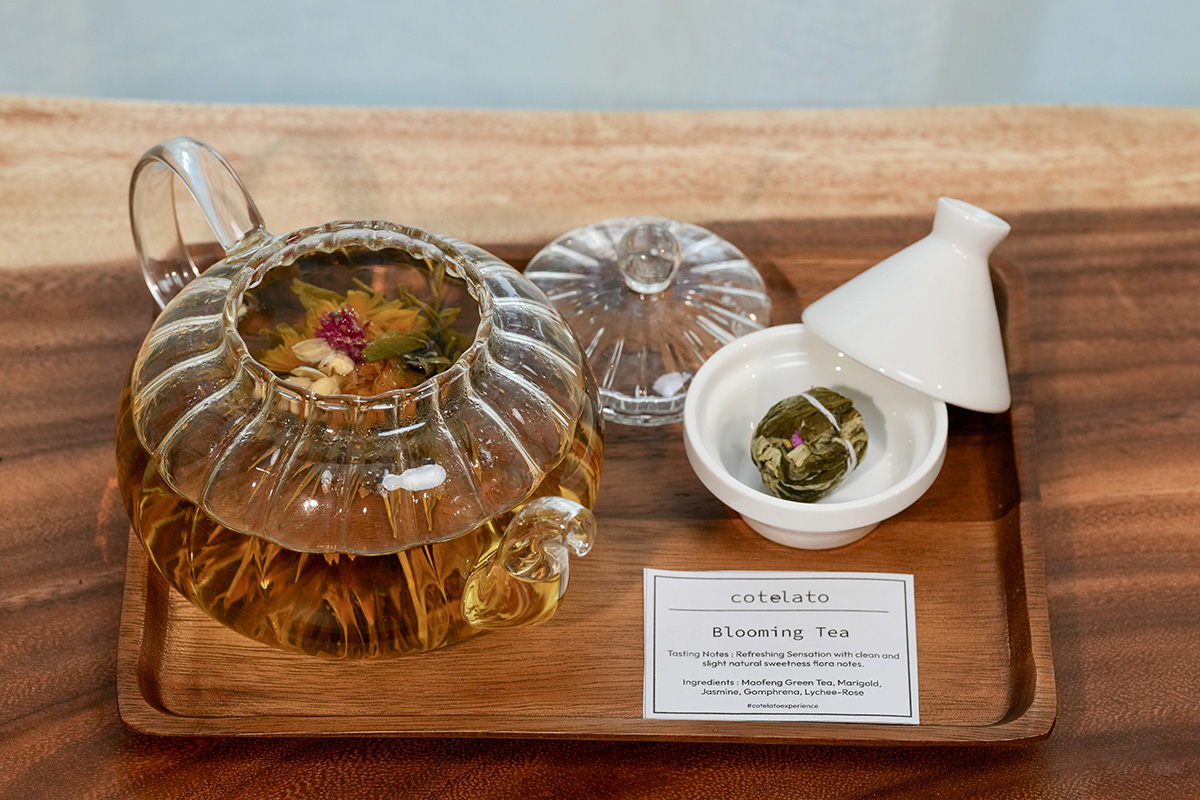 If you're more of a tea person, they've got you covered too. The Cotelato Signature Blend – Passion Oolong (S$8) is a light and refreshing tea with tart undertones of passionfruit that compliments the fruitiness of four seasons oolong black tea. A floral choice is the Blooming Tea – Lady Rose (S$10) served with a rose that blossoms before your eyes as the tea steeps to reveal the clean and natural sweetness of Maofeng green tea, marigold, jasmine, gomphrena, and lychee-rose. What a delightful way to end a sweet feast.
Cotelato
4 Hillview Rise #01-01 HillV2
Singapore 667979
Website: www.cotelato.com
Email: [email protected]
Facebook: www.facebook.com/Cotelato
Instagram: www.instagram.com/cotelatosg
Operating Hours: Mon to Fri – 10.30 am to 10.30 pm; Sat and Sun – 9 am to 10.30 pm