The Singapore Biennale returns this year with the name 'Natasha', featuring over 60 artworks in a range of locations beyond gallery settings. Now in its seventh edition, this year's event spans not only Tanjong Pagar Distripark where the Singapore Art Museum is currently housed, but also various venues nationwide like the Singapore Flyer, International Plaza, libraries, Yan Kit Playfield and offshore locations like Sentosa Cove, St. John's Island and Lazarus Island, among others.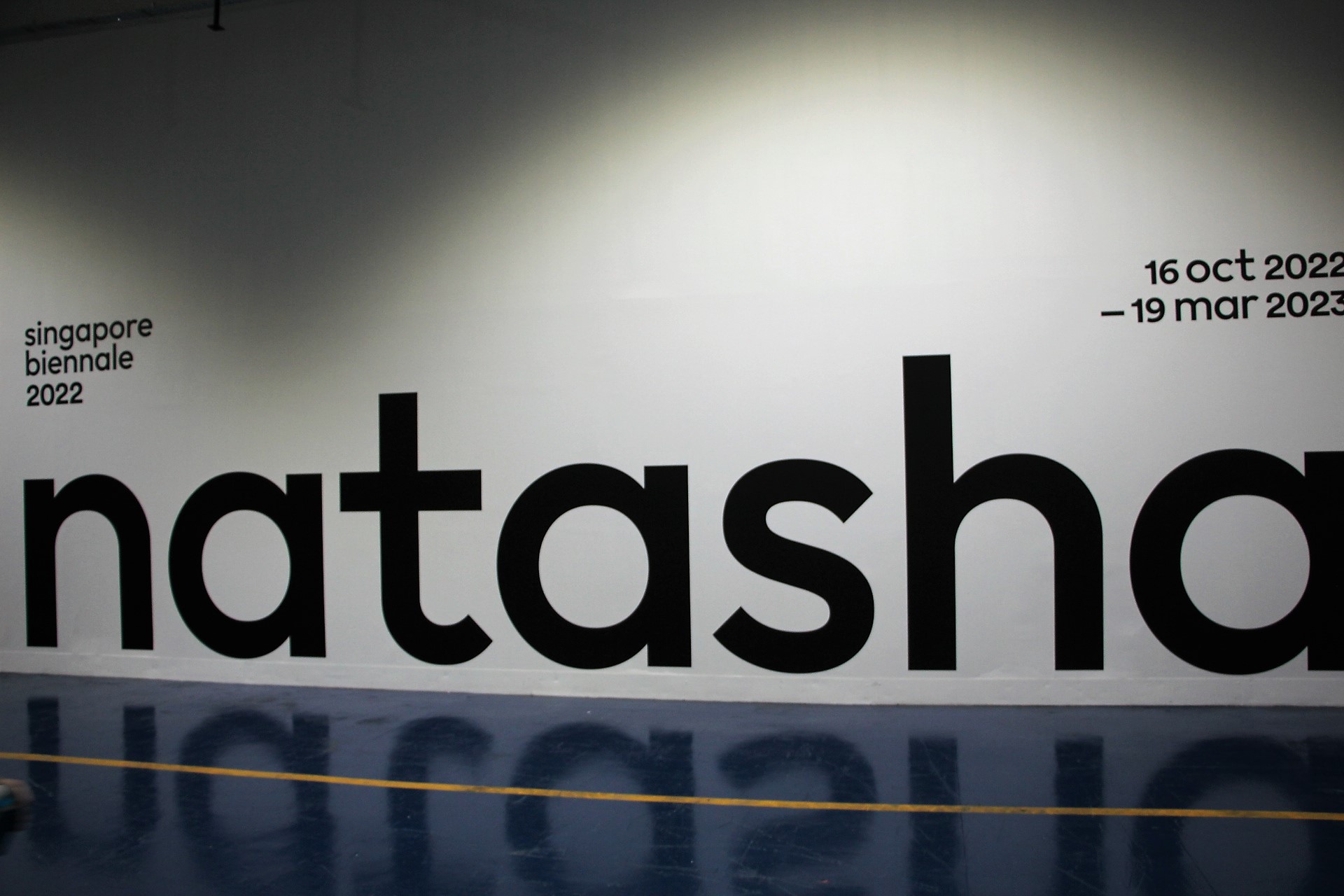 Why "Natasha"? Instead of a title like in past years, the personification of SB2022 frames it as a more intimate and collective journey across Singapore with artists, collaborators and audiences, even in unexpected places.
We were taken on a preview by SB2022's Co-Artistic directors Binna Choi, Nida Ghouse, June Yap and Ala Younis. It was my first visit to Tanjong Pagar Distripark, the homeground of SAM while its original Bras Basah buildings undergo major renovations until 2026. While the number of works here makes a great afternoon jaunt, you are nonetheless encouraged to traverse across the multiple SB2022 venues to truly experience the full breadth of the event.
Artworks are found over levels one, three and five of the Distripark, of which the stunning backdrop is our world-renowned container-laden seaport on one side and the historical Tanjong Pagar railway station and Customs Operations Command Building across the road. Audiences will be introduced to artists like Samia Halaby and Joo Jae-Hwan and newly-commissioned works by Angkrit Ajchariyasophon, Kanitha Tith, Natasha Tontey, Kiran Kumar, Aarti Sunder, Brian Fuata, Ali Yass, Moad Musbahi, and Valentina Desideri and Denise Ferreira da Silva, among others from Singapore, Southeast Asia, the Asia-Pacific, the Middle East, Europe, and the Americas.
I was also excited to have further encounters with Natasha at our Southern Islands, where the organisers have installed six artistic projects that engage with our relationship to nature, social practices and myths. As we were waiting at Sentosa Cove to board our ferry, I saw a shipping container lurking nearby that turned out to be part of the SB2022 too! Hawaii artists Maile Meyer and Drew Kahuʻāina Broderick's KĪPUKA is set within the altered container and brings together artworks and publications by a group of Hawaiian collaborators.
Embarking at Lazarus Island, we were greeted by 'air cut into song', an audio-centred installation where a transmitter reads the weather, while another installation at the Distripark would receive and broadcast the report. Next, we saw Papitas Tarpuycha / Earthing Potatoes, a collaborative project centred on the common potato, a staple in the Andes in Latin America, with plans for upcoming workshops involving the vegetable. The project explores the tuber's migratory trajectories and reflects on migration, food production and ancestral techniques of cooking on the land and in the community.
We saw miniature huts sculptures on the ground which were part of Fermentation House by Donghwan Kam, based on Kam's earlier work entitled Fermentation Garden that saw the artist cultivating kimchi in similar miniature houses. He continues to explore how domestic food processes like cooking, fermenting, and distilling – are often situated in relation to time. There were apparently sauces fermenting in the huts, which are also peppered around other SB2022 venues. In the spirit of evolution and transformation that Natasha looks to bring, there are plans for follow-up SB2022 activities around the sauces in a few months' time.
We walked over to St John's Island, where Singapore artist Zarina Muhammad was awaiting us with Moving Earth, Crossing Water, Eating Soil 2022, a mixed media audio-visual-tactile installation. Her work will unfold over nine archetypal signatures and departure points namely – The Guide, The Witness, The Wrathful Deity, The Pyramidal Cell, The Gate, The Peculiar Habitat, The Rotating Naga, The Talisman, and The Pragmatic Prayer. We picked up cards that she had left there for attendees–the first three of nine that guided us on how to interact with our surroundings.
Another highlight of the SB2022, set on our mainland is AWKNDAFFR's (Wayne Lim and Soh Kay Min) multi-authored project Islandwide Coverage, which is featured at six diverse locations including the Flyer and the SAM site undergoing renovation at Bras Basah. The art collective will also stage a roving exhibition consisting of a series of trailers and work-in-progress materials such as photographs and sketches of the presented artists' work. At Yan Kit Playfield, The Pavilion of Regret serves as a platform for donating and adopting plants, and an opportunity for unwanted and discarded plants to find a new home. This work is a response to the recent rise in demand for houseplants during the pandemic.
SB2022 is organised by SAM and commissioned by the National Arts Council. While the exhibitions at Tanjong Pagar Distripark are ticketed, free admission applies to programmes, installations and artworks at other locations. Ferry tickets to the Southern Islands are at additional cost, but the organisers have worked with Marina South Ferries to offer additional weekday ferries from Sentosa Jetty@ Cove to Lazarus Island, on top of the ferries that already operate on weekends. Visit the event website for more details about workshops.
Singapore Biennale 2022 (Natasha) is ongoing until 19 March 2023. Visit https://www.singaporebiennale.org/ for more information.