Korean beauty products are all the rage these days but long before K-beauty appeared, there was J-beauty – otherwise known as Japanese beauty. I have always been more geared towards Japanese beauty products as I feel they are less "mass-market" than the usual Korean brands.
Since last year, a Japanese beauty brand called meeth has quietly made its way to Singapore and set up shop at Plaza Singapura. Led by former model and Japanese celebrity Sonmi, meeth marries gentle, skin-nourishing ingredients and advanced Japanese innovation in their products. The brand does not use any harsh formula and even uses special mineral-rich water sourced from Sapporo and Iwanai in Hokkaido as an ingredient.
Morerich Pack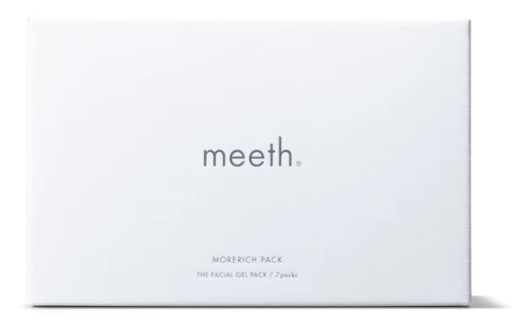 One of the key products meeth has in its arsenal is the Morerich Pack – a seven-day mask that addresses skin concerns such as ageing, inflammation, blemishes, dark spots and acne.
What's special about the Morerich Pack is its carbornated gel, which has been patented by Kobe University. One of the noteworthy ingredients of Morerich Pack is lactobacillus/pear juice ferment filtrate – an extract that is derived through a fermentation process and helps to balance the skin microbiome and reduce inflammation.
I also noticed Simmondsia Chinensis (Jojoba) Seed Oil among the ingredients. Now, Simmondsia Chinensis (Jojoba) Seed Oil is a rich source of numerous fatty acids and antioxidants. It has been show to enhance the skin's restorative properties.
The mask also contains both hyaluronic acid and sodium hyaluronate so your skin sees maximum moisture-binding benefits from the use of both ingredients.
Each box of Morerich Pack comes with seven packets of carbonated gel, seven packets of powder, seven dry cotton sheet masks and one plastic spatula. As with many Japanese beauty products, the instructions on the packaging are usually in Japanese, which doesn't help. So it was a bit of an inconvenience having to visit the website of meeth just to find instructions on how to use the mask.
The Morerich Pack is supposed to be a seven-day regime. It is recommended to use the mask daily for seven days in a row, either morning or night. To use, pour the packet of powder into the pack of gel and use the spatula to mix the two together for about 30 seconds. Then apply the gel onto the face and neck and cover with a cotton sheet mask. Leave on the mask for about 30 minutes and rinse off with lukewarm water.
The mixture can be rather lumpy, which makes it a tad not so smooth to apply onto the face. Upon application, I felt a cooling sensation on the face, which was rather nice. The cotton sheet mask did help to keep the gel intact on the face. After peeling off the sheet mask, some remnants of the gel remained on the face and could be a bit stubborn to wash off.
In terms of purported benefits such as anti-ageing, I think it would be near-impossible to see any difference on my skin with merely seven days of usage of the mask. On the plus side, my skin did feel dewy and hydrated after each use of the mask.
At S$174 per box, I do find the mask to be priced on the high side. But if you have deep pockets and can afford to use the mask on a long-term basis, I would say give it a go.
Visit meeth for more information on its products.