At a time when Singaporeans learned their chicken supplies are under threat, I had my first ever taste of plant-based nutrition. I had always been resistant to what I previously viewed as 'unnatural' food, but having experienced in recent months rising costs of ingredients including oil, eggs and fish and now a run on chickens, I caved in completely. 
AWE a brand of OsomeFood–creator of alternative food from mycoprotein and plant-based ingredients, has recently launched nutrition-packed plant-based meals for delivery. I was game for a go at it. Who knew what crisis could happen next in the carnivorous world?
OsomeFood created a slight stir a year back when it claimed a world-first in creating a 100% plant-based hard-boiled egg – and I was excited to know that an egg featured in my sample meal plan. I warmly welcomed the large package from AWE that was delivered to my home. At least for that day, I had dinner–not to mention one that was carefully curated to be nutritious, free of contaminants, additives or hormones!
For a start, AWE recommends that you subscribe to a six-month AWE meal plan (S$80 per month) that delivers four 'supercharged' meals and six snacks to your doorstep each month. AWE has over 200 different dishes that span not only local but also world cuisines, so my package was a mere sampling of what is available in their menu.
The folks at AWE have designed the meals to be dense in quality nutrients and packed with antioxidants. They have also paid much attention to making them taste good. I found it reassuring the nutritional information and ingredients are stated in great detail for each meal.
Convenient and easy to prepare, the ready-to-go meal packs can be retrieved from the freezer and steamed or submerged in water to be reheated in less than 20 minutes when required. There is even an option for add-on special Functional Meal Programme packs to suit those with specific nutritional needs. My pack featured both hot meals and some cold appetisers, and I tried them separately over two days.
 These were the dishes that came in my pack:
Meal
Moroccan Couscous Chickpeas With Minced Meat Curry

Lu Rou Fan With Collagen Egg

Protein Noodles With Bolognese

Protein Noodles With Spicy Miso Beef Sauce
Snacks
Pickled Sardines

Spicy Korean Fish Cake

French Tuna Spread

Collagen Egg Mustard Mayonnaise

24 hours Aromatic Curry FishBall

Fermented beetroot
Although my rather sceptical family had viewed the contents of my package with trepidation earlier (this looks like space or camping food, they said), we were delighted to note that once cooked and plated, the transformation was dazzling as what lay before us looked like a regular meal that we could envisage consuming for dinner.
Part 1: hot meals
For our dinner, we focused on the hot mains. I appreciated the range of curated Middle Eastern, Chinese and Western dishes. The Moroccan Couscous Chicken with Minced Meat Curry was substantial, though I felt there was too much cumin.
The Lu Rou Fan was the most interesting. as it featured the plant-based egg I was so curious about earlier. The 'fat' for the 'pork belly' was replicated through a jelly-like texture that accompanied the realistic-tasting 'pork'. The 'CollagenEgg' comprises mycroprotein, carrot juice, activated almond, curdlan, olive oil, raw potato starch, burdock and much more.
I was amazed at the wide range of natural ingredients that went into creating meat-like textures from plant-based components. I could very well imagine the research process that went into it. The portions for both couscous and the rice was substantial. While we really liked the Bolognese and Spicy Miso Beef sauces that came with the two protein noodles dishes, the noodles were curiously much less than the couscous and rice in volume. We felt the carbs for these two could have been significantly increased to make a full meal–we ended up using only a small portion of the sauces for the noodles.
The two snacks of Spicy Korean Fish Cake and 24 hours Aromatic Curry Fishball were well-seasoned and spiced. The fish cake and fishball tasted quite close to the real deal, albeit more chewy. Those who frequent Chinese vegetarian stalls, where there are sometimes also 'seafood' items, would probably find the textures quite familiar. As fishball and fishcakes are usually already rather processed, it made me wonder how AWE's plant-based fish would taste like as the flakiness of fresh fish is probably quite challenging to replicate.
Part 2 – cold items
For lunch the next day, we prepared some bread and vegetable sticks to go with the remaining items which could be taken chilled — Fermented Beetroot, Pickled Sardines with Olive Pate, French Tuna Spread, and Collagen Egg Mustard Mayonnaise. These packets were taken out of the fridge and simply thawed in water for about 10 minutes.
The beetroot was, well, the actual vegetable with some spices, and the others were made from a base of mycoprotein and many other herbs, spices and oils. We were impressed at the colour of the dips, which looked appetising and mirrored the grey, pink and yellow of the tinned dishes they were supposed to represent, even without additional colouring. They tasted good, though the egg, like the hard-boiled one found in the Lu Rou Fan, did not taste like the usual egg yolk. But overall, these dips were something that I would be willing to have for a light meal once in a while, used in a salad and sandwich.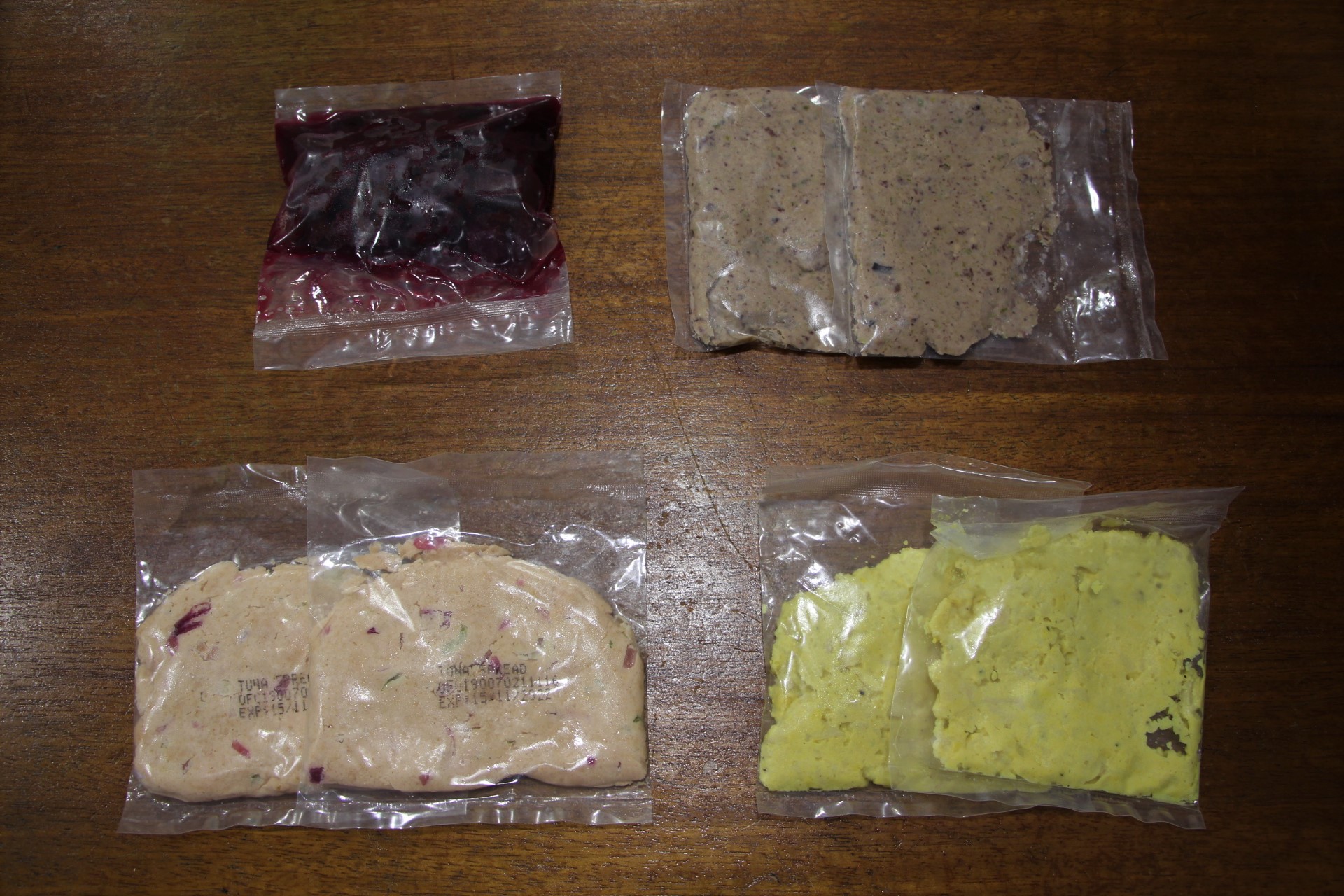 Afterthought
This sample meal package from AWE fed my four-member family over lunch and dinner and will probably last a single person a few days, so this subscription plan is currently not meant to be an overhaul or replacement of your meals. It will, however, ease you into the concept of eating sustainably as a lifestyle, and build in a plant-based profile to complement your existing diet so that you will start paying attention to 'eat clean' every so often. 
Taste-wise, I found that the plant-based food replicated textures very well, though not necessarily the taste. The fishballs and fishcakes tasted quite real. Chicken also tastes like the real thing. However, when it comes to stronger tasting meats or fats, plant-based meat still does not quite match up. The richness of beef, pork belly, together with fat and egg yolk could not be well substituted, though this is somewhat mitigated by the fact that the dishes this time round were dressed with flavourful sauces and spices. I would imagine the taste limitations would be much more obvious to the consumer if the plant-based meat had to be grilled plain or steamed for its own taste to come through.
With recent issues surrounding food security and a move towards healthier lifestyles, I am, despite my earlier reservations, wholly convinced we need to look at more alternative proteins. Plant-based sources like OsomeFood would be one option, complementing other up-and-coming trends like insects and lab-grown meat. 
If you're curious about what goes into AWE meals and would like to find out more, head on down to OsomeFood's Experiential Concept Bistro to get a behind-the-scenes look. With the concept of a regenerative organic ecosystem, the bistro grows its own produce via a self-sustaining aquaponic system. 
AWE bistro
112 Yio Chu Kang Road
Singapore 545580
Opening hours: Monday  to Saturday, 11am to 8 pm