A gorgeous floral wall always makes for a pretty picture. And, you might have seen pictures one such Insta-worthy wall of Knock Knock Cafe making its rounds on social media. Or, the almost-too-cute-to-drink Iced Bear Lattes that feature a winsome frozen teddy or poodle afloat in a milky glass.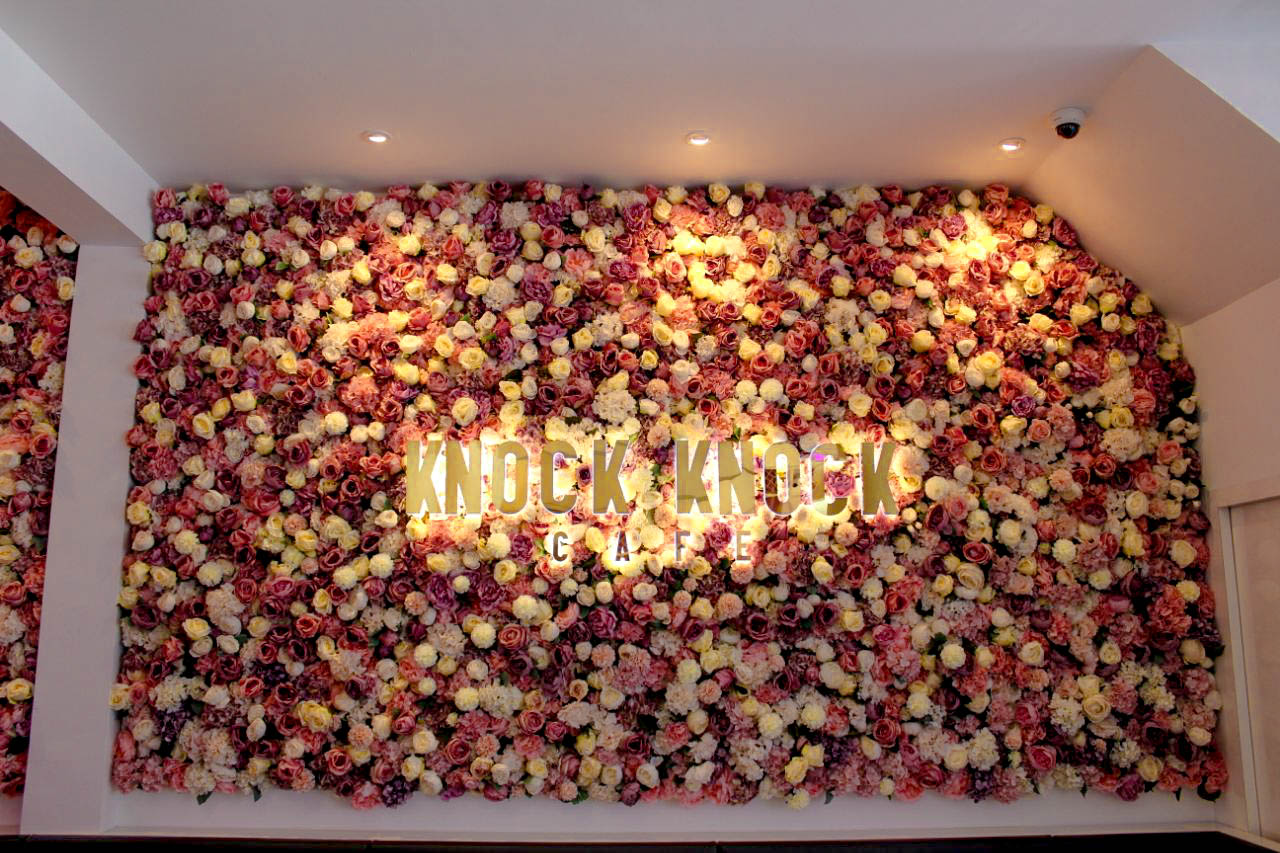 Brought to you by the creators of the live stream app Knock Knock Live, Knock Knock Cafe is definitely worth making the trip to Geylang Road. Originally meant as a place for livestreaming and remote working, extra care was taken to create attractive floral feature walls for content creators to use as backdrops. To facilitate working, free high-speed wifi, abundant power sockets, and modular meeting rooms are available to all, essential in this new age of working from home.
Pastel aesthetics aside, the food is pretty decent too. Their menu is full of Asia fusion fare like Tiger Prawn "Hei Bi Hiam" Aglio Olio (S$17), Golden Prawn Tacos (S$13 for 2 pieces) and Otak-Otak Burger (S$17).
The love for salted egg yolk is not abating anytime soon. We got our fix in the Golden Prawn Tacos, where it's paired perfectly with crispy prawn tempura and bits of tobiko, with the luscious salted egg sauce oozing out. 
Still on prawns, the Tiger Prawn "Hei Bi Hiam" Aglio Olio was full of satisfyingly spicy umami flavours. If I might have one tiny gripe about the dish though, I found the prawns, albeit large, to be rather dry. 
The Otak-Otak burger was lovingly made with batang fish that has been marinated with a medley of aromatic spices. The flavour profile was spot on and it tasted exactly like the otak-otak we all know and love. My only complaint is that the deep-fried fish was rather mushy.
Always a dessert person through and through, I couldn't help but fall for the desserts. My favourites were the aforementioned Bear Lattes (S$6.50) and the Ondeh Ondeh Tiramisu (S$12).
For the lattes, you can choose from different flavours of caramel, lavender, mocha or chocolate. All are sweet, rich, and creamy — just the thing to sip on when the urge to treat yourself strikes.
The Ondeh Ondeh Tiramisu was a delightful take on the beloved classic, with decadent layers of pandan and gula melaka, topped with toasted coconut flakes. It's quite a large portion so I'd recommend sharing this dessert with another person. Or not, if you rather have it all to yourself. No one's judging.
If you are in desperate need of a nice environment to work from, Knock Knock Cafe offers a pretty respite. Personally, I'd come here to enjoy the ambience or for some sweets to perk me up whilst working.
Knock Knock Café
101 Geylang Road
Singapore 389211
Nearest MRT: Kallang Station
Website: www.kkcafe.sg
Opening Hours: 12pm – 10.30pm daily (last order at 9.30pm); closed on Mondays