You might have heard of Pi Food, one of the newest cha chaan teng (Hong Kong-style café) in town. I was wondering why the founders would name the restaurant after the infinite decimal π. As it turns out, 'Pi' is intended to represent the ability to continuously innovate, while still staying true to its heritage of authentic Hong Kong flavours.
As I stepped into the rather huge 150-seater restaurant, I could already sense some of that spirit in the eatery's funky interior that promised a bit of a departure from the traditional, bolstered by an extensive East-meets-West menu.
Helmed by former Lei Garden Hong Kong sous chef Tsang Tak Ching, Pi Food's no-frills industrial steel train vibes and neon-lit signs transform the eatery easily from classic Hong Kong café in the day to a modern Chinese bar by night. The kitchen dishes out standard Hong Kong favourites like wanton noodles and milk tea as easily as it does French fare, as I was to find out. There is even an outdoor seating area and bar, which serves alcohol after 6pm.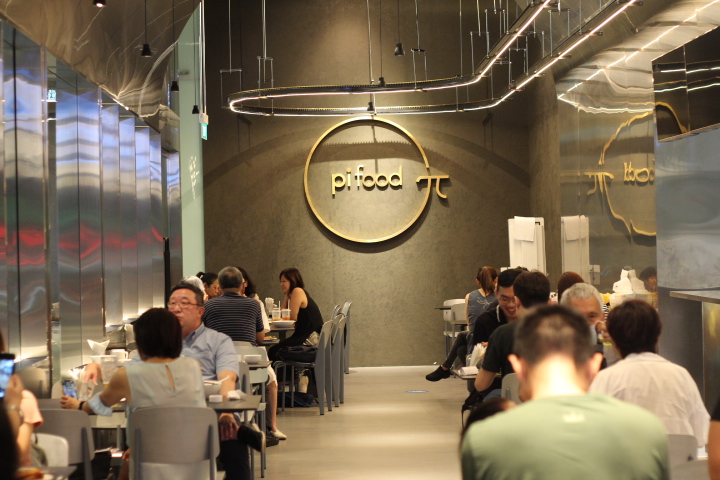 I kicked off my meal with the HK-style milk tea (S$3.80 hot, S$4.80 for iced), which truly hit the spot. Whether it was previously pulled through a stocking or not, I could taste clearly that distinctive 'Hong Kong milk tea' taste, differentiating it clearly from the Singaporean kopitiam teh si that I usually do not like. This was promising, as there are so-called cha chaan tengs in Singapore that are unable to even get their 'nai cha', or milk tea, right. Apparently, Pi Food uses Black and White Evaporated Filled Milk, which is a preferred in Hong Kong cha chaan tengs.  Besides Hong Kong-style tea, coffee and the tea-coffee blend knowns as Yuan Yang, there are also non-dairy drinks such as fruit and flower teas (S$6.80).
The first two dishes presented were adequately done albeit unspectacular. The Lotus Leaf Rice with Roasted Duck (S$16.80) was fragrant and the meat within tender, while the HK Fresh Shrimp Wanton Noodles (S$10.80) had incredibly springy yellow strands that created a refreshingly bouncy bite in the mouth, accompanied by crunchy prawn wantons. These are comfort foods, but they would not be on my priority orders from the many items available if I were to visit again.
The Sweet and Sour Pork (S$15.80) that came next was delicious. The batter in the deep fried pork kept crispy even as it was drenched in a tangy sauce. Meanwhile, the trio of iberico pork char siew, roasted duck and steamed Gui Fei chicken that came with the Meat Platter (S$16.80+ for 2, S$25.80 for 3) was delish. The pork was well caramelised with an adequate amount of fat. The chicken was smooth and tender yet not fatty beneath the skin, which usually deters me from ordering white chicken rice. The meats went well with the chilli and ginger dips, and you can order individual portions of each meat as an alternative. There are also Crispy Pork Belly and Soya Chicken available.
The Stir Fried Beef Noodles (S$13.80) featured tender beef slices in flat rice noodles which were flavourful and had an adequate amount of 'wok hei'. I'm almost embarrassed to say it but I was most delighted to see the Pi Fried Drumstick (S$5.80), my favourite canteen snack back in primary school. There are no bells and whistles in this dish to speak of. It is a crispy and tasty treat served with a side of salad, yet it is imbued with pure nostalgia, triggering fond childhood memories in every bite. And I can imagine myself popping by during tea-break to order just this fried drumstick and milk tea, again and again.
We only had one Western item to try and it was where the wow factor of the evening lay for me. The Braised Beef Short Ribs with Carrot Purée (S$26) was tender and the purée buttery, akin to what you might get at a respectable French bistro. The good execution piqued my curiosity as to how the other Western items like Duck Confit and Slow Cooked Pork Belly might be—do note however, that the Western section is also where the prices tend to hover higher. These items, which are closer to fine-dining, are part of the night menu. If you want Western grub in the day, you could try baked rice and spaghetti dishes (S$16.80), which are also easier on your wallet.
The Pi French toast (S$5.80) was rather cold and dry by the time we got to it, and I couldn't taste much of the peanut butter that it was supposed to have, nor much egg either. I'd rather get my drumstick or one of the sandwiches (Luncheon Meat and Egg or Tuna, Corn and Egg among others).
Pi Food's downtown location in the former Park Mall, within walking distance of many tertiary institutions will ensure that it gets a steady stream of students. Its wide-ranging menu appeals to many palates too. Amid this winning formula, however, is the glaring question — what is a cha chaan teng without a Bolo Bao? The absolute must-have pineapple-like 'Polo Bun", sometimes with a sliver of butter, that I like to wash down with milk tea in Hong Kong. There was no sign of it on Pi Food's menu, and that is probably still a gap that should be filled.
Pi Food
9 Penang Road
#01-18 UBS Singapore Business Hub
Singapore 238459
Opening hours: 11am to 10pm daily