It sounds like an irony — a Down-Under-inspired dinner on top of Singapore. To be more precise, it was a dinner at Stellar at 1-Altitude, Singapore's highest restaurant. My gastronomic journey arguably starts not quite with food, but with the elevator ride that takes me 62 storeys above ground, with that spectacular view of Singapore's central business district.
I was here for Stellar's signature 'Elements' dinner menu, a six-course degustation experience (S$168++). Even as we had Chablis and the Chianti that were our constant companions for the night (an additional S$88++ for the six-course menu should you wish for wine pairing), we could not let go of the opener, charcoal and multigrain bread with a house-smoked hand rolled salted Bordier butter. It took all my discipline to go slow with that delicious butter, as the accompanying bread was incredibly addictive, croissant-like, light and flaky.
We were then served a few amuse-bouches that really whetted my appetite, not just by the taste but the surprising whimsy of the presentation. I liked all of them. First was a refreshing strawberry consommeé with a touch of lemon verbena oil served in a shot glass. I was then delighted by a crispy puff of house-made 'vegemite' (Vegemite being Australian in comparison with its Marmite and Bovril competitors) made by fermenting charred vegetables gently with dried yeast – the bottle with its very own Stellar label was so cute! Then came an all-mushroom treat in the form of a mushroom 'pebble' (a mousse) that was infused with white truffle, served with pickled shimeji and mushroom crumbs–earthiness on my plate.
Now having had my taste of 'turf', I was looking forward to the first 'surf'. The first of the six courses, Forest in the Ocean, comprises abalone (Australian, I was told), served with foie gras and forest berries in a morel sauce. It was a mélange of strong and contrasting flavours that worked, with the tartness of the berries complementing the richness of the liver, all harmonised with the concentrated mushroom sauce. As a mushroom lover, I dug deep, and of course, mopped up any remaining sauce with that lovely bread.
There was yet another thoughtful Australian note in the second course. Fremantle octopus lay beside Japanese flying squid and the tentacles burst with the chamomile tea that they were cooked in. They were plunged into the tea stock for 20 times on each side and simmered for an hour. As suggested by the chef, I first bit into the fennel flowers, themselves full of flavour and visually arresting as mini bouquets. It was the first time I had seen and tasted fennel in this form.
Even in the next course which comprised only three components, the chefs worked in Australian saltbush. It's a salty outback plant that some say is the country's best herb. Artichoke velouté was drizzled slowly over a hazelnut crumble to form a thick soup that, you guessed it, had us finding more excuse to top up our bread and butter to 'clean' the bowl.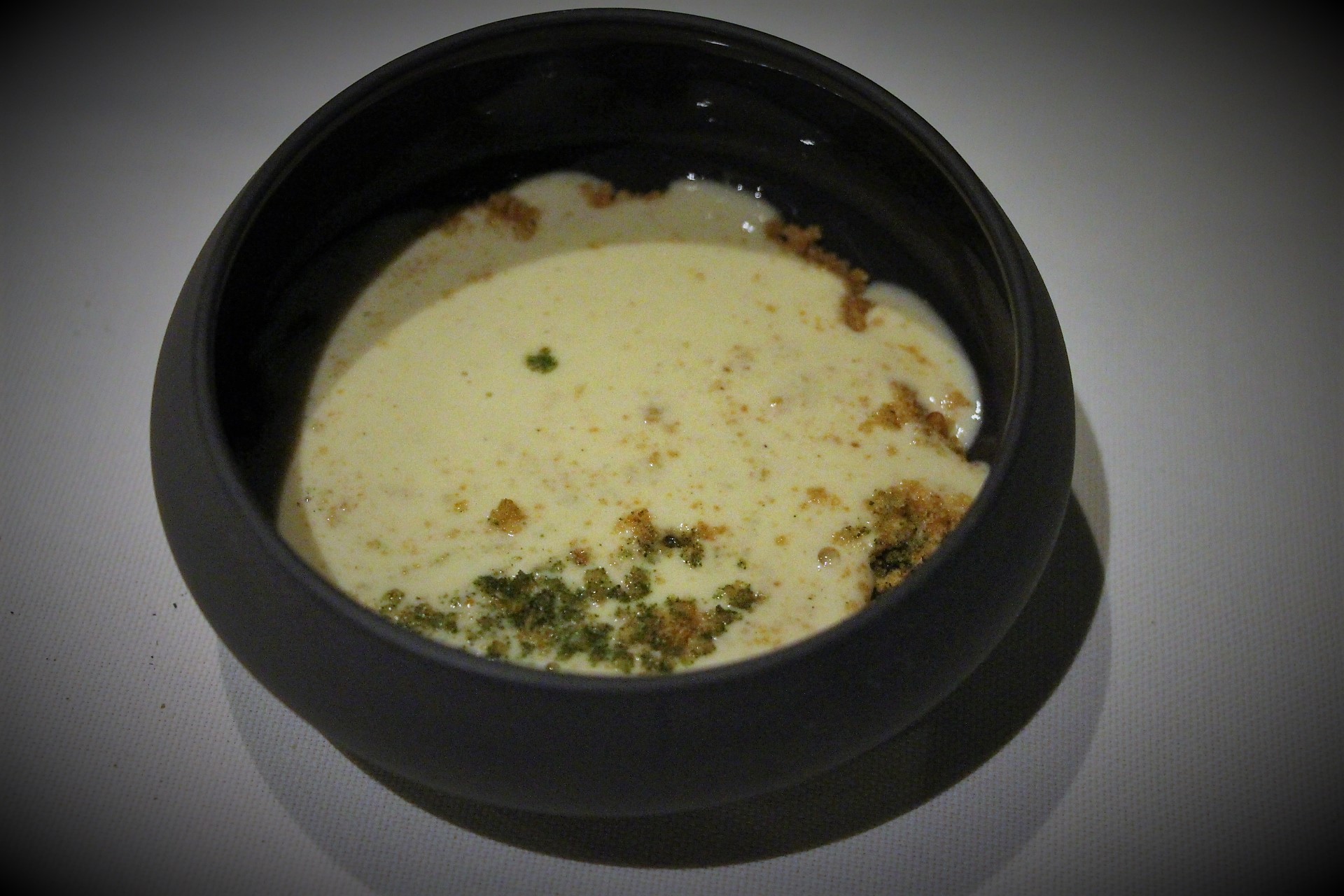 It was time for a palate cleanser, as I let an icy tart lemon meringue melt in my mouth, after it was made on the spot with the help of liquid nitrogen. I then had Textural Me Dai, comprising a firm Japanese butterfish with rainbow chard, tobiko and seasoned with citrusy Aussie finger limes. We also had an exceptional taste of 'Rabbit in a Blanket' from the nine-course menu, which amazed me with its scallop blanket – yes, that layer of white the meat is enveloped in is pure scallop, topped with edible flowers.
We then moved on to the mains. If you believe in pork and nose to tail dining, I would recommend A Saucy Pig, a pluma cut from 100% Spanish ibérico which was chargrilled on the outside and pink on the inside, served on carrot gel, with a colourful palette of sauces that featured caramelised yoghurt, allium puree, red wine jus, pickled beetroot and shallot crumbs. The relatively unknown pluma cut, exclusive to Stellar and said to be very hard to come by, is part of the loin and features lean meat that is covered by fat. Such a partnership is why pluma can be treated like a marbled steak, slightly underdone for the succulent and tasty fat to come through.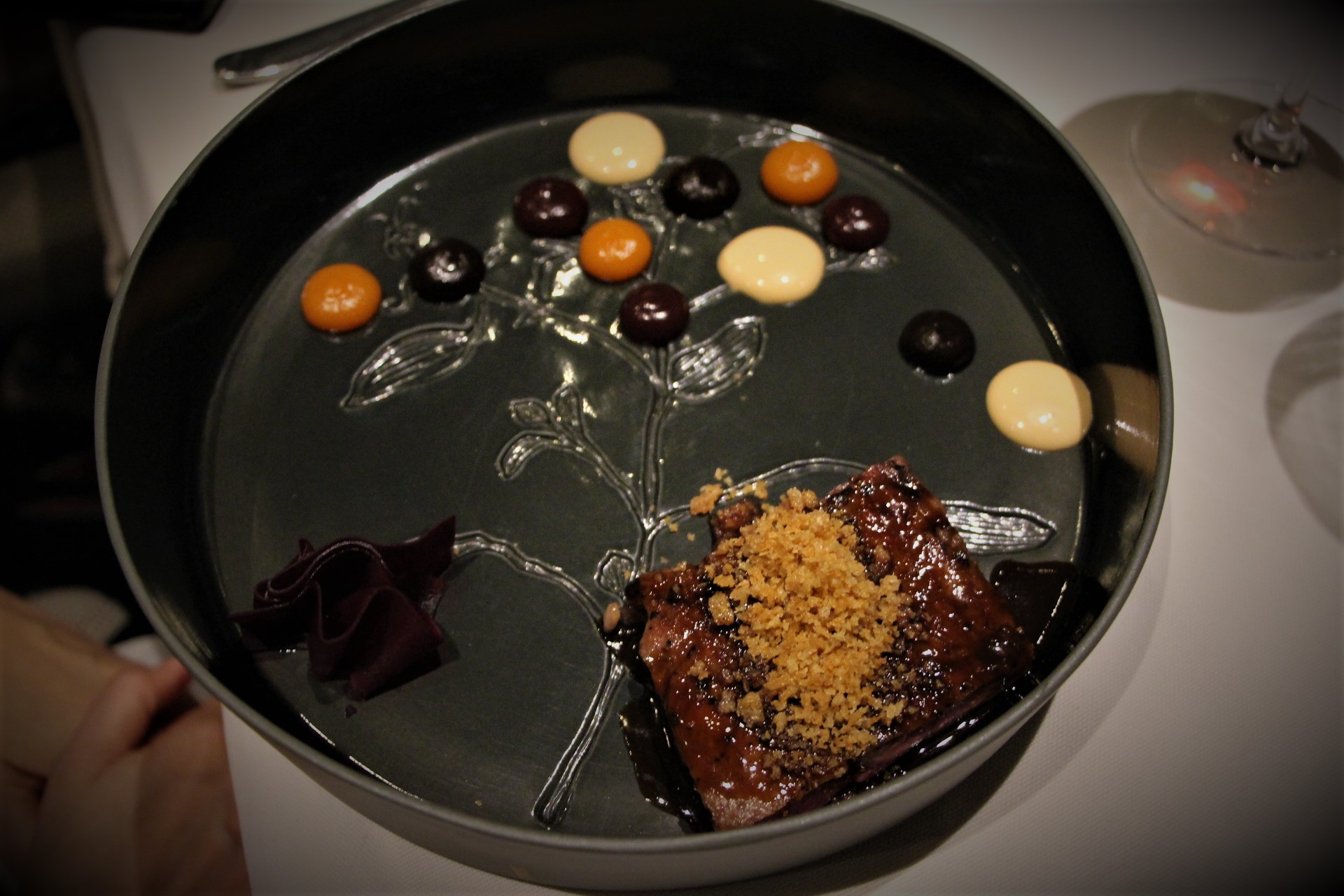 A Saucy Pig with its exclusive cut of pluma that only Stellar has. Photo credit: Fen Chia.
For the staunch Australian fan though, Spanish meat may mean betrayal. In that case, go for the beef option, A Cow in the Garden, which is South Australian Mayura full blood wagyu oyster blade, with bone marrow crumbs, served on a puree of Naruto sweet potato. This course was named as it evokes the imagery of cattle grazing on the earthiness of the land, with the cut of oyster blade encrusted in bone marrow crumbs infused with herbs, served on a puree of Naruto sweet potato with legumes glazed with house-made wagyu beef fat.
While I felt the complexity of the sauces, which comprised a truffle-infused red win glaze and chervil oil, more marrow-infused sauce, married well with the meat, I enjoyed it less than the pork. The fat content of my beef was not  high enough to meld with the 'medium' doneness, which was rarer than I expected and am usually comfortable with. Thus I would suggest a conversation with the waiter/chef on beef doneness when ordering.
The Elements menu offers either as selection of artisanal cheeses  or dessert, and it was the latter for our table. The evening ended on a high note with the splash of dessert art by the pastry chef. Two black rectangular base 'plates' transformed into five gorgeous sweet treats with in a flourish of squeezing, slicing, torching and flair. By then, I was too stuffed to move, the victim of the excellent bread. But for the energetic, you can still adjourn to 1-Altitude's rooftop bar for a round of drinks and dance, against a stellar view that rounds up perfectly the evening that you just had.
Speaking with Chef de Cuisine Isaac Henry over coffee, it was truly amazing to discover that he is all of 25 years of age, although he has had years of experience behind him including time spent in Paris. Stellar's exciting Australia-inspired cuisine made for truly a night to remember and I look forward to what Mr Henry and his mentor, chef Christopher Millar and culinary director of 1-Group, will come up with next. I'm sure it will be delightful. It was a thoroughly educational evening for me.
Stellar at 1-Altitude
Level 62, 1 Raffles Place
Singapore 048616