Just when you thought The NCO Club at Beach Road couldn't get any swankier, Cool Cats comes into the picture. Cool Cats is a speakeasy-themed bar and live music venue that is one of the four entertainment concepts at NCO Club. Together with raw bar Fish Pool, fine-dining restaurant Madam Fan's and curated wine pairings room Stags' Room, Cool Cats completes NCO Club as an entertainment lifestyle destination.
During the Prohibition era in the US from the 1920s to 30s, the authorities made it illegal to sell and consumer alcohol in a drastic bid to solve social problems that was attributed to booze. 'Speakeasies' sprung up as illicit drinking houses in discreet locations known only to a few, so as to cater to the stifled alcohol demand. And like a speakeasy, Cool Cats feels discreet and exclusive. One enters Cool Cats through a nondescript door and passes through a dimly lit hallway before entering the 60-seater domain, comprising a fluorescent green bar.
There is no neon-lit dance floor or thumping music to shake your head to. Rather, Cool Cats feels like a sensuous hideout for someone to steal away to for secret conversations with strangers on the comfy sofas as smoky jazz tunes play in the background. The main space is sectioned into three different areas featuring a bar, a live music lounge and a roped VIP area. Hidden from view is a sunken salon behind the bar area dedicated to the social elite and business trailblazers who want extra privacy away from the reverie.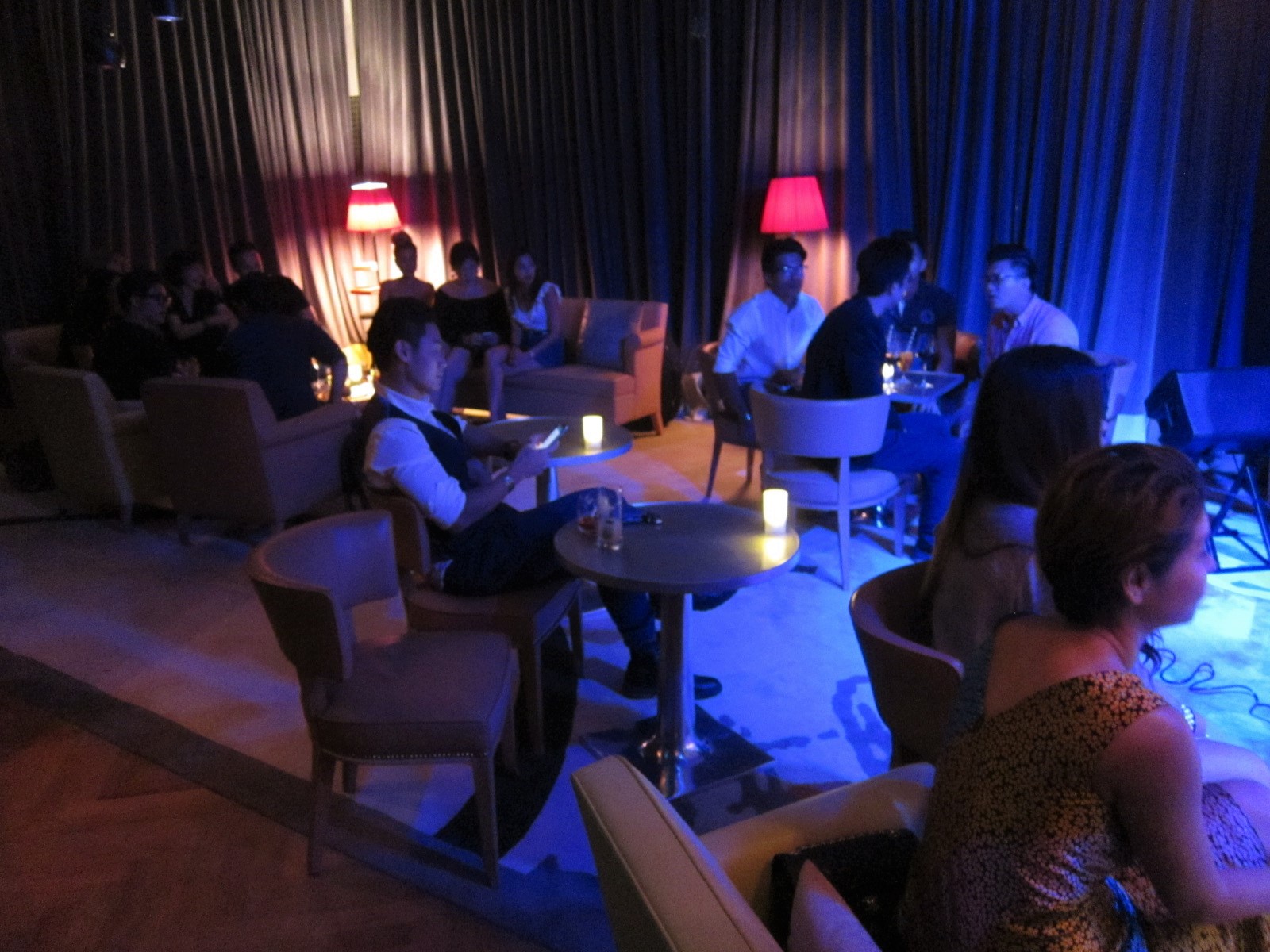 The bar at Cool Cats offers a progressive mixology meant for a discerning crowd. Signature drinks include the Mezcal Negroni, Queen's Park Swizzle and The White Lady—a 20th century classic traditionally composed of gin, lemon, sugar and egg white but is given an inventive touch of almond syrup and almond liqueur.
It must not be easy to find bands that play the specific genre of tunes Cool Cats features to suit its theme. The place presents a weekly curation of acclaimed international artists, and some examples in the opening month line-up include beats from the streets of New Orleans, rhythm and blues of Australia and waves of London's underground music scene.
And as to what to expect in future, there's acclaimed Australian jazz performer James Morrison who will be holding a ticketed event on 2 July, as well as Dan Barnett, Sulene Fleming, Nat Adderly Junior and Paulette McWilliams among others in the year ahead.
Fish Pool 
Opening night at Cool Cats also allowed guests to have some fun and flavour of the rest of the NCO Club. Ever the gourmand, I was intrigued by the excellent hors d'oeuvres that came on trays throughout the night. There included fried padron peppers and buttery minced king crab with salmon caviar. The multiple canapés couldn't have just come from the bar—and indeed, I was told they were from Madame Fan's and Fish Pool, the Club's champagne, caviar and oyster bar with a diving pool centrepiece.
With the addition of oyster shooters and Louis Roederer champagne–complete with mermaids cavorting in the background in the dive pool, my expectations of both outlets were raised. I look forward to checking them out separately in a, pardon the pun, deeper dive in future.
Stags' Room
Stags' Room is an intimate and lush wine room and lounge within the NCO Club. Seeing me peer at the wines on display, head sommelier Fabien Duboueix told me that the Georges de Latour I was looking at hails from California's Beaulieu Vineyard. When Prohibition began in 1920, most wineries in the country were forced to stop operations, but Beaulieu obtained a contract to supply sacramental wine to churches nationwide—thus helping the winery to expand rapidly even as others faded away.
It's not the most exclusive booze at the NCO Club, however; that honour belongs to Penfolds 50 Year Old Rare Tawny from Australia. While we didn't get to taste that, we had our fill of the house wine for that night, which was Stags' Leap. Stags' Room, with its country resort feel, features a private reserve of vintage and exclusive wines from America and Australia in partnership with Stags' Leap and Penfolds.
Cool Cats, together with the rest of The NCO Club, is a wonderful addition to the cluster of watering holes at South Beach, and adds a different flavour with its Prohibition-era theme. Just step in, and be swept away by the Roaring 20s atmosphere–albeit one without the cap on booze.
Cool Cats
The NCO Club
32 Beach Road
Singapore 189764
Opening hours: 8.30pm to 1am