It's a problem that most of us have at some point in our lives but are probably too embarrassed to admit. I'm talking about stinky shoes.
When we head out every day, we are on our feet for hours on end, totterng around in our shoes. The insides of our shoes cannot breathe and neither can our feet. Then when we get home and take off our shoes, you catch a whiff of that musty, unpleasant smell you wish you could remove from your shoes.
I am sensitive to that smell – even more so when it comes from someone else's shoes. Trust me, I have lost count of the number of times my nose alerted me during flights and car rides to someone else taking off their shoes which stunk to high heaven.
I, for one, do not want to do unto others as others unto me – at least in this case. There are better ways to murder people than suffocate them with nausea-inducing stinky shoes. World domination can wait. Thus, I'm on a perennial mission to find ways to help get rid of shoe odour. Shoe powder. Deodorising sprays. Bamboo charcoal. Baking soda. Airing in the sun. Nothing seemed to work really effectively. I stopped short of using unicorn dust.
That is, until a friend of mine pointed me to SteriShoe.
What's SteriShoe?
If you have not already guessed from the name, SteriShoe is a shoe sanitiser that helps to remove shoe odour (and make the world a happier place). Ok, on a more serious note, this designed-in-America product makes use of powerful ultraviolet (UV) light to kill up to 99.9% of the germs in shoes. – the very same type of UV light used to sterilise operating rooms in hospitals.
In fact, SteriShoe has been proven to be so effective that it has earned the American Podiatric Medical Association Seal of Acceptance.
Why we need to sterilise our shoes
You change your clothes every day. You wouldn't think of wearing the same clothes for days without washing them, would you? (Though I know some men who would.) Yet, we don't think twice about slipping our feet into the same pair of shoes for consecutive days.
The dark, moist environment inside shoes is the perfect place for harmful bacteria and fungus to happily breed. Odour aside, these microorganisms can cause foot infection. And if you happen to have athlete's foot or toenail fungus, all the more you need to disinfect your shoes.
Putting SteriShoe to the test
I have this pair of worn-to-death shoes that's even gone to the Sahara Desert with me. Recently, these shoes got caught in a typhoon with me in Japan and they were soaked through. Upon returning home, I have washed these shoes several times but somehow couldn't get rid of the odour within. I decided to test SteriShoe on them.
Each SteriShoe kit comes with a pair of shoe sanitisers, eight scent pouches, two shoe bags and a controller. Each shoe sanitiser is fixed with 5-watt UV lamps and a stainless steel frame. My kit also comes with a carrier bag for keeping the shoe sanitisers (free with every purchase until 31 December 2017 only). The shoe sanitisers fit all sizes so I had no problems putting them in my shoes.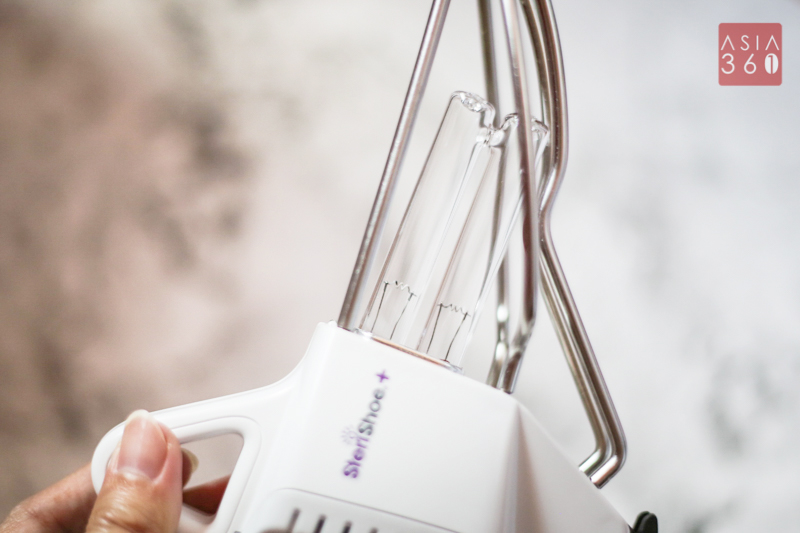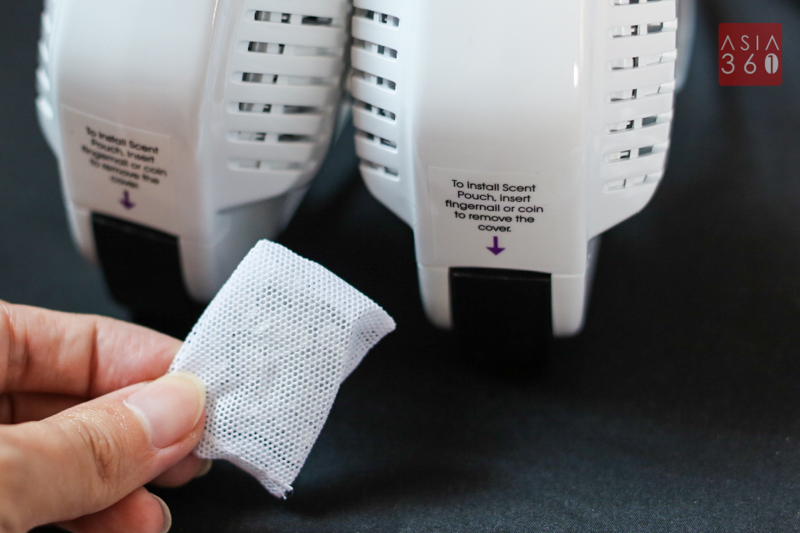 One thing to note – the UV lamps only work in the dark. I had to slip the shoes into the black shoe bags provided – one for each shoe. Besides, you should not stare at UV light too. I decided not to use the scent pouches to see if the shoe sanitisers could really work on their own.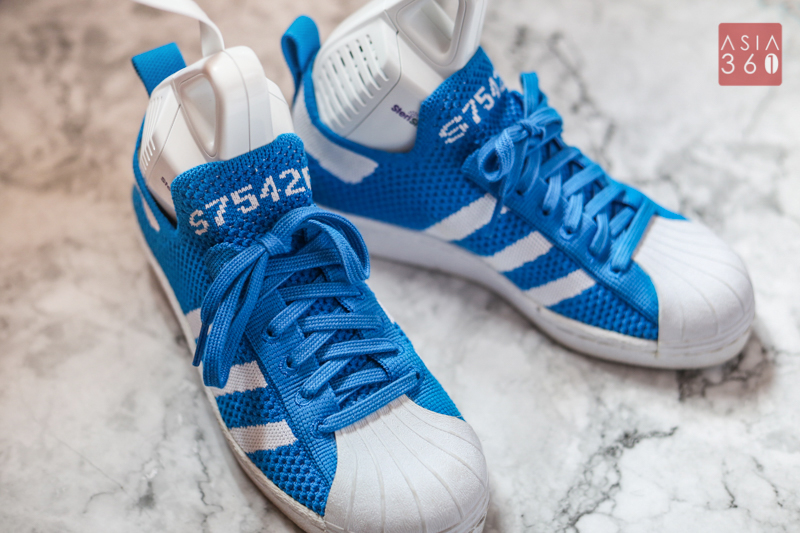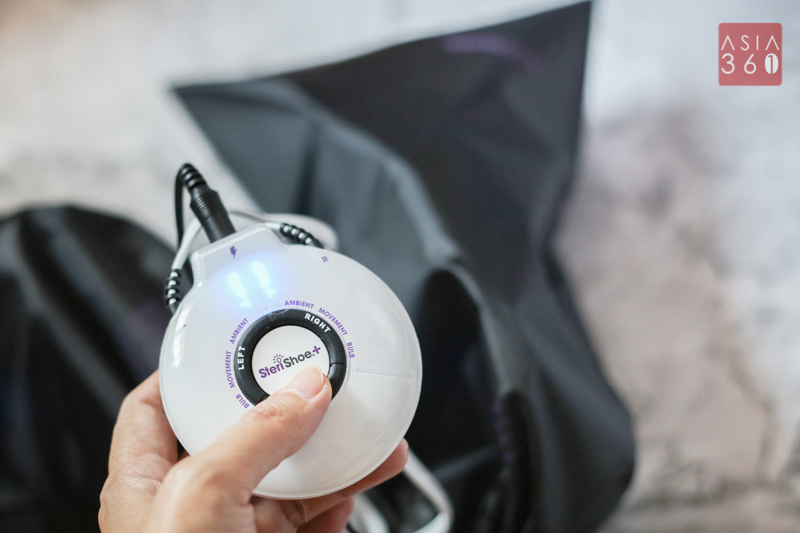 I had thought that the disinfecting process would take an hour or so, but it only took 15 minutes. I removed the sanitisers from the shoes and gingerly brought one shoe close to my nose for a whiff (it's been washed, in case you're wondering). The shoe odour was gone! In its place was a dry, sterile scent, reminiscent of dried clothes fresh out of the dryer. I'm sold.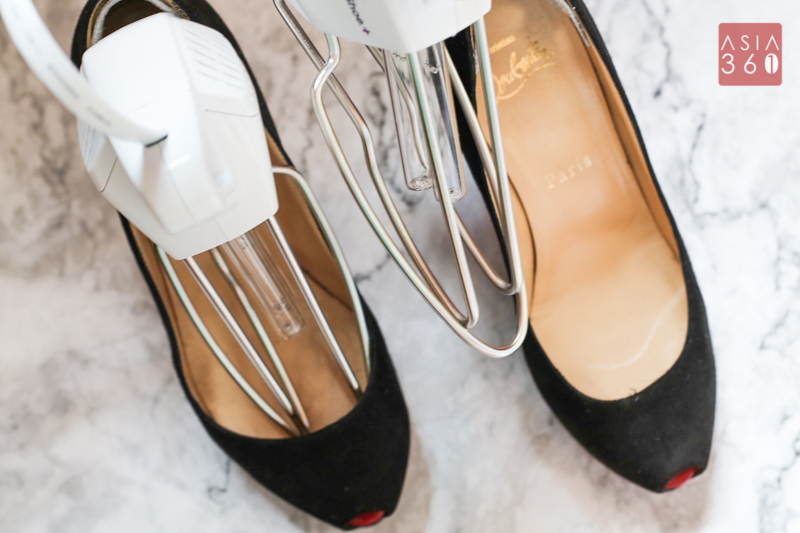 I went on to try SteriShoe on my other shoes, including sneakers, heels and winter shoes. But I must share this one tip: SteriShoe works on bags too! I tried it on one of my bags and SteriShoe removed the smell that had resulted from keeping the bag in the cupboard for too long.
Oh, did I mention that SteriShoe has built-in fans too to dry your shoes too? We all know too well how hard it is to dry the insides of shoes when they get wet from the rain. Now, all I have to do is just put the SteriShoe sanitisers into my wet shoes and turn on the inbuilt fan.
SteriShoe is currently selling at the introductory price of S$249 (usual price: S$259) and comes with a free carrier bag (worth S$38) with every purchase until 31 December 2017. It is available online and at selected golf retail shops, medical clinics and Sprint-Class Electronic shops in Changi Airport.
---
GIVEAWAY
Want happy feet? A pair of SteriShoe kit and carrier bag (worth a total of S$287) are up for grabs! For a chance to win, simply:
Like the Asia 361 Facebook page.
Share this article on Facebook and tag at least three friends in your post.
Fill up the form here: http://bit.ly/sterishoeSG
Contest ends at 11.59pm on 15 December 2017. The winner will be notified via email and must be a resident of Singapore.