In a perfect world, we would all have trim and fit bodies and we would all be happy with how we look. Clearly, we are not in that world.
Many of us wish for a more defined body profile. In a bid to shape up, some of us may exercise while others may embark on a strict dietary journey. But for some, they have stubborn body fat that simply refuses to disappear no matter how much exercise or diets they undertake.
Well, how about freezing the fats away then?
We are talking about cryolipolysis. In simple English, it is essentially a non-invasive fat-reduction process, done through freezing localised superficial fat tissue layer. Common areas with localised fat deposits include arms, hips, abdomen, buttocks and thighs.
German company Zimmer MedizinSystems has recently introduced a second-generation cryolipolysis procedure combining two systems, the Zimmer Z Lipo and Z Wave Pro designed for fat freezing and body contouring respectively. The process is said to be quick, completely non-invasive and downtime-free.
In essence, cryolipolysis by Zimmer Z Lipo targets fat deposits and cools them down over a prolonged period. The fat cells are 'killed' as a result of the freezing and are then naturally removed through the lymphatic system. The cryolipolysis is then followed by a treatment with Zimmer Z Wave Pro, which uses radial shockwaves to break down the frozen fat cells further. Together, the duo forms a fat reduction treatment that purportedly reduces fats permanently by as much as 20% after the first session.
Who is suitable for the Zimmer Z Lipo treatment
Not everyone is a suitable candidate for the treatment, according to Dr Patricia Yuen, one of Singapore's leading dermatologists. While the Zimmer Z Lipo helps to reduce fats, it is not a weight loss solution. Dr Yuen shared that the Zimmer Z Lipo is ideal for average-sized people who wish to target specific problem areas. It is also suitable for people with cellulite issues on their body. For those with a more serious problem with excess body fats, they could explore other options such as liposuction.
What to Expect
I put myself up to the test to see if the Z Lipo treatment does live up to its claims. While I am not exactly obese, I do have certain body areas that I wish are more toned up. Dr Yuen did an assessment for me and decided that my inner thighs would benefit most from the treatment. (Yes, my thighs are truly my bugbear.)
Each treatment lasts for 60 minutes. A special gel pad would be applied to the treatment area to avoid damaging the skin. The Z Lipo machine has two applicators with suction cups that are placed on the treatment areas. The cups then grip the excess skin, which is then cooled to -5°C.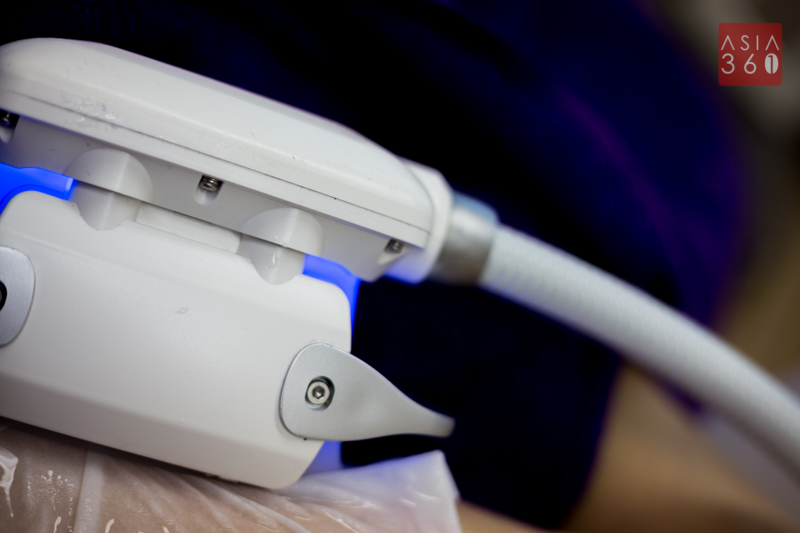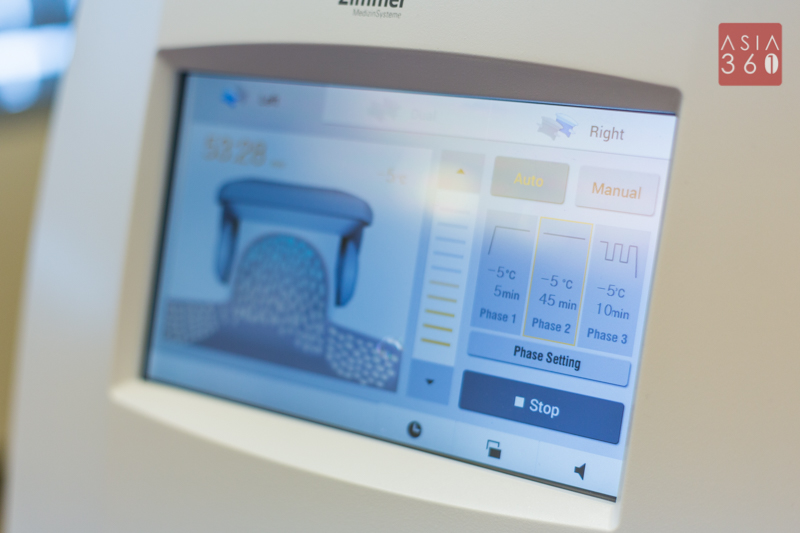 I was expecting the treatment to be extremely cold but to my surprise, it was tolerable. Dr Yuen explained that the cooling is done in a controlled and gradual process, thus I was not shocked by any sudden change in temperature.
The suction was not painful either. It brought to mind the cupping in traditional Chinese medicine, just that this one uses cold instead of heat. The only uncomfortable part of the treatment was having to keep my legs in the same position for an hour. Other than that, I was still able to check emails on my mobile phone to make good use of the waiting time.
After 60 minutes, the applicators were removed. Dr Yuen's assistant then used the Z Wave Pro to massage the treatment areas for a few minutes. The Z Wave Pro uses radial shockwaves to further break down the frozen fat tissue, making it easier for the body to flush them out later.
I had been told that some bruising might occur, but my skin looked fine post-treatment, even after a few days. I did feel a slight soreness though, but it did not bother me much. It was akin to muscle aches. The soreness disappeared shortly after two to three days.
The Results
If you want to try the Z Lipo treatment, you have to be patient. Results cannot be seen immediately. The dead fat cells need around 10 to 12 weeks to be removed naturally through the lymphatic system, as I have been told.
The fat reduction would go down by 20% with only one session so the changes were subtle visually.  I did not keep a visual record of the changes, but I could feel the difference after eight weeks. I have had a problem with thigh chafing and now I don't. My inner thighs appear to have been toned down, but it's enough to make me dare take out my skinny jeans from the wardrobe to wear again.
The Z Lipo + Z Wave Pro treatment costs S$500 per area treated. It is available at selected clinics in Singapore, including Patricia Yuen Dermatology (290 Orchard Road #20-04 Paragon Singapore 238859).