Batam, the capital city of the Riau Islands in Indonesia, has truly ushered in a new era of travel. Less than an hour away from Singapore by sea, the island has always been a great weekend haunt for seafood, shopping, massages and the popular kueh lapis cake. Based on hazy memories of my last trip there years ago, I recalled it as a place popular for cheap eats, madding day trippers on a vengeance to load up on as many Indomie and snack packs they could carry back, and sometimes, sleaze.
However, a recent jaunt to the city organised by leading travel retailer DFS Group showed me just how much modern luxury has upped the ante for a trip to this nearby island. Now, more than ever, it is possible to shop, sail and stay in Batam in style, right from the traveller's very departure from the Singapore Cruise Centre (SCC).
DFS at Singapore Cruise Centre
We departed for Batam on the day DFS launched its updated duty-free stores at SCC's Tanah Merah and HarbourFront terminals. The stores, which span seven outlets carrying wines, spirits and tobacco, beauty and confectionery, are accessible to travellers arriving and departing from Singapore by ferry or cruise ship. DFS at SCC is home to over 150 brands, including many exclusive items in wines and spirits, available for purchase only at its stores and nowhere else in local malls.
The DFS HarbourFront departure store houses an exclusive Whiskey Bar and Cocktail Bar, where guests can sample a range of whiskies and indulge in specialty cocktails made from fresh ingredients by the in-house bartenders.
DFS also stocks exclusives such as Suntory Umeshu and has direct relationships with suppliers such as wine growers. As a result, it offers red and dessert wines that are exclusively created for the company. It also carries an exclusive pre-batched Singapore Sling, a product developed and produced in collaboration with Raffles Hotel Singapore, where the famous cocktail was first concocted.
Majestic Fast Ferry
We took the Majestic Fast Ferry's newest vessel, the Majestic Dream, which operates on the existing routes between Singapore (both HarbourFront and Tanah Merah terminals) and the Riau Islands (including Bintan's Tanjung Pinang, Batam's Batam Centre and Sekupang terminals). With room to accommodate over 300 passengers, our Australia-designed ferry is fitted with plush handcrafted leather seats together with Norwegian oak wood armrests.
The Majestic Dream even offers eight 'business class' seats in an exclusive cabin. And unlike the crummy toilets that one avoids on most short haul ferries, there is nothing to squirm about the Italian marble used in the ones here. There are LED TVs too–unfortunately, the ferry's supreme speed meant you are likely to reach Batam within just 45 minutes, 30% faster than other options. Before we knew it, we had arrived at the island.
Radisson Golf and Convention Centre Batam
For this visit, we stayed at the Radisson Golf and Convention Centre at Batam Centre, a sports lover's paradise which opened just late last year and has shaken up the Batam hotel scene as a pioneering international luxe brand – at a fraction of the price for equivalent accommodation in Singapore. The Radisson on Batam is adjacent to the 18-hole Sukajadi championship golf course and features 240 guest rooms and suites. The hotel also offers a range of onsite activities like archery, Segway, paintball, kids' club and of course, a spa that provides Thai, Swedish and Ayurvedic massages, among others.
The frequent traveller to Batam can consider an annual or monthly membership to access the fitness facilities in the hotel. The highlight of the Radisson Batam for me was the swimming pools. In addition to the inviting outdoor pool and whirlpool tub that lies adjacent to the beautiful golf course, I was surprised to see another indoor infinity pool when we headed to the Business Club lounge on the 10th floor, which guests with Executive Rooms can get access to. Over cocktails and canapes, we enjoyed the panoramic view.
After our group's Club check-in on the 10th floor, we proceeded to our rooms where there were personalised surprises awaiting all of us. The rooms are spacious and the balcony offers an excellent panoramic view, with the spacious desk and reliable wifi that make Radisson hotels excellent for those who have work to catch up on.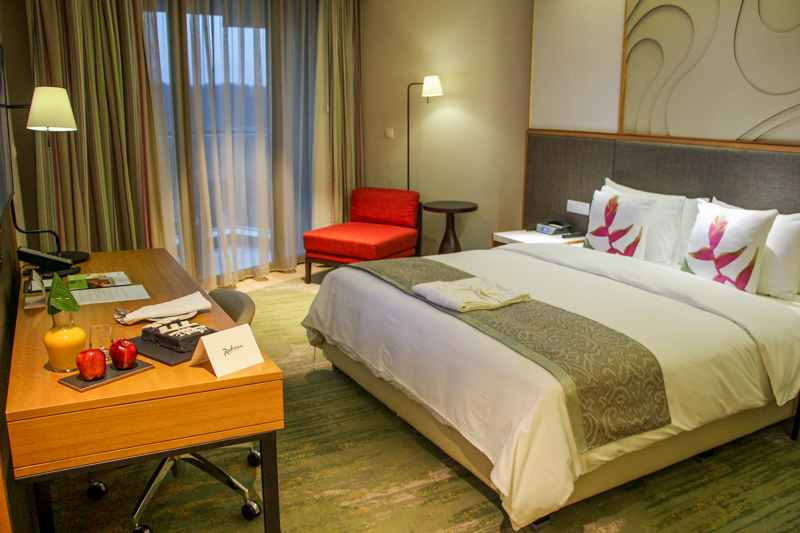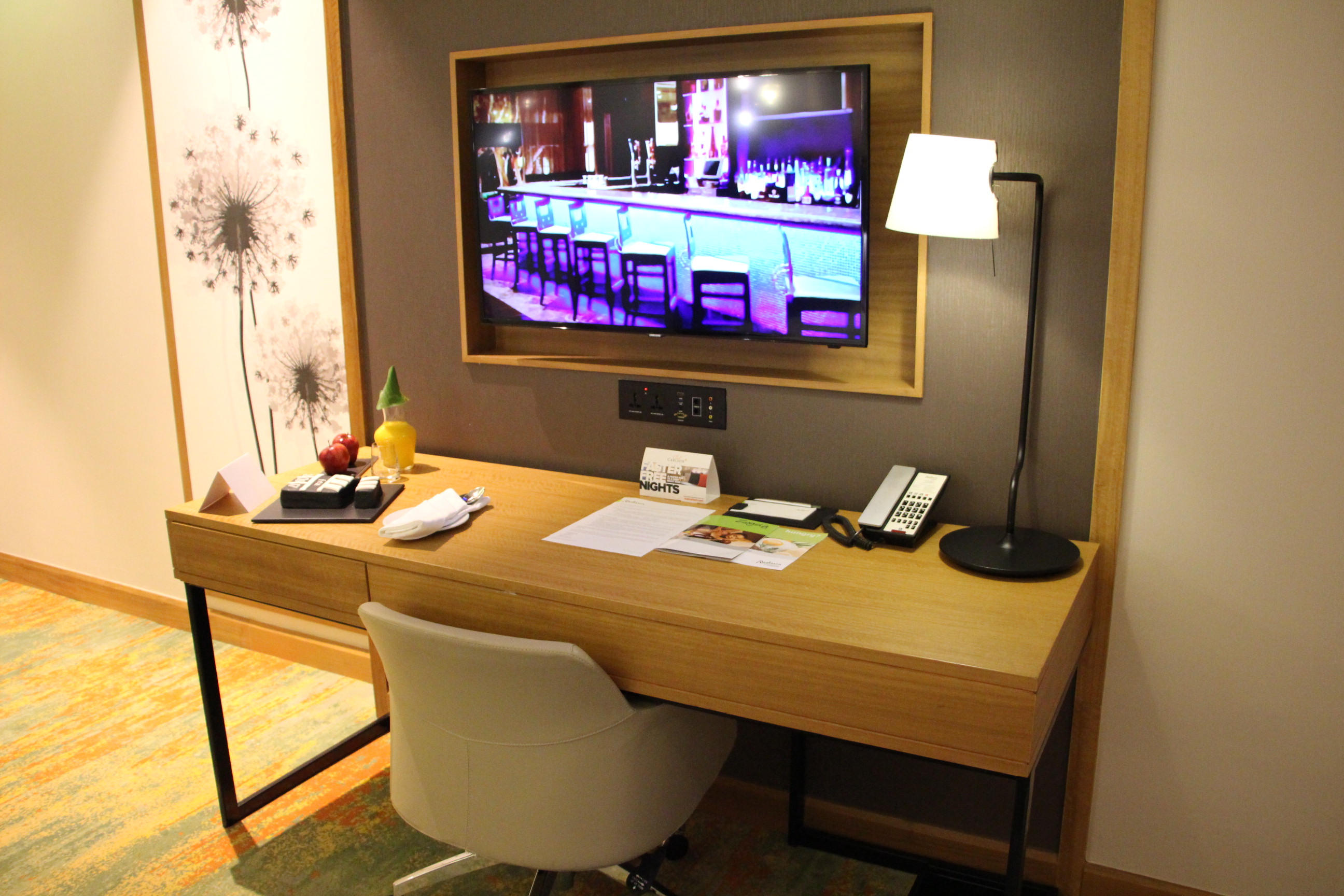 The next day, we had more time to explore the hotel. I enjoyed the breakfast at Bite Restaurant which features the gamut of Western and Indonesian options, but as usual, I hit the noodle station once I saw there was one. Besides Bite, there is also T-Lounge near the reception area, which offers convenient beverages and sweet treats.
While we stayed just one night in the hotel, I will remember it for much longer due to the excellent hospitality shown by General Manager Gavin Sanders and his team — from receiving us in person at the airport to the personalised surprises that welcomed our group in the room. The Radisson Batam has a good mix of business features, yet manages to offer a range of family-friendly activities. The sports lover in me resolves to try them out on a future visit.
DFS had shown us how it is possible for a stay in Batam to be relaxing and luxurious from departure to arrival at the hotel. I saw Batam in a new light; instead of the frenzied snack shopping trips I associated it with, I now see how it can be a chic and comfortable overnighter to get away from it all.