If you are bored of Japanese ramen, Nadai Fujisoba Ni-Hachi is the perfect alternative for some slurping good time. Touted as  one of the leading soba restaurants in Japan, the restaurant first started in Shibuya, Tokyo in 1966. One of Japanese dining concepts featured by Itadakimasu by Parco, its Singapore outlet has now opened at Tras Street in Tanjong Pagar, Singapore.
At Nadai Fujisoba Ni-Hachi, the chef prepares freshly made noodles daily to ensure the best quality. Following the golden ratio of "Ni-Hachi" (which means 'two-eight' in Japanese), the combination of wheat flour (20%) and buckwheat flour (80%) gives its soba noodle the optimal firmness and a nutty flavour.
Apart from the golden ratio, the quality of the ingredients plays a huge role in determining the soba taste. The restaurant imports high-quality buckwheat flour from a well-established milling factory in Japan and keeps them in a warehouse at a specific temperature to maintain absolute freshness.
You will be spoilt for choice over its extensive menu of soba varieties varying from warm soba, cold soba, maze (mixed) soba, and mori (dipping) soba. Don't say we didn't warn you — the normal portion comes in a massive bowl that is sure to fill any starving souls.
We started off with the traditional Mori Soba, which comes with generous servings of grated wasabi and chopped leeks that can be added into the cold dipping sauce. Light and refreshing, this classic dish is the summer go-to staple. Served with thicker ribbons of noodles, the restaurant's rendition of Mori Soba has an addictively chewy texture. Sobayu – water that the soba noodles is cooked in – is served in a small pot for guest to pour it in their dipping sauce and drink. It is considered to be high in nutrition and is highly recommended for the health-conscious.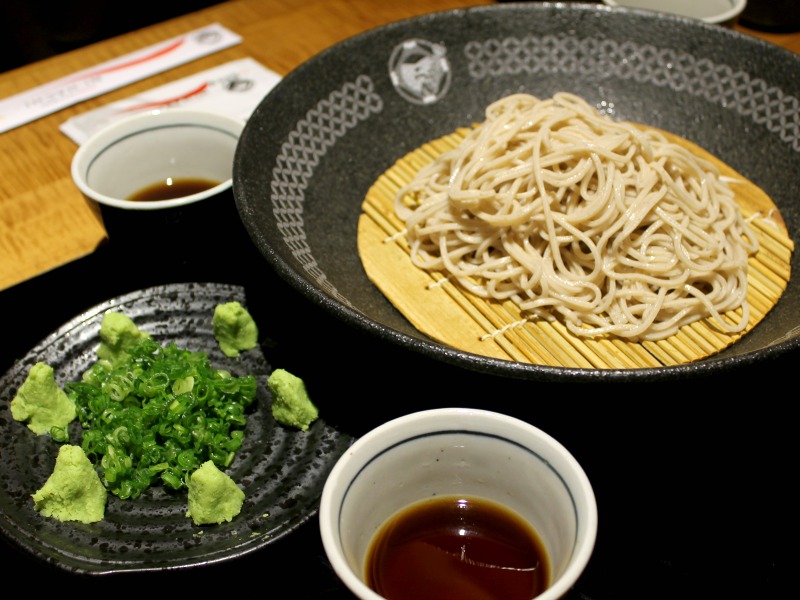 One appetiser you cannot miss at Nadai Fujisoba Ni-Hachi is their Special Truffles Dashi Maki Tamago with Club Japanese Sauce (S$15). Unlike the usual sweet tasting note, their tamago (egg) is drenched in a rich savoury sauce with shredded crab meat. Chunks of truffles are incorporated into the tamago to add texture and flavour.
For a stronger flavoured appetiser, go for the Sautéed Sobagaki and Foie Gras with Kaeshi Sauce (S$17). Similar to the soft texture of a mochi, sobagaki is an ancient Japanese dish made of buckwheat flour and water. A touch of the savoury Kaeshi sauce helps to accentuate the flavours of the foie gras and earthy sobagaki.
Nadai Fujisoba Ni-Hachi has specially created two new soba offerings for Singapore, available from 15 June 2017 onwards. Inspired by the popular Chinese-style seafood crispy noodle Sheng Mian, the restaurnt's Deep-fried Soba with Savoury Spicy Seafood Sauce (S$18.50) is a unique soba dish you should try. Crispy and saucy, the soba noodles have an addictive crunch on the outside and a soft chewy texture in the middle. Ladled with generous servings of the spicy seafood sauce, every bite is satisfying.
The second special soba dish is the Crispy Sakura Ebi Tempura and Soba Drizzled with Truffle Oil (S$19.50). Coated with Sakura shrimp-infused batter, the Ebi tempura is deep-fried to a beautiful shade of red. Two enormous Ebi tempura lay on a bed of al dente soba noodles in rich shrimp soup stock. A drizzle of the fragrant truffle oil further elevates the flavour profile of the dish which is sure to wow the fussiest palate.
Tossed in mentaiko, fresh cream and dashi sauce, the Hot Mentai Cream Soba (S$17) is garnished with finely chopped spring onions and nori seaweed. The salty mentaiko is perfectly incorporated into a buttery creamy sauce and its flavours pack a punch. Each bite is gratifying as the savoury roe pops in the mouth.
Warm and heartening, the Hot Sukiyaki Soba (S$18) features thinly sliced beef with spring onions, shiitake mushrooms and half-boiled egg over a bed of freshly made thin soba noodles in clear broth. Made from dried bonito flakes and kaeshi (concentrated soup base), the clear broth exudes an alluring aroma that is further enhanced by yuzu peels. The luscious egg yolk over the light noodle soup is the ultimate comfort food and a wonderful meal after a long day of work. It was my favourite soba dish of the night.
The Dry Kamo Maze Soba (S$16) will win you over with its tender sliced duck meat and flavourful duck meatballs. Accompanied by a runny egg and yuzu peels, the thick soba noodle is evenly coated with a delicious sauce that completes the dish.
Nadai Fujisoba Ni-Hachi has dedicated itself to serve the perfect soba. With constant innovation to suit the local's palate, its wide variety of soba noodles is bound to satisfy all. In addition to freshly made soba, it also serves a range of don for people who prefer rice. A great source of nutrients, buckwheat soba noodles is definitely a healthier alternative to ramen. If you are near Tanjong Pagar next time, skip the ramen shops and head over to Nadai Fujisoba Ni-Hachi for some healthy and delish soba noodles.
Nadai Fujisoba Ni-Hachi
ITADAKIMASU by Parco
100 Tras Street
#03-14 100 AM
Singapore 079027
Tel: +65 6443 8827