"When you think of rosé, you think of amazing places like San Tropez, Cannes and mostly the south of France," remarked renowned American wine critic James Suckling.
Indeed, European destinations that exude luxury and chicness are the first that one would associate with sipping a glass of rosé in balmy weather. But one Asian destination might soon join the same class – this year, Suckling once again partnered with luxury resort The Nai Harn in Phuket for the second edition of Thailand's only wine competition for premier rosés.
Wine distributors from all over Thailand were invited to take part in the competition, which saw a total of 80 rosé wines vying for top honours. The submissions included labels from all over the world, such as France, Italy, Chile, Spain, Australia and even Thailand.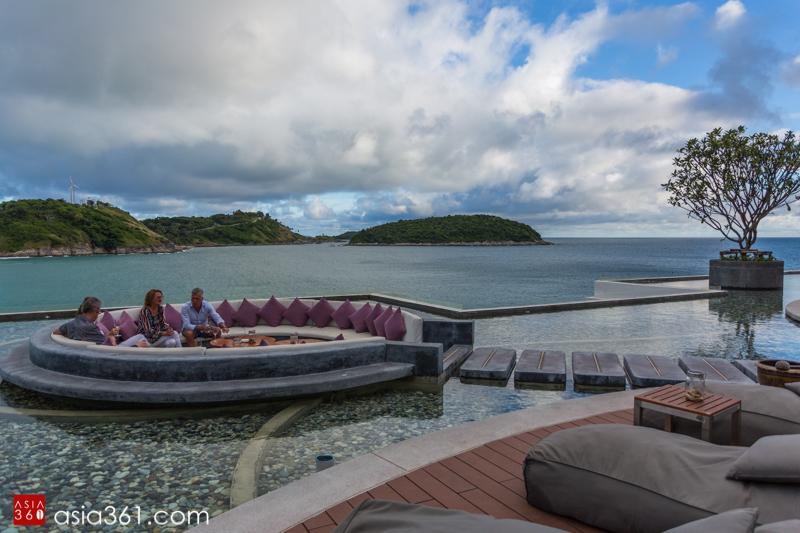 "Nowadays, rosé is as good as any great wine, great white wine or even red. That was the concept I said to Frank Grassmann (General Manager of The Nai Harn). Thailand has amazing weather and the beaches – just like a fun place – and roses seem like the right wine to drink here. So I said, let's do a competition or a tasting to find the best rose in Thailand, not just Thai wine but all those available here," shared Suckling in an interview on why he chose Phuket to hold the competition.
"Rosé has become super luxury," he added. "Drinking rosé is like drinking great champagne now."
The overall Best Rosé award went to Château d'Esclans Côtes de Provence Garrus Rosé 2014, which received an impressive 96 points from Suckling. The Best Value Rosé category went to Château Routas Coteaux Varois en Provence Rosé 2016, which was given 93 points and also emerged the winner in the Top 10 Rosés for Thailand list based on judging criteria of both quality and price.
The top 10 rosé wines are featured at The Nai Harn as part of the "Cellar by JamesSuckling.com", a curated selection of wines available exclusively at the restaurants and bars at the resort.The Nai Harn was also the first resort
The Nai Harn – part of the exclusive luxury hotel network Leading Hotels of the World – is also the first resort on Phuket to offer Frosé (frozen rosé), an iced wine cocktail made with Italian rosé wine ('Terre Di Talamo Toscana PIANO PIANO Rosato 2015,' rated 91/100 by James Suckling), and also features fresh strawberries, vodka and grenadine.
When asked how to tell if a rosé is good, James shared: "It's not about how much they macerate it or about the whole process of wine making. It's very visceral. It's like anything else – how enjoyable it is. And for a rosé, the first thing it has to do is to be enjoyable. It's really simple."
Best Rosé for Thailand 2017 by James Suckling & THE NAI HARN Phuket
1. Château Routas Coteaux Varois en Provence Rosé 2016 (Best Value Rosé). Italasia Trading. Points: 93.
2. Mastroberardino Irpinia Lacrimarosa Rosato 2016. Italasia Trading. Points: 92
3. Château d'Esclans Côtes de Provence Garrus Rosé 2014 (Best in Show). BB&B. Points: 96
4. Marqués de Cáceres Rioja Rosé 2014. IWS. Points: 91
5. Domaine Houchart Côtes de Provence Rosé 2015. Wine & Taste – Gfour. Points: 91
6. Gérard Bertrand Pays d'Oc Gris Blanc Rosé 2015. BB&B. Points: 91
7. Château Cavalier Côtes de Provence Cuvée Marafiance Rosé 2016. Siam Winery. Points: 91
8. GranMonte Syrah Asoke Valley Sakuna Rosé 2016. Wine & Taste – Gfour. Points: 91
9. Les Maîtres Vignerons de la Presqu'ile de Saint-Tropez Côtes de Provence Cep d'Or Rosé 2015. Wine Connection. Points: 91
10. Roubine Côtes de Provence La Vie En Rose 2016. Wine & Taste – Gfour. Points: 91