Singaporeans complain about pretty much everything but you'd seldom hear us whinge about our airport. There isn't a lot to gripe about. It's quick, efficient and clean. You have no lack of activities to keep you occupied while waiting for your flight too. It's not just us who think it's great; Changi Airport didn't clinch the World's Best Airport accolade for the fifth year running for nothing.

In most other countries, people probably do not go to their airports just to hang out, to study or to grab a meal. Well, in Singapore, people do go to Changi Airport for reasons other than flying, especially if you live in the east like I do.
Here's another thing you can add to the list of stuff you can do at the airport – have high tea.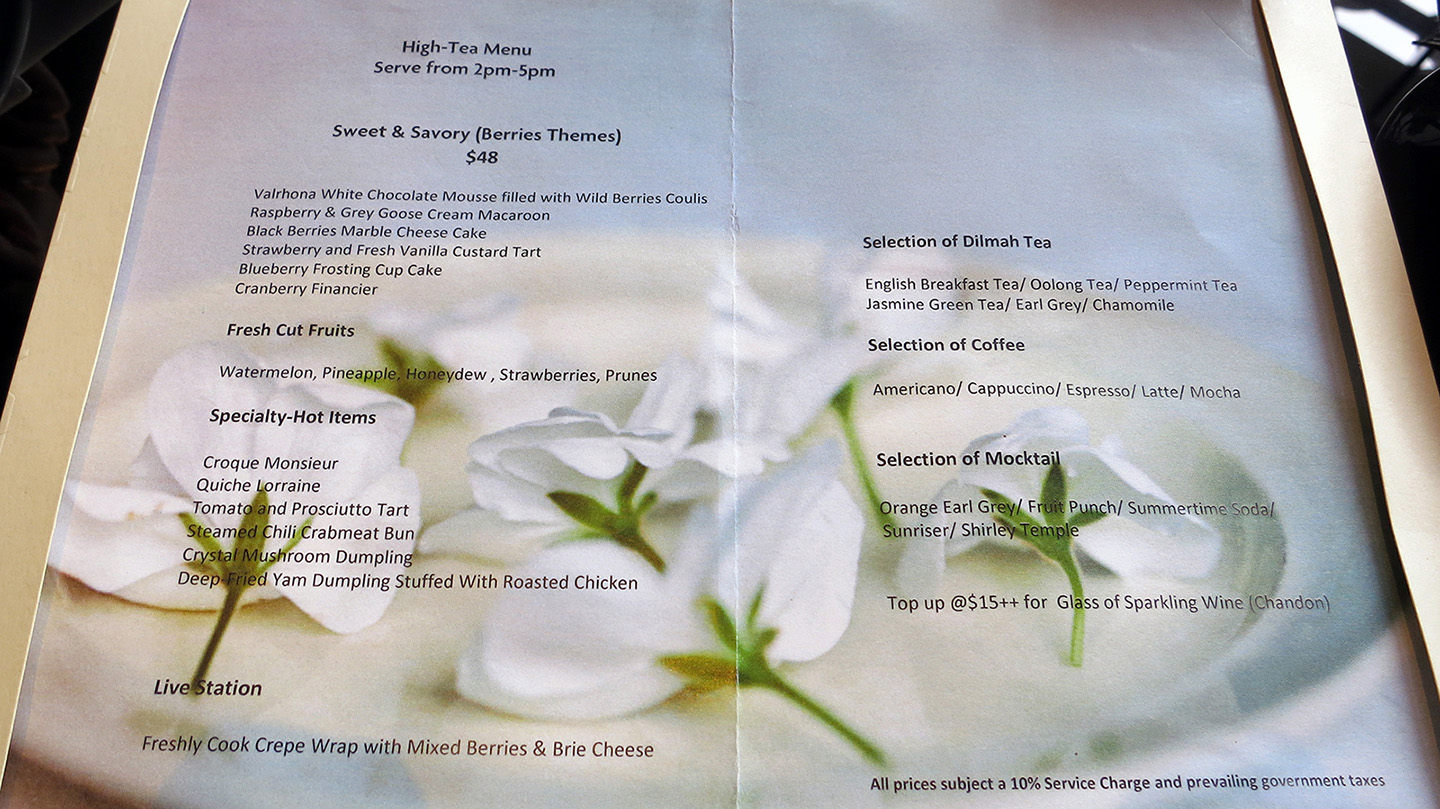 Crowne Plaza Changi Airport offers a berry-themed Sweet & Savory High Tea (S$48, from 2pm to 5pm) at its Lobby Lounge. The high tea is a selection of savory and sweet morsels to be paired with your choice of Dilmah Tea's finest brews. My best friend and I spent a lovely Sunday afternoon just relaxing, chatting, nibbling on sweets and sipping tea.
Thanks to the high windows, natural light floods the restaurant, making it look cheerful and welcoming. I loved the breezy alfresco area with its lush tropical garden. I've never been here in the evening but I hear it transforms from café to an upscale lounge. Nursing a drink or two under the stars sounds like a splendid way to spend the night.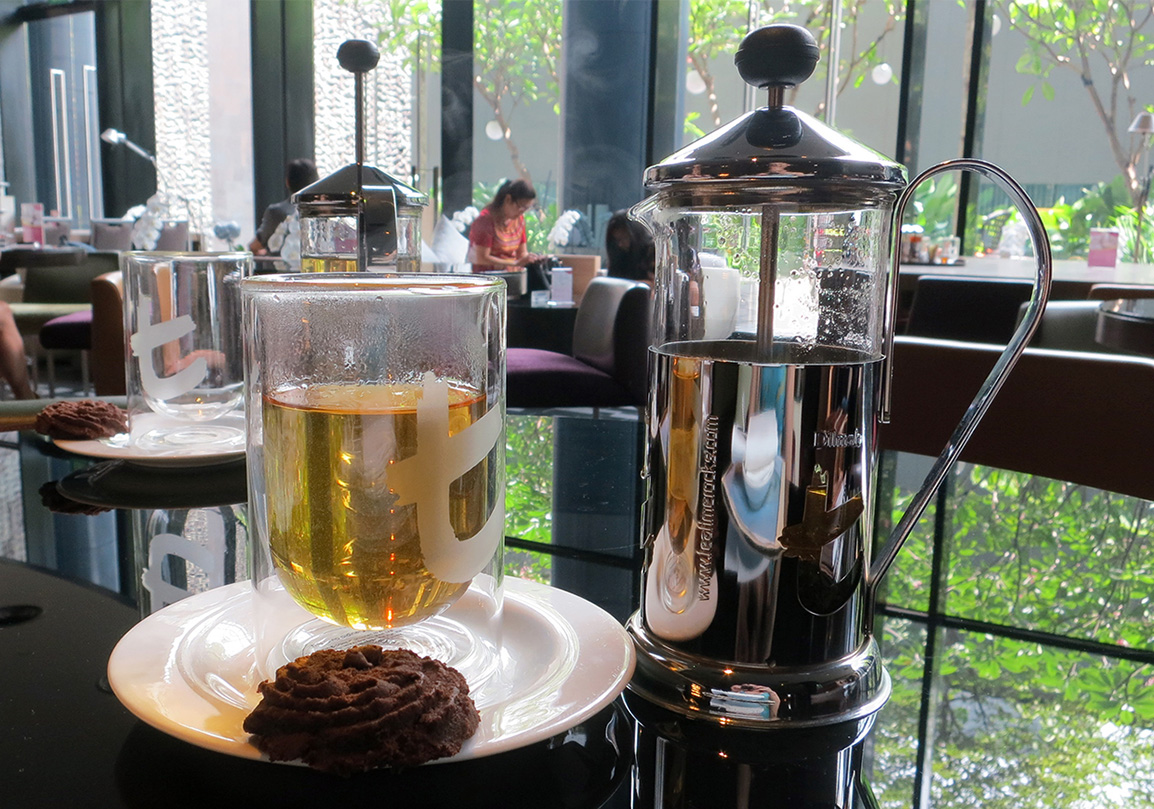 My friend and I both chose peppermint tea as it is our favourite. The chocolate cookie it came with was a delight and a rather generous size too. It's much larger than the tiny ones that are usually served with coffee or tea at other cafes.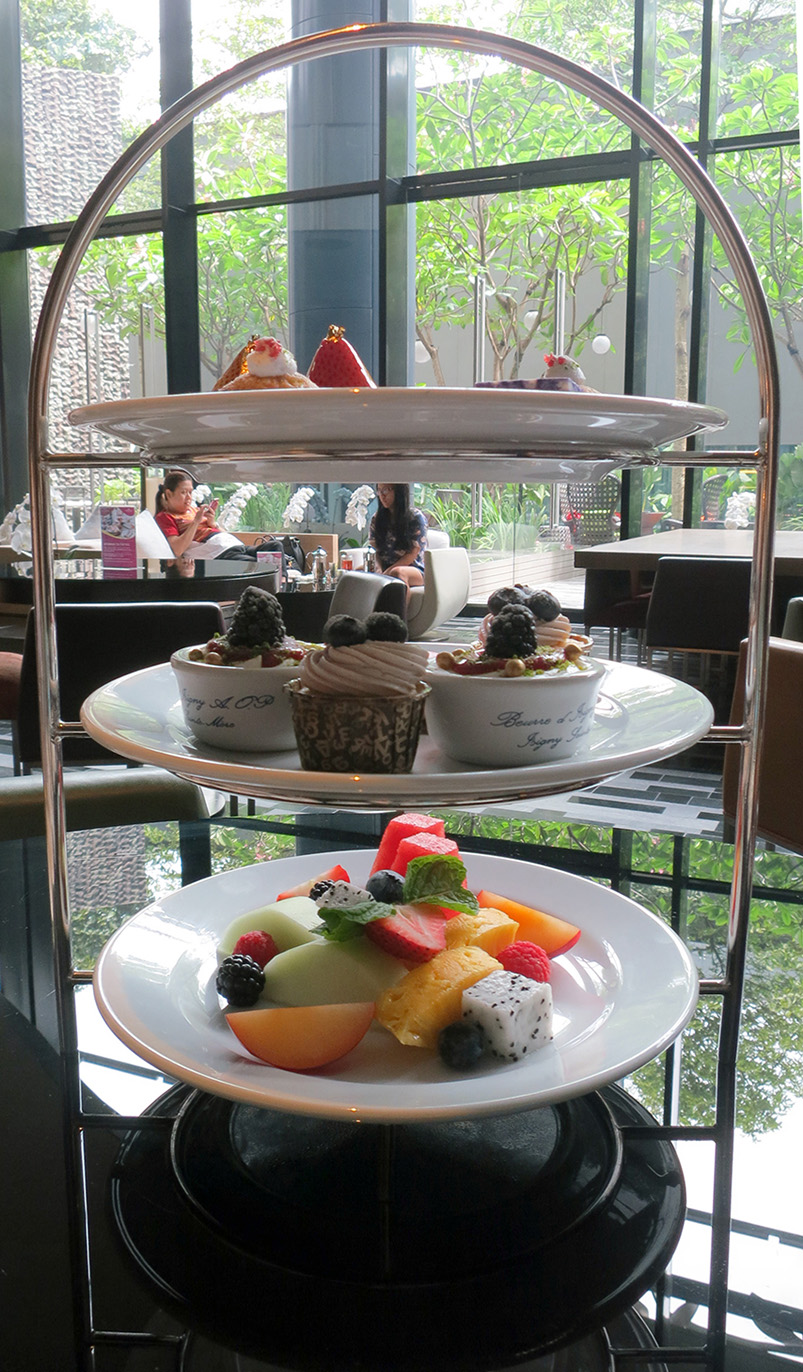 The funny thing about these non-refillable High Tea sets is that because each piece looks so tiny you'd think you wouldn't be satisfied. Let me tell you, that's deceptive. My best friend couldn't finish her half of the food and I was struggling with mine too. We were definitely satiated.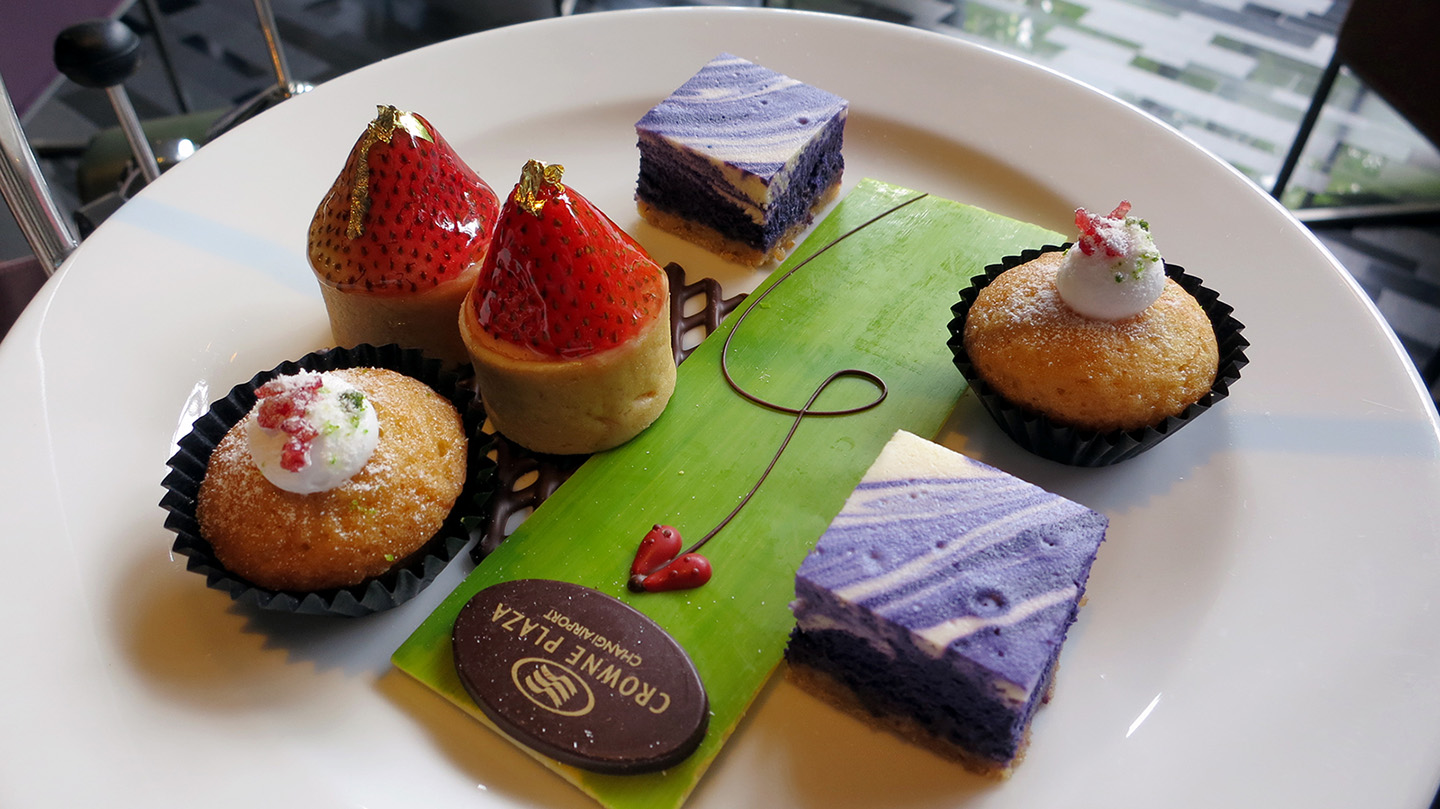 The sweet platter was served first. We found that rather curious because people are generally more used to ending their meal off with something sweet rather than the other way around. I sought the reason for this from a waiter, who replied that the patrons who order the High Tea set usually are more eager to start on the sweets and ask for that first. The savouries also take longer to prepare.
Fair enough — we weren't complaining. In fact I've been known to skip the main lunch or dinner entirely and go straight for dessert. What can I say, I have a major sweet tooth.

I went straight for the Blackberries Marble Cheesecake. If I were told to try this on a blind test, I would not have guessed that there was any fruit in it at all. My dining partner did mention there were subtle berry notes but I did not detect any in mine. Still, I enjoyed it immensely because it was rich and dense. Just how I like my cheesecakes.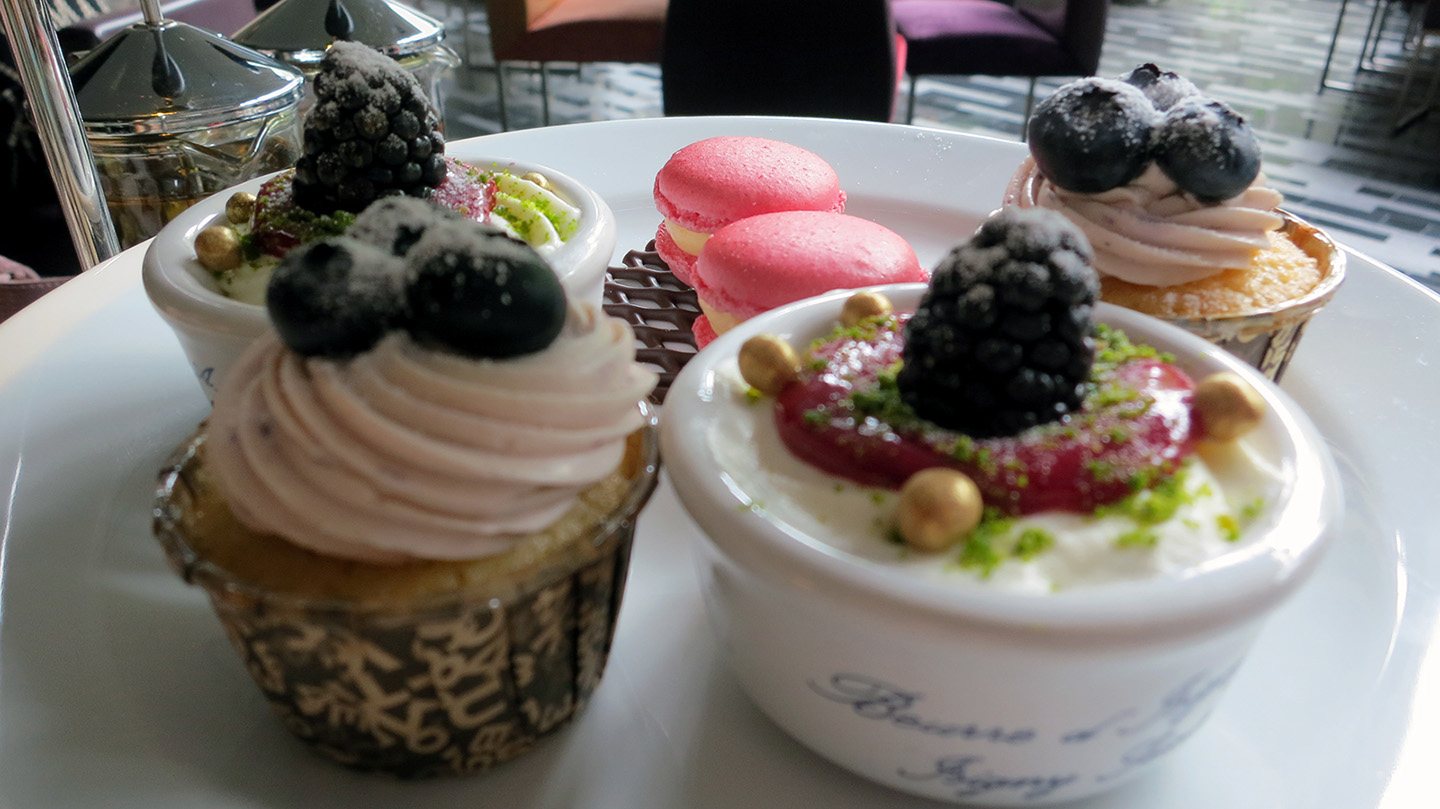 The Raspberry and Grey Goose Cream Macaroon, sadly, didn't impress me. The vodka in the cream was way too light in my opinion, and the shell was tough and chewy. That being said, I'm not a fan of macaroons and don't generally go for them unless they are from Ladurée. The Strawberry and Fresh Vanilla Custard Tart, Blueberry Frosting Cupcake and Cranberry Financier were similarly lacklustre and forgettable. 

The Valrhona white chocolate mousse, however, was amazing. I loved the little gold chocolate balls on top that added crunch and flavour to the otherwise creamy cup. The berry coulis provided just the right amount of tartness too. We decided to leave the fruit platter until after we were done with our meal. When we finally came to them, the fruits were still fresh, firm and juicy.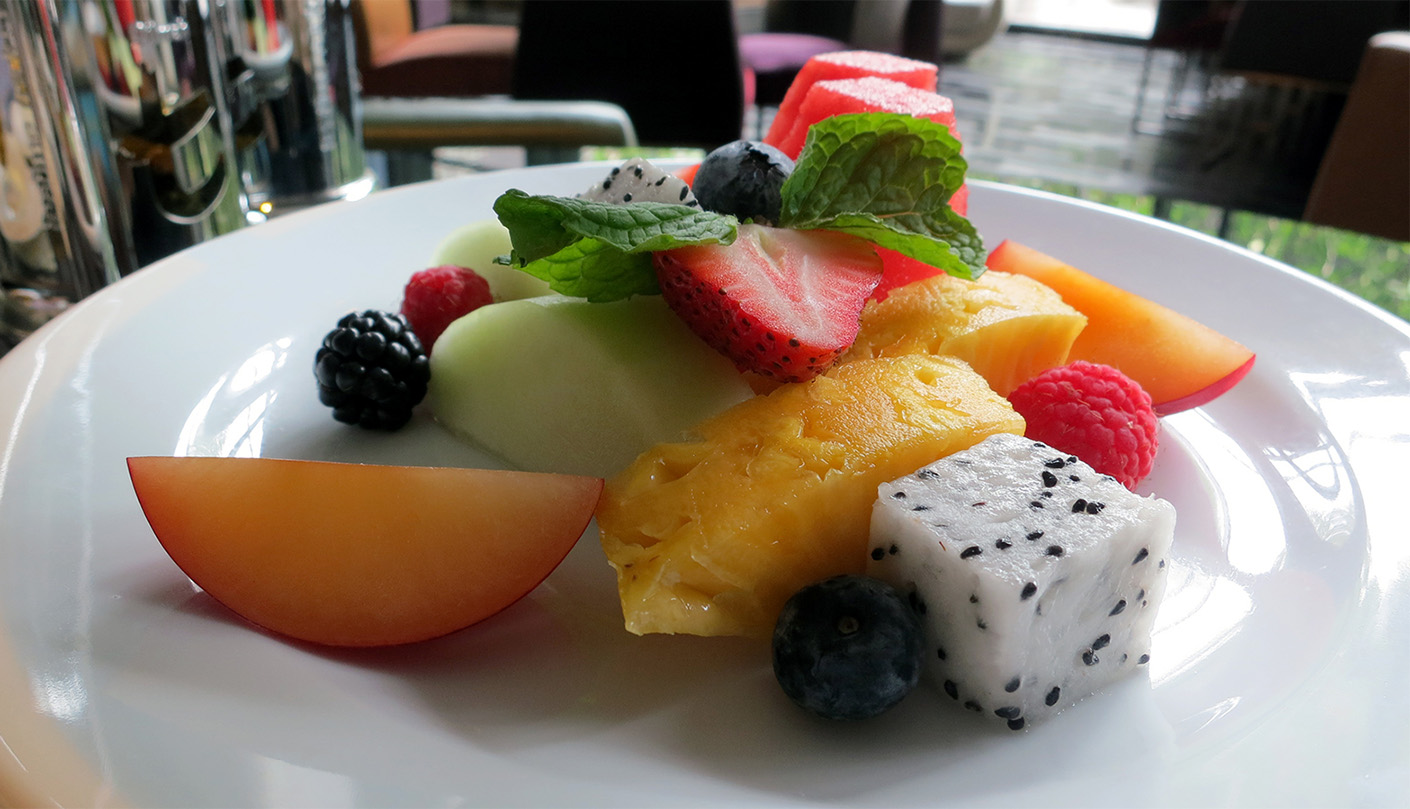 At this point, I had thought there were more misses than hits. Then the staff brought out what I consider the star of the meal: the Freshly Cooked Crepe Wrap with Mixed Berries and Brie Cheese.
My friend and I agreed this is the item we'd crave and come back for. In fact the waiter told us that some people loved the crepe so much that they ordered an extra piece for themselves at S$8. I was so happy to hear we could purchase it on its own. It is divine and I'm hungry just thinking about it.
Cheese and fruit is a classic pairing. Warm, gooey, melted cheese and grilled fruit is another level entirely. This is one of those dishes I tried my best to eat more slowly so I could savour every bite. Try as I might, it was still gone too soon. Never mind, we'll be back for this soon enough! The next time I think I'll order two and make a light meal of it together with a pot of tea or a cup of latte.

We moved on to the platter of savouries, of which I enjoyed every single item on it. Things went uphill from here.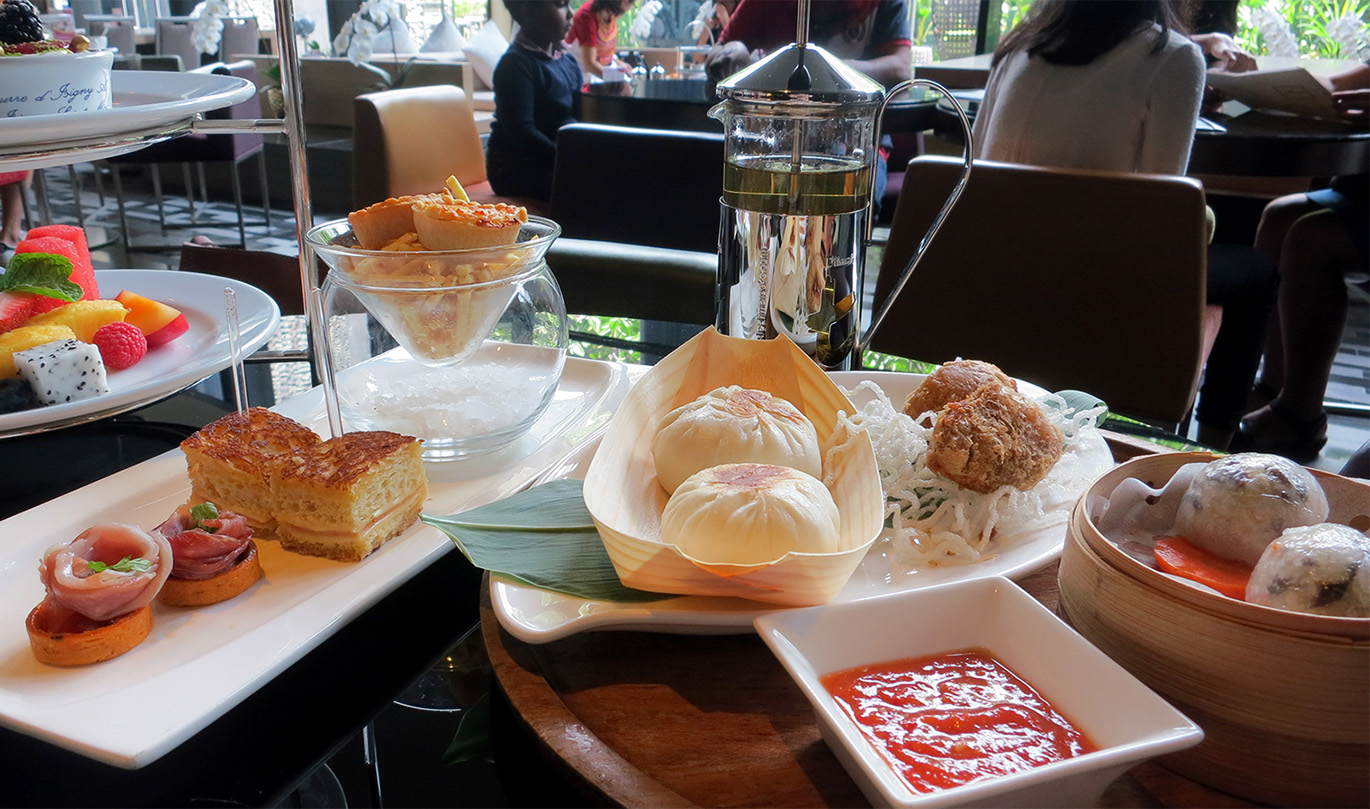 Out of everything, the only item I was lukewarm about was the Crystal Mushroom Dumpling. That's not to say I disliked it, unlike some items in the sweet selection. I simply found it rather mediocre, compared to the rest of the items on the platter.
The Deep Fried Yam Dumpling was extra tasty with a satisfying crunch. I was similarly pleased with the Croque Monsieur, Quiche Lorraine and Tomato and Prosciutto Tart.
If I woke up late on a lazy weekend, the Croque Monsieur would be what I'd love to have. It was perfectly buttery and what I consider great comfort food. Just the thing you'd want to have for brunch.
The quiche was a bit different from what I've usually come to expect from quiches, but it's no less delicious. It tasted pretty strongly of corned beef. Not an ingredient usually added to quiches, though I'm not complaining. The quiches were placed on bed of addictive little potato sticks which looked like the kind you'd get from Calbee Jagabee. We absolutely loved them and polished off the lot.

I dislike tomato and would pick them off of my food if I see them. That's exactly what I did with the tart. Once they were gone I happily popped it into my mouth. The pastry base itself was flavourful and well done, if a little crumbly. Of course the prosciutto was great. If you love that sort of thing, it nearly always is.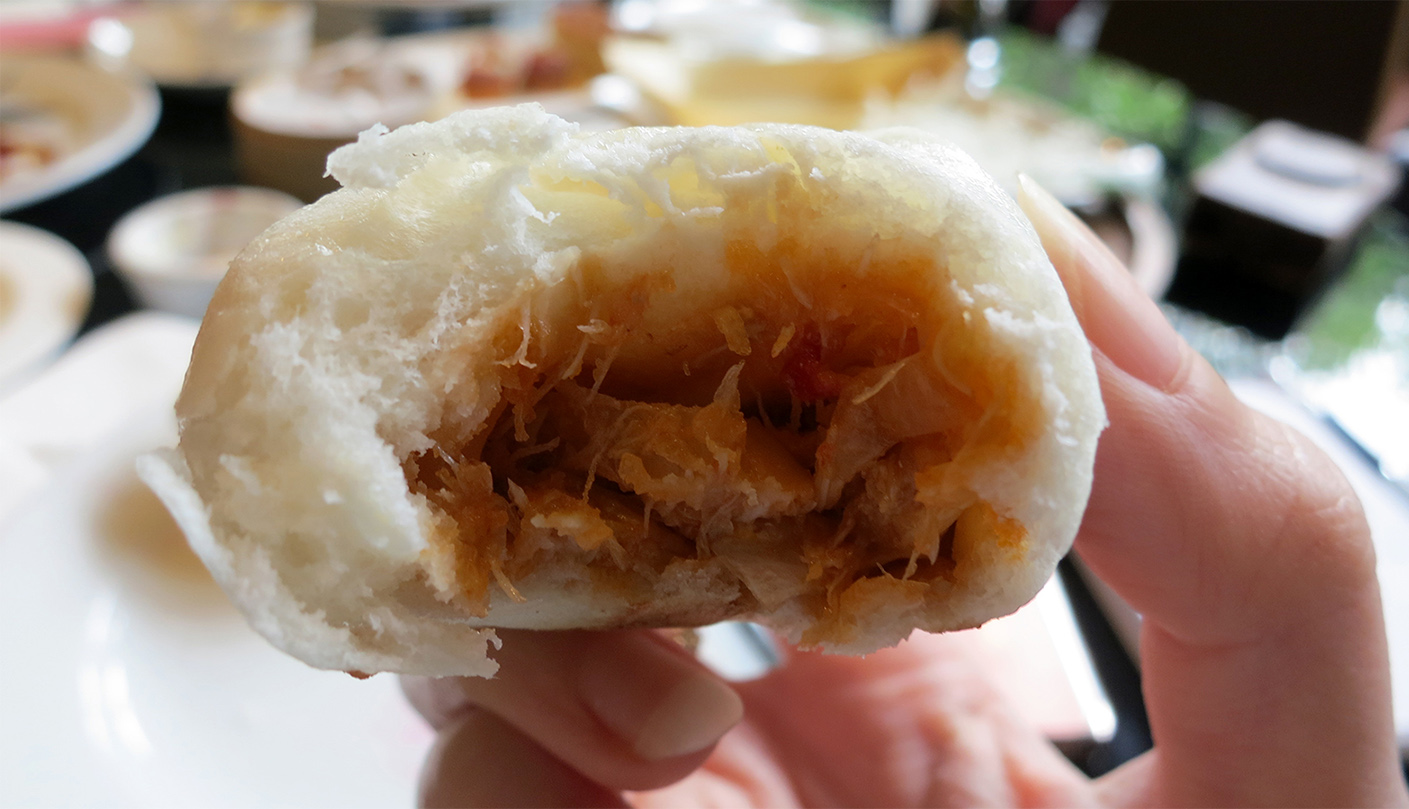 While the Steamed Chili Crabmeat Bun tasted like the famous dish we all know and love, I could not help but feel that it could have been improved if the ratio of filling to bun was more equal. Some mouthfuls had way more bun than crab which marred the experience somewhat. But, that's just a minor gripe, really.

My best friend and I agreed this was one of the best Sundays we spent this year. Not everything was to our liking but those that were more than made up for it. We left with our stomachs as full as our hearts and a promise to return.
Lobby Lounge
Crowne Plaza Changi Airport
Terminal 3
75 Airport Boulevard
Singapore 819664
Tel: +65 6823 5367
Email: [email protected]
Operating hours: 7am – 11pm (Daily)