Women love bags. Satchel, sling, tote, clutch, shoulder and the list goes on. Just like clothing, bags reflect a woman – her needs, her style, and her appearance. Which kind of explains why I wouldn't want to be caught dead carrying the typical boring camera bag designed for male photographers.
I have been taking photographs for a decade. During these 10 years, I have been on a relentless pursuit to find the perfect camera bag for my gear. Oh yes, I am still a girl at heart, despite pursuing an "un-girly" passion like photography. I still want to look feminine while wielding a big burly dSLR camera in one hand. But if you do a quick search online, you'd be forgiven for thinking for style and camera bags are mutually exclusive. Camera bags, in general, are anything but stylish.
In my perpetual search for The One, I recently discovered Aide de Camp, a Singapore brand that specialises in creating bags for female photographers. A Singapore brand for camera bags? Yeah, that was pretty much my reaction when I first knew about Aide de Camp, which is founded by Michele Ng, a former marketing executive who started the brand to create attractive camera bags targeted at female photographers. My reaction was one of surprise — many of the brands for women's camera bags hail from overseas, largely the United States. Well, I am always all for supporting local.
Love at First Sight
This is not the first time I've gotten a camera bag via courier for sure, but it's by far the first one that arrived beautifully packaged like a designer product. (I have a weakness for packaging.)
My Leyden bag came in a custom-designed chic black box with the Aide de Camp logo embossed on it. When I opened the box, there was even a hand-written note placed in a little envelope, addressed to me. Carefully covered in a bed of tissue paper, my Leyden bag was accompanied by a storage bag and product information tags tied on with ribbon. I was almost sold on the bag before I took it out of the box.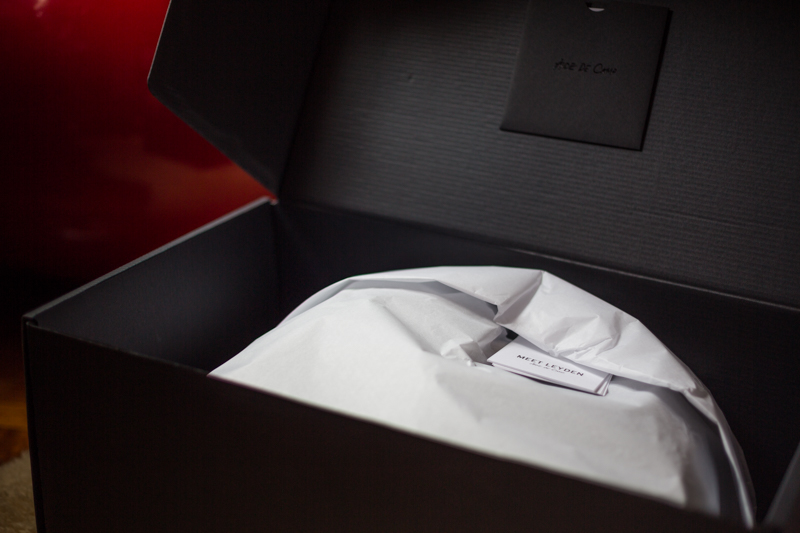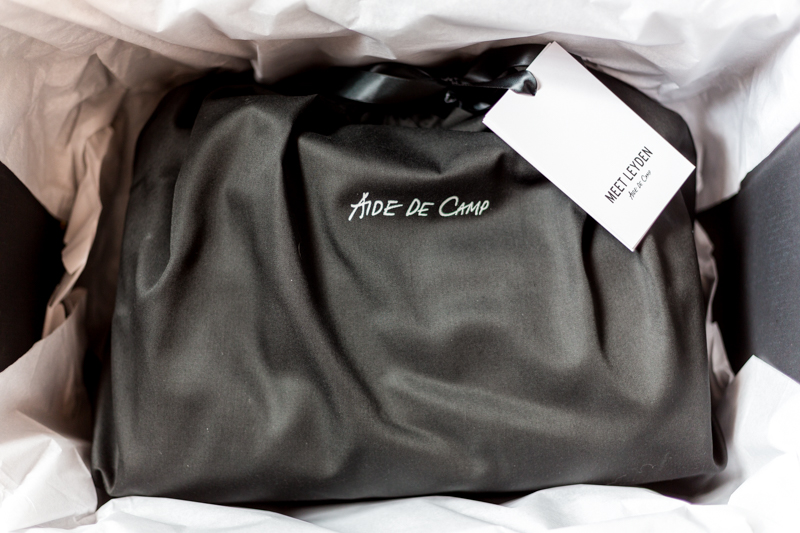 The Leyden (S$369) is a shoulder bag with a detachable crossbody strap and zip top closure. Measuring 14 inches x 11 inches x 6 inches, it is made of premium, lightweight nylon and comes with genuine cow leather handles and trim. The hardware is 14-karat champagne gold plated hardware.
Design-wise, the Leyden is ideal for both work and play. My work requires me to attend social and media events with my camera in tow. I want a bag that goes with my daily outfits and do not look anything like a camera bag. The Leyden certainly fits the bill in the sartorial department.
Now, the most important question for a camera bag – is it functional?
The Moment of Truth
I decided to bring the Leyden on a trip to Europe during winter recently, along with my Canon 5DMIII camera, a 50mm lens, a 17-40mm wide-angle lens and an external flash unit (all of which weighs almost 2kg in total). The Leyden comes with a removable padded insert with adjustable Velcro dividers, which accommodates all of my gear easily.
I particularly like how the front of the bag provides a compartment where I could keep my memory cards and access them easily. I also kept smaller items such as my namecard holder and keypouch in that same front compartment.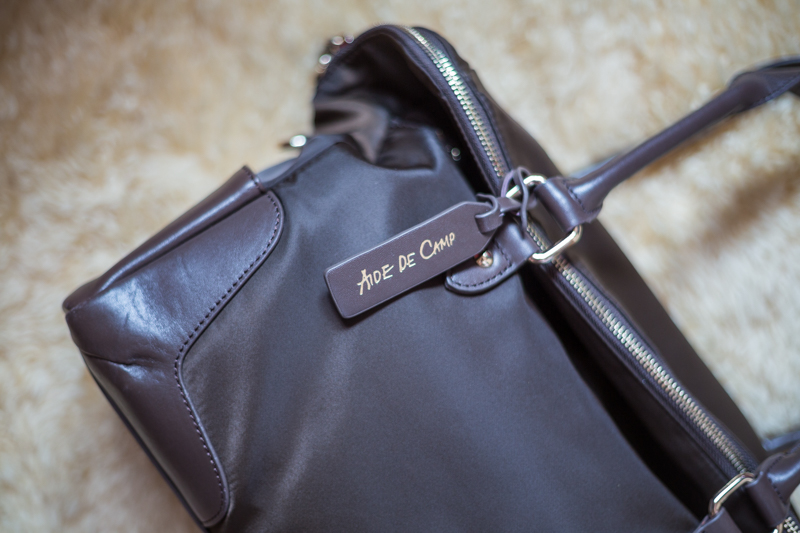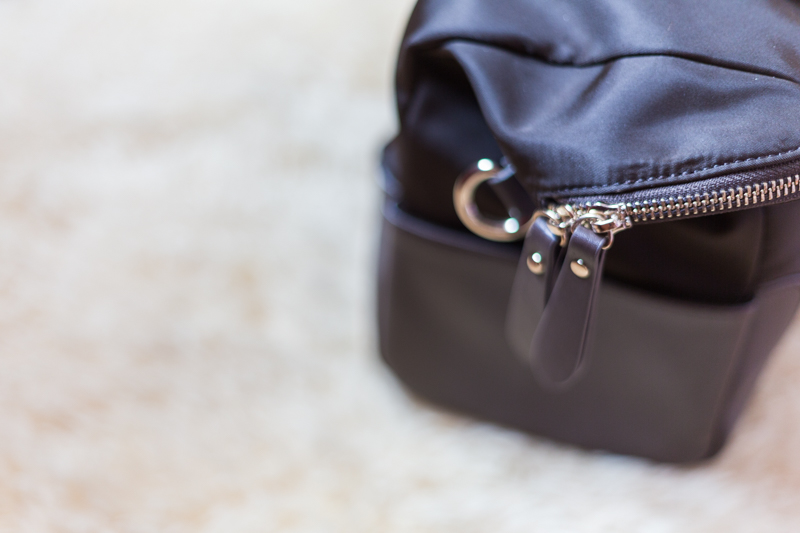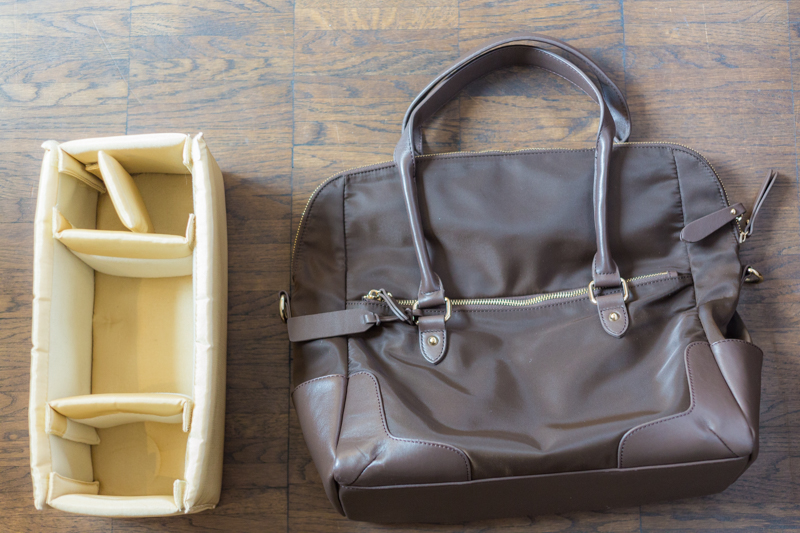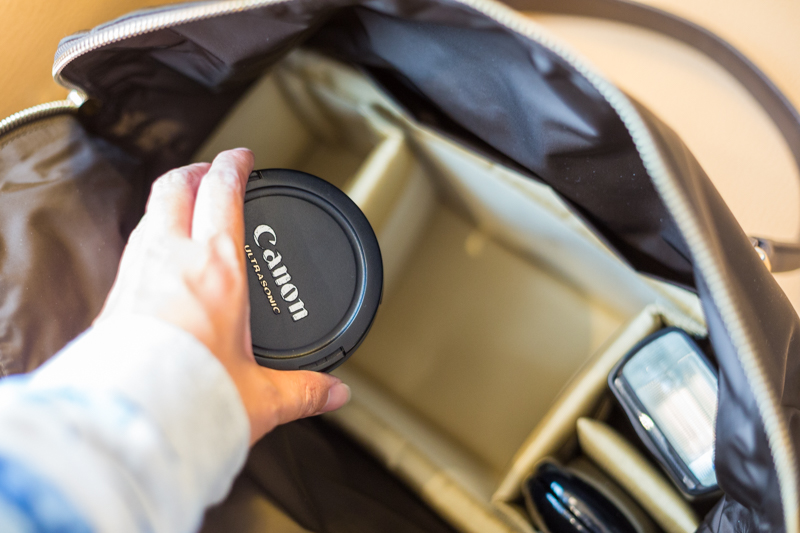 With the padded insert in the bag, I realised that it was a tad difficult for me to carry the bag using the shoulder handles. I switched to the crossbody strap instead and found myself carrying the bag with more ease. In any case, I could choose to remove the padded insert if I wish to carry the bag as a shoulder bag.
Some people might balk at the use of nylon material for the Leyden bag. I have several camera bags made of leather. While they may be more durable, I find leather bags to be heavy. My camera equipment are heavy as it is; the last thing I want is to add to the weight on my shoulders. And because the Leyden uses lightweight nylon, I could feel the difference when carrying it compared to carrying my leather bags.
The nylon is supposed to be water-resistant (note that it is not the same as waterproof). When I was in Sweden, it happened to be snowing. The snowflakes that fell on my bag simply turned into tiny droplets and slid off the bag like a dream.
And, it's not just snow. I weathered rainy days in Denmark. Guess what, so did the Leyden bag. All my camera and lenses remained protected and dry as I fought the battle against strong wind and rain with an inverted useless brolly.
It's evident that the folks at Aide de Camp have put a lot into designing their bags. Besides the Leyden, there are other designs to cater to different needs.
If I may have one gripe, I wish the Leyden could fit in my 13-inch MacBook Air as I need to work on the go, even when I travel overseas. Then again, nothing is perfect in this world. Meanwhile, I think I might have just found my near-perfect bag in the Leyden.