It has won the 'World's Best Business Class' award at the prestigious Skytrax World Airline Awards four times including 2016. And just recently, it was awarded the 'Best for Business' accolade at the Condé Nast Traveller Readers' Choice Awards. Qatar Airways' Business Class seems to be flying high with all the numerous accolades lavished on it.
So, it was with high expectations – which may or may not be a good thing – that I took my very first flight on Qatar Airways for a recent trip from Singapore to Frankfurt, Germany.
This would also be my first time taking the new Airbus A350, of which every other airline that took delivery seemed to be so proud of and raving about. In fact, Qatar Airways was the first before any other airline to fly the world's newest wide-body aircraft.
The First Leg: Singapore to Doha
My flight was scheduled to depart at 2.25am. The aircraft I boarded was the A350XWB — XWB stands for 'extra wide body', in case you are wondering. As the name suggests, it boasts wider cabin space, a higher ceiling and larger windows. At the door, the crew warmly welcomed me on board and escorted me to my seat.
The Business Class cabin has 36 seats in a 1-2-1 configuration. Each Business Class seat features an 80" full flat bed and 17" HD in-flight entertainment screen. There were a myriad of entertainment choices, but I was not in the mood to watch anything; after all, it was bedtime. The LED lighting in the cabin – which simulates natural phases of the day – certainly did its part to put me in the mood for sleep too. Oh, hang on, there's still takeoff I had to wait for.
The inquisitive me started to explore the spaces around me. There was plenty of storage space – storage for my little pouches and items on the non-aisle side while the wood-panelled armrest on the aisle side cleverly concealed storage for noise-cancelling headphones and a bottle of water. I particularly appreciated the little drawer for my shoes. Goodness knows how many times I've tried looking for my shoes in the dark abyss of an airplane's floor after I've kicked them off for comfort. This may seem minor, but not all airlines provide such a "thoughtful drawer" in their Business Class.
The seat control system is pretty much idiot-proof, in my opinion. There are diagrams to illustrate the purpose for each button. Unlike some other airlines' Business Class in which I had to get up and flip the seat over to form a bed, the Qatar Airways one allowed me to recline my seat into a 180-degree fully flat bed at a mere flick of a button. Like a kid, I gleefully played with the buttons for a few minutes.

After takeoff, I was handed a set of pyjamas and a Giorgio Armani amenity kit comprising Armani Sì fragrance, body lotion, eyeshades, socks, ear plugs, Rituals lip balm and a hairbrush. I did not change into the pyjamas, as I wasn't used to the idea of changing in an airplane.
The crew was attentive and friendly without being overbearing. After takeoff, an Asian air stewardess promptly took my orders for my meals. One thing about dining on Qatar Airways' Business Class – you can choose to dine anytime you want. The a la carte menu listed items such as pumpkin and lemongrass soup, honey-glazed roast duck, and mango sticky rice with pandan coconut sauce. As tempting as those items sounded, I decided to skip supper for a good sleep. The air stewardess informed me that she would then wake me up one hour before descent so I would be able to have my breakfast.
The A350 aircraft is able to pressurise the cabin to a comfortable level than standard aircraft to minimise jetlag. There is also a humidification system to help decrease the air dryness; true enough, I did not wake up with a dry throat as I always do during plane rides. Apparently, even the air in the cabin gets renewed every two minutes.
Throughout the ride, I slept like a baby. (I was later told there was turbulence, which I did not feel at all in my slumber.) The air stewardess woke me up for breakfast, as she said she would.
For the appetiser, I had smoked salmon with herb cream cheese, capers and greens. A few choices were available for the mains and I opted for chives scrambled eggs with grilled chicken breast, rosti potatoes, grilled mushrooms and oven-roasted cherry tomatoes.
After finishing my mains, I browsed through the menu again, not because I was still hungry but more out of curiosity. The air stewardess saw me looking at the menu and took the initiative to ask: "Is there anything else I could get for you, Ms Goh?" Life's too short for diets and regrets. I went for the buttermilk pancakes with caramelised banana, vanilla mascarpone, strawberries and honey.
All too soon, the plane began its descent for Doha and I had to turn up the window shades, another feature that brought out the child in me. The auto-mechanical window comprises two accordion shades – one translucent and one opaque. At a light touch of a button, the shades would go up and down. I would have loved to play with it non-stop if not for the other passengers in the cabin.
The Layover
I had a two-hour layover at Hamad International Airport and decided to check out the Al Mourjan Lounge for Qatar Airways Business Class passengers. The lounge has its equal share of accolades, having been voted the 'Best Business Class Airline Lounge' at the most recent Skytrax Awards.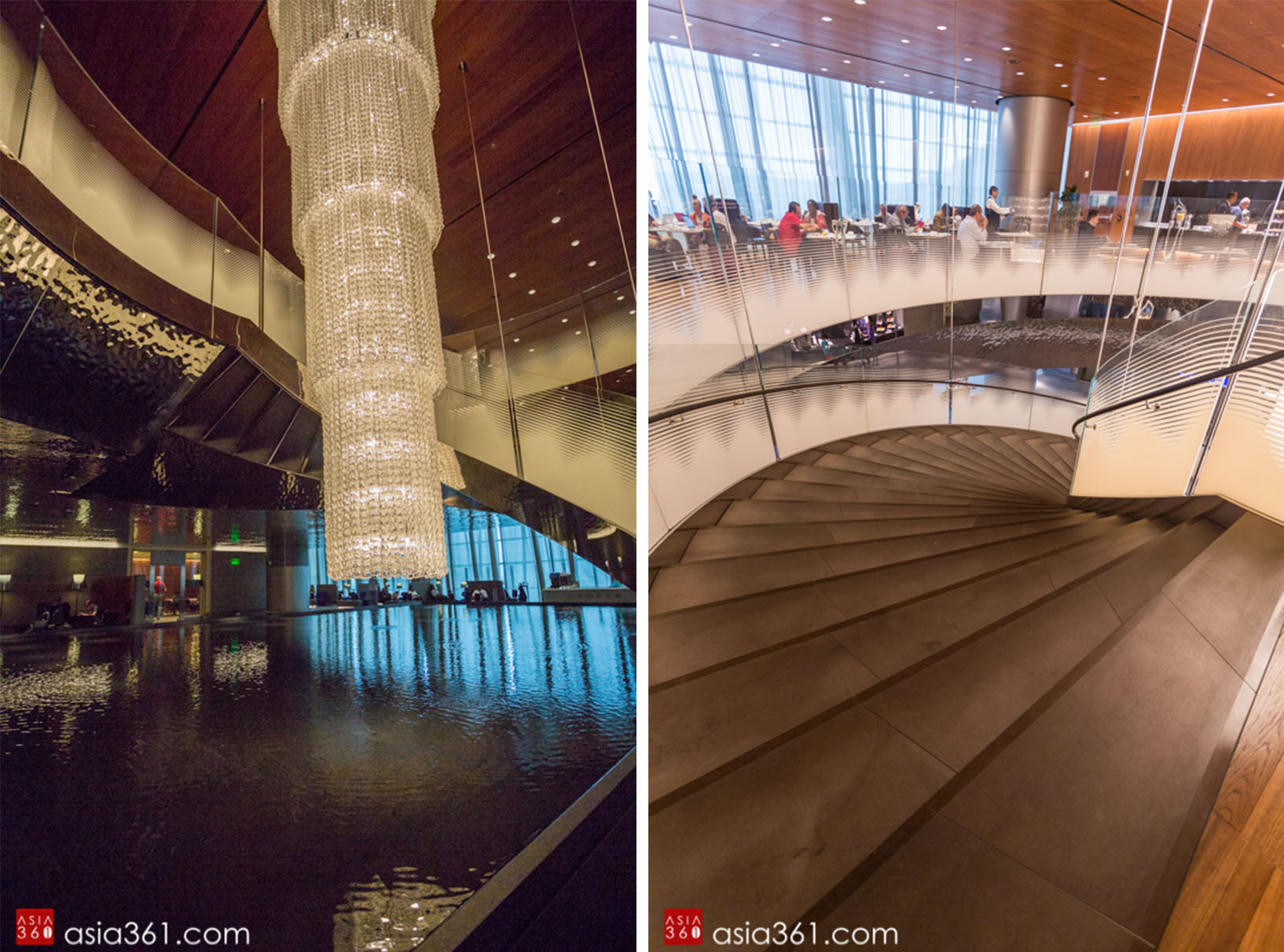 The Al Mourjan Business Lounge is sleek in design, adorned with designer furniture and furnishings. Space-wise, it is massive and the high ceilings help to give a greater sense of space. There was certainly more than sufficient seats spread over the 10,000 square metres of space; I spotted a quiet corner where lounge chairs were available for people to rest.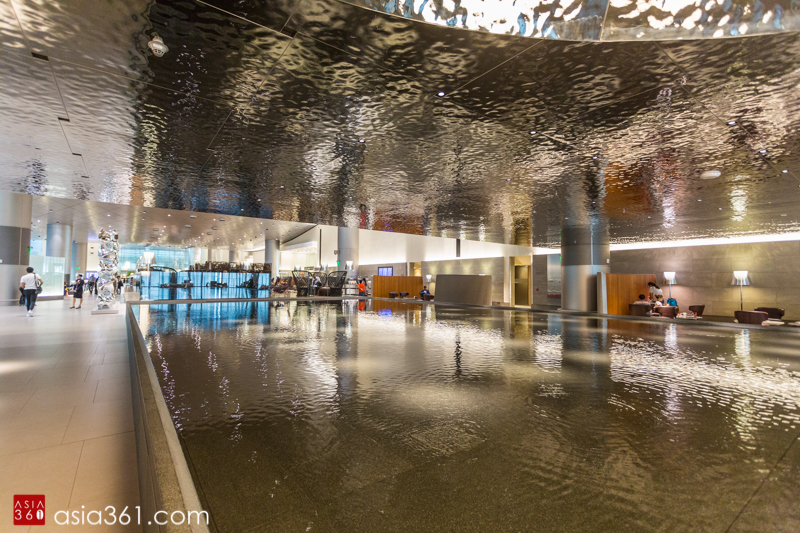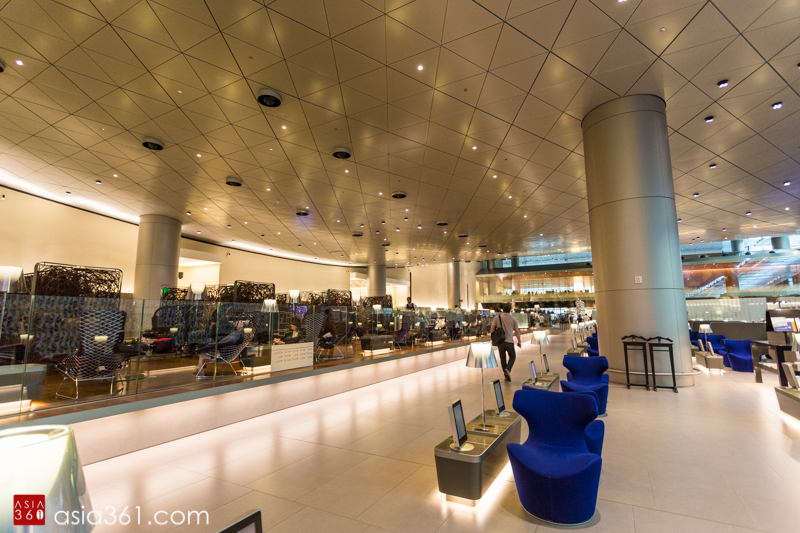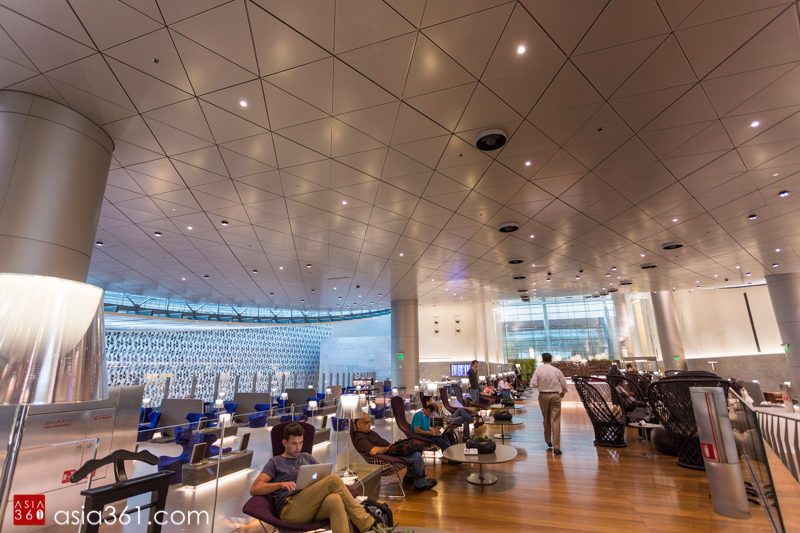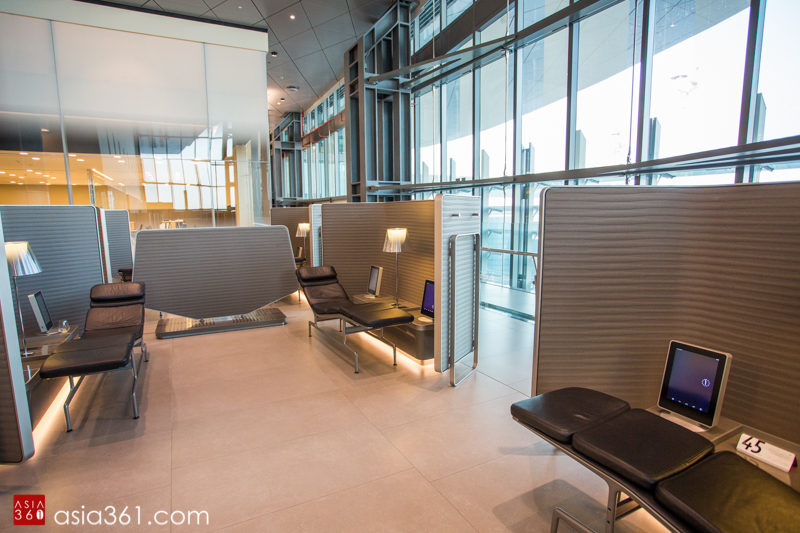 The lounge also features different dining areas with both buffet and a la carte menus. I was tempted to sit down and order some food, but unfortunately had to leave for my connecting flight – with much reluctance.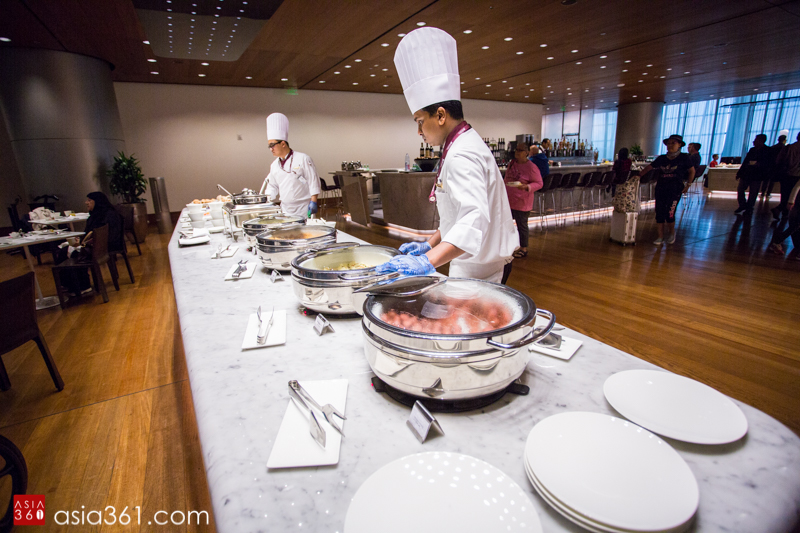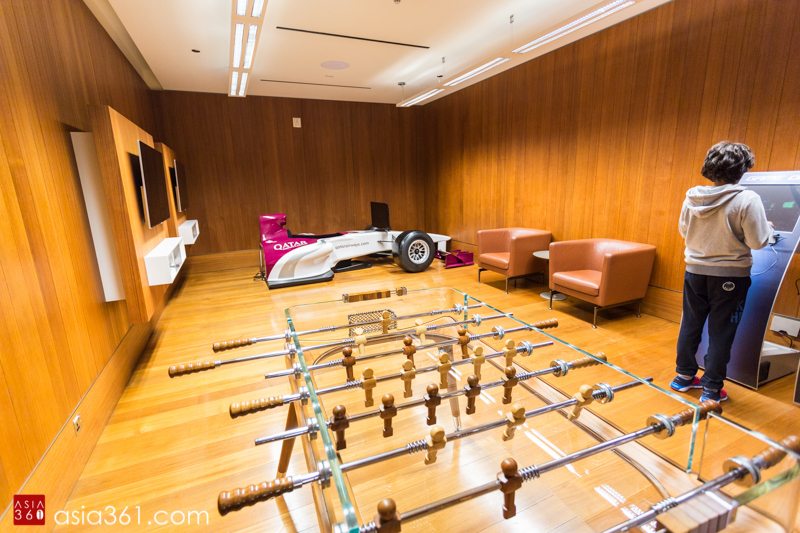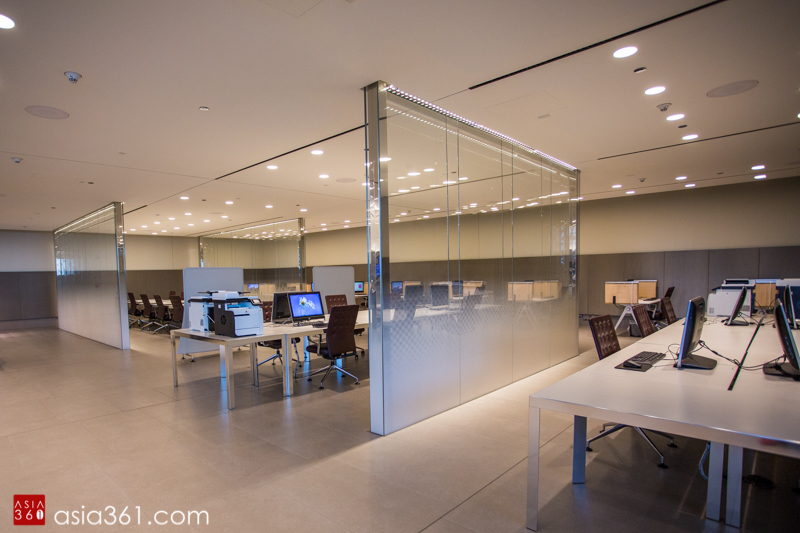 The Second Leg: Doha to Frankfurt
I spent the second part of my journey pretty much awake. Wi-fi was available on the flight; it's free for 15 minutes but I'd have to pay if I needed anything more. However, the Oryx entertainment system offered lots of options to keep me occupied for the next few hours, and so I did not need the internet. There's the whole Star Wars series and practically every movie from the Marvel Cinematic Universe for me to choose from, among many other movies and TV shows. I re-watched 'Guardians of the Galaxy' (I don't get tired of it) for the umpteenth time.
Qatar Airways has engaged renowned celebrity chefs such as Nobu Matsuhisa to design its menus. On top of my appetiser and main, I decided to try a Nobu creation – Spicy Clear Broth with Seafood. My heart leapt at the first mouthful of the hot flavourful soup; it felt like comfort food, not something you would expect from an in-flight dish.
Soon enough, it was time for descent. Typically, I would experience pain in my ears during descent because of the change in atmospheric pressure. Much to my surprise, I did not experience any ear discomfort for both legs of the journey. I wasn't sure, though, if it's due to the A350 aircraft or if I simply was lucky that day.
I love travelling to far-flung places, but the airplane ride is usually my least favourite part of trips (after chaotic immigration clearance at overseas airports). Qatar Airways' Business Class has effectively taken away the unpleasantness of flying for me. Upon my arrival at Frankfurt, I did not experience the same awful tiredness I would usually get after a long haul flight, and unexpectedly, I actually felt fresh. Qatar Airways' Business Class was virtually like a hotel in the sky. I could now see why it's called the 'World's Best Business Class'.