It's summer in Bangkok and the weather is mercilessly hot. But something's brewing hotter than Bangkok's weather, and that is the city's café hopping trend.With the mushrooming of high-end shopping centres (the latest being EmQuartier), there are now more cafes and eateries accessible to tourists who may not know how to navigate their way round the city. So here's a list of food stops that are at the doorsteps of various BTS stations – easily accessible even if you are the most clueless of all tourists.
1. Vanilla Cafeteria 
If I could, I would keep this place a secret. But ok, I am not so selfish. Vanilla Cafeteria is by far the most price-worthy cafe I've been to. Given the generous portion of food served and the elegant decor of this cafe, you can expect to spend an entire day there. It was a pity I went to that cafe with a full stomach and only tried their Kahlua Banoffee Crepe (298 baht, or about S$11.50) . But boy, that crepe alone was enough for three, and my companion and I had a hard time finishing it off. Other patrons who saw us devouring that crepe had the "wow-it's-huge" expression on their faces.

Where to find it: 2nd floor of EmQuartier mall (Phrom Phong BTS Station)
2. Audrey Cafe Des Fleurs
This quaint-looking cafe runs a floral theme and it has a wide range of mains and desserts that are reasonably priced. What I love about Audrey Cafe is its daily special promotions. On the day of my visit, there was a one-for-one offer on all cakes, so I ended up having two Thai Milk Tea crepe cakes for the price of one. Unlike most premium (read expensive) crepe cake cafés in Singapore, two crepe cakes at Audrey cost me a mere 110 baht, which works out to just about S$2 per cake!
I'm a relatively picky eater when it comes to crepe cakes but I can assure you the one I had at
Audrey Cafe
isn't too sweet (which is a really important bonus when it comes to desserts).

Where to get it: 8th floor of EmQuartier, located at the Helix Quartier section, 651, Sukhumvit Rd, Khlong Tan Nuea, Watthana, 10110 (Phrom Pong BTS station)
3. BAKE Cheese Tart
This widely acclaimed lava cheese tart has attracted snaking queues in Singapore (people reportedly queued for three hours, I'm not kidding). Strictly speaking, BAKE is not a café where you can dine at. But my point is, you've got to try their Lava Cheese tart at least once in a lifetime.
I'm not even a fan of cheese. All my friends know that I try to avoid anything cheesy unless it's really good. But I decided to give this cheese tart (80 baht or S$3 a tart) a try with all that hype in Singapore. The verdict: it's definitely worth my three-minute queue in Bangkok.
Where to get it: 7th floor of Central World, 999/9 Rama I Road, 10330 (Chit Lom BTS Station)
4. Greyhound Café
This cafe seems so yesteryear and most people who've travelled to Bangkok would probably have dined here before. But to those who haven't, this cafe is sure worth whipping out your wallet for. 
Greyhound Café
is known for its Signature Complicated Noodles (110 baht) and I was wondering how lettuce would go well with vermicelli. Surprisingly, the vermicelli complemented the pesto and minced meat so well I finished off the entire dish all by myself. Just don't ask me why it's "complicated".
Where to get it: Greyhound Cafe has multiple franchises. The more conveniently located ones are at Central World (Chit Lom BTS station), Siam Paragon (Siam BTS station) and EmQuartier (Phrom Phong BTS station).
5. Crispy coconut pie aka Khanom Beuang 
Unlike the rest of the food on this list, the crispy coconut pie is a local delight. It's actually rice flour mixed with Mung bean flour and sugar with threads of shredded coconut in it. There's a sweet and savoury version but I personally prefer the former. You may get this from street hawkers, but I got mine at the Siam Paragon basement food area for a mere 12 baht per piece (that's just S$050!).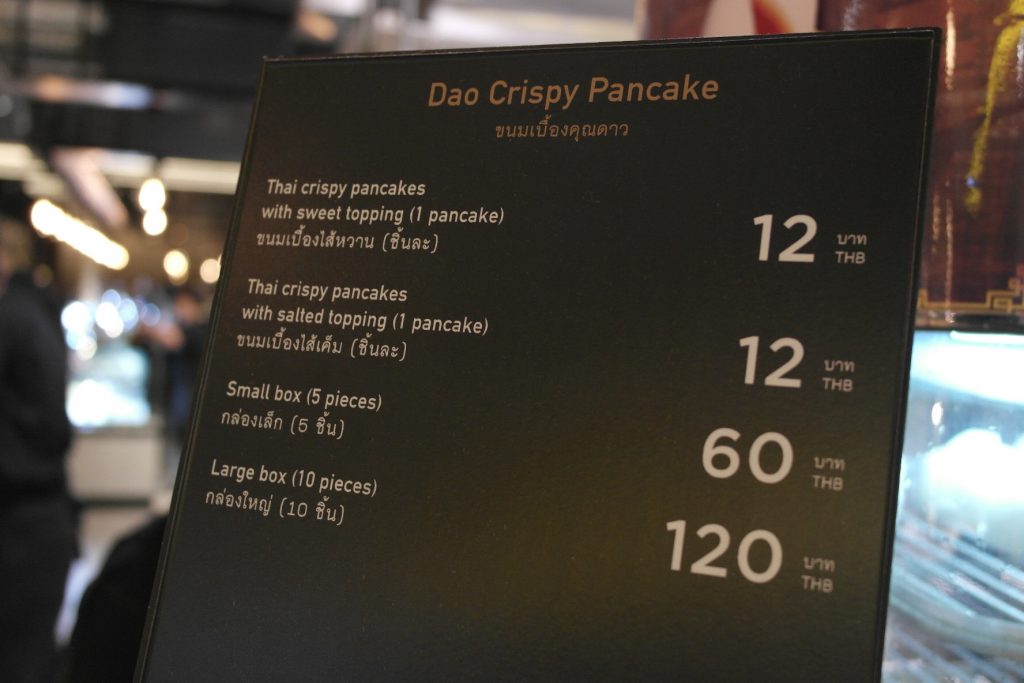 Where to get it: Siam Paragon basement 1, 1 991/1 Rama I Road, Bangkok 10330 (Siam BTS station)