If you missed out on all the fabulous online deals for Black Friday and Cyber Monday earlier this week, there is no need to be disappointed – CASIO is offering an unbeatable deal for their freshly launched EXILIM FR100 camera from 4 to 14 December 2015.  There is a S$100 discount off the launch price of S$699 for any camera trade-in and in additional, a pre-order bundle worth S$238, limited to the first 50 customers.
The EXILIM FR100 camera is a much improved version of the EX-FR10 I wrote about previously, which I tested at a cycling event at Batam, Indonesia. Singapore is the first country outside of Japan to have the latest model, and I have just been offered a sneak peak at the camera.  These are the first impressions I have:
Improvement #1: Wider Lens
The FR100 has a wider lens than its predecessor to capture more action and scenery. Most action cameras come with wide-angle lens so that it is easier to frame the action within the shot.  I feel that it is important to balance being wide enough to capture the scene, without overly distorting the photo or video.
Improvement #2: Larger LCD screen
The older FR10 came with a 2" inch touchscreen which was adequate for its function, but was sorely unwieldy in an era of large mobile phone screens. The FR100 has a significant upgrade from its predecessor. The larger screen is a much welcomed improvement, especially so for a camera in order to review the shots taken.  It is also easier to navigate the many functions of the camera which are enabled via the touchscreen.
Improvement #3: More intelligence
There are many more improvements to the capabilities of the "brain" of the FR100 which I shall discuss in a more detailed review article later.  Suffice to say that CASIO has refined and bolstered the FR100 electronics so that the user would be more delighted with the photo and video end-results.  The connectivity function of the EXILIM FR100 has also been improved to offer a more seamless social network service experience.
The pre-order bundle worth S$238 includes an advanced selfie kit, a 32GB microsd card, and a Marine case which allows the FR100 to be used down to a depth of 20 meters underwater. Check this space for a review article which I will be doing on the EX-FR100 later.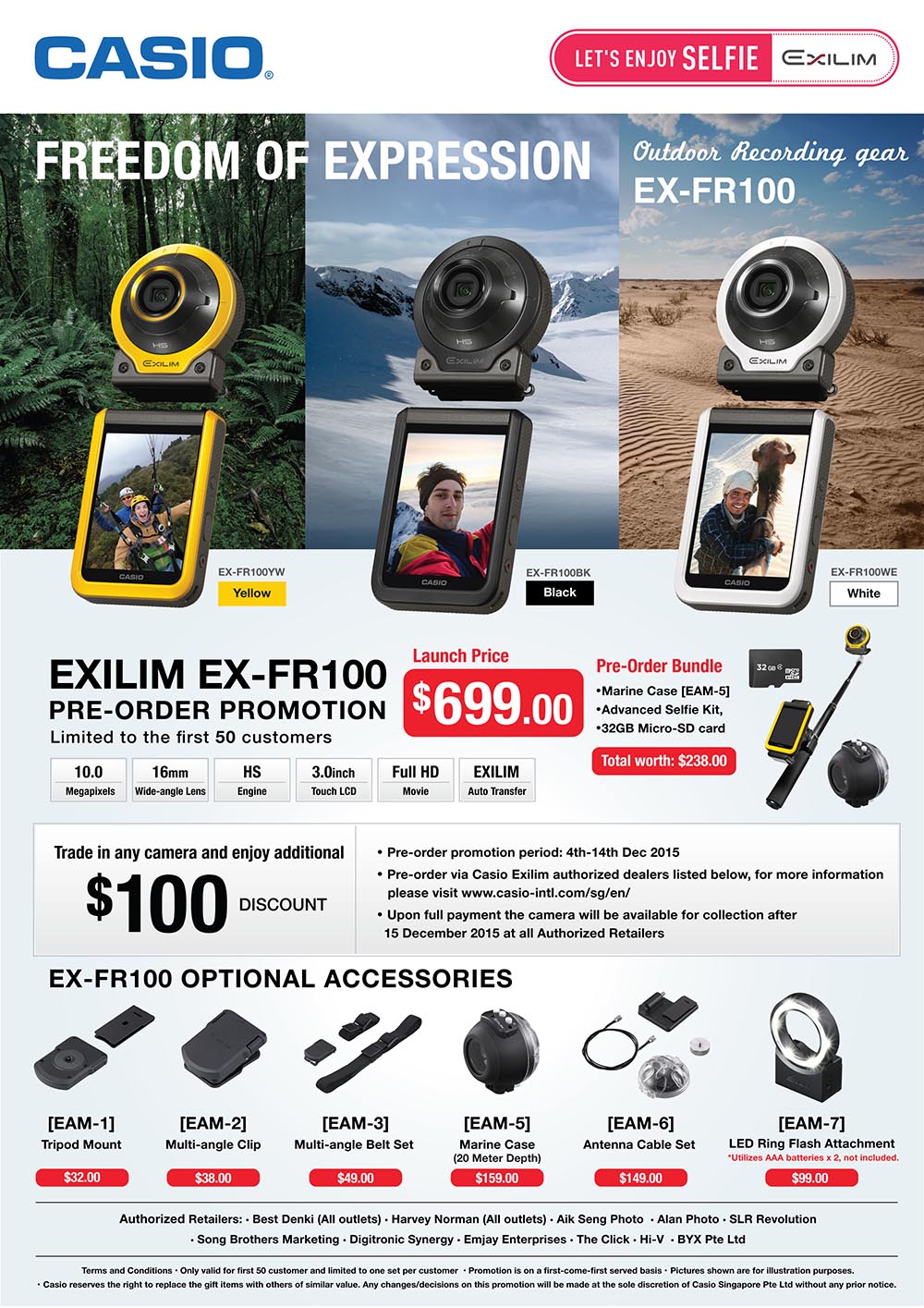 //