In light of the recent announcement made by Marriott International on Nov 16, 2015, the world's leading hotel chain is set to acquire Starwood Hotels and Resorts, another big house of hospitality brands. Together, the combined company will have 1.1 million rooms in more than 5,500 hotels, spanned across 100 countries in the world.
Brands such as Renaissance, JW Marriott, Ritz-Carlton, Ritz-Carlton Reserve will be sisters to Starwood's lifestyle leader brands such as W, The Westin and St. Regis. In total, 30 brands serving variety of markets will be under one company. The transaction combines Starwood's leading lifestyle brands and international footprint with Marriott's strong presence in the luxury and select-service tiers, as well as the convention and resort segment, creating a more comprehensive portfolio. The merged company will offer broader choice for guests, greater opportunities for associates and should unlock additional value for Marriott and Starwood shareholders.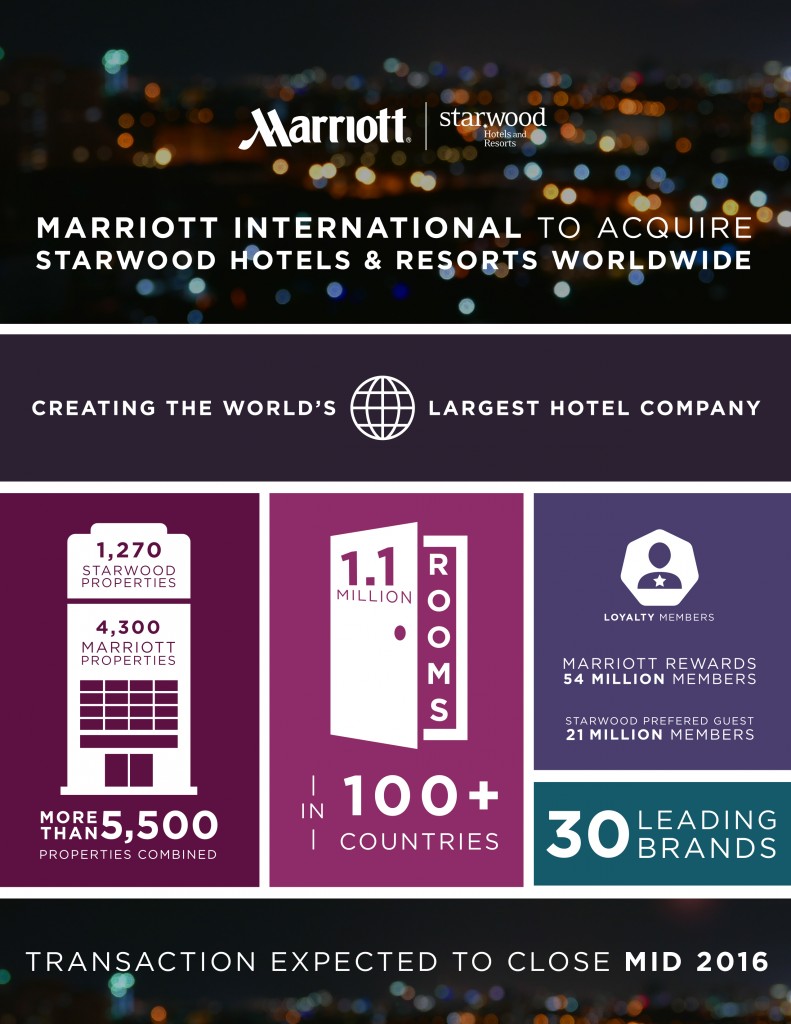 Some implications are expected out of this merger. First, Starwood's first-mover advantage in the lifestyle category, along with Marriott's broad range of brands in this segment, positions the combined company as a leader in the lifestyle space. With Marriott's strong owner and franchisee relationships, the combined company expects growth of its lifestyle brands to accelerate.
Second, the merger combines world-class associates altogether. This combination brings together two of the most talented teams in the industry. Together, they will combine their innovative ideas and service commitment to deliver unforgettable guest experiences.
Third, leading loyalty programs. Today, Marriott Rewards, with 54 million members, and Starwood Preferred Guest, with 21 million members, are among the industry's most-awarded loyalty programs, driving significant repeat business.  They should be even stronger when the companies merge.
Bruce Duncan, Chairman of the Board of Directors of Starwood Hotels & Resorts Worldwide, said: "During our comprehensive review of strategic and financial alternatives, it was clear that our talented people, world-class brands, global leadership and spirit of innovation were much admired and key drivers of our value. Our board concluded that a combination with Marriott provides the greatest long-term value for our shareholders and the strongest and most certain path forward for our company."
Interestingly, J.W. Marriott, Jr., Executive Chairman and Chairman of the Board of Marriott International, said: "We have competed with Starwood for decades and we have also admired them. I'm excited we will add great new hotels to our system and for the incredible opportunities for Starwood and Marriott associates.  I'm delighted to welcome Starwood to the Marriott family."
Well, for now, we can imagine how convenient it will be to have a full range of choices of hotels to stay in when the two companies fully complete the merger. Yes, we're talking about the loyalty programs. More updates to come.