The marriage of two of the most popular cuisines makes for a very memorable meal. Chef-Owner Seita Nakahara has long dreamed of setting up his own restaurant in Singapore and now his dreams have come to fruition. He sharpened his skills in the kitchens of Tuscany, Sicily and Piedmont for four years before settling on Singapore to grace our plates and palates with his culinary creations.
Chef Seita immerses himself utterly in his dishes and his restaurant, personally travelling to meet farmers and food retailers three to four times a week and building a relationship with them to ensure that his ingredients are the best he can find. It is incredibly important to him to be close to the source of his produce. He takes a hands-on approach in Terra as well, helping to put up the decorative wooden blocks in his restaurant by hand over three days. His personal touch and passion in his work is evident in all areas, down to the hand drawn map he illustrated for the menu.
Terra is cosy with several eye-catching fixates such as a wall of silver cow heads and a live plant wall that lends an organic vibe to the otherwise modern décor.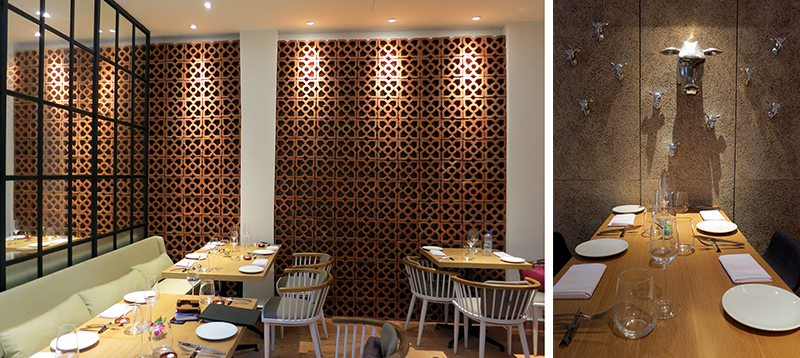 Chef Seita impressed from the very start with his homemade bread and his exceptional porcini mushroom butter. I had to make a conscious effort to stop myself from scarfing down the lot to save stomach space for what was to come. At the end of it we tried to convince him to bottle and sell his butter so we could enjoy it at home too. (Time will tell if he does.)
The amuse-bouche (packaged in the Omakase) was a delight with prosciutto, tuna, Japanese pepper chilli and creamy Burrata. In its raw form, the pepper chilli is said to be spicier than chilli padi. After braising however, what's left has enough kick to please spice loving locals without leaving you having to reach for a glass of water to put out the fire. The silkiness of the Burrata helps to temper the heat as well.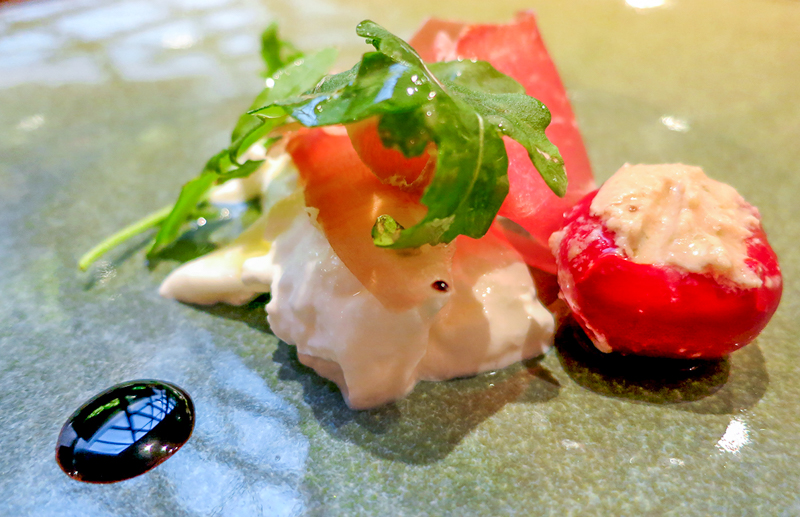 Scallop from Salfutu (S$20) was a seafood lover's dream with two plump oven baked scallops on a bed of reduced capsicum sauce, and mixed vegetables and mushrooms. Reminiscent of a ratatouille, this was strangely comforting and familiar with the scallops adding decadence to the dish. The addition of herb butter made the sauce extra lush too.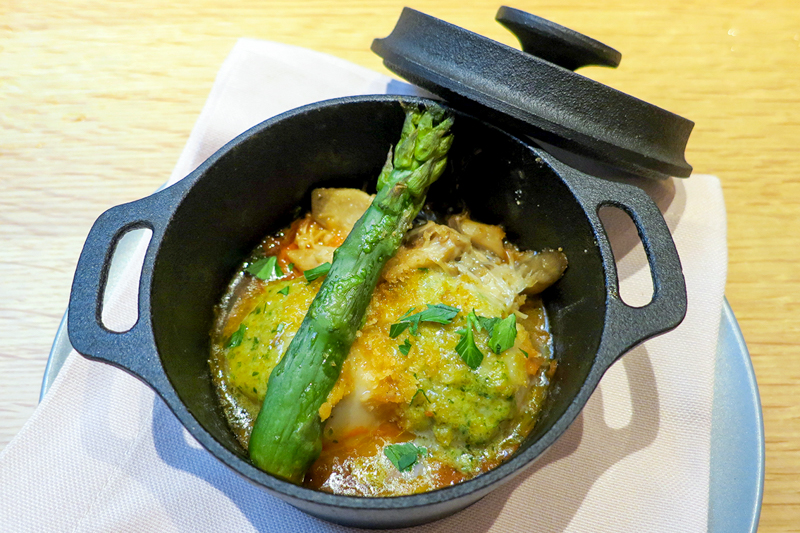 The pasta dish of Sea Urchin from Hokkaido (S$38) was one I was most eager to try. Chef Seita used his specially made Bottarga made of cured mullet fish roe which takes two weeks to prepare. The pasta was firm with just the right bite and featured generous chunks of sea urchin. The yuzu cut the richness of the dish. What an intriguing mix of flavours. It was nothing like I've ever had before and completely different from what I imagined it to taste like. My taste buds were confused to be honest, and yet I found myself spooning up the sauce long after I had finished the pasta.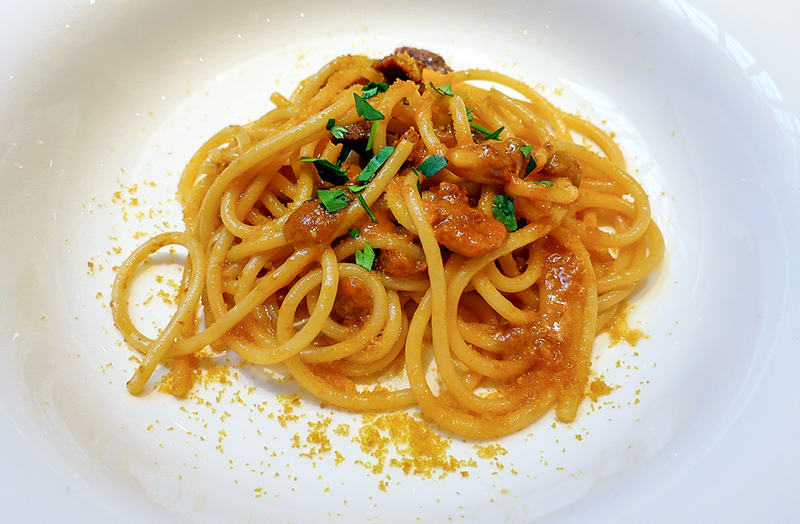 Being a huge beef lover, the Tajimi Wagyu (S$52) main is my absolute favourite and something I'd highly recommend. After careful research and selection, Chef Seita picked this beef and this particular shoulder cut for its leanness. He showcases his skill in the carefully chosen ingredients that perfectly intermingle with each other. The slight saltiness of the beef was complemented by the subtle sweetness of the roasted chervil root and the beef yielded easily to my knife. I found myself eating slowly so as to properly savour each bite. I'm usually one of the first to finish eating because I veritably inhale my food. However, this time I was one of the last on the table to do, simply because I wanted to make it last as long as possible. The dish was truly a masterful balance of flavours.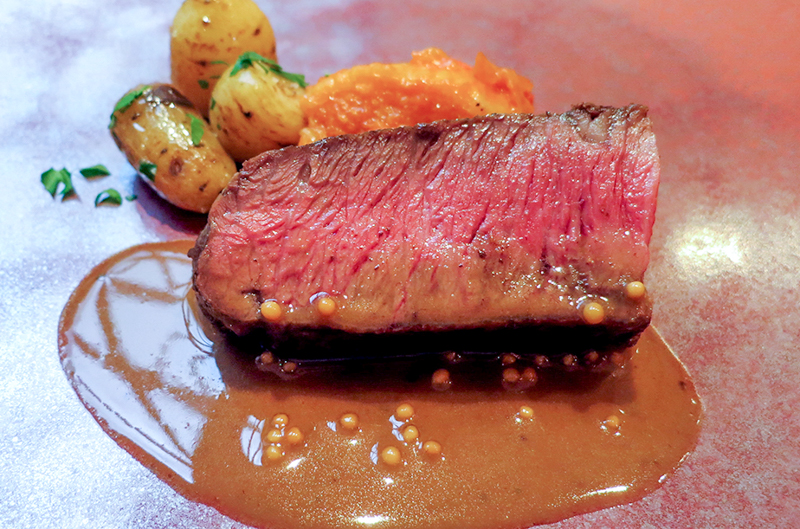 Chef Seita's use of fine ingredients again showed in his desserts. Our dessert featured the massive Shine Muscat grapes, which were reserved for two months in advance. The perfect bunch can cost a pretty penny and is highly sought after. These grapes are mellow and sweet, and do not have the acidity and mouth-puckering sourness other grapes tend to have.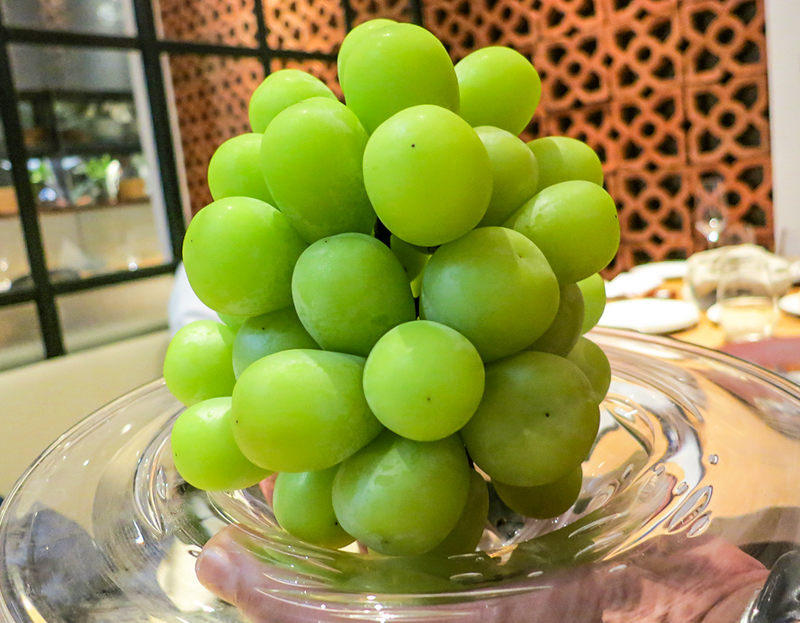 Used in the sorbet (S$12), the grapes' natural flavour is allowed to take centre stage without any distractions. The shell utensils provided was a great touch, ensuring the dessert could be fully enjoyed without a metallic aftertaste that often accompanies regular forks and spoons.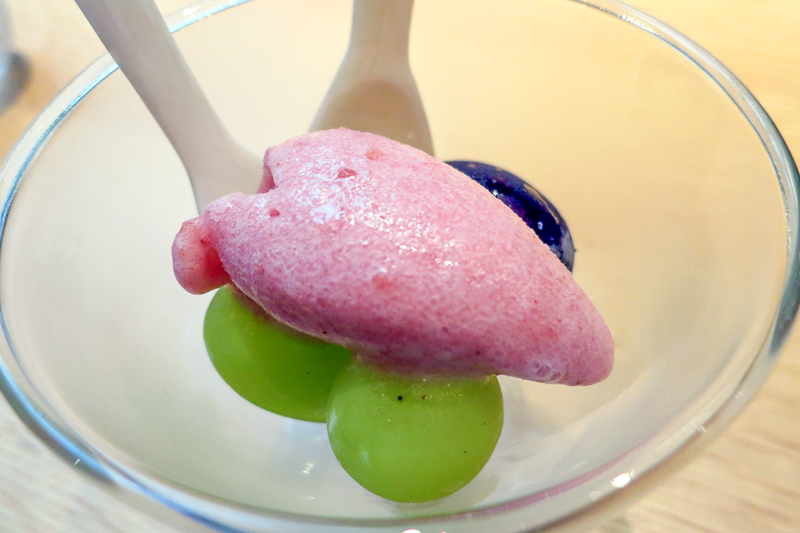 The portions at Terra By Seita are carefully calculated to leave you feeling comfortably full but not satiated. You won't leave Terra with a leaden stomach and a food coma. That being said, big eaters probably won't be satisfied with the portions and might get hungry soon after. Drop by to sample Chef Seita's dedication to detail and considerable talent for yourself. Your stomach will be in good hands.
The Degustation menu costs S$98++ and Seita's Omakase is at S$128++ for five to six courses. Lunchtime Omakase is available at the same price. Lighter options are available at S$42++ (three-course starter, pasta and dessert) and S$58++ (starter, pasta, main, dessert).  Lunch sets are also available.
Terra By Seita
54 Tras Street
Singapore 078993
Tel: +65 6221 5159
Email: [email protected]
Opening Hours:
Mon to Fri – 12 pm to 2 pm (lunch)
Mon to Sat – 6.30 pm to 10 pm (dinner)
Closed on Sundays