Last month, I attended the launch event of Shell V-Power Nitro+ in Singapore. In case you haven't heard, Shell V-Power Nitro+ is the latest generation of premium performance fuel that replaces the old Shell V-Power. At the event, fuel scientists from Shell were at hand to help laymen like me delve deeper into the bells and whistles of the new fuel, how car engines work depending on the petrol used and what sets the new V-Power Nitro+ apart from the rest of the pack.
Now, the kind folks at Shell gave me some Shell V-Power Nitro+ petrol vouchers (enough for a full tank top-up) to use after the event. I couldn't wait to see if the new V-Power Nitro+ can work its magic and turn me into a Ferrari driver. (Incidentally, Shell's technical partner Ferrari won the Singapore Grand Prix days after the launch.)
To begin, my family car is a five-year-old 1,995cc BMW 318i. It's no flashy Ferrari for sure, but in general our car has done a pretty good job of bringing me from point A to point B. While it isn't the most fuel-efficient car around, it is also no petrol-guzzler like some of the other Continental cars I know.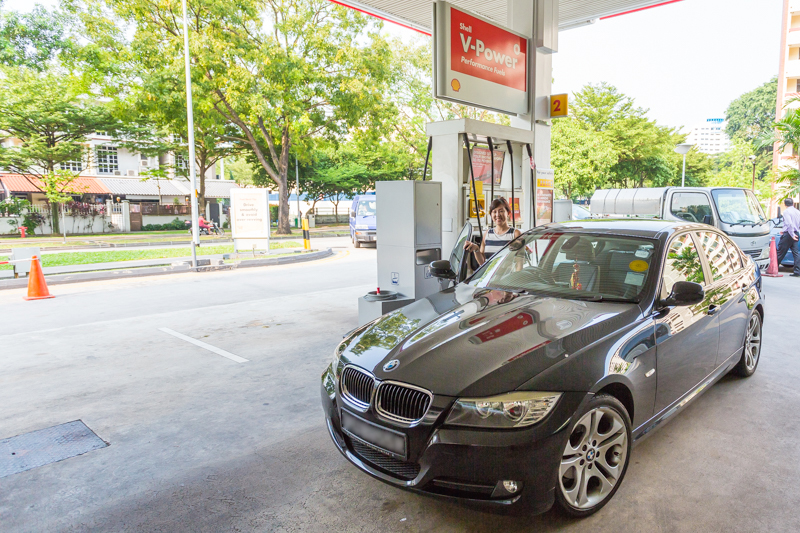 I would consider my household to be a fairly "low mileage" one – while the car is used almost every day, we don't often drive the car over long distances. Usually, it's just a short drive to nearby food centres for quick bites. A 25-minute drive into town from my house happens probably once in every one or two weeks.
When it comes to choice of fuel, we have been using Shell. There is a Shell petrol station minutes away from my house, so it couldn't get any more convenient. However, we typically pump FuelSave 98 – simply because of cost.
In the past, I've pumped the occasional tank of Shell V-Power before and I could already feel the difference. My petrol head friends swear by it too. With the new Shell V-Power Nitro+, it is said that there is 25% more friction reducer in its Friction Modifier technology. So what does that mean in human speak? In other words, less friction on your car's key engine parts equals to the engine delivering more power to the wheels equals to (tada!) a more powerful drive.
You might be thinking – I'm only doing short trips, what difference would Shell V-Power Nitro+ make anyway? This is where the lubricating aspect of the fuel comes in. With its Friction Modifier Technology, Shell V-Power Nitro+ actually reaches the parts where the engine lubricant cannot reach.
I'm no expert when it comes to cars, but even for an automobile klutz like me, I can feel the difference in the drive. As a result of the switch, the car runs more smoothly. When I step on the accelerator, the car responds more quickly than usual; it doesn't have the usual momentary "pause" before picking up speed. (The increase in responsiveness helps a lot when I need to overtake vehicles. That said, I'm a safe driver!) I swear it's not my imagination.
Overall, I have been pleasantly surprised by the difference Shell V-Power Nitro+ made to my car. Sure, it costs a tad more than the usual FuelSave 98 that I normally for my car, but when I feel the difference Shell V-Power Nitro+ does to it, I think it is a fuel that is better for the car's engine in the long run. Don't take my words for it – go try Shell V-Power Nitro+ today. I promise you'll be able to feel the same difference I did.
The Shell V-Power Nitro+ roadshow is happening from now till 18 Oct 2015 at VivoCity, Singapore.