I will start off by saying this: I'm not a shopaholic. I'm also not that keen a shopper. Perhaps wrong then to be living in Singapore, but surely even more wrong to accept an invitation to a "shopping challenge", in Bangkok!? However, I do like a challenge, so I was hoping my skills would be good enough for the Shopping Challenge event that was taking place as part of the Amazing Thailand Grand Sale.
I had already met with my team mate, 23-year-old Yu Jie, another writer, from Singapore. We were to form the Singapore team and compete against 14 other teams from 10 Asian countries. We'd also acquainted ourselves with the Filipino team, who turned out to be top celebrities in the Philippines, Tim Yap and Tessa Prieto-Valdes, and also a team that seemed eager to win! Not only were they wearing high-tech trainers and outfits that showed a true interest in fashion, they had the competing fire in their eyes, especially while the host of the challenge began to list the rules:
"You have 1.5 hours to complete the challenge, that will take place in four different malls. You'll start off in a tuk-tuk and from then on it's your choice whether you decide to go by feet or use other means of transport."
Yu Jie and I looked at each other and quickly agreed that we were bound to get lost, running up and down and in and out the incredibly large Bangkok malls. And this was when KT came to our rescue. KT was our local guide and helper through the challenge and assured us, that she knew her way round. Phew, I felt a little less uneasy, but still incredibly threatened by our Filipino friends, who were about to become our opponents.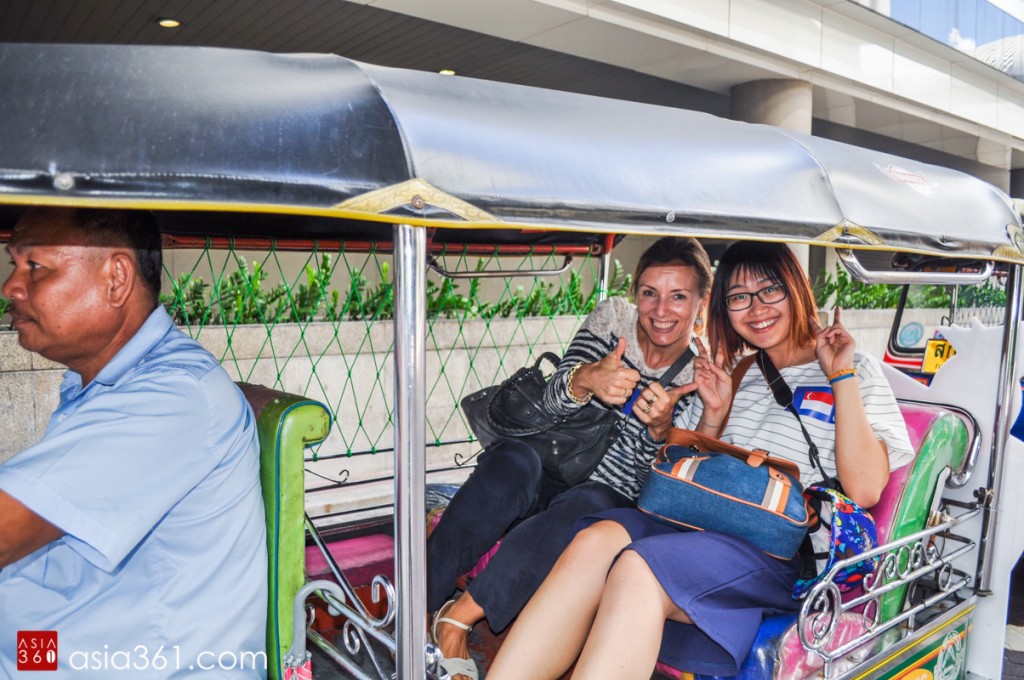 10 minuttes later, Yu Jie, KT and I were seated in our tuk-tuk with two envelopes on our laps. One contained 10.000 bath for the shopping, the other was for the receipts. KT now also revealed our destinations and cards with the items and shops we had to find — durian chips from TOTO, a cap from Kloset and a soap from Karmakamet.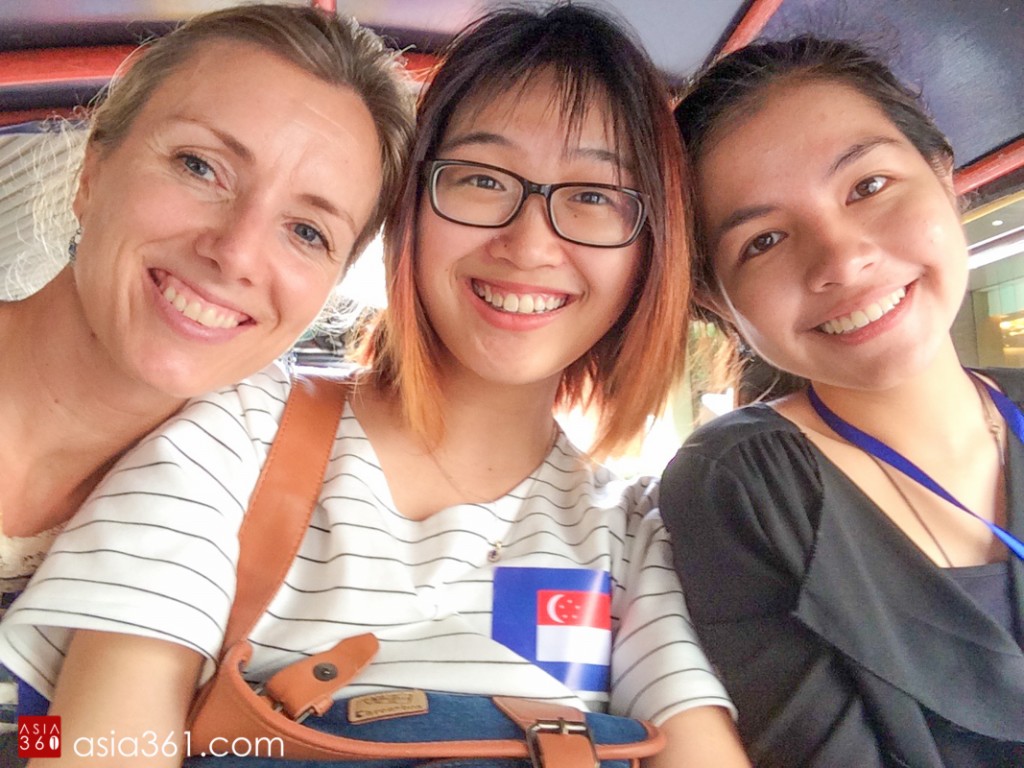 The names of the shops meant nothing to us Bangkok mall virgins. We made an action plan, so we would approach the malls in the right order. We'd also decided that we would run, despite my footwear, a reasonably comfortable heeled sandal, but probably not the best running mate for this challenge.
"1, 2, 3, go!" The challenge had begun and off we went to our tuk-tuks. All 15 teams ran as if their lives depended on it, (although looking more like headless chickens that had no idea where to go). I hadn't thought about the fact that we also had to act rude in our race against time, as we pushed other mall customers aside with "Excuse me!" while running up the escalators. Thankfully,  our helper, KT, knew her malls, and in no time we were in the men's department, albeit clueless about where to find a certain 'red tie with elephants'. But then we eyed Tim and Tessa, our Filipino contestants, already at the cashier buying the tie. Ok, we had to pick up speed now.
We ran like we've never run before without any idea where we were running to. But thanks to KT, we made it to the second mall, Siam Centre, where our assignment was to find four items. Running up and down the escalators, we met several other teams, but no sign of the "high-tech trainers" and their owners, Tessa and Tim. As we were running I also asked myself why I'd decided to carry my chunky dSLR camera AND my handbag, as I wouldn't be using either. It was just weighing me down and making the run heavy!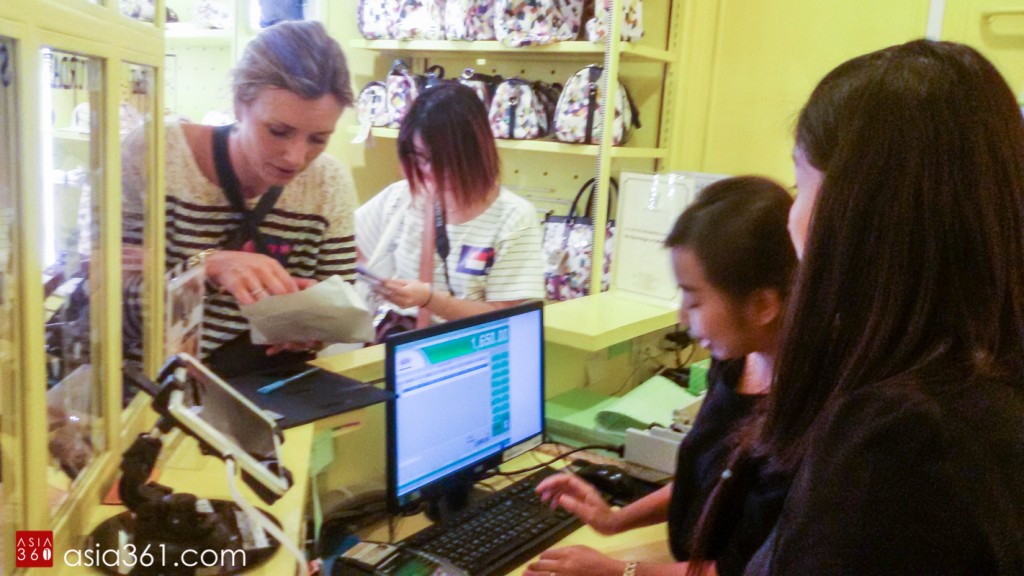 We were doing well, we thought. But every time we thought we were in the top three, there would be a new team buying items in the store before us. I got more stubborn now, this challenge wasn't so much about knowing how to shop; it's about knowing how to run!
I secretly started wishing I'd trained for the challenge asI got more breathless, but that was now the least of my worries. Yu Jie (15 years my junior, I might add) was lacking in speed behind me, having to walk a little in-between malls. I heard my bossy voice go "Run, run!" But then I thought, was I taking this a little too seriously? Perhaps she was feeling ill and I just kept going? Against my will, but to the joy of my aching feet, I slowed down a little.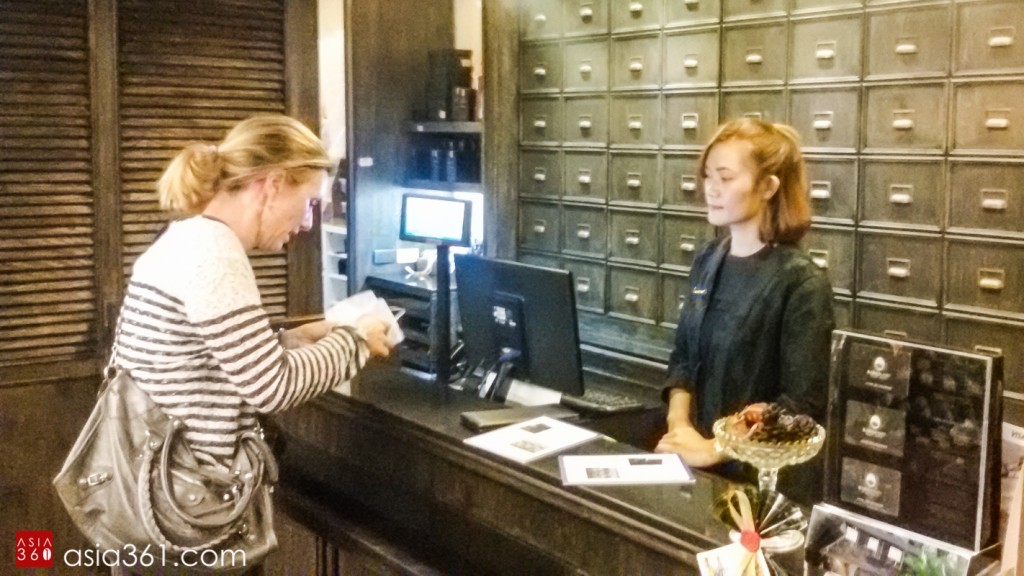 Mall Number Three was Central, the only mall we had visited before, twice in fact. Yet, this was where I got it all wrong and went a completely wrong direction. We managed to find SPA shop eventually, but again with another team ahead of us at the counter on our arrival. Ok, only one more mall and one shop to go. I could now feel the blister under my right toe, sweat pouring down my forehead and  hear coins dropping out of our envelope. "RUUUUN!" I said. We were so near now, and although Danish-blooded, I wanted to do Singapore proud.
I was sure Tessa and Tim must had finished as we'd lost sight of them at the first mall. "Come on, we're almost there!" I shouted as we almost fell over our feet getting down the escalators to the finishing line at Gaysorn mall.
Yeeeeeeeessss! Finally, we'd completed the challenge. And at a decent fifth place even. As Yu Jie and I were getting our breath back and taking our "victory" photos, I caught sight of Tessa and Tim, looking relaxed already, but yet not happy.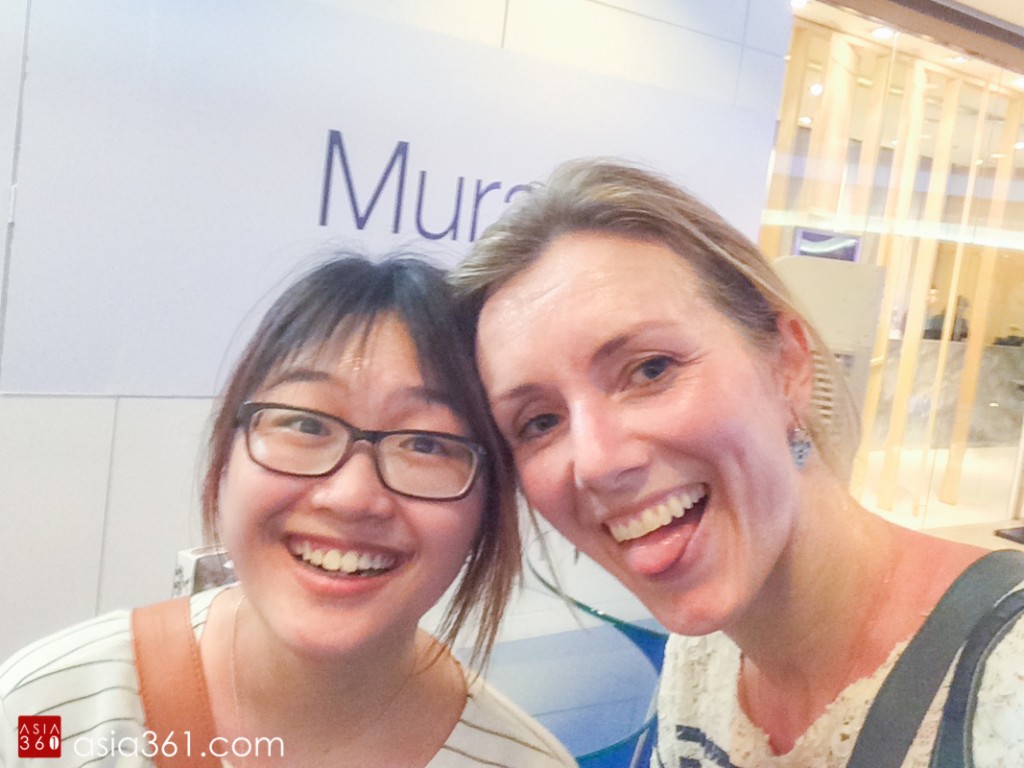 "Second, we came in second," said a miserable Tim who was astounded that Team India had managed to beat them by several minutes. Tessa and Tim had run all they could for the Philippines. Yu Jie and I ran for Singapore coming in fifth out of 15, so it wasn't bad. Besides, it was now easier to drown our sorrows together as losers. And what a better way to do this … than to go shopping!
This is when it was proven to me, that Tessa and Tim were the real winners of the challenge.  In only two hours, this is what they managed to shop. Forget about shopping bags, Tessa and Tim only do trolleys.
I was officially out-run and out-shopped but a proud Big Bangkok Shopping challenger!