What is probably the most kawaii ('cute' in Japanese) airplane ever has taken off from the runways of Singapore's Changi Airport officially on 21 June 2015. Yes, we are talking about the EVA Air Hello Kitty Shining Star Jet – a newly launched service between Singapore, Taipei and Houston, USA. We were among an exclusive group of media invited to take the inaugural flight.
Here are 10 things you can expect as a passenger on the Hello Kitty Shining Star jet:
1. You can check in at Hello Kitty-themed counters.
The Hello Kitty experience starts right from the moment you check in your luggage at the airport. Hello Kitty merchandise adorn the check-in counters at Changi Airport. Even the counter staff pin sequinned pink ribbons on their uniforms.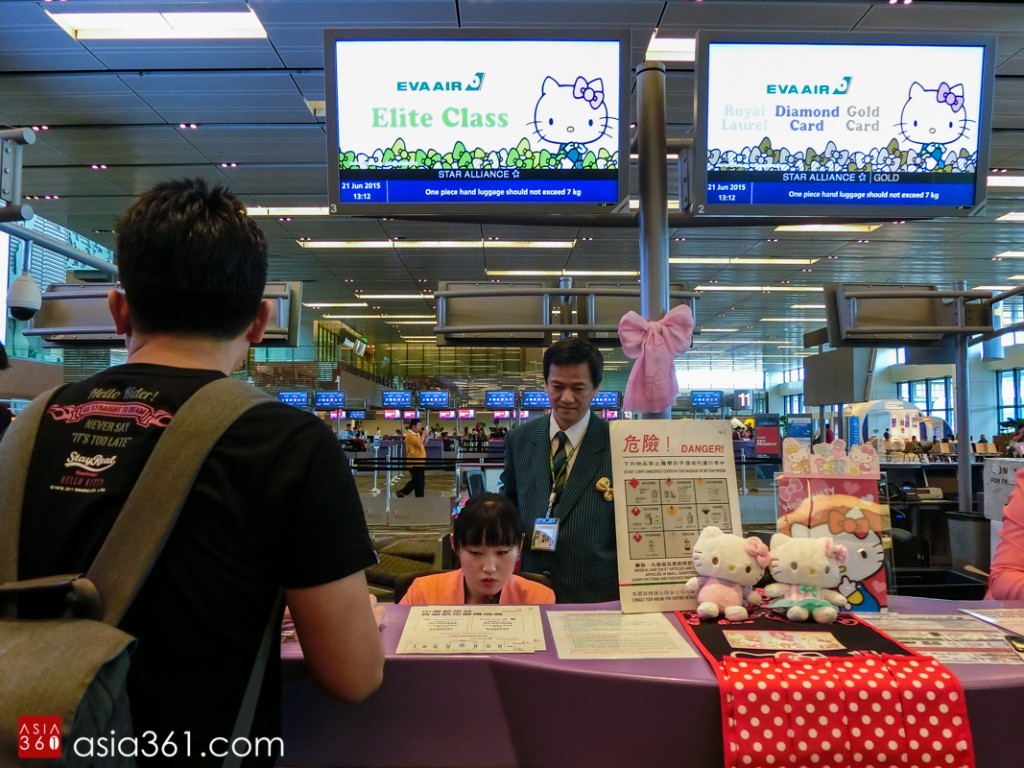 The experience gets even more adorable if you are returning from Taipei. You can do self-check-in at Hello Kitty terminals at Taoyuan International Airport.

2. You get special luggage tags and boarding passes.
These Hello Kitty luggage tags and boarding passes sure beat the boring ones we normally get.

3. It's not just Hello Kitty that greets you.
Each of the Hello Kitty jets flying around the world carry a distinctive design. Singapore gets its exclusive Shining Star design, which not only features Hello Kitty, but other Sanrio characters Little Twin Stars Kiki and Lala, and My Melody too.

4. Hello Kitty wine is available for sale.
Get ready to open your wallet while flying with EVA Air's Hello Kitty jet. The in-flight shopping catalogue features Hello Kitty merchandise you can only buy on board the plane. There is even Hello Kitty wine for sale!

5. Hello Kitty follows you to the bathroom.
We have to resist the urge to take these items home, especially the Hello Kitty toilet paper. Oh so pretty.

6. Sanrio characters teach you all about in-flight safety practices.
Typically ignored by most passengers, the safety brochures in the flight are so adorable you can't resist picking one up to read.

7. In-flight meals feel like a kid's meal.
Nope, you cannot escape Hello Kitty even during the mealtimes. From the menu to the cutlery to the snacks, you see Hello Kitty's face staring at you. You'll be happy to learn that the food tastes as good as they look.

8. Some extras are free.
If you are not sure if you can take home some of the Hello Kitty items (we know you want to), just ask the air stewardess nicely. We were pleasantly surprised by the positive reply when we asked an air stewardess if we could take the pillow.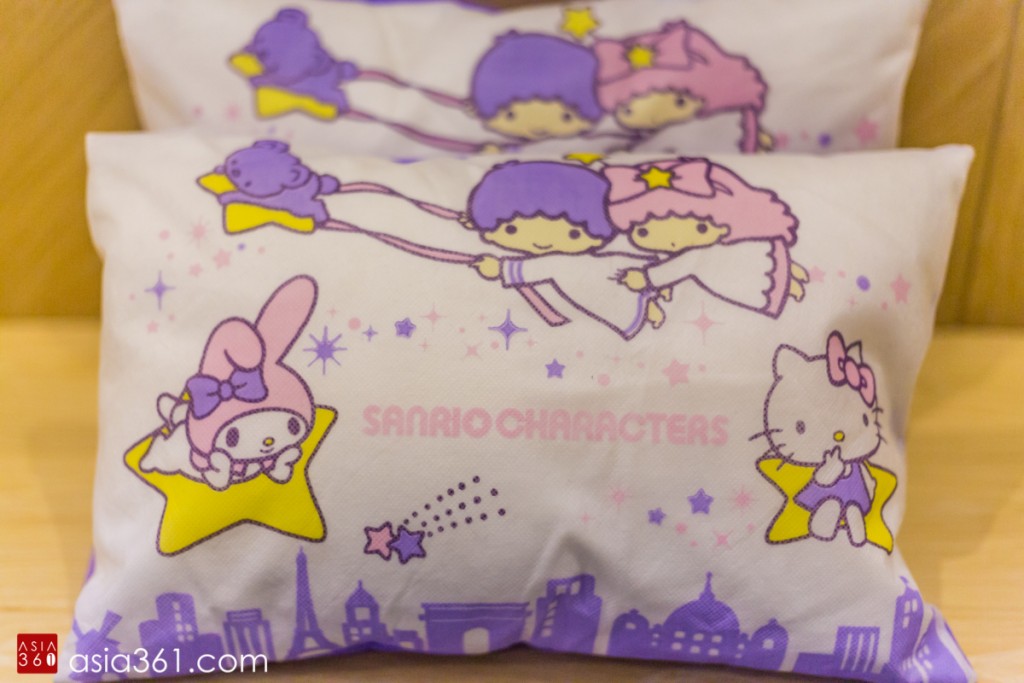 You may also not want to miss out on the adorable playing cards while you are at it.

9. The air stewardesses are not donned in Hello Kitty uniforms.
Naturally, we would expect the air stewardesses to wear special Hello Kitty uniforms. Unfortunately (or fortunately), they don't, but they do wear a Hello Kitty apron.

10. You get to barf in style.
Feeling sick from Hello Kitty overdose? Don't worry, Hello Kitty is there to ease your discomfort with a barf bag.