Z'en Japanese Cuisine has been a steady presence in Singapore since 2005. Yet, for all the Japanese food I've checked out in the Robertson Quay area, I've never noticed it for it is tucked away in the quieter, residential side of UE Square.  This time, I was glad to have the chance to try it.
Part of the En Group suite restaurants, the restaurant is run by brothers Peter and Raymond Ng, who spent their formative years in Okinawa, and Peter's wife Mayumi Matayoshi.  Z'en Japanese is a sister restaurant to the adjacent En Japanese Dining Bar and at Bukit Timah.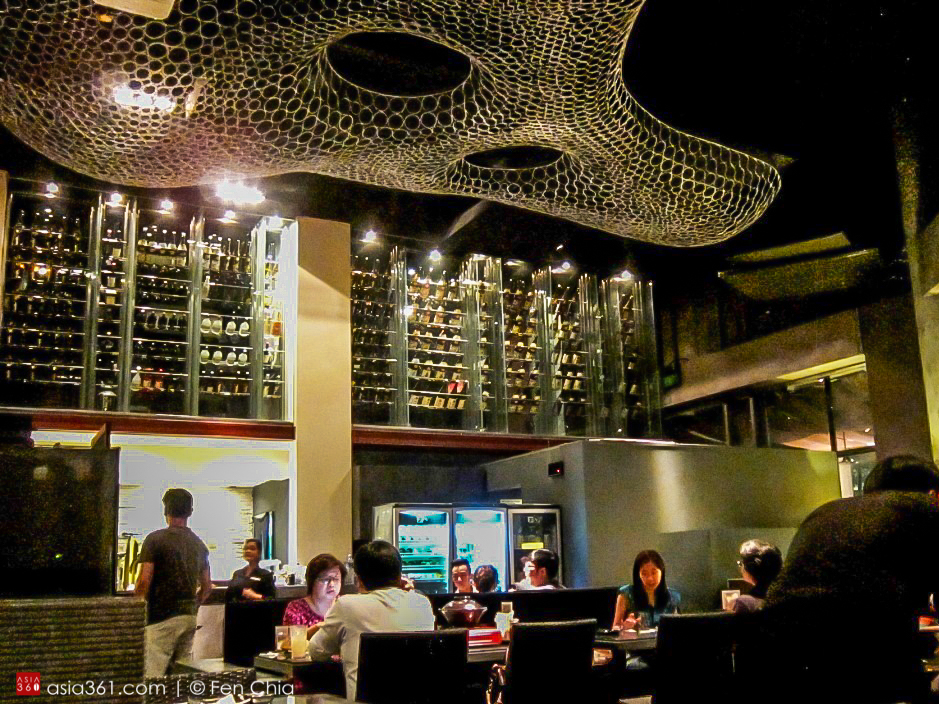 Z'en's impressively extensive menu includes some dishes which fuse Japanese with western and Southeast Asian influences.  We started off with five kinds of assorted sashimi of the day (S$46). The plump slices all proved to be very fresh – yellowtail, tuna, salmon, swordfish and scallop.  The range can vary depending on the day's supply (though the former three are the usual staples if you order the basic with three kinds at S$28).  You might even get a portion of sea urchin if you order the assortment with 10 kinds (S$110).  It is of course possible to order individual portions, some of which like swordfish and scallop are available lightly seared.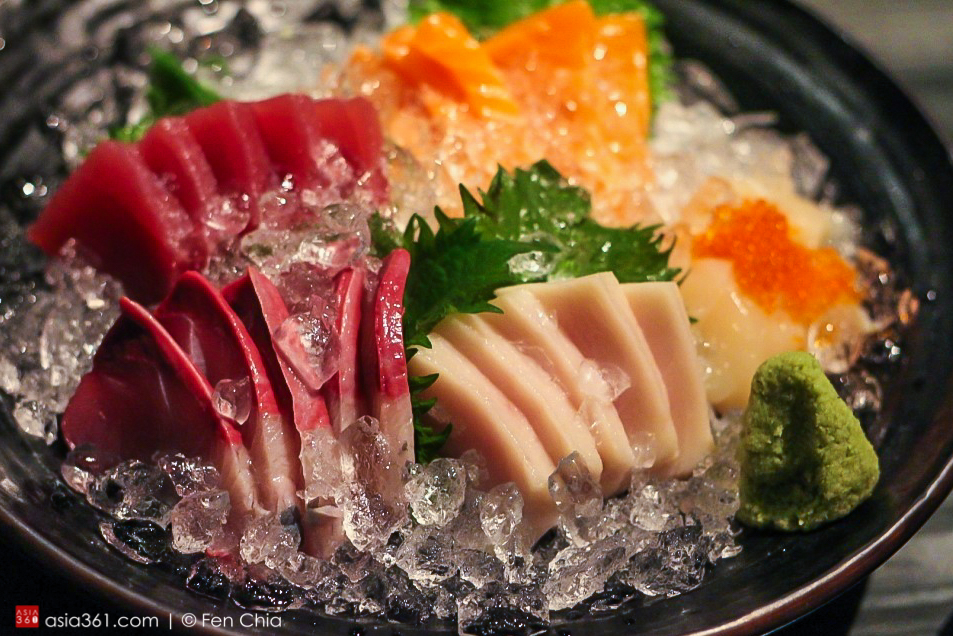 One of the staff, Erick, did a good job of selecting the dishes for our tasting.  After the sashimi, we had two vegetable starters which showed off the fusion touches in the menu.  First was the "Shabu Shabu Salada" (S$21) – shabu shabu-style thinly sliced beef in a lettuce-base salad, with a creamy sesame dressing, rich enough to be ordered on its own if you're in the mood for a light meal.
The next dish, grilled asparagus with blue cheese sauce (S$17) was our favourite of the night.  After polishing off the lightly grilled green spears, we mopped up the rest of the delectable cheese sauce with the crispy sliced baguette served with it.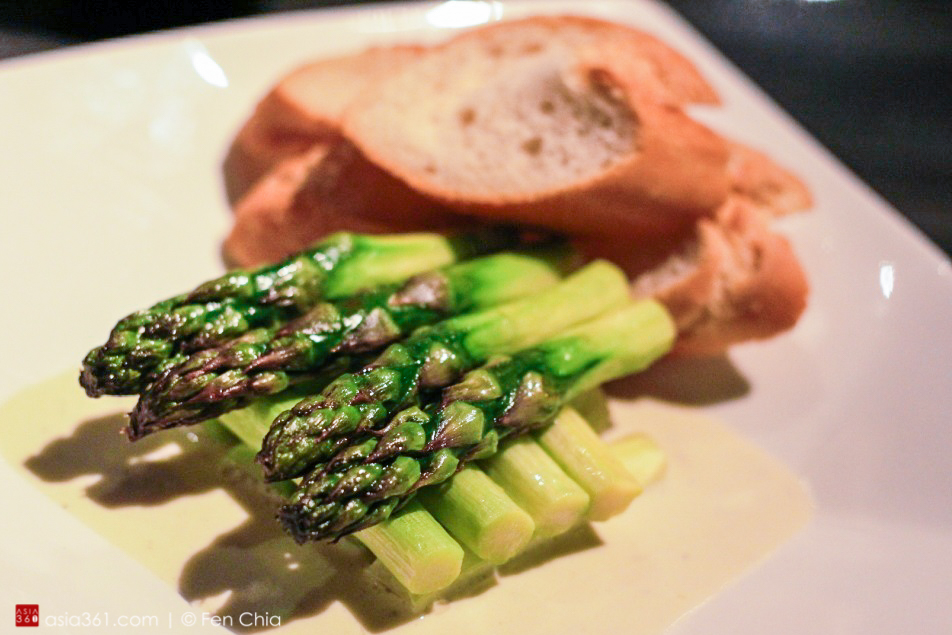 Next were the mains.  The chefs, who include both a Kyoto native and a Singaporean, evidently have a deft hand when it comes to seasoning and presentation.  Sauces for the  starters had been appetising and this same faultless standard applied to the entrées. The Wafu Saikoro Steak (S$23) comprised tender cubes of tenderloin served atop creamy mash with peppers, dehydrated crunchy lotus root and garlic chips, and it all worked with the sauce.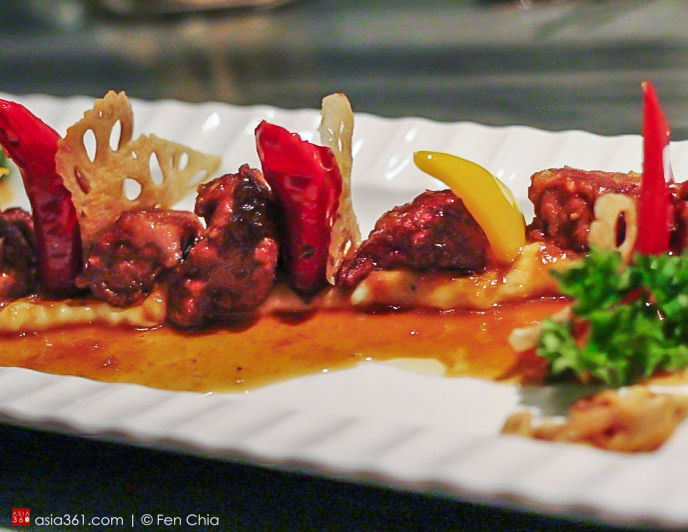 Next was an intriguing package wrapped in a bamboo leaf, served in a boat-shaped plate.  When unveiled, the Tori Kousou Yaki (S$17) revealed roasted herbed chicken pieces, which we squeezed lime juice on and ate with yuzu paste.  The salt in the latter helped us to enjoy the minimally seasoned tender chicken with its slightly crispy skin.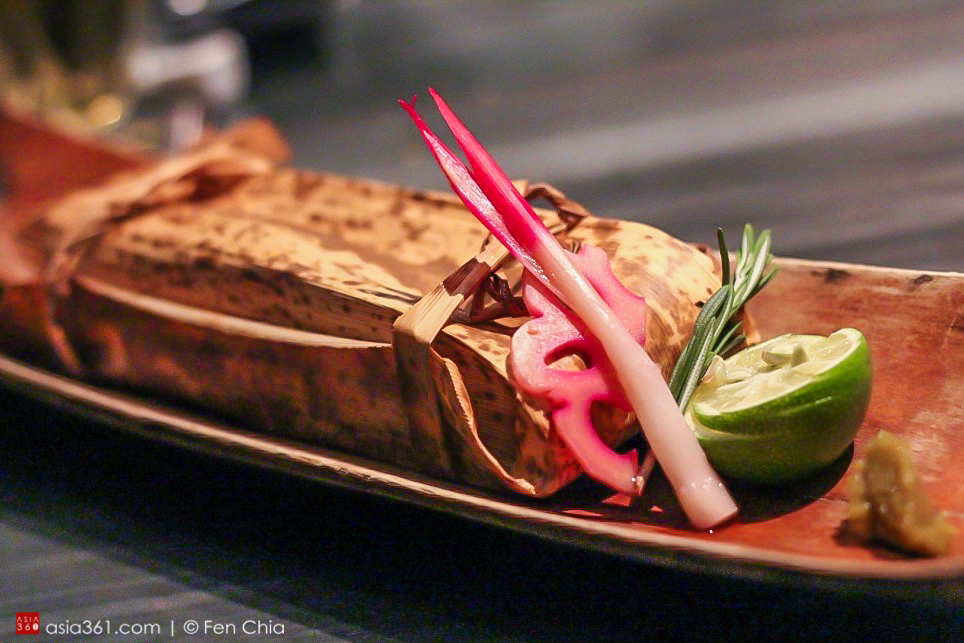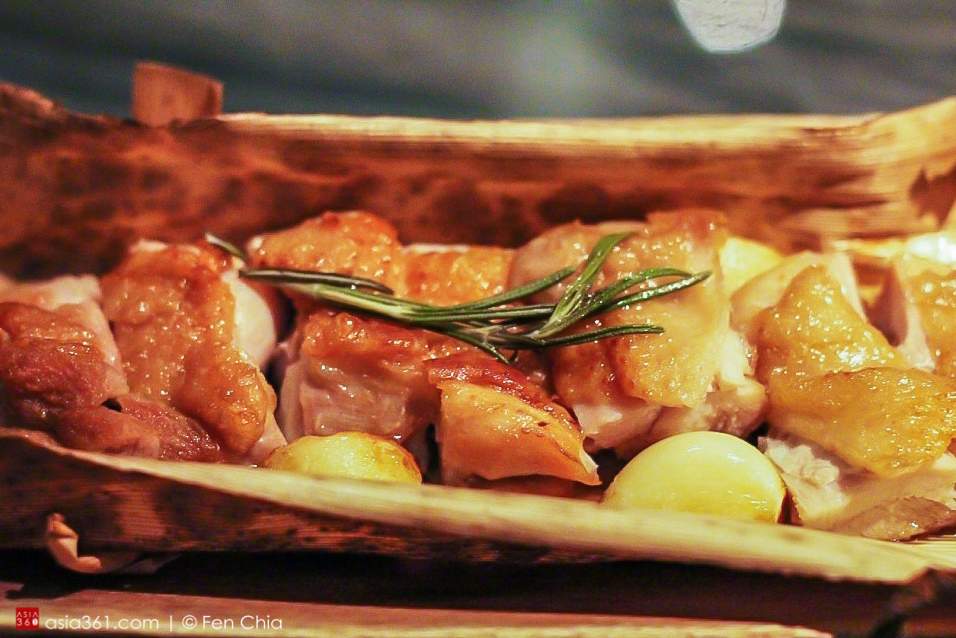 We also requested to try oysters in any form, and were served them deep fried and baked lightly.  While the baked oysters looked plump, we found them rather dry, as was the Tsukune (chicken meatball, S$3.50 a stick) that were to come later in our yakitori samplers. We did some tempering by dipping the meatballs in the accompanying quail egg dip.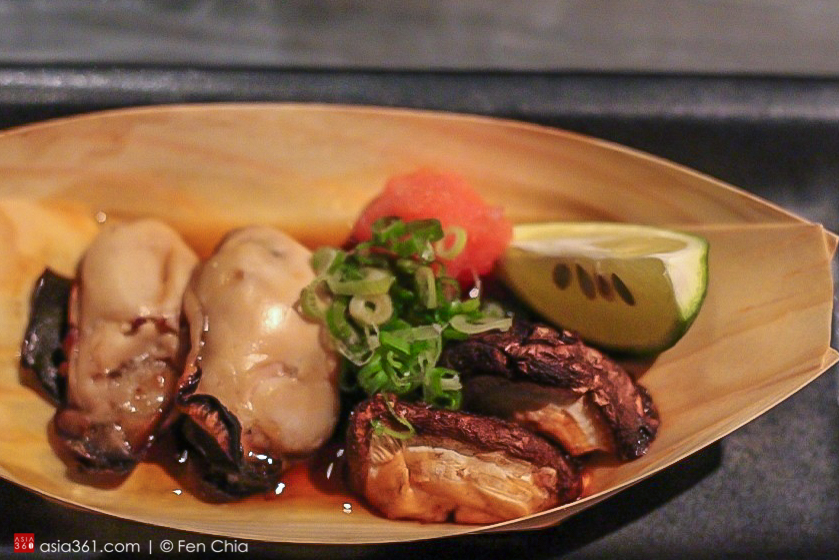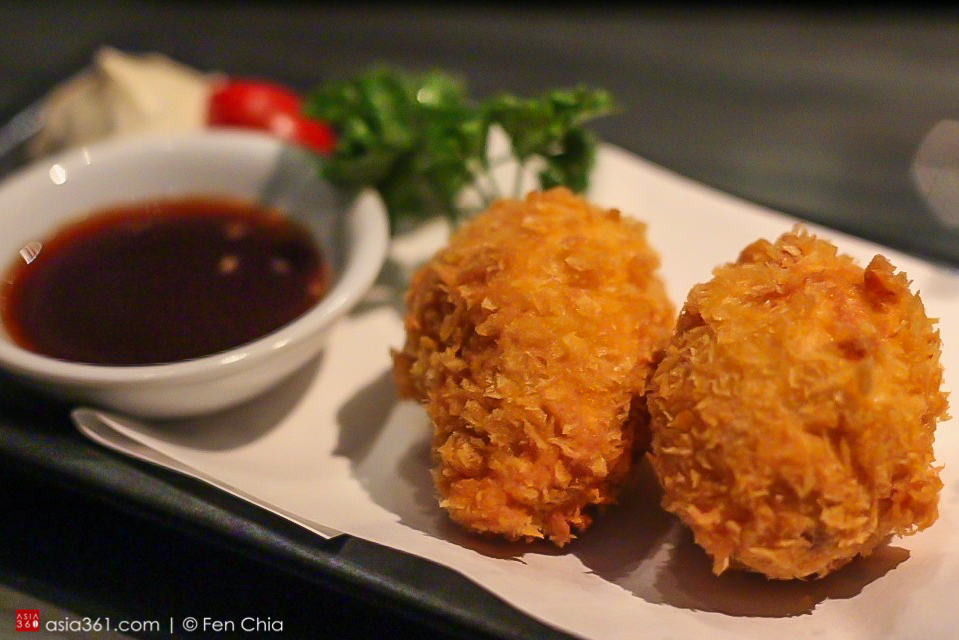 We were also served portions of Yakitori (chicken and leek, S$3.50 a stick) and Yari Ika Sugata Yaki (S$13 for a whole squid) which were done just right with salt and lemon.  For those with an adventurous palate, we noticed that the yakitori menu also lists chicken hearts, liver and tail together with fish like smelt, shishamo and cod.  Other grilled and roasted available include pork, lamb, duck and seafood such as salmon belly and crab.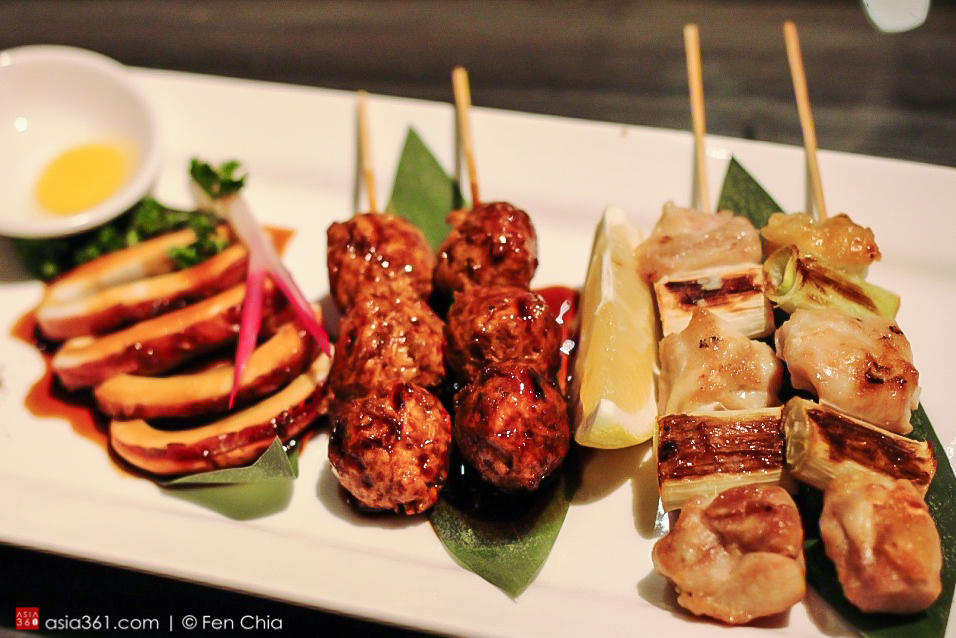 The tempura menu is also extensive, as with the carbs, where the menu features exotic items like Queen Crab Fried Rice with Crab Sauce (S$23) and Black Pork with Kimuchi Fried Rice ($15) and even the humble Ochazuke (rice with a variety of toppings mixed with hot green tea).  The black pork is an interesting reflection of the owners' Okinawan roots, as is the presence of fried bittergourd.  By then, we were too stuffed to carbo-load.
So we ordered a light dessert, a Matcha (green tea) ice cream (S$6.20 a scoop) and a very refreshing Yuzu sherbet (S$6) that was a good contrast with the ice cream.  There were other more exciting desserts however, such as crepes (S$12) and crème brûlée (S$8).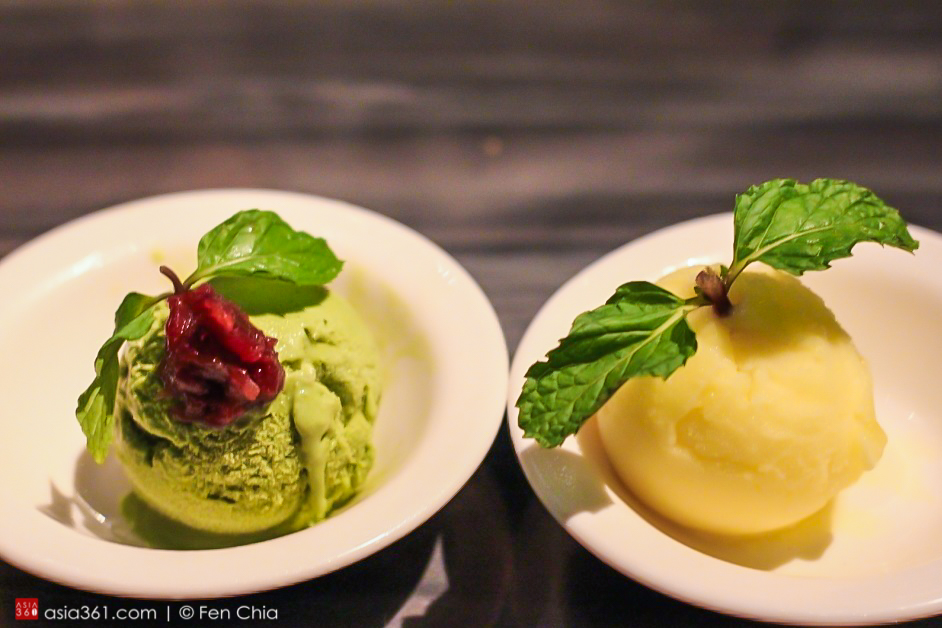 Overall we assessed the food at Z'en to be very good and eye-popping in terms of variety. The pricing was curious, in that the first suite of starters seemed slightly on the higher end, which did not surprise us that much for sashimi and the unique fusion angles, for an elegant restaurant that has an equally serious range of alcohol (shochu, sake etc).
However, the mid-section of the menu devoted to yakitori and rice/noodles was priced like more casual restaurants and makes the place equally suitable for izakaya aficionados looking for late night fillers. And, if you use The Entertainer app, you get one-for-one deals for the main course, making the dinner an even better deal.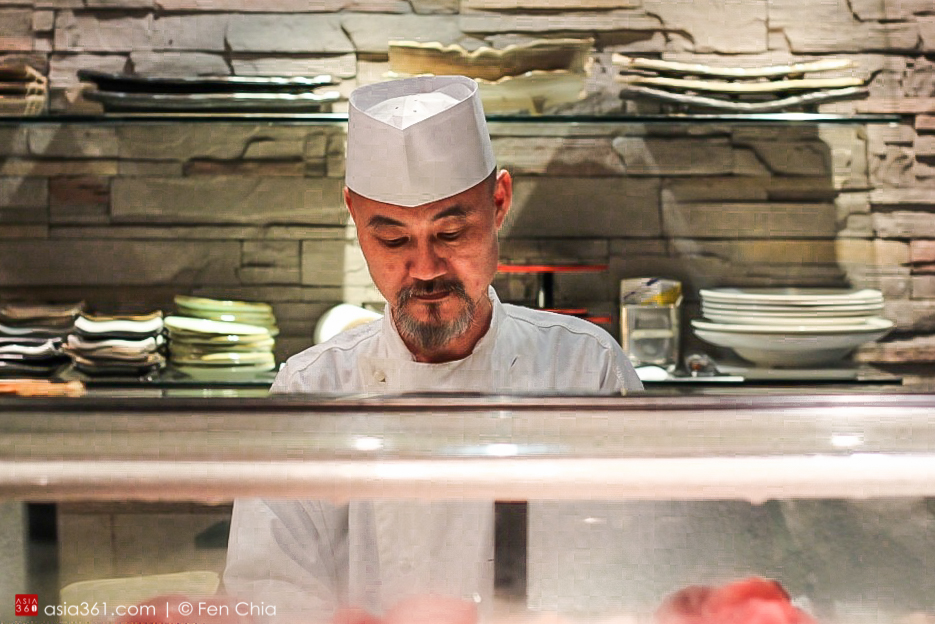 After our satisfying dinner, we left the restaurant and noticed a sign highlighting Z'en Japanese's new lunch menu, offering a variety of great value bento sets (S$22 onwards to S$38 for the omakase menu). Based on the experience of our meal, I'd say go for it if you're in the area on a weekday.  Reservations are required.
More About The Entertainer  
The Entertainer offers more than 750 Buy One Get One Free offers at Singapore's hottest restaurants, bars, informal dining, spas, activities, attractions and more. This year, it includes the Entertainer Travel 2015, which features over 250 free night offers at leading 4 and 5 star hotels across Asia and beyond.
The Entertainer Singapore app retails at S$75. The Entertainer Singapore book, which contains the same vouchers in paper format, is priced at S$80 and also available for purchase at www.theentertainerasia.com or selected bookstores.
You can now purchase the Entertainer app at a 10% discount off the retail price with the promo code "2015ASIA361"! Just enter this promo code during check-out.
---
Z'en Japanese Cuisine
205 River Valley Road
UE Square #01-75
Singapore 238274
Tel: +65 6732 3110
Opening hours: Mon to Fri, 12pm to 2.30pm and 6pm to 10:30pm; Weekends and public holidays, 6pm to 10:30pm