I was at the end of the runway, camera prepped, counting down and waiting for my flight to take off.  I was on board MI New Colours.
Except that this was not the tarmac at Changi Airport and not one of my SilkAir vacation flights.  This was the regional carrier's launch of its new collection of chic uniforms for its over 500 cabin crew. Soon, the music came on and the SilkAir cabin crew sashayed in, taking us back in time.  We had taken off! Our journey through the evolution of its fourth uniform change in 26 years had begun.
1989 – 1994: Celia Loe one-piece dress with seagull motifs
We were brought back to the early days when SilkAir was still known as 'Tradewinds'.  The very first SilkAir uniform was by Singapore designer Celia Loe and reflected the airline's image as a holiday resort airline.  Combining modern and oriental elements in a one-piece sarong-inspired wrap dress, the uniform featured seagull motifs of light blue, green and white.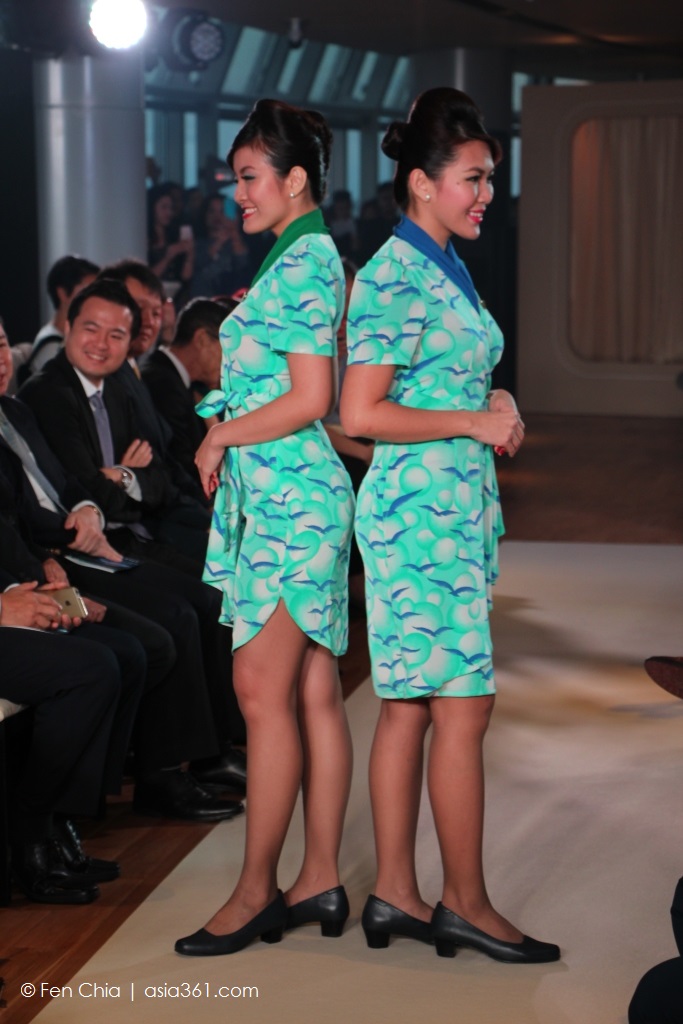 1994 – 2004: Balenciaga blouse and skirt with jacket ensemble
The second version of SilkAir's uniform was introduced in 1994 by Parisian fashion house Balenciaga. It comprised a fitted double-breasted jacket and skirt ensemble, with a floral print blouse within featuring bougainvillea, hibiscus and orchids.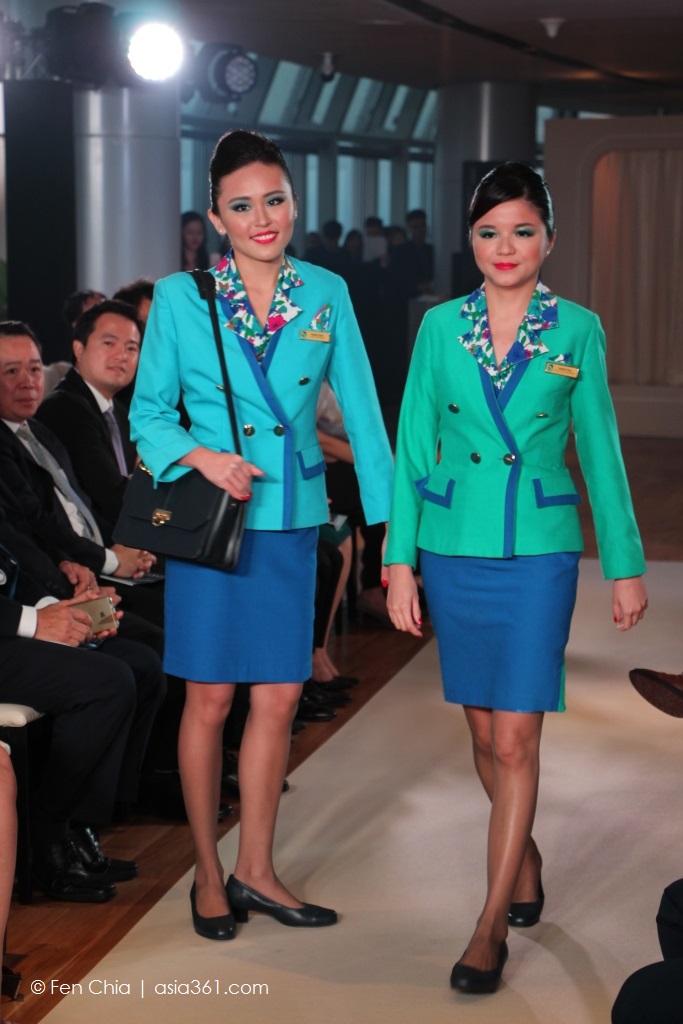 2004 – 2015: One-piece wrap dress
The third uniform which we are familiar with, was to feature for 11 years.  Designed by one of SilkAir's very own cabin crew, the one-piece dress targetted the leisure market and was oriental, casual and yet professional at the same time, with the use of a soothing green for junior cabin crew and a rustic red for senior crew.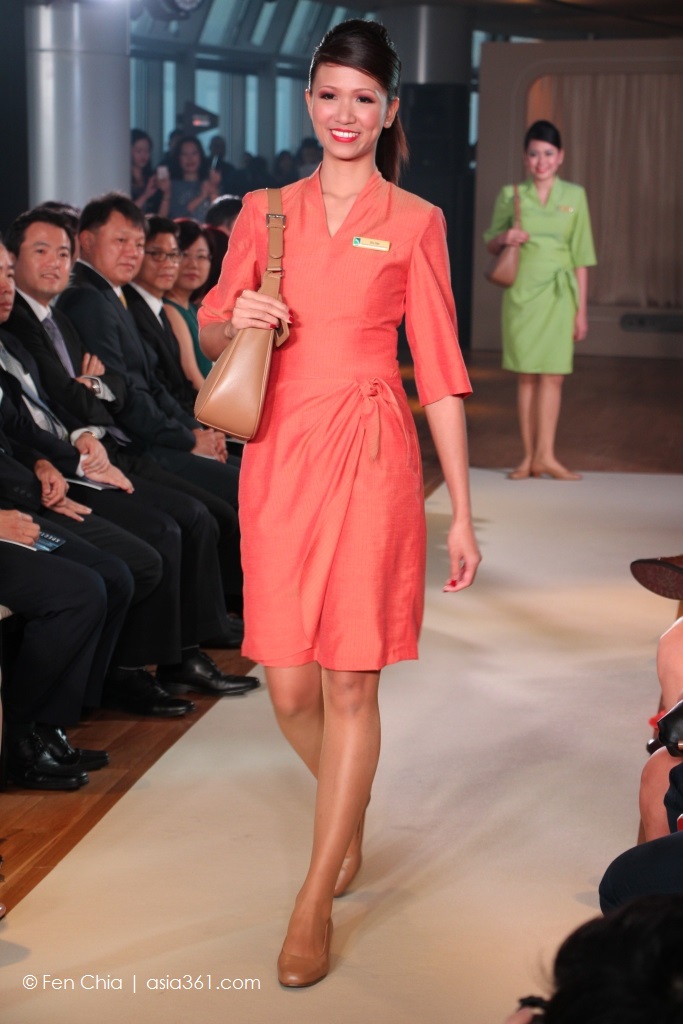 2015 – One-piece aqua-blue/dark blue, plum-red/dark blue dress
Finally we arrived at MI New Colours' destination for the night!  Come 15 April 2015, those on board SilkAir will be the first to witness cabin crew donning the new dresses, with deep navy blue skirts and aqua-blue (for junior crew) and plum-red (for senior crew) tops.  Designed by local fashion designer Alexandria Chen, the richer colours are meant to demonstrate a more premium yet youthful appeal.  The deep colour of the skirt is meant to signify reliability and strong affiliation with parent airline Singapore Airlines, while the aqua-blue reflects sincerity and warmth and red a sense of seniority and experience.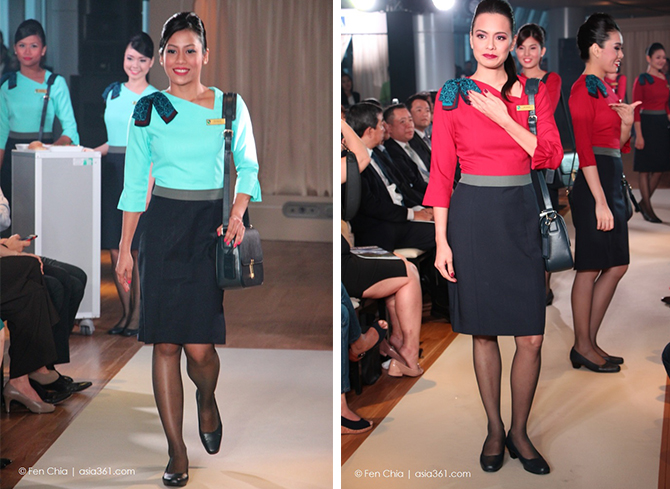 Modern touches such as an asymmetric neckline have been added.  I thought it added that extra chic, while the sleeve pleats retain a touch of "Asian-ness".  Meanwhile, the seagull patterned georgette bow pin remains as a sign of SilkAir's emblem, the seagull.  We've heard how only those with the best figures can squeeze into Singapore Airlines' sarong kebaya – SilkAir's new uniform aligns with its parent in its defined, petite waistline.  What I appreciated most was the fact that this homegrown carrier had partnered with a homegrown fashion designer, Alexandria Chen.
More local talent came in the form of local band 'The Sam Willlows'. The band members looked spiffy and as slick as models for the occasion, and performed a number of hits including its new single, at the event.
The rest of the evening (orchestrated by creative director Daniel Boey) was made up of a flurry of photo shoots with the cabin crew, the dishy band members of the Sam Willows, and drinks and canapes before the nostalgia and party were over.
The SilkAir uniform's evolution from its laid-back easy style to the new serious sophistication reflects its deeper synergy with Singapore Airlines.  SilkAir, the region's most awarded airline, has a young fleet of A319 and A320 aircraft which offers flights to 48 destinations to 12 countries in the Asia region.  On 30 May 2015, SilkAir will commence operations to Cairns, Australia.
Here's to more destinations, and may SilkAir continue to bring us more experiences which make it a "Joy to Fly".
View more of the evening's photos here:
This slideshow requires JavaScript.