Where do chefs go when they feel retreating into a secret hideaway? For Chef Matthew Mok, it is his restaurant, The Rabbit Stash.
Indeed, the 40-year-old chef named his restaurant Rabbit Stash as he was born in the Year of the Rabbit while 'stash' is a reference to a hideout. The Rabbit Stash lives up to its name, for it is hidden on the rooftop of WANGZ Hotel located within the eclectic enclave of Tiong Bahru. Being one who dislikes crowds, I was delighted at my recent discovery of the restaurant.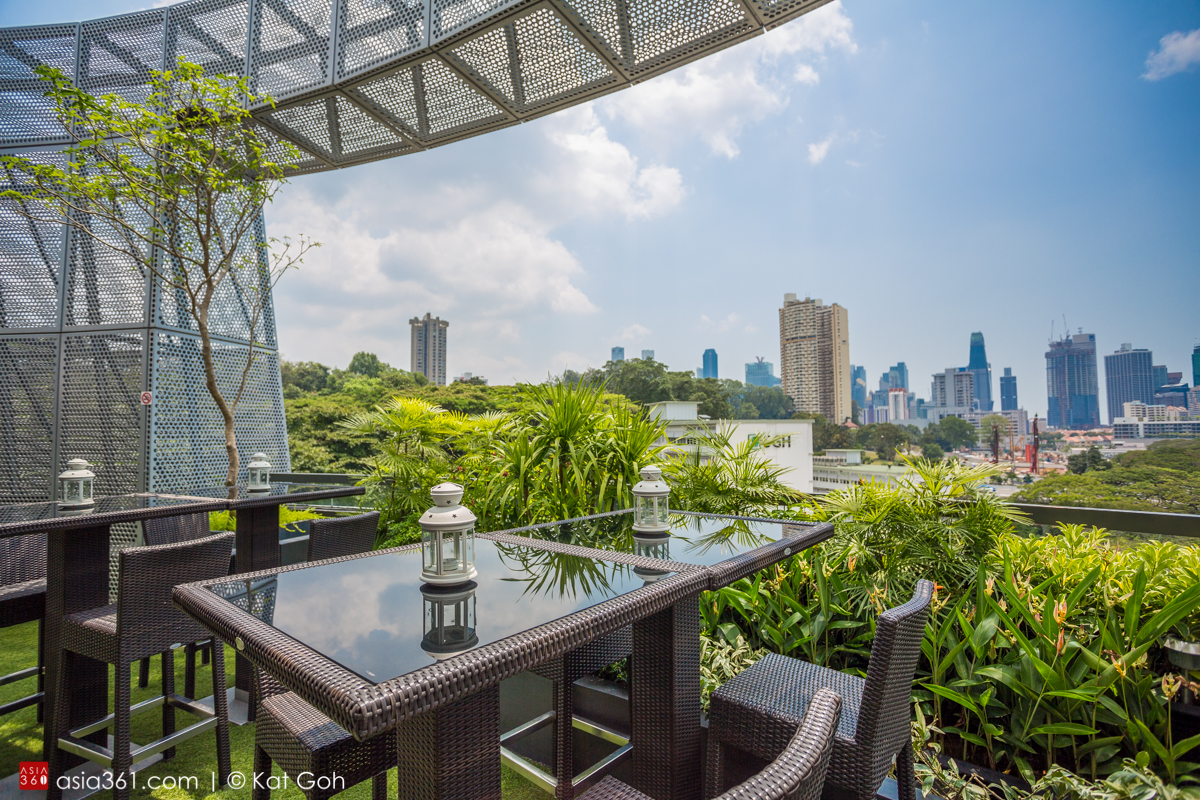 One would expect to find treasures within a secret stash, and The Rabbit Stash does not disappoint. The brightly lit 55-seater restaurant, decorated with sketches done by the chef himself, sits atop a straits settlement building and offers a 180° view of old Chinatown juxtaposed with the modern buildings of the city. Equally sublime is the seven-course degustation menu ($148+) created by Chef Matthew.

The seven-course menu is inspired by what the chef calls "ENSOPHI", an acronym coined by him, standing for Exotic, Nostalgia, Soil, Ocean, Pristine, Heritage and Impression. Sitting through the course was like a walk down memory lane – Chef Matthew created each dish based on his past experiences in life. Along the way, some of the dishes I savoured did evoke memories of my own in my mind too.
One such dish was "Nostalgia" – lobster broth with handmade noodles and purple crab, topped with black trout caviar. Chef Matthew had drawn inspiration from his grandma's home cooking for the dish. I wasn't sure if it was the intoxicating waft of the lobster broth, but this dish reminded me of the local dish hae mee, or prawn noodle soup. No, not in taste of course, but it was akin to comfort food, much like having a satisfying warm bowl of prawn noodle soup on a rainy day. Perhaps that is why this dish was my favourite among all.
"Pristine" is another that reminded me of a local dish. I couldn't help but draw parallels between it and the Singapore-style breakfast of two half-boiled eggs with soya sauce. I risk being labelled as having an unrefined palate for this remark (perhaps it is so), but I meant it as a compliment. Needless to say, Chef Matthew's dish is more sophisticated with the use of first-born egg, cabbage , langoustine and brown rice. But, I equate its purity and simplicity with the unpretentious Singapore breakfast, which brought up fond childhood memories of my grandmother taking me out for breakfasts of kaya toast and soft-boiled eggs.
The meal was not only a gastronomic feast, but a visual feast as well. Plating for the dishes was executed with such finesse and artistic flair that I felt bad having to tear apart the "art installations" displayed before my eyes. One dish in which the chef's eye for aesthetics came through was "Soil", which looked like an ethereal garden formed by asparagus pudding, basil sorbet, beurre noisette, beetroot meringue and olive crumbs. Another aesthetically pleasing dish was "Ocean"; it was a lovely plate of Hokkaido scallop on anchovy sauce, squid ink sponge, smoked trout, sea lettuce and shrimp on banana mash.
The chef's talents extend beyond the kitchen. The pre-meal appetizer featured potato chips slotted into a wooden block, which was carved by Chef Matthew himself. I thought that was quite an original way of presentation. Interestingly, Chef Matthew used to be an education counsellor and holds a Master's degree in building construction management.
The only dish that did not agree with my palate was "Exotic" – a dessert of mango fromage blanc, snow wine pear and green curry ice cream. I could see the green curry ice cream as an attempt by Chef Matthew to push boundaries, but it was a bit too unorthodox for my liking. I am traditional when it comes to desserts; I like them sweet, not spicy. Having said that, this is my personal preference, and the other diners at the table sang praises of the unusual ice cream.
It was not a common occurrence for a meal to feel like a journey, but for this meal, one could really feel Chef Matthew's story-telling in each and every dish. It was cosy, warm and poetic all at once. If you're curious about what memories his dishes might bring up in you, take a trip down the rabbit hole and discover for yourself.
Degustation menus ranges from $36+ for a two-course lunch to $148+ for a seven-course dinner. Menus change every quarter.
The Rabbit Stash
WANGZ Hotel
231 Outram Road, Level R
Singapore 169040
Tel: +65 6595 1380
Email: [email protected]
www.therabbitstash.com.sg