Having opened in 1986, Wisma Atria is one of the iconic shopping malls at Orchard Road in Singapore. It is set to celebrate its 40th birthday in 2026 and in the lead-up up to this occasion, Wisma Astria is refreshing its products and services in an effort to reestablish itself with regular customers and attract new ones. The mall has just launched a new mobile app and a newly renovated interior.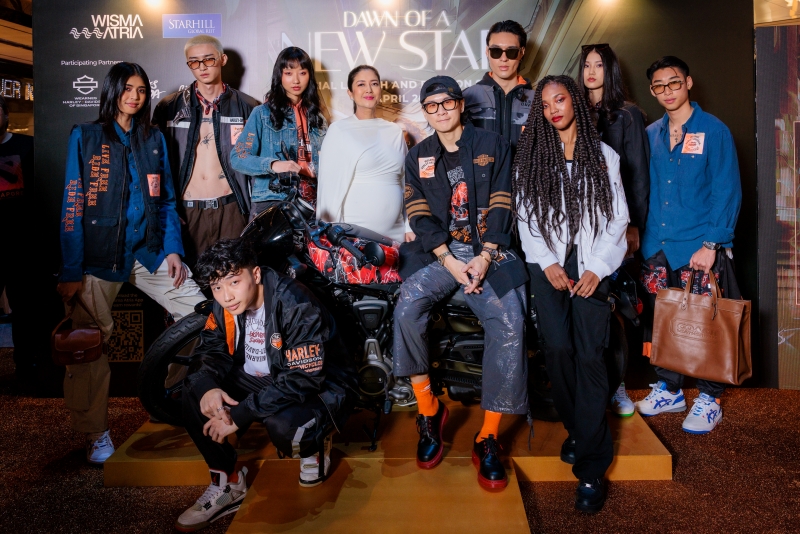 At a highly attended event at the mall on 27 April 2023, Wisma Atria announced the debut of the Wearnes Harley-Davidson of Singapore X AMOS ANANDA collaboration. Presented in the spirit of blazing new trails, the collaboration features Amos Ananda, a rising star in the Singaporean fashion industry. Amos has created a limited-edition 15-piece capsule collection of Harley Davidson merchandise featuring his take on a one-of-a-kind 'Live Free. Ride Free' print and a series of Harley-Davidson T-shirts featuring a 'Uniquely Singapore' Shophouse print.
In conjunction with the debut of the revamped mall app and interior, the collaboration was showcased in the L1 Atrium. Shoppers can scan the QR code at the showcase to pre-order the capsule collection and T-shirts. The proceeds from this special capsule collection will go to Unlabelled Run, an organization working to eliminate discriminatory naming practices so that everyone can participate in creating a more just and empathetic society for all.
Featuring a Harley Favourite
Amos Ananda's 'Live Free. Ride Free' print adorns the tank of a Harley-Davidson Nightster 975 motorcycle included in the exhibition. This one-of-a-kind Harley-Davidson motorcycle is worth $80,000 and will be awarded as the Grand Prize in Wisma Atria's "DAWN OF A NEW STAR" shopping campaign, which runs from April 28th, 2023 through June 30th, 2023.
One of Wisma's most anticipated offerings is a partnership by Wearnes Harley-Davison of Singapore and AMOS ANANDA, which will result in a new and extremely desirable range of items that can be enjoyed by more consumers. Amos Ananda's creative flare is defined by his rebellious mindset, and Harley-Davidson enthusiasts will recognize that style in the sporty street-lux design of the capsule collection.
Modern and Sustainable Interior
Upon entering Wisma Atria's Level 1 Atrium, shoppers will be welcomed by the striking new interior design.
The previous all-white futuristic aesthetics which has endured for over three decades is now replaced by a warm and glossy palette achieved through the use of diverse materials, textures, and shine. The revitalised interior is both modern and timeless, sophisticated and inviting. The new look captivates shoppers to spend the day exploring and shopping at Wisma Atria.
As part of the larger goal of the Singapore Tourism Board to transform Orchard Road into a must-visit lifestyle and leisure destination, the redevelopment of Wisma Atria will also deliver an improved retail mall experience for visitors.
Wisma Atria Mall App
The brand-new Wisma Atria app is loaded with features that are meant to improve the shopping experience for patrons.
Timely updates on mall and tenant promotions, as well as a store directory, are included in these services. Customers can earn points toward rewards like e-vouchers, e-coupons for the parking lot, freebies with purchases, and entry into random drawings just by presenting their membership QR code at checkout. Discounting parking fees with electronic coupons.
Wisma Atria is a free app that can be downloaded from the App Store or the Google Play Store. SMS OTP verification makes it possible for new members to quickly begin using their accounts.
Wisma Atria is located at 435 Orchard Road, Singapore 238877.