Lights and Christmas seem to be synonymous with each other. And what better way to soak in the feels of the festive season than with lights? Christmas will lighten up in neon colours from now through 25 December 2022 at Suntec City, the venue for Christmas in the City – an opulent event with rides, games, an NFT digital art display and live music.
The Sky Garden on level 3 of Suntec City will be illuminated by a variety of neon light installations, ushering in the festivities. This year's Christmas In The City at Suntec City, hosted by Uncle Ringo's new blockbuster entertainment arm The Show Master, will feature not only Uncle Ringo's signature definition of fun with amusement rides and carnival games, but also the latest in NFT art, digital art workshops, community dialogues, and live musical performances by local artistes. There is a 15-metre Christmas tree that serves as a landmark and photo op for attendees.
Holiday jovial vibe in the city
Suntec Plaza in Suntec City, will have an outdoor plaza that has classic carnival rides like the Grand Carousel, Dog Ship, and Meteorite. New Christmas-themed activities, such as Presents Smash, Santa's Milk Churn, and Snowball Toss, have been introduced by Uncle Ringo to get everyone in the holiday jovial spirit.
If you're a Suntec+ member, you can save 15% on carnival game credits by showing your loyalty card through the Suntec+ app at the ticket counter. Anyone can save five percent when they buy carnival credits in person or on Trip.com.
Purchase tickets in advance at https://the-showmaster.com/CITC/
Getting artsy in SG
The Show Master is bringing an NFT Exhibit and Digital Art Workshops to the Atrium of Suntec City in recognition of the potential entertainment and amusement that NFTs may bring to both online and offline communities.
Suntec City's Atrium will feature prominent works, such as Prime Planet, Imaginary Ones, Memotics, and Y2123 by Layer C, from 11 a.m. to 9 p.m. daily (Tower 1 and 2). At the event, you can also buy caps and hoodies featuring the designs of some of the featured projects.
Plus, fans and members of the NFT community will be overjoyed to learn that a community space has been established for them to meet one other and stay abreast of community news and developments.
Join a fireside chat with the creators of the four featured projects, Alan Kueh of Memotics, David Lee of Imaginary Ones, Jack Ong of Prime Planet, and Keith Teo of Y2123 and Layer C, on 17 December from 2pm to 4pm, to learn more about their motivations and processes behind developing their respective apps.
Speakers at this session will discuss some of the meaningful community-led projects they've been working on, as well as current hot topics like the future of digital art, NFT and blockchain utilisation, omni-channel integration from a Web2 to Web3 space, and the concept of harnessing metaverse for various brands. New and inquisitive minds seeking to wrap their heads around the concept of the Web3 environment will find this fireside discussion to be the ideal setup for their first tentative steps into the metaverse.
Digital art workshops
From now till 25 December, the public is invited to participate in workshops led by local artists to learn the fundamentals of digital art and produce their own works under the guidance of a professional mentor. Create something tangible with your design at the live printing station and print it on t-shirts, tote bags, or badges.
Sessions will be held at various times each day of the week. In order to participate in this once-in-a-lifetime opportunity at Suntec City's Atrium (Tower 1 and Tower 2), you must reserve a time slot in advance for only $39.
Music galore
Live music is the only way to truly amp up the celebratory spirit. From now until the 24th of December, local stars Jeff Ng, Jason Yu, Sheng Li, and The Staircase Duo will capture the crowd with their melodious guitars tunes and soothing vocals as they play Christmas songs and the latest hits. Every Friday and Saturday, after a full meal at Olivia & Co., patrons may go over to Suntec Plaza to see this brilliant lineup of vocalists as they take turns performing their angelic vocals at half-hour intervals.
Not only that! The event also includes a 15% discount on Olivia & Co's specially curated main courses, such as the umami-infused Truffle Capellini, tangy and aromatic Spiced Seabass, and supple, juicy cuts of Black Angus Rib-Eye. Simply show your Christmas In The City RFID Game card or original digital works to receive this discount at checkout.
The Great Christmas Village 2022 @ Ngee Ann City
At the same time as Christmas In The City is taking place at Suntec City, The Show Master is also putting on a different entertainment extravaganza, called The Great Christmas Village, on Orchard Road.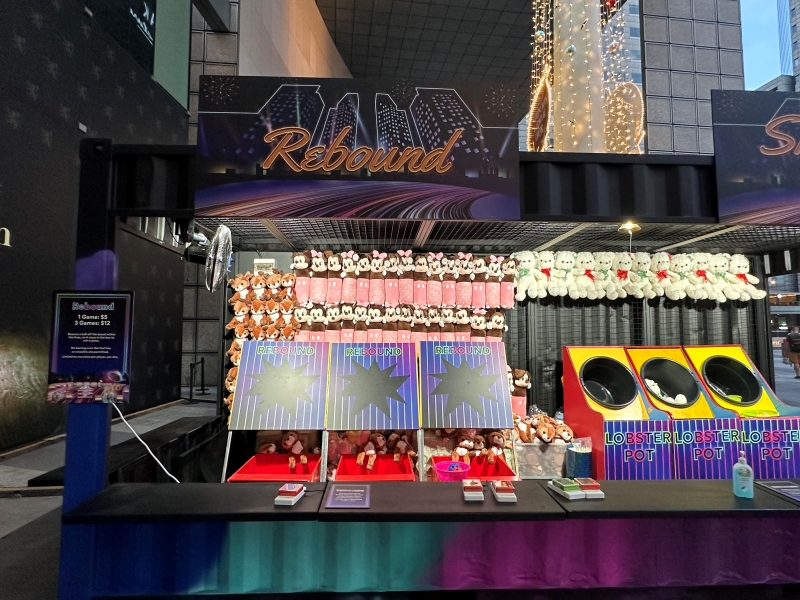 The Great Christmas Village is back after a two-year hiatus. The celebrations, which take place at Ngee Ann City Civic Plaza, will run until 2 January 2023, featuring Uncle Ringo's beloved fairground rides, workshops, live music, and seasonal fare.