As 2022 draw to a close, it is that time of the year again when we name our favourite tech product of the year. And after much deliberation, our choice for "Best Tech Product 2022" goes to (drumroll, please) Roborock S7 Max V Ultra!
From mobile phones to earbuds to beauty tech products, why did we choose the Roborock S7 MaxV Ultra? Easy, we think the Roborock S7 MaxV Ultra has brought not only convenience but saved precious time in our very busy lives, giving it that edge over the other (sexier) tech products.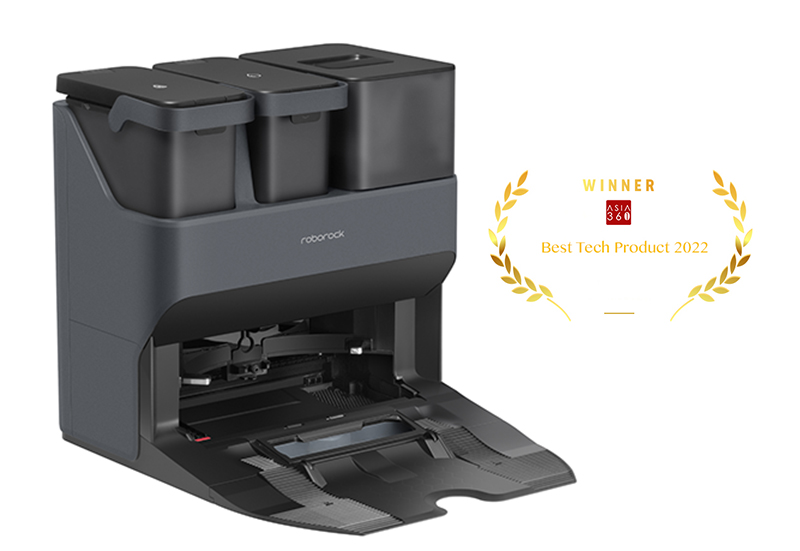 The Roborock S7 MaxV Ultra not only piqued our attention with its sleek design, but it also caught our amazement with its numerous features and capabilities that made it an ideal device to keep at home.
Roborock has been a pioneer in the field of robot vacuum cleaners since its inception in 2014. The Roborock family of robot vacuum cleaners swiftly became a cleaning fixture in millions of homes worldwide. Roborock robot vacuum cleaners are popular among consumers because they provide high-end models with the most efficient navigation system, durable quality, elegant design, and, most importantly, superb cleaning performance.
The S7 MaxV Ultra, which was released this year, pushes the boundaries of robot vacuum cleaning capabilities even farther. For that reason alone, we chose it as one of the must-have tech products in 2022. Here's a recap of its features that made us love this product:
Everything made easy with the S7 MaxV Ultra
The Roborock S7 MaxV Ultra makes housework so simple that you can just set it down and walk away while it cleans. The S7 MaxV Ultra's extensive set of features, including Ultra Dock, makes it possible for the vacuum to function like clockwork. The Ultra Dock performs three sequences namely, auto refilling, auto cleaning and auto emptying.
Auto Refilling allows the robot to increase mopping coverage by up to 300 square metres by automatically refilling the robot's water tank as it cleans. The Auto Cleaning  extends self-cleaning functionality to the mop head with a rotating brush use to clear of dust and dirt. The Auto Emptying empties the dust bin of the S7 MaxV Ultra routinely so users can go long periods between bag changes.
Home cleaning simplified
Another standout feature of the S7 MaxV Ultra that blew our mind is its obstacle avoidance sensors.
The S7 MaxV Ultra is equipped with a ReactiveAI 2.0 that employs a 3D structured light obstacle avoidance technology. It is complimented with a Neural Processing Unit, that releases a package of powerful cleaning capabilities while eliminating obstacle encounters.
That's not the end of it. We found more great things about the S7 MaxV Ultra the more we use it. The Vibarise Sonic Vibration Mopping is one of it.
The mopping function on regular robotic vacuums is an optional accessory and doesn't do a particularly good job. Nonetheless, the latest iteration of the S7 Max Ultra has added automatic mop-raising functionality. The mop is immediately lifted for vacuuming whenever it detects carpet, so you don't even have to stop mopping. The carpets won't become wet if the user mop and vacuums hard floors at the same time.
For homes with little kids, toys are strewn on the floor all the time. Of course, we don't want our robot vacuums to gobble it all up. The S7 MaxV Ultra's dual cameras help identify common household objects, including those as small as 2 inches broad and 1.1 inches tall, and bypass them in favour of dirt and other pieces of trash.
The 3D mapping is another winning feature
The S7 MaxV Ultra also accurately depicts your home's layout thanks to LiDAR data. Its high-tech sensor can identify your furniture set, including your couch, bed, TV stand, coffee table, and chairs.
The recognised object will be displayed in the standard 2D and 3D maps, as well as in the Matrix Map function, a 3D mockup of your home. The S7 MaxV Ultra is smart enough to tell the difference between a bedroom, living room, dining room, and bathroom, and then suggest a cleaning schedule based on the layout of the house. Cleaning efficacy in each room is optimised by automatic adjustments to suction and scrub power. Using on-screen symbols, you can program the vacuum  to locate potential hazards on your floors.
We also tried the S7 MaxV Ultra's real-time video call functionality to talk to people at home while using it remotely. The Roborock has a built-in microphone so you can monitor its cleaning progress and give instructions while having a conversation with others in your home.
Our satisfying review of the wonders of the Roborock S7 MaxV Ultra culminated with the discovery of its suction power believed to cranked up to 51000 Pa as compared to industry norms of 2500pa.
Overall, we find it impossible to find another robot vacuum that can rival the S7 MaxV Ultra in the market today in terms of overall convenience and ease of use. So yes, it is a no-brainer; the Roborock S7 MaxV Ultra gets the nod as our selection as "Best Tech Product 2022".