High tea for two at US$3,000 (S$4,074)? You've read that right. Since most good things in life come with a price, we won't get around the bush and confess that this tea experience cost a good amount of money. But wait, before you drop your jaw on the ground, it is essential to understand that this afternoon tea experience is immersed in luxury and worth every dime for those who choose to partake in this one-of-a-kind tea sipping experience.
The Crystal Tea by Baccarat Hotel New York
Following in the footsteps of the illustrious crystal company's tradition of producing masterpieces for generations of royal houses, Baccarat Hotel New York has introduced its most lavish afternoon tea service, named The Crystal Tea. A three-tier display of Baccarat crystal and Cristal champagne accompany this unique tea offering, which has caviar, lobster, truffles, and vanilla beans from Madagascar. The Faunacrystopolis Harcourt Tea Set, made by Baccarat, is a part of this ultimate tea experience and is given to you as a souvenir.
Between the hours of 12pm and 4pm, The Crystal Tea can be enjoyed daily in the elegant Grand Salon for an affordable (wink) price of US$3,000 for two guests.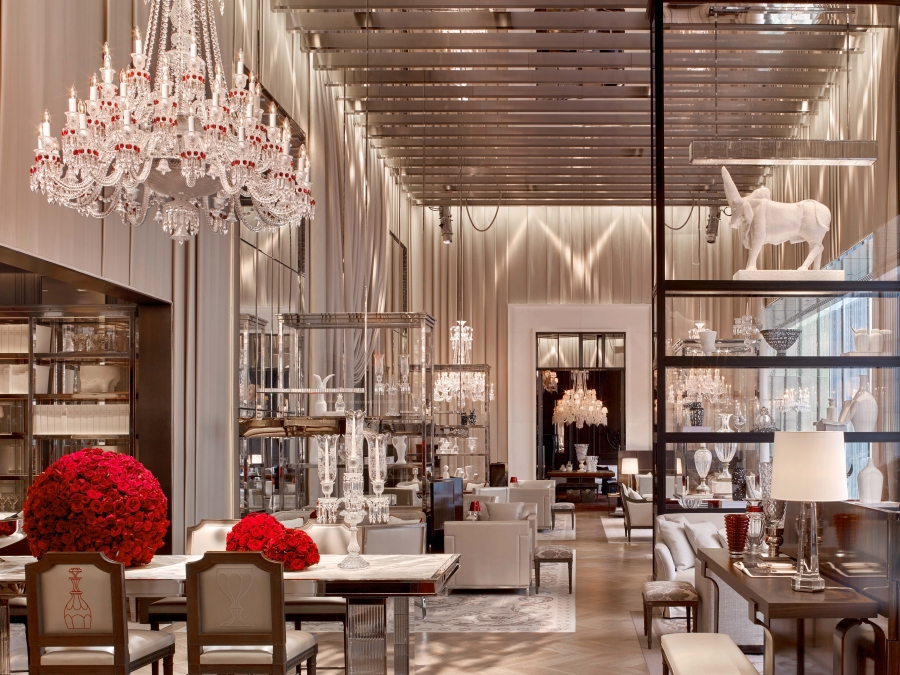 The Menu
For the Savories, The Crystal Tea serves:
Special Reserve Kaluga Huso. Unimagibly rich and buttery, this caviar was hand-selected by the Petrossian Family.
Fresh White Alba Truffle Gougere & Parmesan Cream.
Imperial Balik Salmon Roulade, Cucumber, Dill Cream, Trout Roe.
Jamon Iberico De Bellota Bocadillo Sandwhich, Baguette, Ripe Tomatoes, Emmentale
Lobster Tartelette, Yuzu, Chives, Micro Cilantro.
Kobe Beef Tartare on Baked Potato.
The Sweets includes:
Holiday Cake, Spiced Cake Infused, Wine-Soaked Fruit.
Fig Cookie, Fig and Almond Cookie, Lavender, Fresh Fig.
Religieuse, White Valrhona Chocolate Whipped Ganache, Cherry Jam Filled Choux.
Sacher Torte, Valrhona Chocolate Mousse, Flourless Chocolate Cake Centre.
Bakewell Tart, Madagascar Vanilla Beans Tart Shell Filled, Pear & Almond Topped, Fresh Raspberry.
Warm Housemade Scones with Devonshire Cream & Seasonal Confiture.
And the Beverages completes the set by offering guests a choice of: two Glasses of Cristal Roederer 2012.
The Baccarat Faunacrystopolis Harcourt souvenir tea set:
The tea set by Jaime Hayon features a teapot and two matching glasses that subvert the usual Harcourt norms with wit and individuality. The Faunacrystopolis teapot is a wonderful illustration of how the right materials in the hands of skilled artisans creates enchantment. The set's porcelain body is crafted by renowned luxury Maison Lladró, and its lid is shaped like a fantastical creature. Those who appreciate quality tea will appreciate this one-of-a-kind design dressed in gold and decorated with geometric designs and facets.
For additional information and to reserve The Crystal Tea at Baccarat Hotel New York please visit www.baccarathotels.com/dining/afternoon-tea