Audi Singapore joins a growing list of giant brands that are ramping up sustainable mobility efforts. This coming Greentech Festival, the public will witness firsthand the company's commitment to driving sustainability in the region.
Following spectacular editions in Berlin, New York, and London, the largest sustainability festival in Europe will visit Singapore from 17 to 18 November 2022 at Gardens by the Bay. Audi, a founding partner of the festival, will demonstrate their green mobility efforts at the event.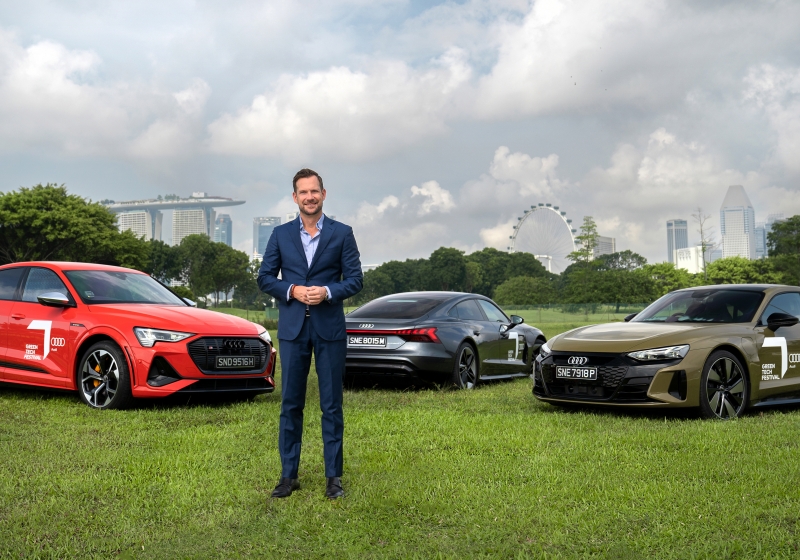 Nico Rosberg and Marco Voigt, co-founders of GTF, and Markus Schuster, Managing Director, Audi Singapore, will hold a press conference on 17 November to announce the festival's official opening. Audi will be present at the conference, awards ceremony, and exhibition that spans the course of two days.
Audi will showcase the Audi e-tron 50, e-tron 55, e-tron Sportback, e-tron S Sportback, and RS e-tron GT. Speakers and guests will be shuttled to and from Gardens by the Bay in a fleet of totally electric vehicles.
Audi's Urbansphere concept cars
Audi's urbansphere concept car, a novel electric automobile idea, will be flown in especially for the show as part of GTF's commitment to green technologies. The concept car was meticulously crafted from the ground up to combine cutting-edge styling with top-tier performance and advanced driver assistance features including Level 4 autonomous driving.
Schuster echoed Audi's environmental advocacy and pointed to this collaboration as a sign of continued dedication to sustainable transportation.
With Singapore's commitment to sustainable energy, Audi is eager to reimagine the next generation of luxury transportation. Audi hopes this festival will motivate locals to embrace sustainability and effect positive change in their communities.
Ex-Formula One driver Nico Rosberg and more than 25 C-suite executives will discuss trends in green architecture and urban design. Hundreds of attendees are expected at the festival, which be followed by a series of  workshops hosted all across Singapore.