Etienne Aigner in the year 2022 is taking the credo Time is Gold to heart. Making each passing moment worthwhile, the German luxury brand marks another milestone by returning to Paragon at Orchard Road, Singapore with a flagship store coated in brushed gold and white.
The 54-square-metre store is the ideal setting for Aigner's expertly produced leather bags and accessories of unrivalled quality and timeless style.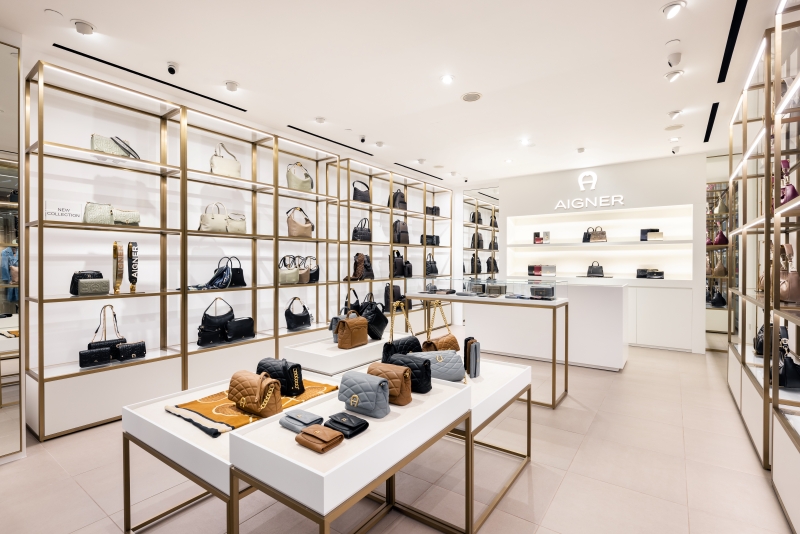 The reopening symbolises Aigner's successful return to Paragon, where it was formerly located until 2016. To commemorate the store's opening, shoppers who sign up for the Aigner mailing list will receive 10% off storewide or 15% off a minimum purchase of $1800.
Progress with Kate Moss
Aigner will launch its most recent collection Progress at the flagship store. With Kate Moss, a renowned figure in the fashion industry serving as the face of the label, the Progress line embodies independence and strength. Through the release of Progress, Aigner has demonstrated its commitment to development, vitality, and advancement in its field. By adapting to ever-changing tastes of consumers, the brand experiments with fresh perspectives while remaining true to its signature aesthetic.
Kate Moss will be seen promoting the new "Progress" collection for the upcoming Fall/Winter 2022 season.
A Progressive Collection
Aigner's "Progress" collection is a personal take on a kind of futurism that values independence of expression in the arts, physical vitality, and male power.
Cybil Specials. The AIGNER trademark bag CYBILL adopts a futuristic twist this season. CYBILL GRAFICO features geometric embossing and metallic tones. The traditional CYBILL Bag will be offered in "Orchid Pink" and "Maple Brown" leather.
Delia. The minimalist DELIA series reinterprets a 1990s design. Composed of sustainably produced smooth leather, it has a stylish style and light-gold metal pieces. The series' varied shapes and muted hues "Black", "Maple Brown", and "Burgundy" make it versatile.
Filo. This series' delicate silhouette contrasts with the collection's other strong-formed series.
MAIA. It features a gold-twisted A logo. Textured leather and envelope design make the collection a cheerful companion.
Nico and Torino. NICO and TORINO, two new series, broaden the options for male consumers. The NICO line stands for eco-friendly, laid-back style thanks to its Dadino print on recycled cloth. The TORINO collection is a perfect blend of urban chic and practicality thanks to its use of a variety of fabrics and leathers in its design.
Aigner is located at Paragon Shopping Mall (Flagship), 290 Orchard Road #02-11 Singapore 238859 and has a counter at Takashimaya Shopping Center Level 2.