Marina Bay Sands just got more luminescent with the introduction of iLight 2022. After a two-year hiatus, the festival is back from 3 to 26 June 2022. Get ready to soak in the shine of 20 light art installations ranging from a firefly field, swans made of satellite dishes and even an ethereal jellyfish! Sure to be a treat for the eyes, here are some of the most Instagrammable spots at iLight 2022.
1.Firefly Field
Location: The Promontory at Marina Bay 
The highlight piece of iLight 2022, the Firefly Field features 500 alternating light points which resemble fireflies. Created by TOER, a design studio from the Netherlands, the piece creates a dynamic and magical scene. A romantic installation which makes it seem you are in a Disney movie, the Firefly field is a must-visit. 
2. Lightwave: Isle of Light 
Location: Marina Bay Lower Boardwalk 
The Isle of Light is a multi-sensory journey comprising five unique zones, each with its own unique light feature. The neon light beams along the boardwalk, in particular, make for some amazing shots, making it seem like you are in a mystical forest. Walk ahead and you will also get to experience holographic projections intended to replicate the four seasons.
3. Underworld 
Location: Esplanade Park 
Underworld, by Aleksandra Stratimirovic and Leonel Kaplan, from Sweden and Argentina respectively, seeks to resemble an imaginary undersea settlement inspired by the marine conservation efforts of a local community in Sweden. The lights are covered by orange fishnets, which produce a soft orange glow. 
4. Ruffled Ice
Location: Mist Walk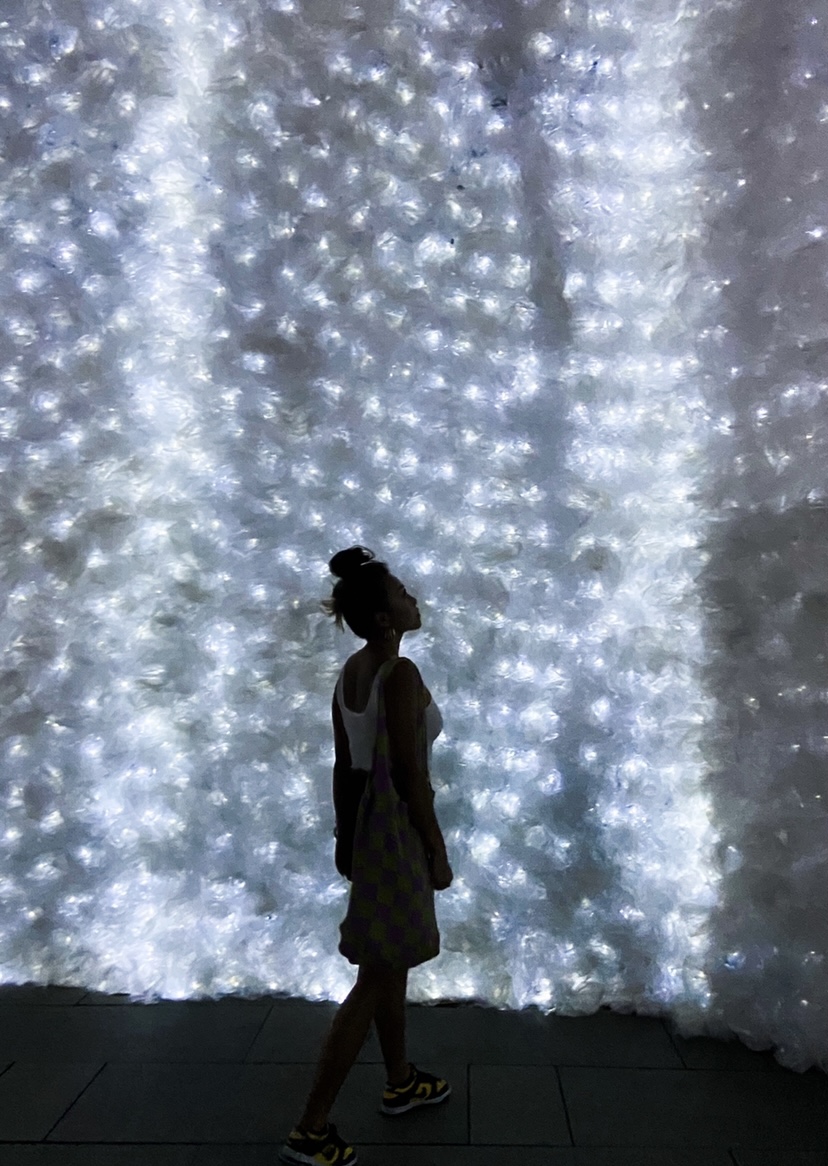 Step into Ruffled Ice and it looks like you are in a snow cave. The beautiful piece which looks like a glowing ice canvas is made from discarded plastics with various levels of opacity. This produces various levels of glow as light travels across the canvas. 
5. Collective Memory 
Location: Breeze Shelter
A treat for the nostalgic, Collective Memory is a piece made of upcycled CDs. The CDs are used to reflect light which makes it seem like a shimmering landscape of a sea of CDs. 
Photographer's tip: There are two large gaps in the piece. Stand in the centre of the gap and take pictures from the sides to make it look like you are being surrounded by the CDs. 
6. Shish-ka-bouy
Location: The apex at The Promontory at Marina Bay 
A whirl of colourful LED lights, Shish-ka-bouy is a visual delight. The installations are positioned in a cluster to create a dynamic light scene. Juxtaposed with the backdrop of skyscrapers, it makes for a picture-perfect setting.
Other than the installations, you can look forward to surrounding buildings changing colour as well! In line with the theme colour of the festival being violet, 16 buildings around Marina Bay will change their facade lighting to a violet hue on festival nights. This will further provide visitors with a charming festive ambience. 
So what are you waiting for? Head over to Marina Bay for a dazzling display of lights.