Leashes are one of the most essential staples that you need to own as a dog owner. So here is how you can select the right leashes for your dogs despite all the overwhelming alternatives available in the market.
Choosing a leash for your dogs comes with endless options. Ranging from the types of materials, styles, and patterns, there are a lot of factors that may simply confuse you while buying a leash for your dog, and if you feel lost, here is how you can choose the right one.
A material that will not harm your dog
The first thing hits your mind while selecting a leash for your dogs is the material used for making it. There are various materials such as nylon, leather, hemp, or rope, that are used for making the leashes.
People usually prefer nylon leashes in comparison to other materials as they are readily available and come in a variety of colour variants, styles, lengths, and sizes. Dogs have a habit of pulling you when you take them out for a stroll, that may further cause leash burns over their necks if the material is not soothing enough.
Thus, nylon leashes serve to be a better and affordable option which reduces any sort of complications at the same time.
A convenient style to control your dog during a stroll
Cuddling with your dogs and taking them out for some merry time stroll is something that you would love doing as a dog owner. But snapping the leashes and encountering a hard time to catch hold of them once they happen to cross your control can be no less than a nightmare!
After you have chosen the appropriate material for the dog leashes, the next thing to do is to consider a standard pattern. Even if your dogs have some behavioural issues, a standard leash can help control both high power and low power dogs. A nylon leash of appropriate length can prove to be useful to allow your dogs to move about, allowing you full control over your dogs.
Check out with your vet for the functionality aspect
Once you are determined about buying the leash, you should find out the advantages and disadvantages. You can consider the local vet for helping you out with this decision. It's always a wise choice to ask the best friend of your dog.
You can consider asking them whether the leash that you will buy will fit well for your dog and if they have any special recommendation owing to the health issues behavioural pattern of your dog. A local pet store can also help you in finding the right leash or harness based on your dog's characteristics (age, energy level and size).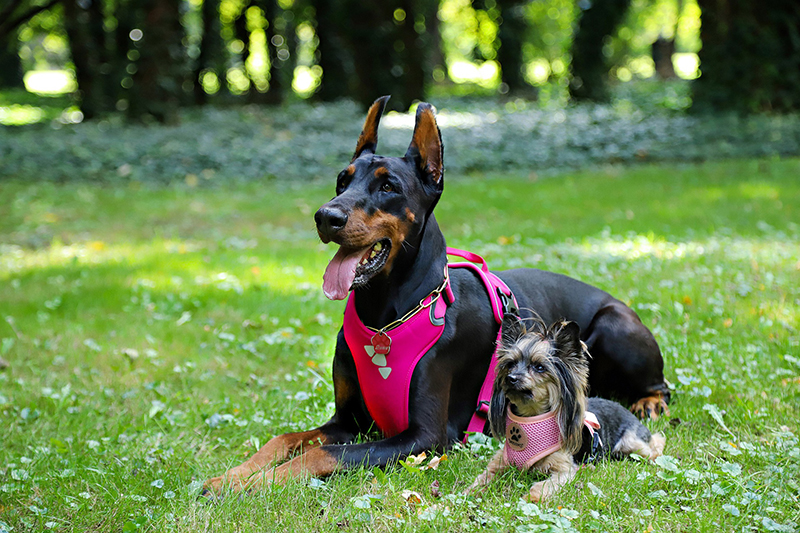 The right width of the leashes
Hearing the word width, many of you must be wondering as to how the width of the leashes is going to matter? But leash width is also an important aspect to consider while buying them.
When you take your dogs out for a stroll, and you find them doing something nasty or notorious, pulling the leash is the next thing that you are going to do in such instances. And, snapping the leashes is the last thing that you would want to happen.
So, get a leash that can serve you for a long purpose and are durable enough to handle your dog. Puppies and small dogs do not require wide sized leashes, but you cannot consider the same for heavy sized dogs.
A strong clip for a better security
Clips that stay stuck to the leashes should be reliable and strong enough to hold themselves on the dog collars. Ensure that you get a leash that comes attached with a good quality clip.
Buying leashes that come with brass or stainless still clips can be your best bet to place on, as these clips can offer durability despite getting wet in a regular fashion and can also resist corrosion. Bolt snaps and trigger snaps are two basic types of clips that you can get in the market, and you can choose one amongst them to gain full control over your dog without letting them have an escape from your grip.
Since you know all the basics of getting the right kind of leashes, make sure that you check all the right checkboxes while selecting one. Your dog will love it and so do you!