Seoul. Bustling, bright and vibrant. Its popularity has soared in recent years as visitors make a beeline for it. But, what if you are not a city person?
I get you. I recently made my second trip to Seoul, and while I had fun in the city, somehow the lights and sounds didn't seem to charm me as much. Perhaps it was too reminiscent of Singapore; whatever the reason, I was hoping for something else to switch up my itinerary.
We decided to look up some day trips out of the city on Changi Recommends for a refuge that wasn't too far a drive away and yet could promise some reprieve from the city. We found our answer in a trip out to Nami Island, Petite France and the Garden of Morning Calm.
After waking up bright and early (by our standards), we gathered at Myeongdong Station at 8am to join the shuttle bus. Just a stone's throw away from our hotel, we were thankful for the convenient pick-up option. Other locations offered were Dongdaemun and Hongdae Stations, popular and central areas packed with activity and shopping as well.
With a quick attendance taking, we were off to our first destination – the Garden of Morning Calm with a 1.5-hour ride on the road.
Garden of the Morning Calm
The Garden of Morning Calm is the oldest private garden in Korea. It houses about 5000 plant species and the stunning landscape draws in about 600, 000 visitors a year. We were greeted by the sight of lush, green mountains in every direction, providing a picturesque backdrop for all my mandatory tourist shots.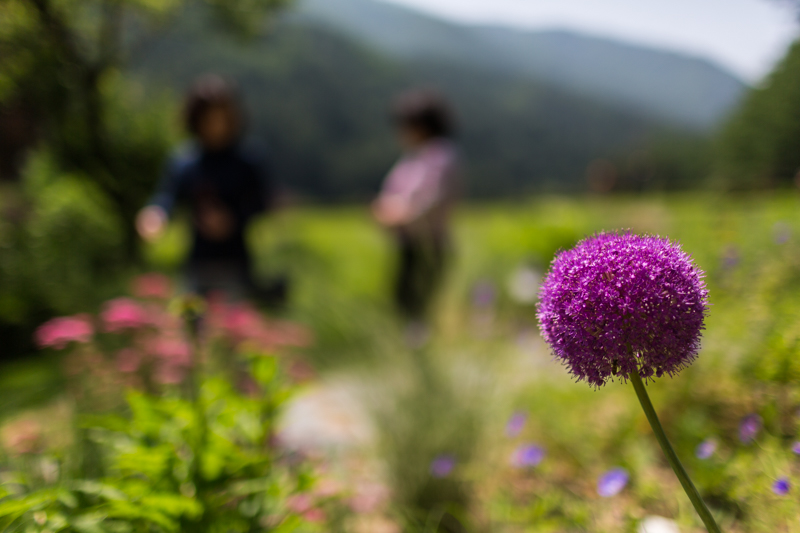 Our friendly guide gave us 1.5 hours to explore as we pleased, which seemed just right to see all of the garden's gorgeous offerings. She also talked us through a recommended route to catch the best views in the garden. As we ventured through the 20 themed gardens, it wasn't any wonder how it made its name as one of the 50 most beautiful places in Korea.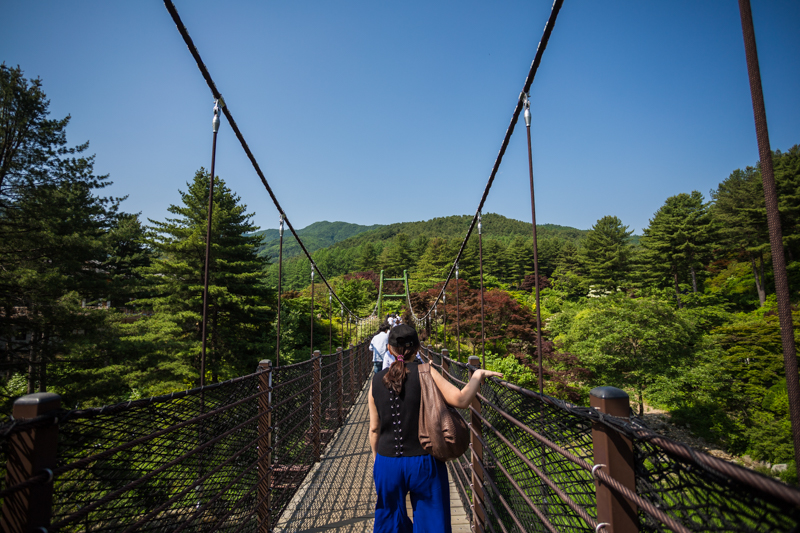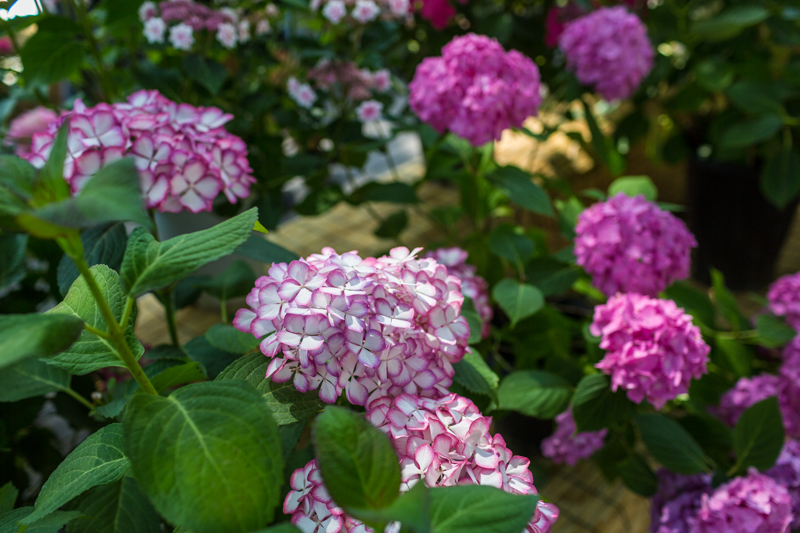 The garden is a majestic sea of colour, with perfectly trimmed grass and fresh blooms all around. As we strolled through, I noticed the staff carefully tending to their charges and came to realise the effort behind such magnificent greenery. With scenic pathways, streams and bridges, the setting is peaceful and romantic, we found ourselves immersed in nature's trance, even with the people around.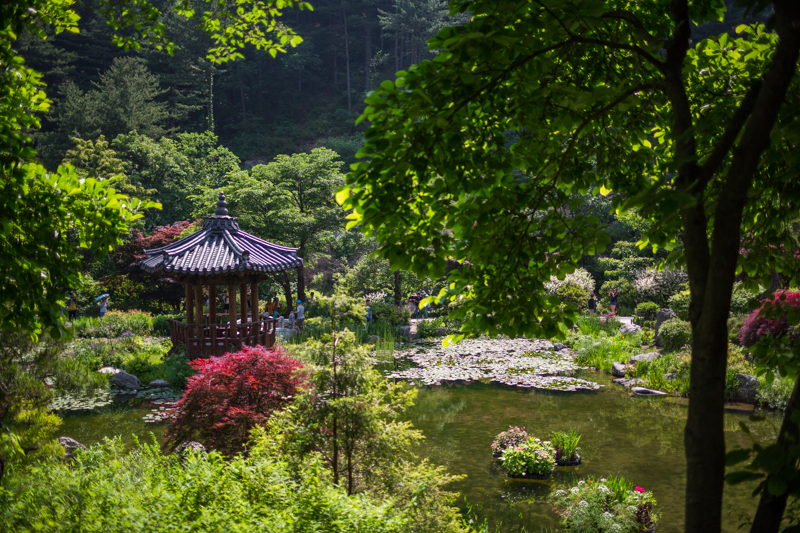 Our personal favourite attractions were the Millennium Juniper, which has weathered seasons and time to stand tall for over a thousand years, along with the Pond Garden, situated close to some traditional Korean tea houses and topped off with a pavilion for complete tranquillity. We were told that many Korean dramas, including period drama Love in the Moonlight, were filmed on location here.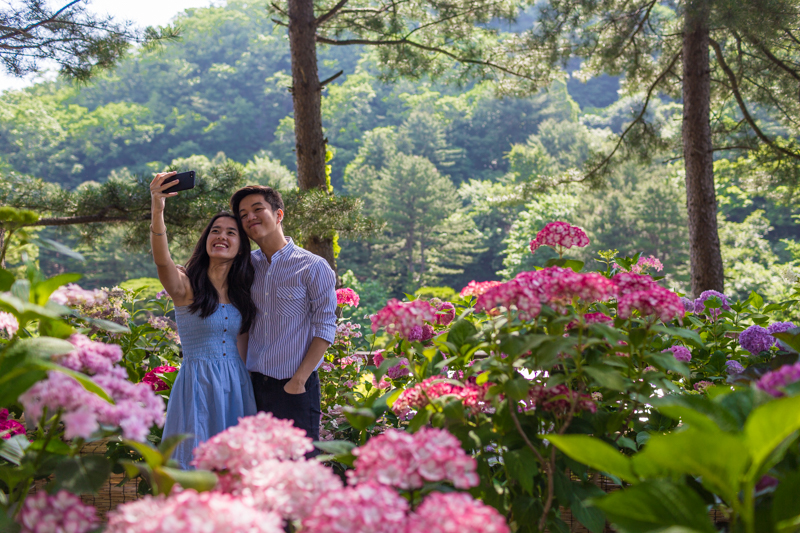 Our visit coincided with the beginning of summer, so we were lucky to experience the hydrangea festival, which featured five types of the dainty flower in a variety of hues. The baby blue hydrangea colonies were my favourite, but even if you miss out on this classic summer beauty, flowers are in bloom all through March to November.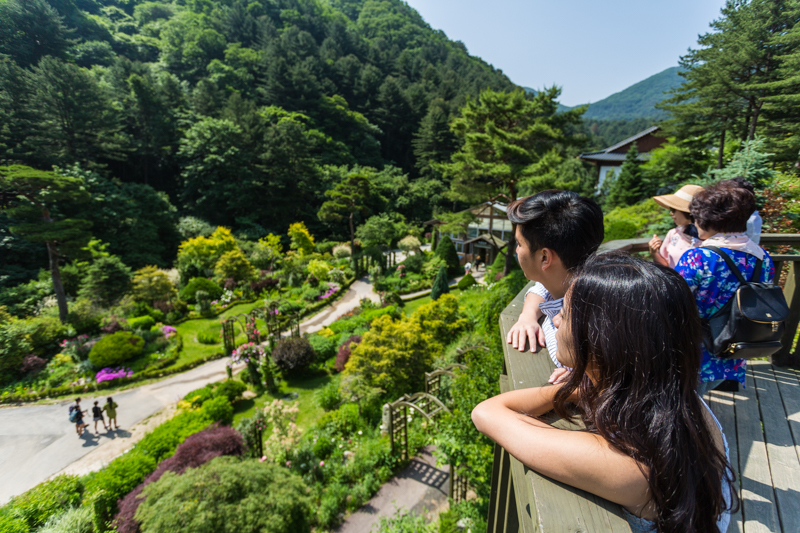 The foliage of the garden comes alive with different shades of colour each season, so no matter the time of the year, you'll experience something unique. From the Spring Garden Festival to rich autumn sunsets or even the romantic Lighting Festival in winter, it still is breathtaking all year round.
Nami Island
The next stop was an hour away to Nami Island, and by then we were feeling peckish. Upon arrival, tickets, like before, were quickly procured on our behalf by our guide, so we got to skip any agonising queues and were on the ferry before we knew it.
Entering Nami Island was an easy three-minute ferry ride, but for the adventurous spirits, nothing's stopping you from taking the option of ziplining straight into the island. For an extra 30, 000 won, a minute and a half ride would take you right into your destination, with an added thrill and bird's eye view of the landscape.
Made famous by the immensely popular K-drama Winter Sonata (2002), the island clearly paid tribute to the show's characters with several inspired attractions. It was quietly abuzz with fans and curious visitors hoping to capture some of that romantic bliss for themselves. Our guide pointed out to us the iconic photo spot where copper statues of the TV drama's lead couple stood, for Bae Yong Joon fans to get their fill.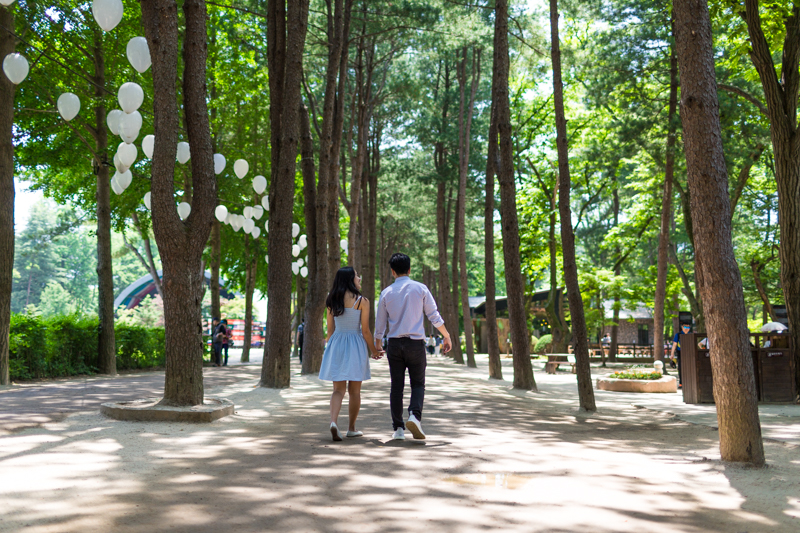 Being the K-Drama dummy that I am, the allure of Bae Yong Joon was unfortunately lost on me. However, that didn't deter me from appreciating the many other highlights of Nami Island. I was especially intrigued by their investment in art and sharing of traditional cultures. Scattered around the island are quirky art pieces starring their adorable snowmen mascots, forms of handicraft and sculptures built from the most unsuspecting of recycled materials, all of which hinted at the country's love for nature, imagination, and all things creative. Let's also not forget the large field of ostriches, basking in the bright Nami Island sunlight.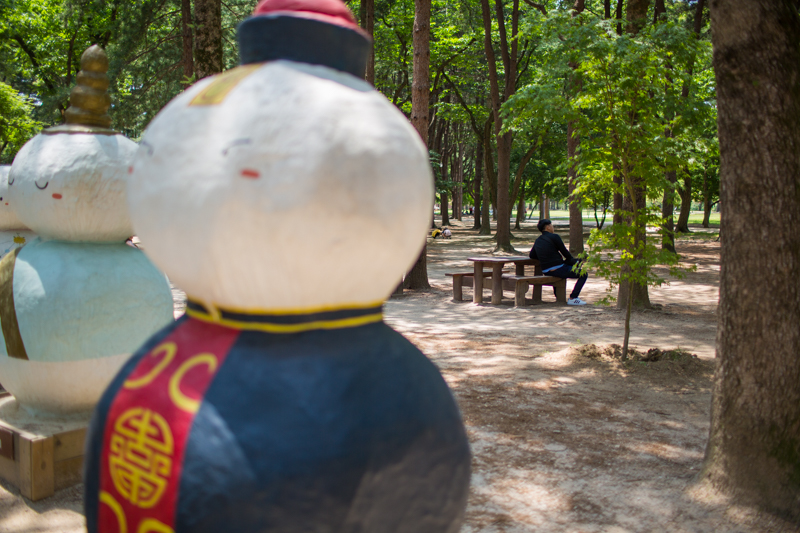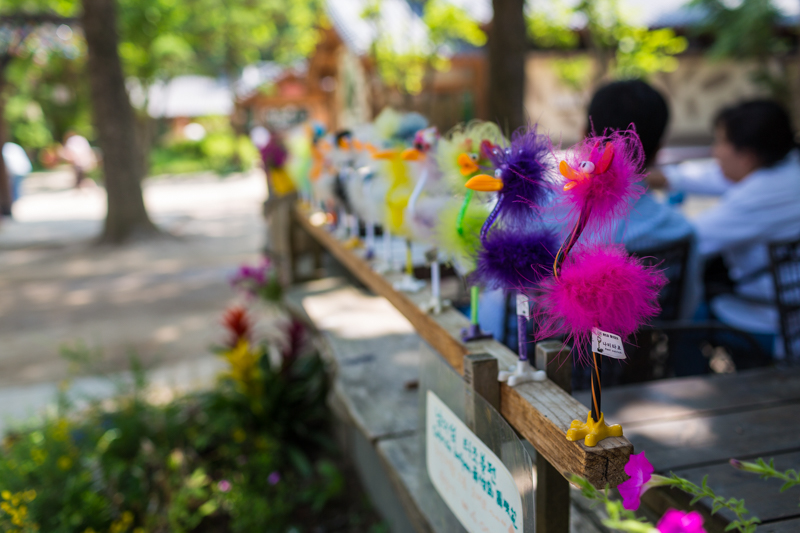 We stopped for lunch at one of the many restaurants on the island. Our choice was one recommended by our guide. We were served an unexpectedly delicious pork and chicken barbeque. Sizzling hot and bursting with flavour, our meal was satisfying, and got us ready for our next two hours of exploring the island.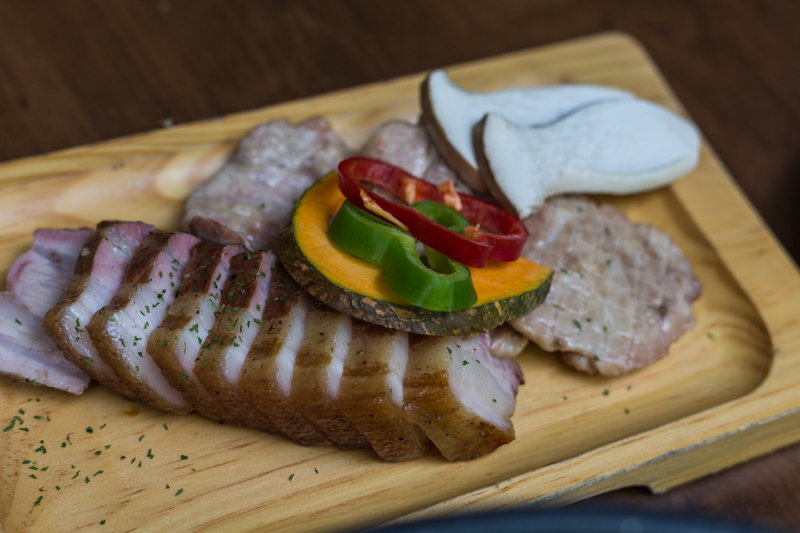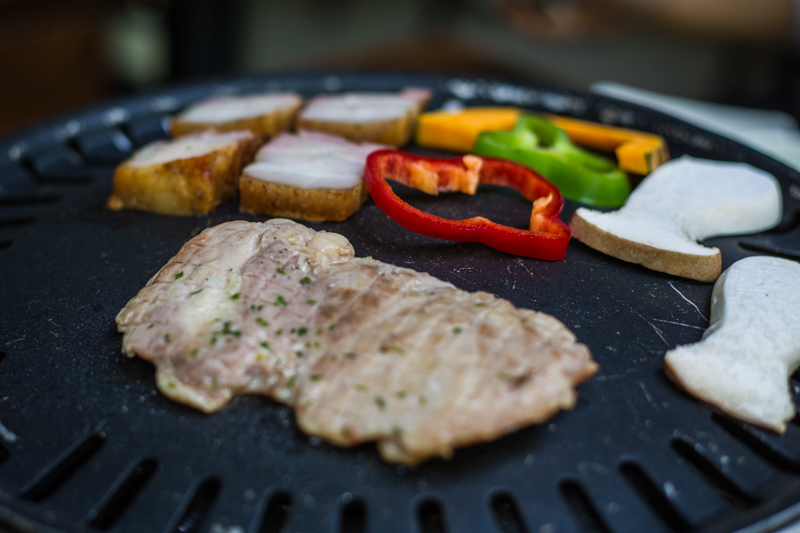 While the heat was a slight source of frustration, we were content to seek shelter under the towering trees that lined the many walking lanes available. It was easy for us to savour the best of mother nature by following the fool proof direction signs to the different paths: Metasequoia Lane featured the magnificent Metasequoia trees, while the Central and Lakeshore Korean Pine Tree Lanes guided us on awe-inspiring strolls accompanied by the tall and grand woods. These spots are the familiar ones you see if you scroll through the Nami Island location tag on Instagram, so I made sure to snap a ton of pictures as well.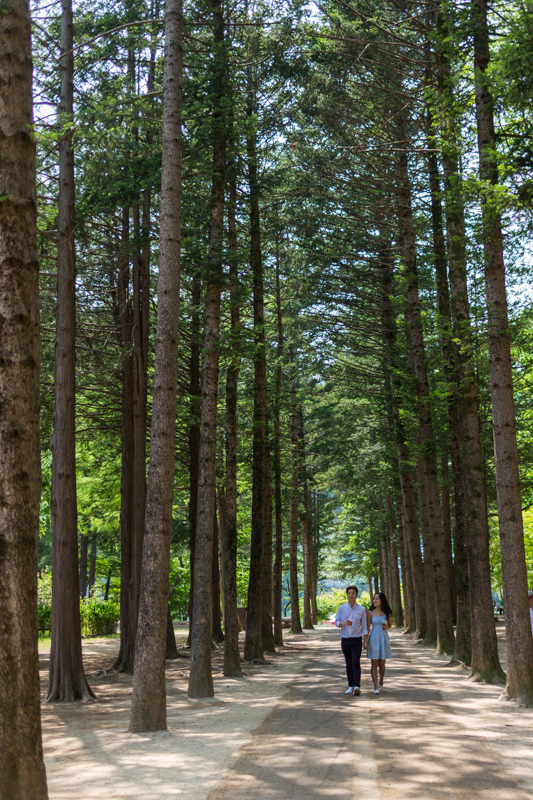 With relaxing lake side views and the occasional squirrel appearance, Nami Island is truly a place that radiates calm. We spied couples, photographers, pets and children alike, all  enjoying the countryside reprieve. Families especially will rejoice to know that it is a UNICEF Child-Friendly Theme Park, so activities for the little ones are surely abundant.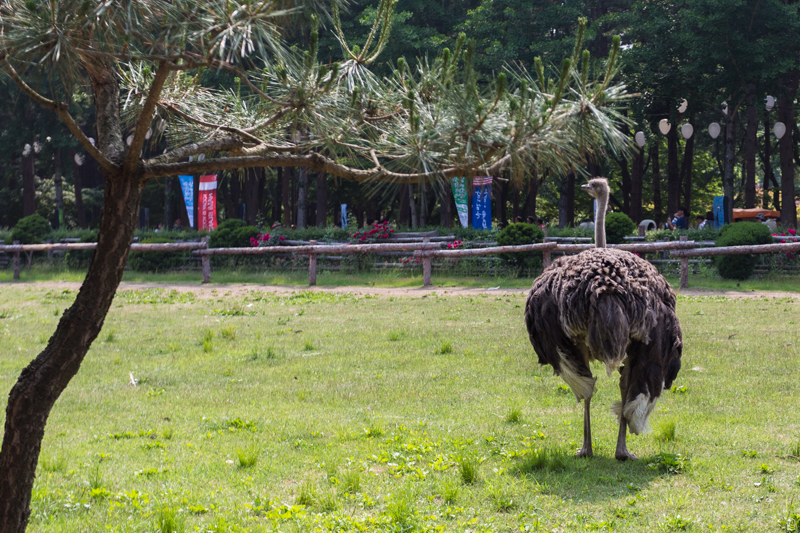 Before we knew it, our 3.5 hours on the island were up, and we quickly grabbed a taste of their signature pine nut ice cream before taking our leave. Left wanting more, we were already on our way to our last stop for the tour, Petite France.
Petit France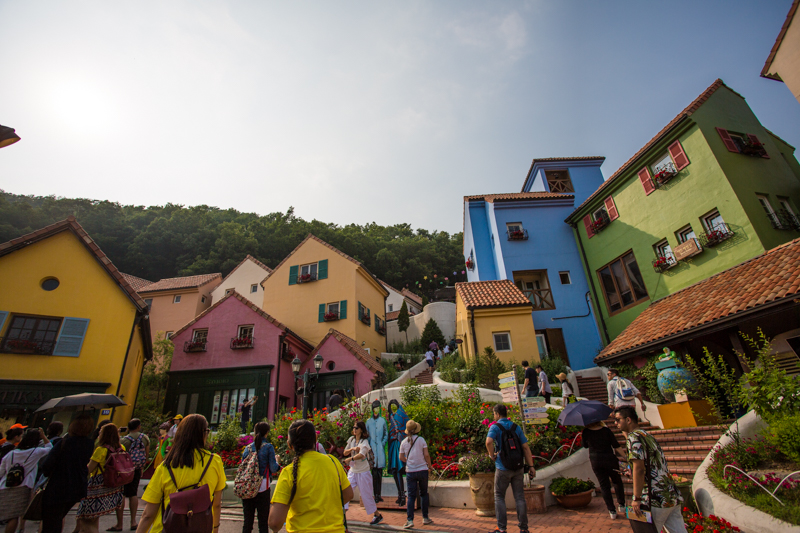 Set up by a businessman enraptured by the French landscape, Petite France is a small mountainside cultural village that hopes to share the rich French style, architecture and history with Korea. Once again, avid K-Wave followers may recognise the distinct background from dramas like the ever-popular Secret Garden,  My Love From The Star or even variety favourite Running Man.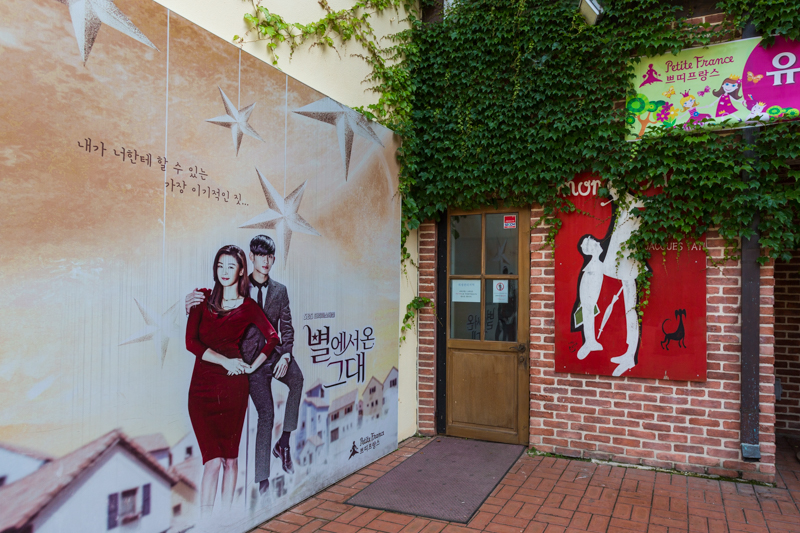 Fans of The Little Prince will delight to see the village was inspired by the 1943 novel, Le Petit Prince. You can find statues and murals of the prince himself all around the village, and also learn more about the author, Antoine Saint-Exupery, in a dedicated memorial hall. Bright buildings with intricate and quaint French façades house a variety of educational attractions. On display are antiques from across the European continent such as dolls and porcelain goods, and you could learn more about traditional performance forms like the orgel or marionettes through outdoor performances.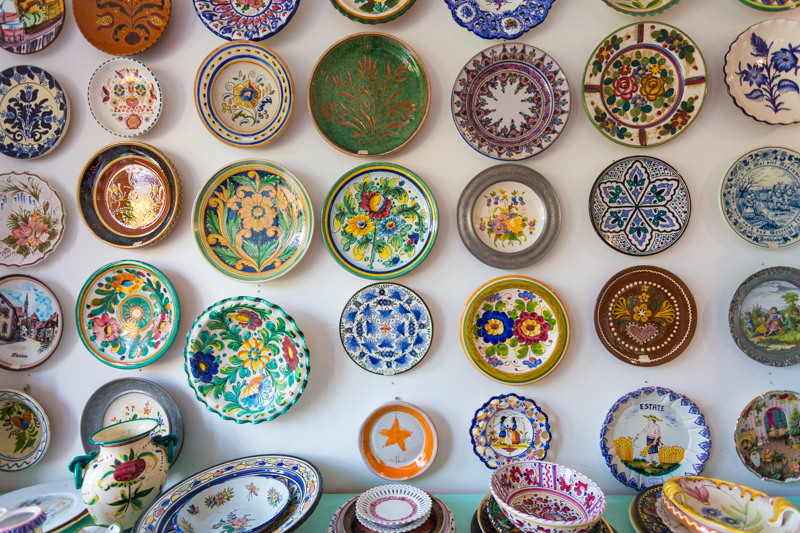 As the tour came to an end, we were grateful for our guide, Claire, who was fluent in English, Mandarin and Korean. Asking her questions went without a hitch, and she even suggested itineraries for our next day to Gyeongbokgung Palace, complete with directions and food recommendations. The shuttle bus got us safely back to central Seoul back just in time for dinner, us feeling fulfilled and inspired by the works of nature and art glimpsed throughout the day.
How to Get There
If you're eager for a journey like ours, book a day tour with Changi Recommends the simple and fuss-free way. Simply pick your dates and destinations of choice online on Changi Recommends and pay online. Confirmation takes just two working days, and once you receive your e-ticket, all you're left with is to print it out, pack your bags and board that plane.