FENTY x PUMA by Rihanna returns with its latest spring-summer 2018 collection, which has launched in Singapore. The launch took place at PEDDER ON SCOTTS on 11 May. Bearing witness to this event was a crowd of fashion enthusiasts dressed in sophisticated sportswear that was a fitting complement to the collection – best described as a rebellious convergence of beach chic and motorsport sexy.
The collection features oversized cropped hoodies, paired with sexy body-con sweatpants, staying true to Rihanna's trademark of androgynous silhouettes. The colours are bold and vibrant, perfect to make a statement for the new season. Traditional sportswear is re-imagined with a surf-inspired spin – think open-back sweaters, off-shoulder long-sleeved workout tops and strap-net camisoles. One of the more outstanding pieces is the yoga pants with cut outs on the lateral side of the leg, from hip down, and in place of where cloth would normally be are neon bungee cords in brilliant colours ranging from cherry tomato, Bae and Evening Blue, laced up in a shoelace-like fashion, giving traditional sportswear a seductive edge.
Paying homage to PUMA's history in motorsport, Rihanna has taken the classic performance racing gear and turned it into high fashion streetwear, using materials such as lightweight leathers, nylon and air tech mesh. Case-in-point – nylon race suits that serve as rompers for everyday wear and driving pants with metallic buttons on the side that transforms into cheeky dress-down pants when unbuttoned. Details like checker flag graphics, sporty decals, and motorsport gear take the outfits one step further – seamlessly incorporating motorsport, high fashion and Rihanna's badass personality to produce a collection of sportswear that is functional for everyday wear and yet exceedingly aesthetic.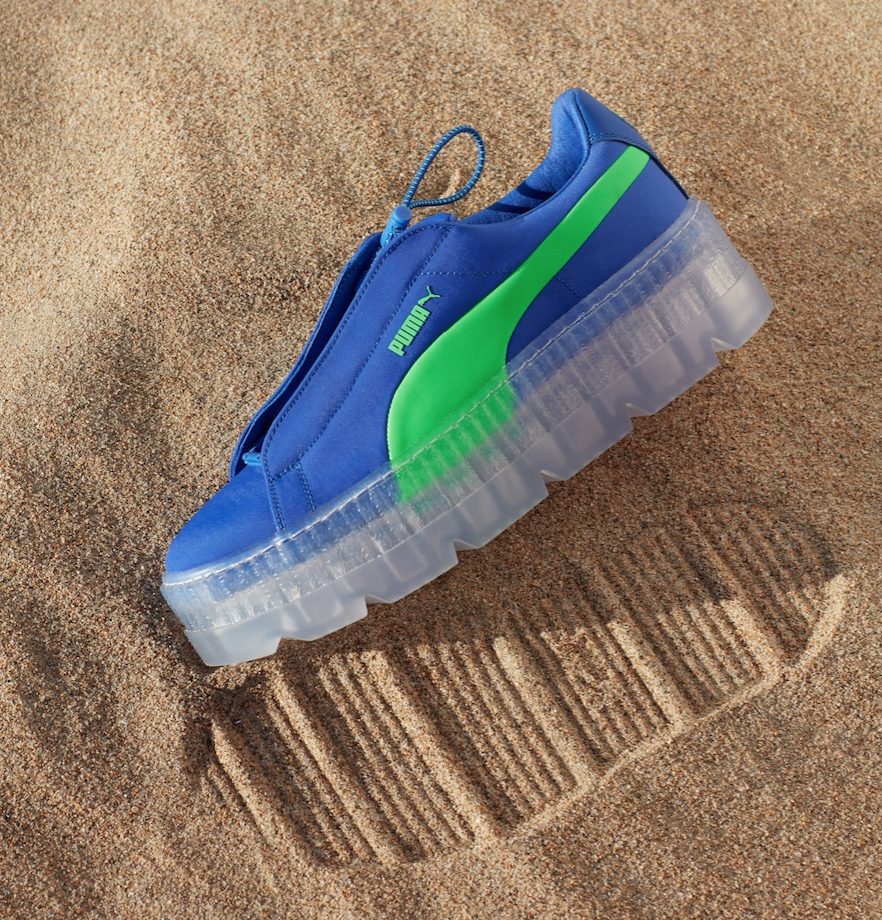 The Creeper has evolved to include neoprene materials, translucent stacked soles and bungee cord laces, with hints of neon blue and green. The sneakers, in colours of white or mint green, feature a single cut-out, showing a mischievous peek of skin that breaks away from the norms of the typical sport footwear. This was my favourite from the collection. I could imagine wearing it with a casual dress for a date, or pairing it with the collection's yoga pants/tights and a loose boyfriend T-shirt, if I were headed for a quick workout.
Summer would not be complete without FENTY slides – but this time, transformed into an espadrille slip-on and a combo leather-neoprene neon pool slide. Perfect for Singapore's eternal summer, such a slip-on is the ideal compromise between the sloppy Havaianas and sporty sneaker. If you are looking to dress up the usual lazy day's outfit of t-shirt and shorts, this will be your X-factor.
FENTY X PUMA's latest collection is fresh, fun, and a successful amalgamation of surf, motorsport and sportswear, one that leaves no room for questioning Rihanna's ability to churn out a creative, unconventional and dynamic collection that held its own. However, the price of the collection may leave much to be desired to some – one cropped T-shirt will easily set you back S$139. This may be a significant factor to consider before getting too excited about getting your hands on Rihanna's new creations.
The collection can be bought from PEDDER ON SCOTTS, located at level 2 on Scotts Square.