Who is the real Joanna Dong? To many Singaporeans, she is a local singer who got her big break at Sing! China Season 2, where she was picked and mentored by popular Taiwanese singer/songwriter Jay Chou, went the distance, and clinched third place in the singing competition. To some, she is a theatre actress and an amiable TV show host who wears her heart on her sleeve. To a few, she is a homegrown jazz talent who started performing jazz almost 20 years ago.
I had the privilege of personally knowing Jo Dong (as she is affectionately known) in 2004 when she was part of the NUS Jazz Band. Of her many identities, I will always see her as the jazz singer who desires to bring jazz to a wider audience, so it was with great anticipation that I attended the media preview of her upcoming concert and EP launch held on 7 May 2018 at the Barber Shop by Timbre.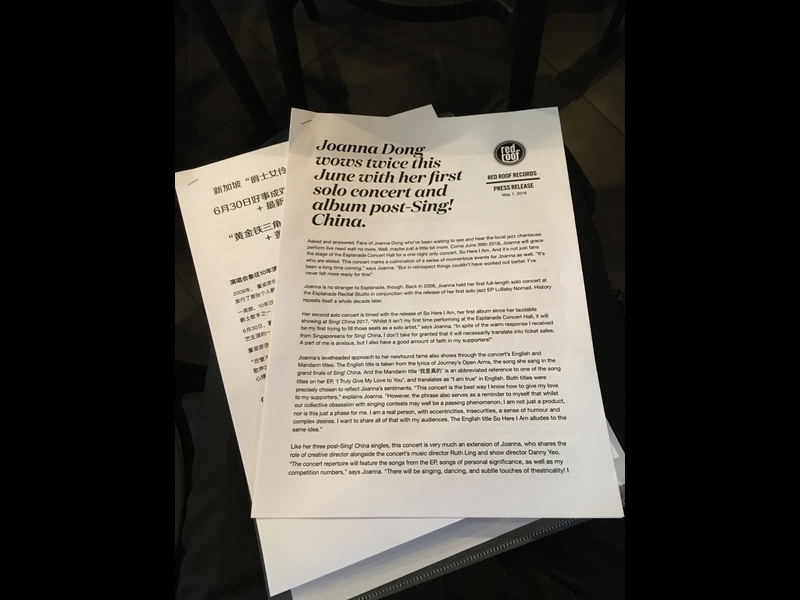 The show started with an interview with Ruth Ling, Director of Red Roof Records (Joanna's record company) and Music Director for the upcoming concert, and Danny Yeo, Show Director for concert. While Danny spoke mostly in Mandarin and Ruth in English, the chemistry between them was evident, especially when they shared their vision for the concert and the plans for Joanna. Their key challenge is how to showcase the best of Joanna's different talents, and the concert promises singing, dancing, banter, and even a bit of theatrics.
The highlight of the press event was, of course, Joanna. Dressed in a splendid pastel pink ensemble, she cut a figure of consummate ease. All smiles and full of calm energy, she wasted little time in putting everyone at ease with her brand of candid humour. Her upcoming EP, "So Here I Am《我是真的》", contains six tracks, featuring two originals and four covers. Wakin Chau's (周华健) "I Truly Give My Love to You (我是真的付出我的爱), Jeff Chang's (张信哲) "I Can't Resist You (难以抗拒你容颜), and Sky Wu's (伍思凯) "A Unique Love for You"(特别的爱给特别的你) are the three mandarin covers on her EP.
In an honest display of her own insecurities, Joanna shared that her mandarin covers are all songs by male singers because she is stressed about direct comparisons with female singers. The fourth cover is Doris Day's classic "By the Light of the Silvery Moon", which happens to be the only English number on this EP. The two original songs are both written by local powerhouses. "In Time for Snow" (雪下得正好),a jazzy Christmas tune written by jazz maestro Jeremy Monteiro and lyrics penned by Dr Liang Wern Fook (梁文福),and "Long Way Round" (姗姗到访), a reflective, folksy jazz number written by acclaimed local lyricist, Chen Jia Ming (陈佳明) and music producer Ruth Ling.
Any insecurities she may have went out of the window once she started singing. Backed up on the guitar by accomplished local jazz musician Andrew Lim, her rendition of "A Unique Love for You" was warm and unique. This is one of Joanna's strengths; she has an ability to take a classic and make it her own, while not overdoing it in the process. Her jazzy re-arrangements, coupled with her distinct phrasing and vocal acrobatics, injects new life into old songs and makes it exciting for her audience.
However, as clichéd as it sounds, her greatest strength can become her greatest weakness. A bane for all aspiring artistes is to be labelled a "cover singer", as this stands in the way of singers releasing original tracks. This was why I looked forward to her second song, "Long Way Round" 《姗姗到访》, and it did not disappoint. "Long Way Round" is written as a love song, but it could well be a reflection of Joanna's musical journey. Fame has indeed gone a long way round before finding Joanna. She put it best: "Keep walking. You will reach your destination, or your destination will come to you".
Joanna ended her performance with a swing version of "By the Light of the Silvery Moon", but not before she took questions from her audience. Here is where Joanna is in her element. From her confession that she is an auntie – "I am kaypoh but it comes from a good place," she quipped – to her shameless plugging of her concert tickets – "I have 20,000 followers on Instagram and 21,000 on Facebook. 1,500 tickets should sell out if a fraction of them buy. So hurry up buy before they sell out" – she engages her audience effortlessly with good-humoured banter and self-deprecating jokes. If this is a snapshot of what her concert is going to be like, the audience is in for a good time.
So back to the question: Who is the real Joanna Dong? I suggest you buy her EP and attend her concert to find out. I trust that you will not be disappointed.
Joanna Dong's Here I Am album will be released digitally on 8 June 2018 and on CD on 30 June at her concert.
---
What: Joanna Dong "So Here I Am" concert
When: 30 June 2018, Saturday, 7.30pm and 1 July 2018, Sunday, 5pm
Where: Esplanade Concert Hall, Singapore
Tickets: Priority sale for tickets are from 7 May to 9 May. Public sale for tickets start from 10 May, 9am onwards. Tickets are priced from S$38 to S$98. Click here for ticketing information.