If you're looking an added punch to your home movie experience, or just enjoy jamming to your favourite tunes, HARMAN is here with its new launches.
For those unfamiliar with HARMAN, some of the brands under HARMAN International include AKG, JBL, Infinity and  Harman Kardon (the speakers of which you can find in BMW cars). The brand has recently launched the Harmon Kardon® Omni+ Series and the JBL® BAR series.
Harman Kardon Omni+ Series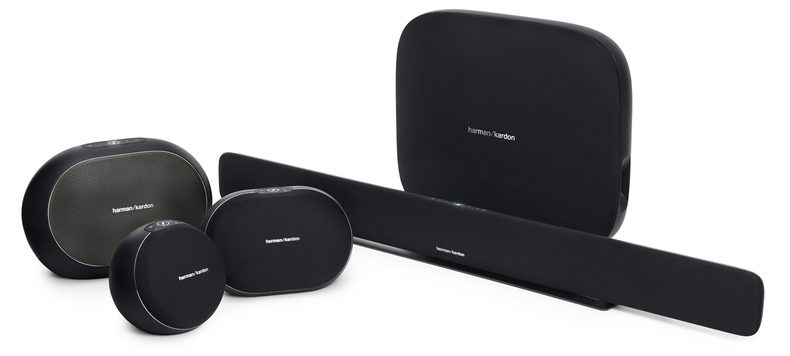 The Omni+ Series includes the Omni 10+, Omni 20+, Omni Bar+, Adapt+ and finally, the Omni 50+. These devices take things to the next level as a home audio system. It is Wi-Fi enabled, so it seamlessly connects your speakers all around the house to play the same thing in HD sound quality. Simply walk into a room, press the Link button on the speaker, and the music comes on in seconds.
By connecting to Wi-Fi, the speakers are able to stream directly from your favourite music apps (so you're making full use of your Spotify Premium subscription). So your music keeps going even without keeping the app open on your phone. It also pairs with a mobile app that allows you to integrate all your devices and control their individual volumes if needed. The Omni 50+ is also IPX5-certified and splash-proof, and has a built-in battery that gives it five hours of wireless playtime. Bring it out for picnics, barbeques, or just into the balcony to chill.
When it comes to sound quality, the Omni+ series delivers. With 24-bit/192KHz streaming, sounds you get are clear and this works particularly well for music-lovers, especially if you're looking to appreciate beautiful instrumentals and powerful vocals.
Besides just music, movie buffs will also be thrilled to know that the full system can create a 2.1 or 5.1 surround sound experience. The speakers are optimized to recreate theatre-quality sound, so you'll capture every exciting movie moment.
JBL BAR Series
For those looking for a simple solution to home entertainment, this is for you. The JBL BAR series comprises four models: the BAR STUDIO, BAR 2.1, BAR 3.1 and lastly, the BAR 5.1. Each of the models carries different specifics to meet the your different needs, so you can customize your personal audio experience. Designed to be slim and stylish, these soundbars nicely top off your TV dresser without any compromise to its high-definition sound.
All models are user-friendly and come with HDMI, HDMI ARC inputs, along with Optical and AUX connections. The 3.1 and 5.1, however, are fitted with multiple 4K HDMI pass-through inputs for your latest tech, for them to accompany your gaming consoles and Blu-Ray machines. Similar to the Omni+ series, the BAR series enables wireless music streaming from your mobiles, as they come with the Bluetooth 4.0 function.
Entry-level shoppers can look to the BAR STUDIO for great value for money. Priced affordably, the BAR STUDIO will nicely complement smaller apartments while offering stellar sound quality.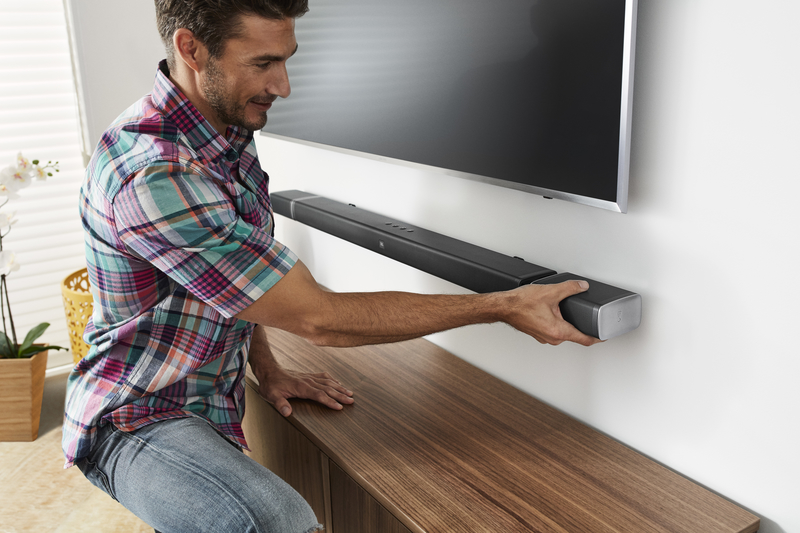 On the other hand, the JBL® BAR 5.1 stands out for its ability to provide a complete and rich surround sound experience. It does this with the help of one unique feature – the BAR 5.1 comes with two wireless rear speakers. These battery-powered speakers are detachable from the 2 ends of the soundbar, a sleek and inconspicuous blend-in.  Once removed, they can be rearranged around your sofa and transform your living space into an immersive theatre with superior audio effects for up to 10 full hours. With 510W of power and a 10' wireless subwoofer, the BAR 5.1 has been carefully engineered to produce impressive sound in the simplest of ways.
We managed to experience the JBL® BAR series in its element, and tested its surround sound effects with a clip from The Maze Runner's latest instalment. The powerful bass made the big explosions and crashes all the more realistic, and trust us when we say the suspense was real.
The perfect device to bring your video games and blockbusters to life, the JBL BAR Series will be a family favourite on relaxed evenings, sleepovers, and weekend parties.
Both the Harman Kardon Omni+ Series, which starts from $359, while the JBL® BAR Series starts from $299, and they can both be purchased at all leading audio retailers.