You've probably heard about the buzz. A month ago, Chinese mobile phone manufacturer HUAWEI held an exclusive launch at the Grand Palais, France to showcase their brand new HUAWEI P20 and HUAWEI P20 Pro phones. Since the international launch and the Singapore introduction on 7 April, the P20 series phones have been impressing both users and the media with its sleek design, sophisticated AI capabilities and precise camera functions.
What's in the phone
The P20 series phones are equipped with the HUAWEI Kirin 970 Processor with AI, which enriches the smartphone photography experience with its clever ideas. With the powers of AI, photo-taking now comes with new ease and range of abilities. Some significant advancements include the 4D predictive focus, where the camera can identify dynamic objects in the frame and make the necessary adjustments to create quick and high focus on them. AI enables the phone to distinguish 19 different scenes and objects, so it can respond with the appropriate functions to snap the perfect shot. The HUAWEI P20 series also boasts AI-Assisted Composition, so you'll get the best angles for scenery to candids with your friends.
For keen vloggers, the AI functions also come in handy with the HUAWEI AI Image Stabilisation, which balances your handheld shots. It is compatible with night videography, six-axis stabilisation and slow motion, so it generates high-definition shots without need for a bulky tripod.
Even if photography isn't your strong suit, AI's role in the Huawei camera system can perfect your everyday selfies. Both the P20 and P20 Pro are fitted with a 24 MP front camera and 3D portrait lighting, while the AI adds further detail and edits that beautify your skin with a natural glow.
What makes the HUAWEI P20 Pro the star of the launch is its Leica triple camera, the first of its kind. Huawei has continued to build on its partnership with Leica, to now produce the highest pixel count in the smartphone market on the P20 Pro. Armed with 40MP, 20MP and 8MP sensors, along with a new Leica colour sensor, the P20 Pro is all set to give you photos of the richest colours and clearest quality.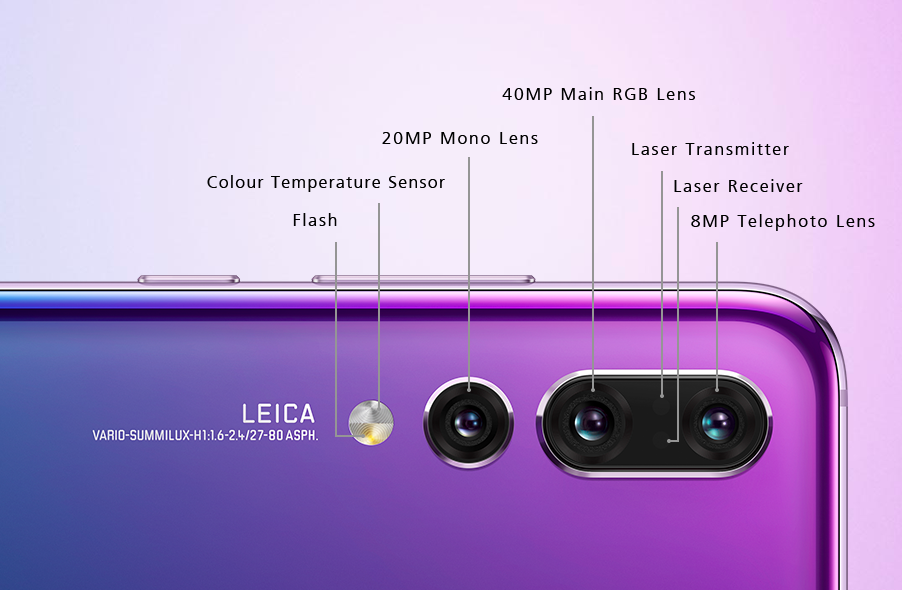 These swanky new additions come with a Leica VARIO-SUMMILUX lens that enables 3x optical zoom for long-range photography, and sensors that give you ISO values up to 102400 – wherever you are, the P20 Pro ensures that lighting or distance don't get in the way of capturing your special moments.
Once you're done working the camera, to show off your masterpieces, you can count on HUAWEI Share 2.0 for effortless file transfer to other Huawei devices, computers and Macs, or even wireless screen sharing. For all other functions, the HUAWEI P20 Series undoubtedly stands out as well. Operating on Android 8.1 and AI supported by Google ARCore, it guarantees top functional capacity and user-friendly system support.
The HUAWEI P20 Series is a revolutionary force in the smartphone arena, and owning one could redefine your everyday photography adventures.
Available in sophisticated shades of Black, Midnight Blue and Pink Gold, they make for a stylish and functional accessory. The P20 Pro also comes in an eye-catching Twilight colour.
Both the HUAWEI P20 (S$898) and P20 Pro (S$1,148) are available for purchase online and in stores now while the P20 Pro in Twilight will be released in stores in end-April 2018.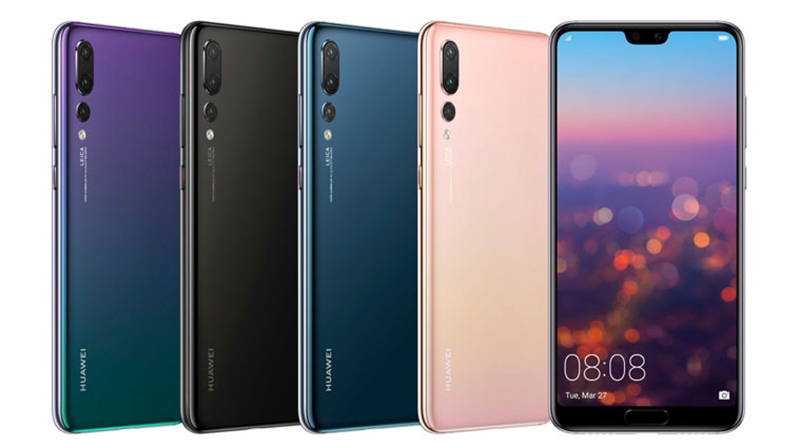 This post has been presented by Huawei but all thoughts and opinions are the writer's own.