It's been quite some time since the salted egg yolk craze spread like wildfire in the food scene in Singapore. We've seen salted egg on pretty much everything, from crabs to fries to bread to even desserts. But, salted egg in Japanese cuisine? Japanese restaurant Don Meijin (丼名人) has decided to jump on the salted egg bandwagon and put the golden goodness into their tendon bowl with their new Golden Salted Egg Tendon.
Located at Bugis+, Don Meijin is the newest addition to the Ramen Champion fleet in the building. Given its small seating capacity, it might be missed out by many amidst the numerous ramen stalls within its vicinity. But unlike the other stores under the Ramen Champion fleet, Don Meijin's specialty lies in donburi (Japanese rice bowls).
Don Meiji offers an assortment of donburi, including its signature Tendon (S$13.80), Pork Shogayaki Don (S$12.80), Jumbo Chicken Katsu Don (S$13.80), Spicy Chilli Crab Tendon (S$14.80) and its latest intriguing addition – the Golden Salted Egg Tendon (S$16).
Tendon bowls are dime a dozen in Singapore, but the variety of ingredients found in Don Meijin's Golden Salted Egg Tendon is one of the widest by far, bearing in mind it is priced at just S$16. The Golden Salted Egg Tendon features two prawns (cue double happiness), onsen egg, chicken fillet, green beans, pumpkin, crabstick, green pepper, seasonal fish fillet tempura, all drizzled with a savoury creamy salted egg yolk sauce. The set also comes with miso soup. You get the drift.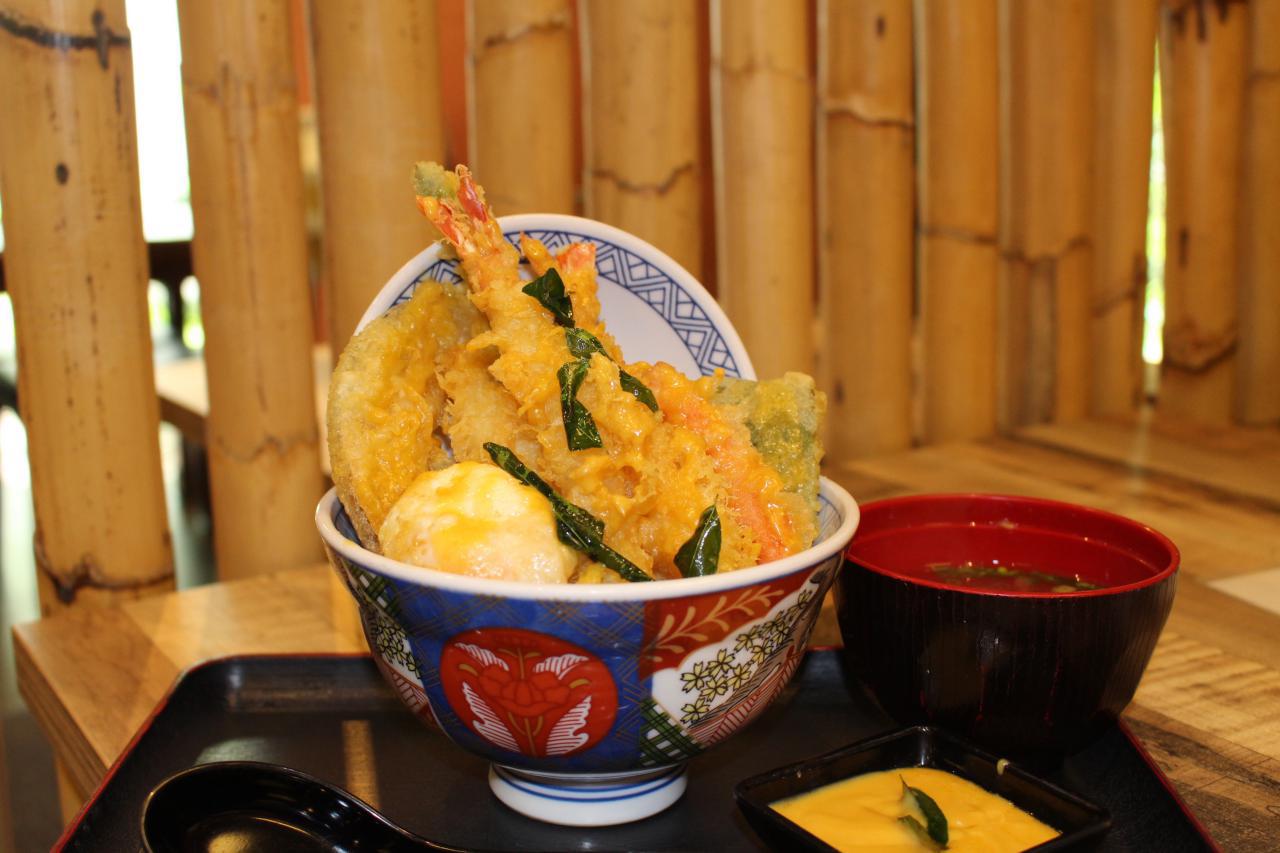 The amount of salted egg sauce is just right. There is not too much such that it masks the sweetness of the pumpkin and greens or meddle with the crisp of the tempura. The onsen egg is cooked to perfection, and the "flowy" yolk pairs perfectly with the Japanese rice. However, if you have a heartier and heavier palate, you will definitely need to dip into the additional serving of sauce to get the salted egg yolk kick. Feel free to ask for more sauce if needed.
Don Meijin uses a unique frying technique in which the tempura is fried at a specific temperature in a water fryer. The water cleans and helps prevent degradation of the oil as well as filters food residues to keep the oil clear. As such, each tempura has a light and non-oily texture yet maintaining the crisp. Without the usual greasiness one would normally expect from fried food, you could actually enjoy more of Don Meijin's tempura.
Don Meijin's Golden Salted Egg Tendon will be available from 1 November 2017 at Ramen Champion Bugis+ and Changi Airport Terminal 3 outlets.
Don Meijin 丼名人
Ramen Champion Bugis+
201 Victoria Street, #04-10, Bugis+
Singapore 188067
Tel: +65 6238 1011
Opening hours: Mon to Fri – 11.30am to 10.30pm; Sat and Sun- 10.30am to 10.30pm