Mention the Philippines and cities such as Manila and Boracay. While there's no denying of the appeal of these popular destinations, the Philippines has many more places waiting for people to explore – 7,107 islands, to be exact. If you are wondering where to start, head for Clark, Cebu and Davao like we did on a recent trip. 
24 hours in Clark
Clark is a one-stop hub for business, industry, aviation and tourism. We flew with Cebu Pacific via a direct flight from Singapore; how convenient is that? However, Clark still remains largely an undiscovered tourist destination.
We stayed for a night at Park Inn by Radisson Clark, is located inside the complex of SM City Clark, the largest chain of shopping malls in the Philippines. Our trip kicked off on a colourful note as traditional dancers and a sumptuous dinner welcomed us at HUES restaurant.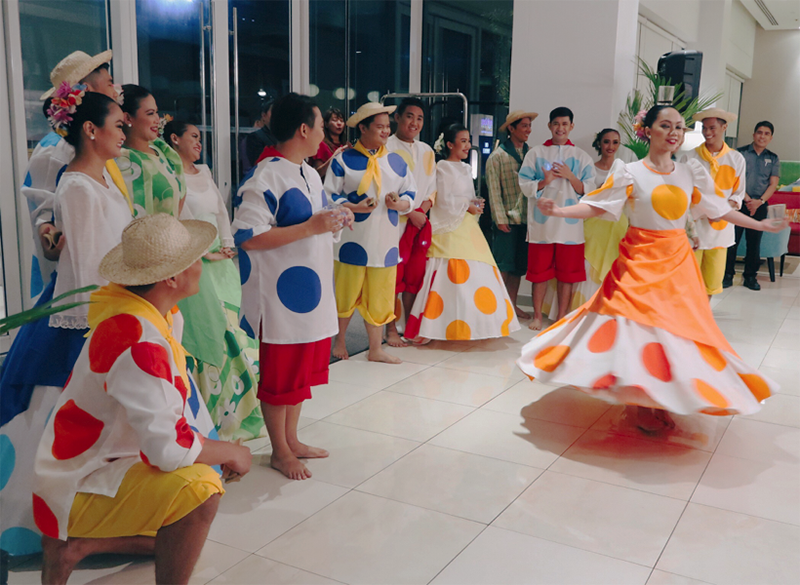 If you are unfamiliar with Clark, the name Mount Pinatubo might ring a bell. Those of us old enough might remember the eruption of this volcano back in 1991 and Mount Pinatubo is in Clark. The eruption forced the U.S. military to never return to Clark. Thankfully, no casualties were reported inside Clark as 18,000 personnel and their families were evacuated to Guam and the Subic Naval Base in Zambales.
Our time in Clark was limited, but despite that, we still managed to visit a handful of interesting places. Located in Angeles City, the elegant heritage museum Pamintuan Mansion offers a glimpse of different aspects of Filipino life in nine galleries. We even got to explore a secret underground tunnel in the mansion!
Next stop: Cebu
A hub of the Visayans, Cebu City is a city teeming with tourists and famed for their white sand beaches, variety of water sports and spectacular diving spots.
We stayed at the iconic Radisson Blu Cebu, an upscale five-star hotel, located in the heart of Cebu City. Mind you, the Radisson Blu Cebu is no ordinary five-star hotel — it was rated the best hotel for five consecutive years from TripAdvisor Travellers' Choice Awards!
The hotel sits beside SM City Cebu, a stone's throw away from the seaport of Cebu. There are 400 guest rooms, ranging from deluxe rooms to presidential suites. Guests staying in the business class rooms and suites enjoy unlimited access in the business club lounge, overseeing the port of Cebu, serving breakfasts, evening cocktails and refreshments. Radisson Blu Cebu offers extensive banquets and meeting facilities, which can comfortably accommodate 1000 persons. Not forgetting free high-speed wifi available everywhere that nowadays people cannot live without!
It was not hard to see why the hotel has been rated the best hotel on TripAdvisor; the food choices alone at the hotel were enough to win me over.
The hotel's signature restaurant, Feria offers sumptuous culinary spread of Mediterranean, Chinese, Japanese, Indian, Mexican, and Filipino cuisines. I was utterly spoilt for choice!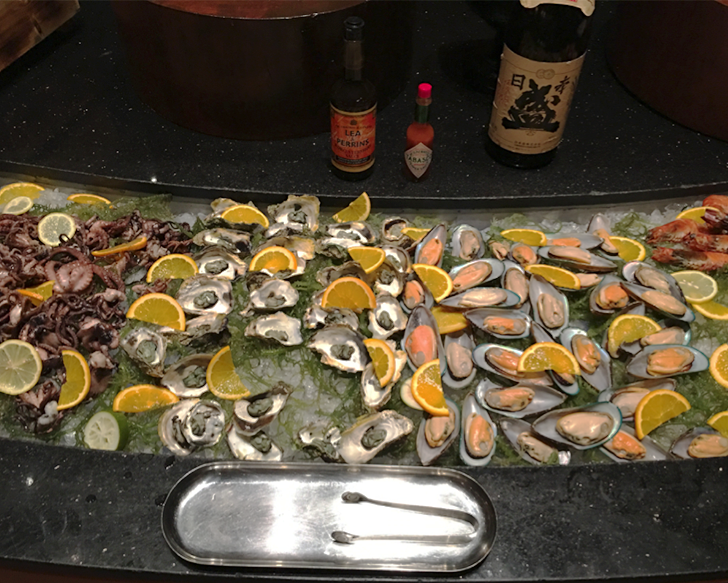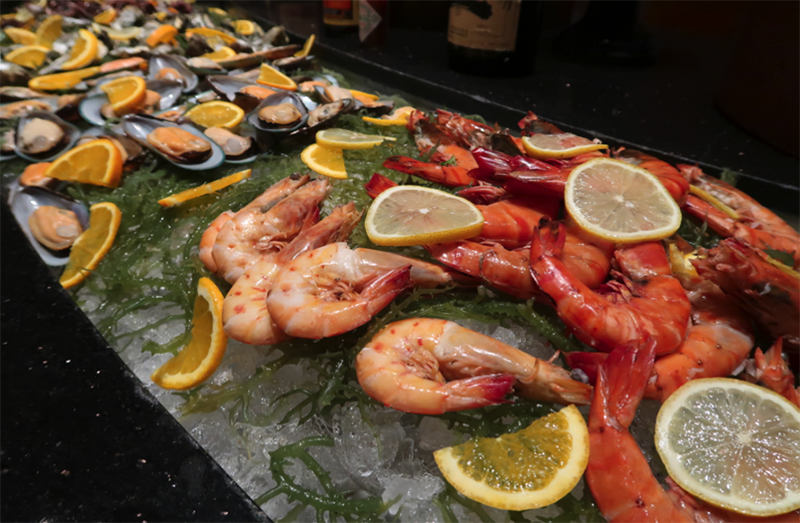 I'm not really a morning person but the restaurant team at Radisson Blu Cebu made my day during breakfast time with their punny food labels at every station. Good food with a dose of humour really adds to the charm of the hotel.
Much as I hated to tear myself away from the hotel, I couldn't wait to explore what Cebu City has to offer.  Due to the lack of time, we did not visit the famous beaches but we were able to immerse ourselves with first-hand cultural experiences at Magellan's Cross and Cebu's most sacred church, the Basilica del Santo Niño.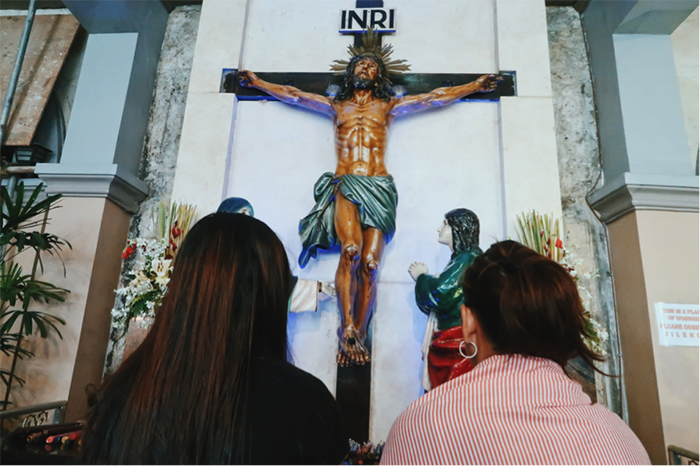 I was intrigued by the Cebuano faith, an undying devotion and love for the Santo Niño. Outside the Basilica del Santo Niño, there were women selling candles for prayers and randomly offering dance prayers to people. Devotees showed their faith in various ways, like attending a mass, kissing or touching the saints' statues, or lighting a candle.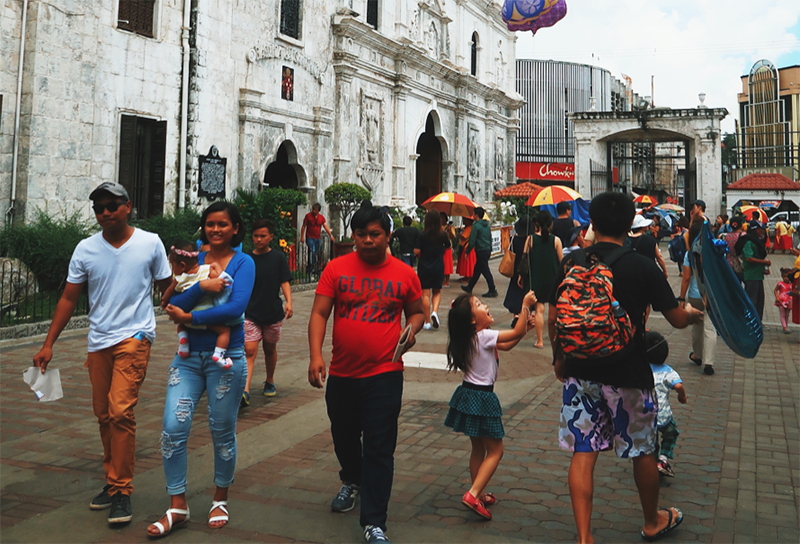 You might not know this, but the Philippines produces chocolate! We paid local chocolatier Raquel Choa a visit in Cebu City. The mother of eight is not only known as the Chocolate Queen, but also a raconteur, founder of chocolate shop Ralfe Gourmet. The realisation of tablea as chocolate, a sweet treat craved by many, has led to her chocolate journey after Raquel found out the bitter beverage she had daily as a child was actually hot chocolate without sweetener. She focused on creating quality chocolates from locally grown cacao pods and now supplies tablea – flat discs looking chocolate made for hot chocolate drinks – to reputable hotels in the Philippines.
Final pit stop in Davao
Davao is the home of durians and the leader of Philippines, President Duterte. A sprawling city filled with culture, culinary and agriculture for many to explore, Davao boasts of unity in diversity making the city's population, including 11 indigenous tribes, whose colourful and rich cultures contribute to a dynamic and interesting metropolis of Davao City.
For our last night in the Philippines, we stayed at Park Inn by Radisson Davao, a colourful mid-scale hotel brand, similar to my stay in Clark. The hotel has a link bridge to SM Lanang Premier Mall. How convenient it was for me to do some last-minute shopping before heading back! SM group has expanded their partnership with hotel group, Carlson Rezidor, which is why all three hotel properties in the Philippines are strategically located beside the SM malls.
We had a Boodle Fight in Park Inn by Radisson Davao's very own RBG restaurant. Don't worry, we did not literally have a fight. A Boodle Fight is, in fact, a Filipino military practice of eating a meal with bare hands, served on banana leaves.
One of the highlights of our Davao visit was a trip to a cheesemaker. Yes, you read that right — the Philippines has locally made cheese. We went to Malagos Farmhouse where we met cheesemaker Olive Puentespina. She told us that she started with only 30 goats and within three years, grew her farm to 100 goats!
As you can see, the Philippines have so much more to offer than just beaches. If you are planning your next holiday, consider these three cities!
Where we stayed:
Park Inn by Radisson Clark
M.A. Roxas Highway, Brgy, Lakandula, 2010 Mabalacat City, Pampanga Philippines
Tel: +63 45 598 7000
Email: [email protected]
Radisson Blu Cebu
Serging Osmeña Blvd. Corner Juan Ave., Mabolo, Cebu City, Cebu Philippines 6000
Tel: +63 32 402 9900/ 505 1700
Email: [email protected]
Park Inn by Radisson Davao
J.P. Laurel Ave., 8000 Davao City Philippines
Tel: +63 82 272 7600
This article was written by Isabella Tan.