Ever since I've read reports on genetically modified foods and all the nasties that go into our daily-use products, I have grown to become mindful about what really goes into my body. I used to think that my skin is only something external and I have to admit all it took was some clever and glamorous marketing campaigns by the big beauty brands to make me part with my money.
However, I have come to recognise that my skin is the largest organ and what goes on it is absorbed into my body and I had better be aware of what I am applying and massaging into my skin every day.
During my recent two years of living in France, I had no lack of choice when it comes to organic skincare products. Since I came back to Singapore this year, I have been on the lookout for a place for facial treatment as well as new organic skincare products to use. The ones I was using in France were either not available here or the prices have been marked up way too high.
I have been living off my stash of skincare products that I brought back with me from France. One can imagine how pleased I was to be introduced to local skincare brand Kew Organics. Organic facial treatments, checked. Organic skin care formulated especially for our humidity level and climate, double checked.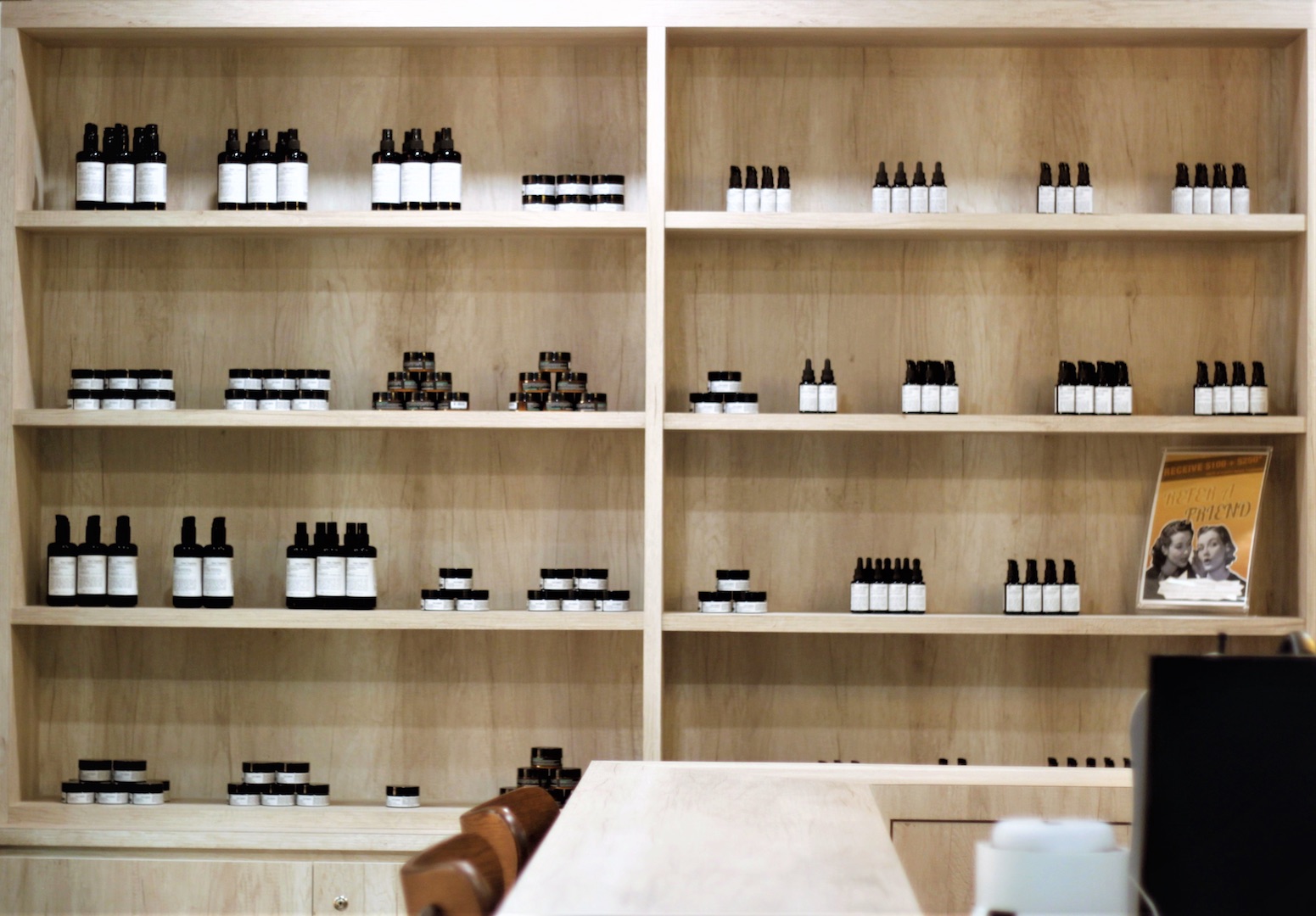 For someone that has not stepped into a facial salon for years, I was brimming with excitement and trepidation when I stepped into the warm and clean-looking Kew Organics at Clarke Quay Central. My therapist for the day was Colleen and she started off by giving me a thorough assessment of my skin condition.
The first thing I noticed about her was that she was fresh-faced and not wearing any makeup. I secretly glanced at the other staff and realised they too were not wearing any makeup and had radiant skin. I have always envied those ladies who are so comfortable in their own skin they could leave the house without any make-up. My heart skipped a beat as I harboured hopes of joining the league of ladies with radiant skin and perhaps one day I could face the world without wearing any makeup too!
For the next two hours, Colleen gave my skin a thorough exfoliating to remove all the dead skin cells accumulated over the years. Although the extraction process was the most painful and dreaded part of the whole facial treatment, it was necessary. It helped that Colleen was gentle and patient with someone like me who is so afraid of pain. After
After the extraction, it was pure relaxation as Colleen applied a cocktail of organic goodness on my skin. All too soon, the treatment was over and my face was looking much brighter and smoother. I couldn't stop touching my skin as it was no longer rough at the T-zone. I have to keep reminding myself not to touch my face!
Colleen then gave me a rundown of the products she has chosen for me according to my skin type. Looking at the comprehensive range of result-driven and targeted skincare products that hail from Canada and Japan, I was already convinced I've found the replacement skincare products for myself in Singapore. What really attracted me and got me sold is the high-performance, water-based organic skincare that is so readily absorbed into our skin and specially formulated for our tropical climate. I brought home with me a trio of products to start my new skincare routine with: the Sugar Cane Royal Flush Exfoliant, the Megaboost Hyaluronic+ Concentrate Serum and Kiwi Vit A Oil-Free Repair Gel.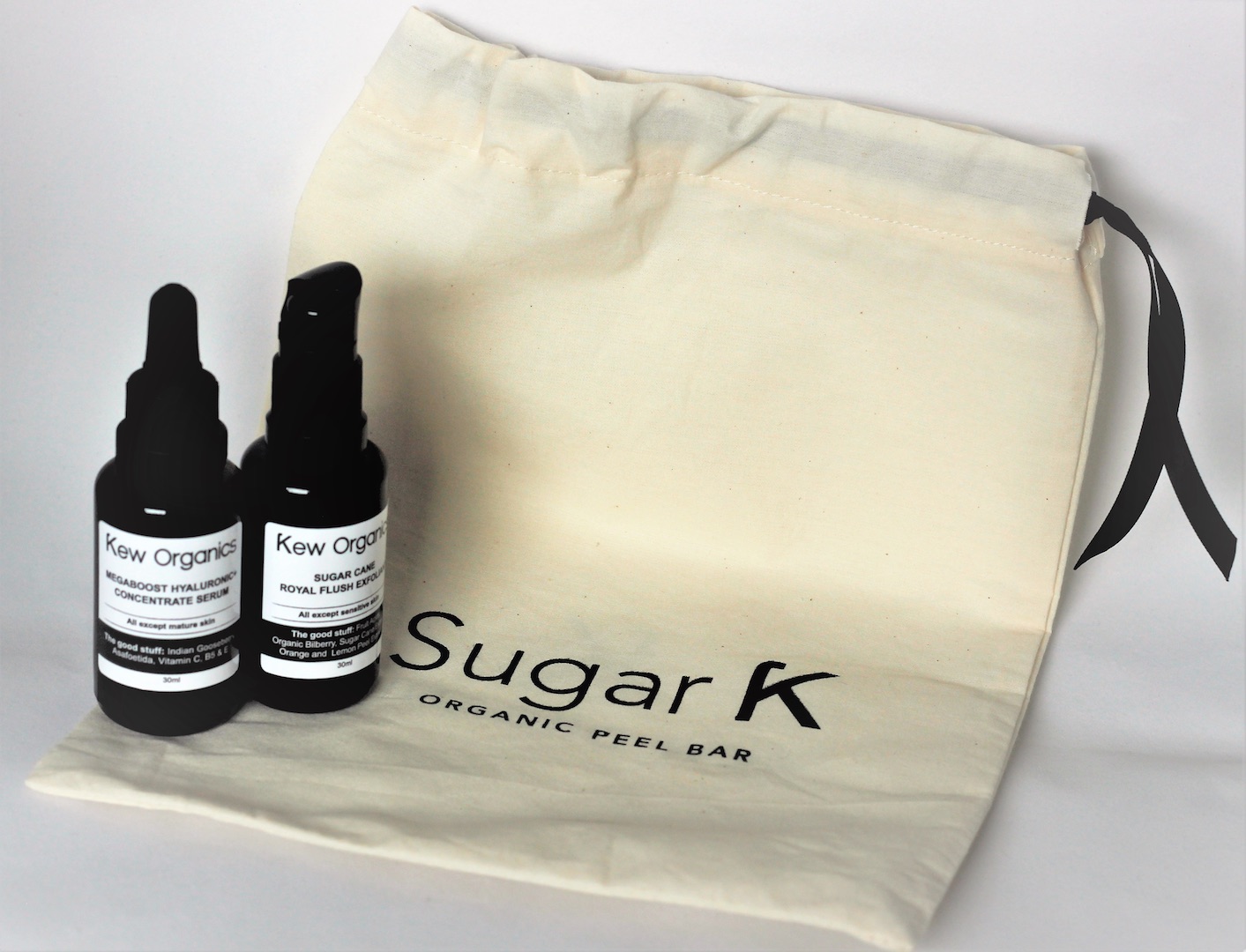 The serum and moisturiser are so lightweight; there was one night while I was trying to settle my kids to bed, I suddenly wondered if I had applied my moisturiser after my shower. I couldn't really tell now that my face no longer feels sticky with my former night cream I was using. The Sugar Cane Royal Flush Exfoliant is a unique exfoliant that you apply under your moisturiser and leave on before you go to bed. It does its job overnight to deeply exfoliate your skin to reveal a healthy complexion and even skin tone.
Another thing I appreciate about Kew Organics is that they really are serious about giving only quality products to customers, down to the packaging. Their products are encased in European Miron Violet Glass, which does not allow any visible light to pass through, with the exception of violet light and the special range of UV-A and infrared light. The secret of Miron Violet Glass packaging is the violet spectral range (720 – 770 bio herz), which can permanently activate and energise molecular structures so that the healing energy of substances stored in the glass is maintained. In fact, Miron Violet Glass even enhances the high energy of the bottle or jar's contents for a long period of time.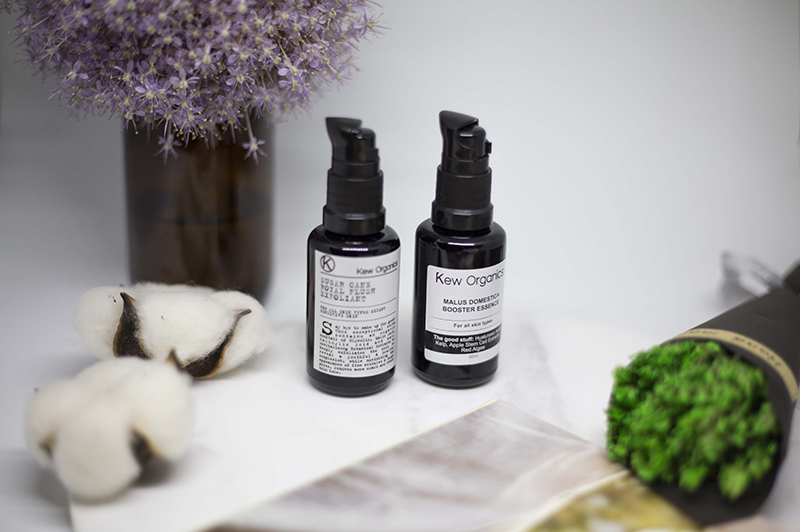 Having used the products from Kew Organics for about a month now, my complexion does feel more even and brighter. More importantly, I slather on the products with peace of mind knowing that what I'm applying on my skin is natural, made from the freshest and non-GMO ingredients and free from artificial fragrances, petroleum by-products and parabens.
Kew Organics is now available in Singapore and Hong Kong. Visit www.keworganics.com for more information on their bespoke facials and organic products.
Kew Organics
6 Eu Tong Sen Street
Central #03-83
Singapore 059817
Tel: +65 6904 4161
Block 2 Everton Park
#01-47
Singapore 081002
Tel: +65 6534 8255